When I was pregnant with my first baby in middle of July, my face and my feet were swollen and puffy because of the 100 degree heat and my protruding pregnant belly.  Nothing made me feel better except for the berry lemonade from Sonic.  I would go almost every weekend with my husband who graciously came with me to enjoy it.   And ever since then, I have loved raspberry lemonade like none other.  Plus, my husband orders it at every restaurant!  So my daughter made this Lemon Raspberry Trifle to satisfy our cravings.  (And yours too.) It is a refreshingly, cool summer dessert (similar to ice box cake, I think) and it's a cinch to put together.  Aaannnd, for those with an eye for color, you are gonna love the gorgeous color of this dessert!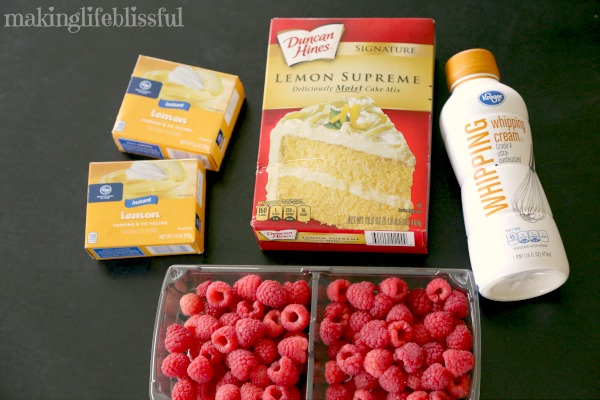 For this recipe, you will need lemon pudding, raspberries, whipped cream, and a lemon cake. (You may also want a lemon just for a garnish on top.)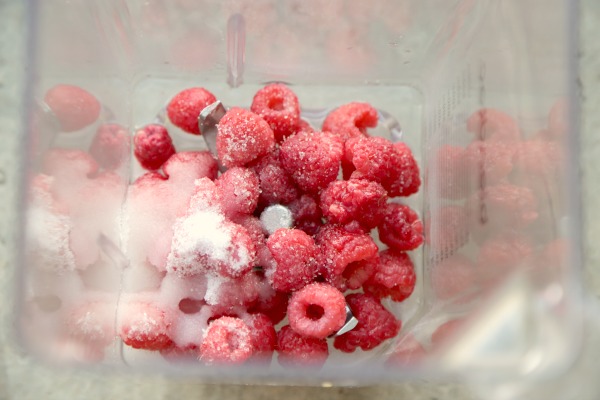 You will need about 4 cups of raspberries (more or less, it's up to you).  Divide the raspberries in half.  Start by putting 1-2 cups of your raspberries in the blender, with about 1/2 cup of sugar. (Or just put in sugar to taste.) You may also need a little water in your blender to give it some liquid.  This will create a fresh raspberry syrup.
Wash the rest of the raspberries and let them dry.  They will be used later to put in the trifle, and you want them to by pretty dry.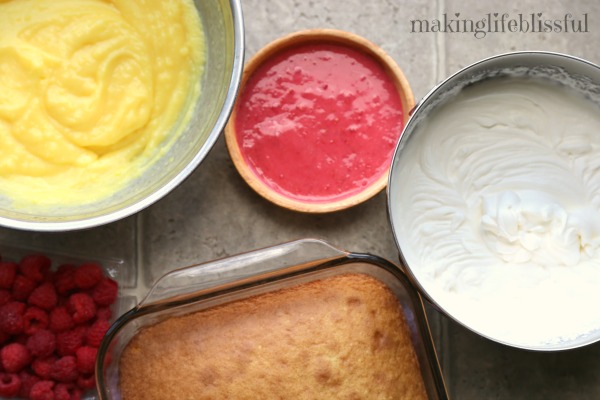 Prepare your lemon cake according to your recipe, whip the cream, and make your lemon pudding. Cut the cake into bite-size chunks.  Notice the pretty colors already!!!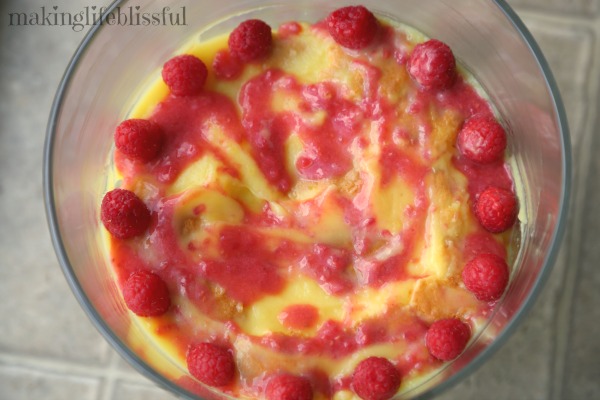 Layer the ingredients in a bowl or trifle dish, starting with pudding, then cake, then raspberries and syrup, and ending with whipped cream.  Repeat. (And notice the color!)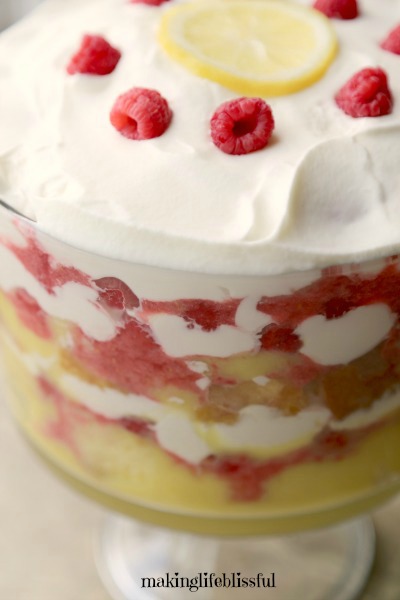 Use some of the left over raspberries and some lemon slices to decorate this trifle. (It's so colorful and cute!)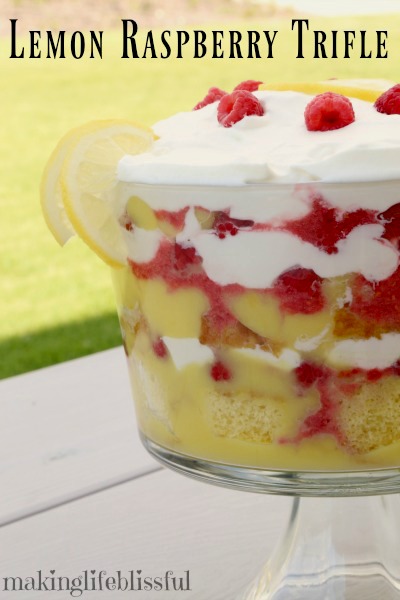 The ultimate summer dessert!
Lemon Raspberry Trifle
1 lemon cake (9×13, any recipe)
4 cups of lemon pudding 
3-4 cups of whipped cream
About 4 cups of raspberries 
About 1/2 cup of sugar. 
Wash and slice the raspberries.  Cut your cake into cubes, whip your cream, and make your pudding.  For the raspberry syrup use about half the strawberries (1-2 cups) and about 1/2 cup of sugar (or to taste), and blend them. Then start layering in a medium size bowl or trifle dish.  Start with the pudding, then add cake cubes so they can soak in the pudding.  Add the fruit and whipped cream.  To make it look pretty, stick the outer-edge row of to the glass in a nice line, alternating raspberries and cake cubes. Continue layering until all the ingredients are gone, finishing with whip cream on top.  Refrigerate for at least 2 hours.  Enjoy!