How to make Strawberry Jell-O Trifle Dessert! A fun and easy strawberry Jell-O recipe that kids will love to make with you!
Welcome to our 9th trifle post in our Ultimate Trifle Desserts Series! If you like Jello desserts, you gotta try this one. This Strawberry Jello Trifle is delicious and very light and refreshing. It has all the ingredients of our other trifles, cake, cream, pudding, and berries, and then you add Jell-O! I think it's a great snack for kids too, maybe in smaller dessert cups . . . or I'm thinking this would make a fun Thanksgiving dessert even. Add whatever fruit you want and try different Jell-o flavors to make this delicious dessert. It's an easy Jell-O dessert!
*This post contains affiliate links and I receive a small commission to support my blog when you purchase from these links.

This new Strawberry Jello Dessert was my husband's idea. We were all at home one Sunday, and Sweet Teen wanted to make another trifle. My husband suggested putting Strawberry Jell-O in the trifle. We all thought that sounded kinda weird at first- and then we realized that Jello, cake and cream are a match made in HEAVEN.
Jell-O is a fun ingredient to work with. For many years Jell-O has been part of many dessert recipes or Jell-O salad recipes, like this Jell-O Strawberry Banana Fluff Salad (at Saving Cent By Cent). So why use Jell-O gelatin? I think it's an easy, and cheap way to add flavor to your recipes. Jell-O is also so fun to make and it creates a lightness in your recipes. The strawberry Jell-O in this trifle recipe makes it automatically taste like summer, and who doesn't love a delicious summer dessert? So check out the details on this trifle dessert below . . .
Here's some other easy trifle desserts you will love:
How to make Strawberry Jell-O Trifle Dessert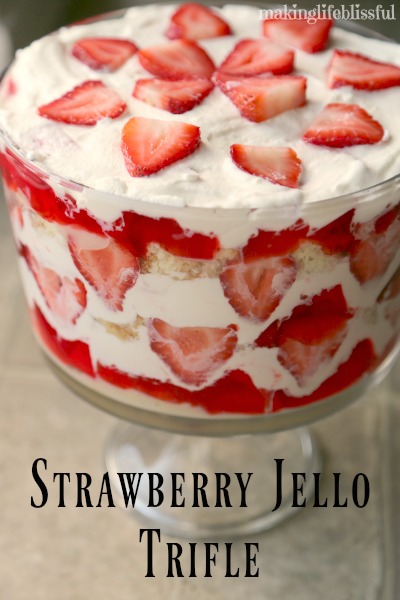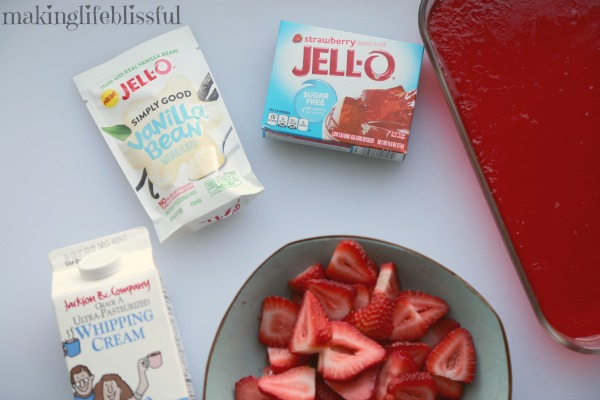 For this recipe, you will need strawberry Jell-O, fresh sliced strawberries, whipped cream, and vanilla pudding.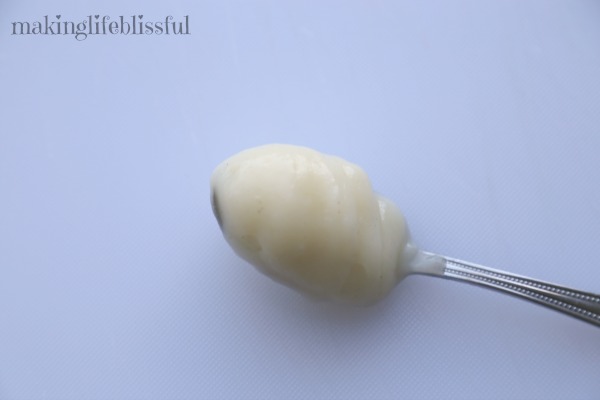 We also tried using the NEW Jell-o Simply Good Vanilla Bean Pudding. It's a much purer-tasting (is that a word?) pudding. It's less yellow and more white in color. I loved the flavor.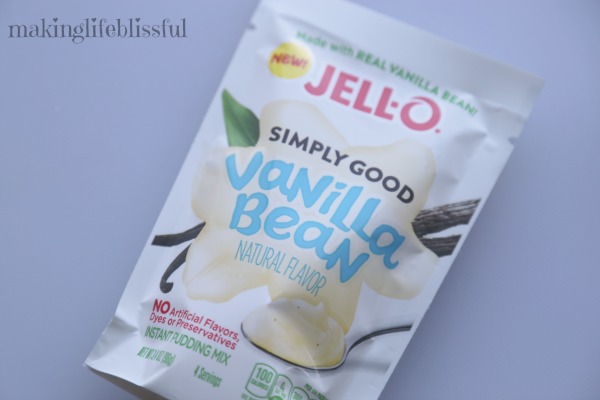 It's still instant pudding but it's made with real vanilla bean (you can even see the specks!) and it has no artificial dyes or preservatives.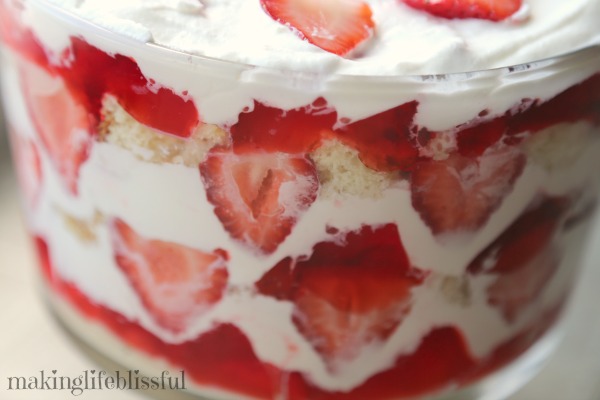 Cut the set Jello and cake into cubes, and layer all ingredients (pudding first) in a trifle dish and MAKE IT LOOK PRETTY!
Strawberry Jello Trifle
Strawberry Jell-O Trifle
Yummy summer Jell-O dessert with strawberries, cake, and whipped cream. And it looks pretty too!
1

white or yellow cake (9x

13

any recipe)

4 cups

of vanilla pudding (strawberry might be fun too.)

3

–

4

cups of whipped cream
About

15

strawberries

3

–

4

cups of set strawberry Jell-O
Instructions
Start by making the Jello as directed on the box.  Let it set in the fridge for a few hours. Wash and slice the strawberries.  Cut your cake into cubes, whip your cream, and make your pudding. Then start layering in a medium size bowl or trifle dish.  Start with the pudding, then add cake cubes so they can soak in the pudding.  Add the fruit, whipped cream, and Jello.  To make it look pretty, stick the outer-edge row of to the glass in a nice line, alternating strawberries and cake cubes.Continue layering until all the ingredients are gone, finishing with whip cream on top.  Refrigerate for at least 2 hours.  Enjoy!
You may also like: