My daughter doesn't like bananas at all.  But even she has to make exceptions for our Banana Cream Trifle. This is such a delicious blend of bananas, cream, and pudding.  Add in some crushed graham crackers, and pecans, and this recipe is light, fluffy, heaven. This trifle is perfect for any time of the year.  The fresh bananas and cream can make it seem like a summer treat, but the comforting flavor of the nuts and pudding can really hit the spot on a cold winter day.  This dessert will fit in at any party, no matter the time of year.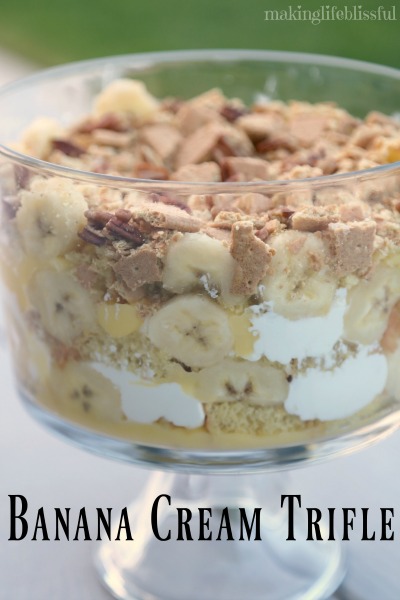 This banana trifle recipe is part of our summer trifle series!
There will be a FREE ebook at the end of this series so please join our newsletter to get yours!
For this recipe you will need bananas, heavy whipping cream, banana pudding, graham crackers, yellow cake mix, milk, and nuts (optional).
Bake the cake according to directions on the box. Mix the pudding with the milk as the box directs.  Whip the cream and add sugar, then slice the banana and cake into chunks.
Crush the graham crackers in a bag. You can also use vanilla wafers, but we LOVED it with graham crackers so I totally recommend that you at least try it sometime.
Layer the pudding, cake, bananas, and cream inside a trifle dish. You can also layer the crushed graham crackers if you'd like.
Top it off with some graham crackers and nuts.  You can also use vanilla wafers if that's your thing.
Here's how to make our classic fresh berry trifle:
[soliloquy id="5000″]