How to make this easy frozen Oreo dessert using ice cream, Golden Oreos, and strawberries. A perfect icebox dessert for a lazy summer day!
Friends, let's face it. It's just not as fun to bake and cook during the hot summer months. It just isn't. My youngest daughter and I came up with this easy summer dessert that is frozen and full of strawberry goodness. We wanted an easy to make dessert that was cold and refreshing. Andy we were feeling lazy, so we wanted this dessert to fit that mood. That's why this is our Lazy Day Frozen Oreo Dessert. It will remind you of any frozen icebox dessert and the strawberries give it a delicious summer taste. We like to use our Fresh Strawberry Syrup for this one. Such an easy strawberry dessert recipe. So scroll down and get all the recipe details below.
* This post may contain affiliate links. I receive a small commission to support my blog if you purchase from these links. Thank you.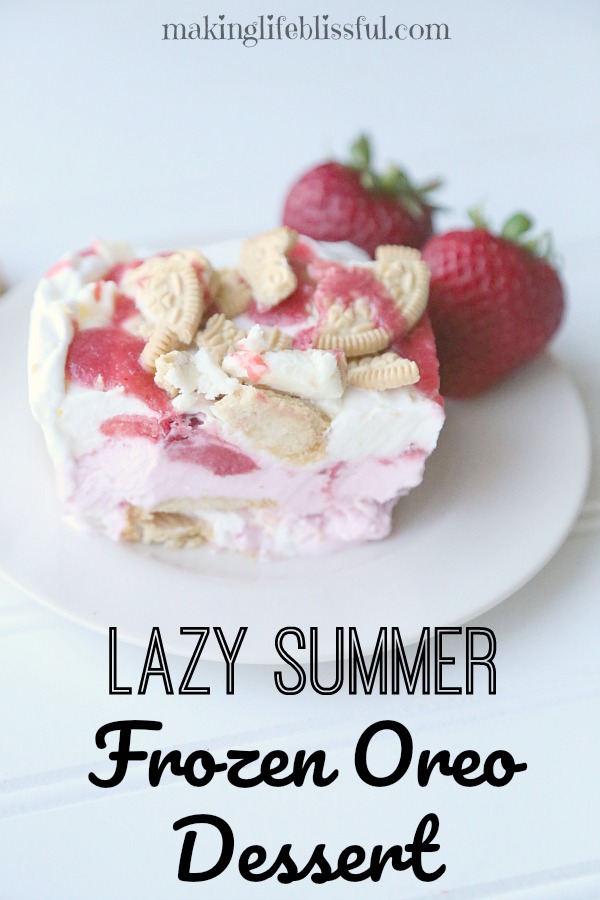 I saw a similar idea to this over at Greedy Eats where they have a Oreo Strawberry Icebox Cake. Their recipe uses chocolote, so check it out if that's the route you want to go. Strawberries are actually one of my favorite fruits. My whole family loves them. I always know that a carton of strawberries will not last long in my fridge, which is a big deal because I have one kid that won't eat bananas, another that won't eat oranges, and one that doesn't really go for apples. So I'm thankful for strawberries–a very likeable fruit. Anyway, I have a few other strawberry dessert recipes on this blog and so if you are interested, you may want to check them out too.
More strawberry and Oreo recipes you will like:
Strawberry Jell-O Trifle Dessert
Oreo Cookies and Cream Dessert
For more inspiration and a free dessert ebook, join my email list!
How to make Lazy Day Oreo Frozen Icebox Dessert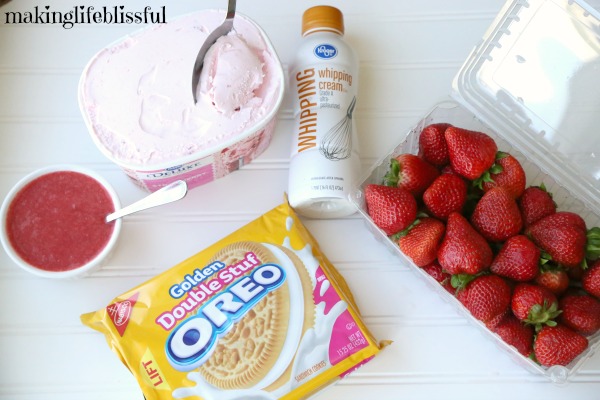 For this easy dessert, you will need:
2 lbs of fresh strawberries, washed
1/2 gallon of strawberry ice cream, softened
3-4 cups of fresh whipped cream
1 package of Golden Oreos (crushing is optional)
strawberry syrup, optional (see instructions below)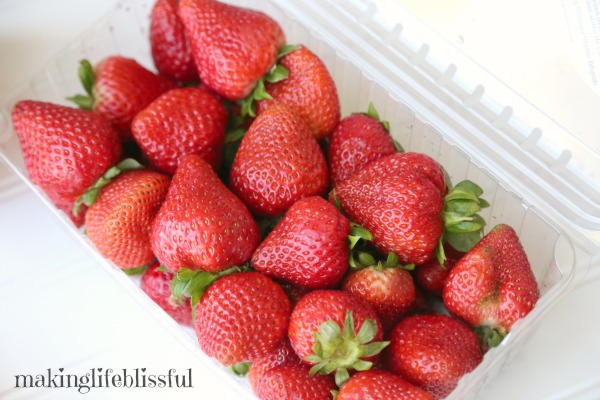 Wash your strawberries and slice about half of them into nice thin slices. Use the other half of the strawberries to make homemade strawberry syrup, if desired.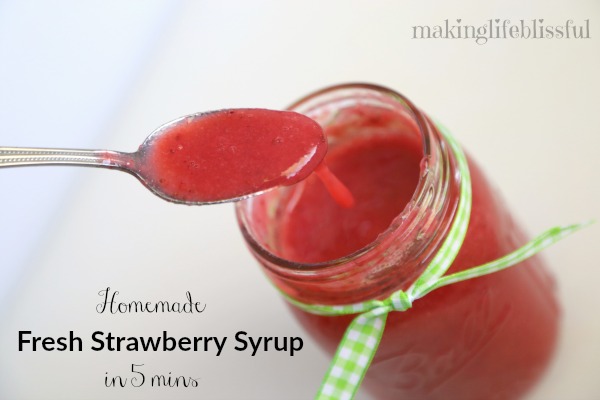 2. For homemade strawberry syrup you just need a blender. The fresh syrup really makes this delicious. The basic idea is blending some strawberries and sugar together with just a tiny bit of water. See my Fresh Strawberry Syrup in 5 Minutes post.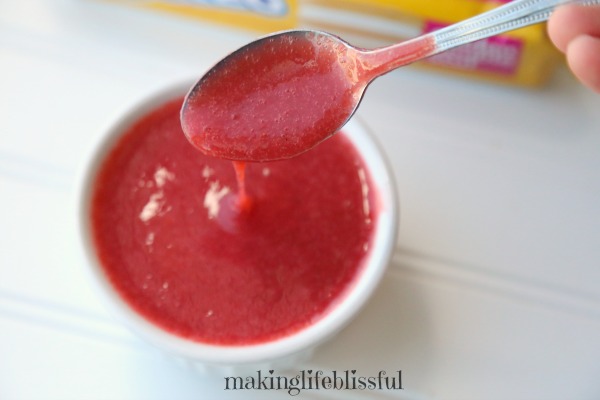 3. You'll need about 1-2 cups of syrup. Make it and set it aside while you whip your fresh cream. You can also use Cool Whip, but fresh is BEST!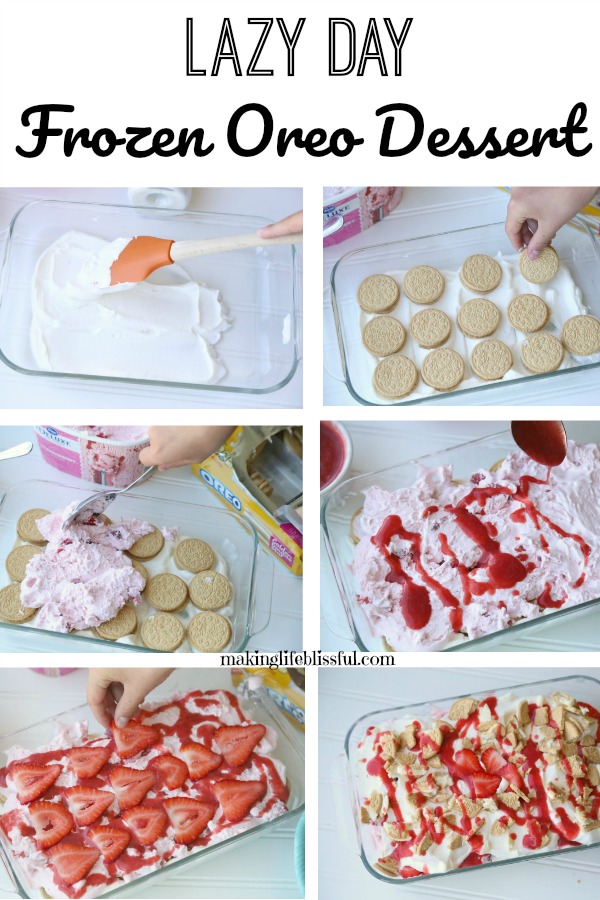 4. Start layering all your ingredients. Start with the whipped cream. Then layer Oreos on top of the cream. Next, add your melty ice cream. Make sure you ice cream is soft and can be spread around. Let it sit out for a few minutes before layering this dessert. Then drizzle some strawberry syrup and layer the sliced strawberries. Repeat layers as many times as desired.
NOTE: We used Double Stuff in these pictures, but we've actually decided we like regular Golden Oreos better. You can also crush the Oreos here instead of leaving them whole.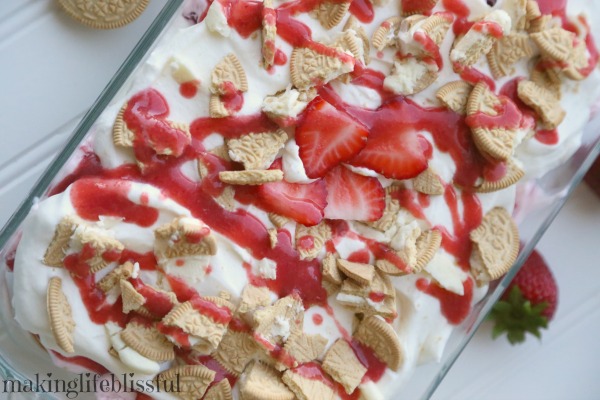 5. Finish it with cream, crushed Oreos, and a drizzle of strawberry syrup. Cover and freeze your dessert until ready to eat. When ready to serve, let the dessert stand at room temperature for about 10 minutes.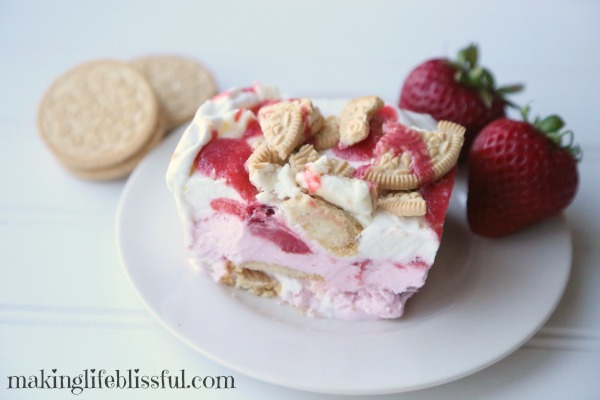 And there you go! A lazy day dessert that everyone will love!
Please PIN THIS recipe and SHARE IT! Thank you for stopping by today!

–Lisa
You may also like: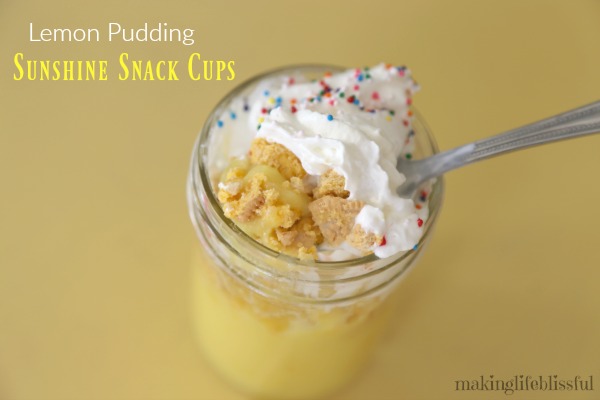 Lemon Oreo Sunshine Dessert Cups