How to roast a turkey in your pressure cooker or multi-pot! This easy and quick roast turkey recipe can be ready to eat in 30 minutes or less. It's a winter meal or Thanksgiving recipe that is perfect for smaller crowds.
It's a Thanksgiving miracle my friends! I've just learned how to roast a turkey breast and/or whole chicken in my electric pressure cooker and I'm sharing the easy recipe tutorial with you. I've seen those Instant Pot whole chicken recipes, so I knew I needed to try making a roast turkey in my new Mealthy Multipot. Sometimes, I just want a warm, juicy turkey for dinner, but I don't want to do tons or prep or wait hours for it to cook in my oven. This recipe barely even heats up the house. And, I'll even show you the amazing way to create a delicious roasted flavor in your Instant Pot or Multipot using the awesome Mealthy CrispLid.
*This post contains affiliate links that help fund my blog so I can keep bringing you free content. Thank you for purchasing through my links. There is no cost for clicking and just looking.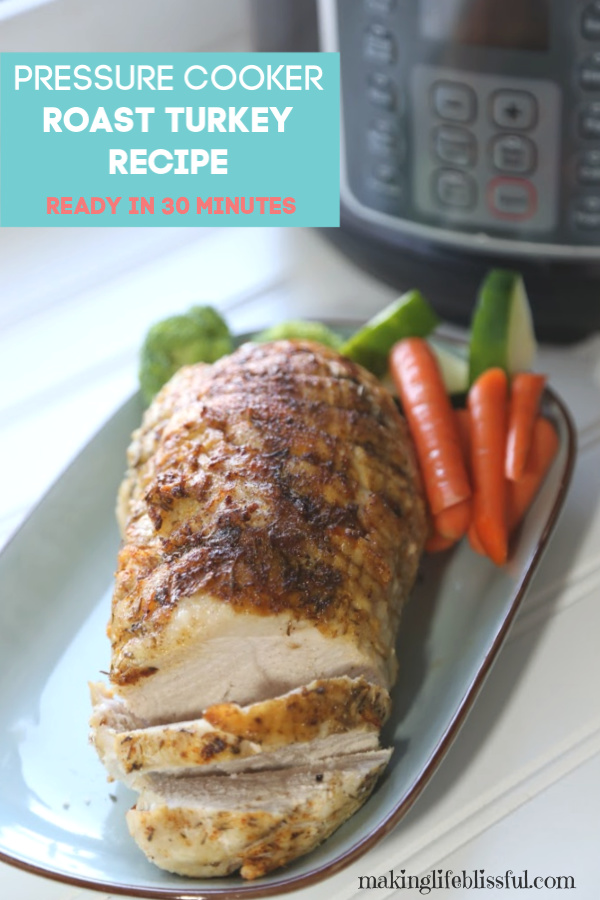 I'm telling you, this pressure cooker roast turkey is a game changer. I had no idea it was so dang easy!
What is a MultiPot Pressure Cooker?
An electric pressure cooker is the big craze right now because it is one of the easiest and fastest ways to cook all kinds of everyday items. These cookers like the Instant Pot and the Multipot not only have a pressure cooker, but they also include a slow cooker, saute pan, rice cooker, and sometimes even a yogurt maker! My favorite things to make in my electric pressure cooker is dry beans into refried beans or chili (the beans go from dry to soft in 40 minutes or less–no soaking!). I also love making baked potatoes and chicken super fast on nights that I only have 30 minutes to make dinner. So many possibilities! Even though I am using my new Mealthy MultiPot in this recipe, I'm pretty sure this could also be a Instant Pot turkey recipe also. I also have an Instant Pot and have been using mine for about 3 years now and the MultiPot feels almost the exact same as the Instant Pot, with a few extras.
Read about the differences between a MultiPot and and Instant Pot here.
This recipe also shows you how to get a roasted rotisserie type feel and flavor to your turkey or chicken using the Mealthy Air Fryer CrispLid. This part is completely optional, but it's worth looking into because the CrispLid turns ANY brand of electric pressure cooker into an AIR FRYER!!! It's AMAZING and I LOVE MY CRISPLID! We've used it on our Instant Pot and our MultiPot and it makes foods crispy and cooked like frying, but without all the grease and unhealthy fat.
And if you are looking for some other turkey or chicken recipes, here's a few to try:
Turkey Apple Bacon Wraps (great for leftover turkey!)
3 Ingredient Slow Cooker Zesty Chicken
Pressure Cooker Faux-tisserie Chicken
How to Roast a Turkey in Electric Pressure Cooker: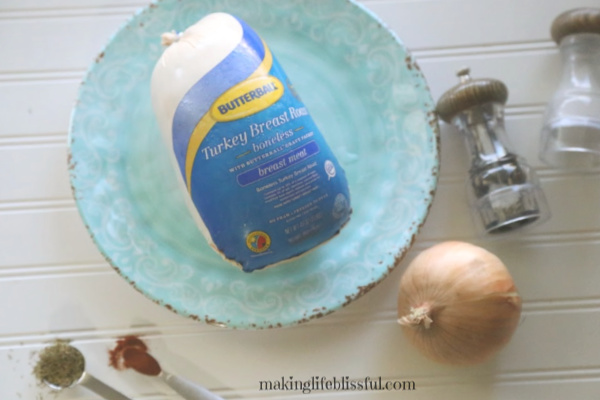 For this recipe you will need:
A small turkey breast or whole chicken (mine was about 3 lbs), thawed
1 1/2 cups of chicken stock or broth
2 cloves of minced garlic
1/2 yellow onion, chopped
1/2 tsp of black pepper
1 tsp salt
1/2 tsp dried thyme
1/2 tsp dried rosemary
1/4 tsp of dried sage (optional)
1/2 tsp of paprika
2 TB of olive oil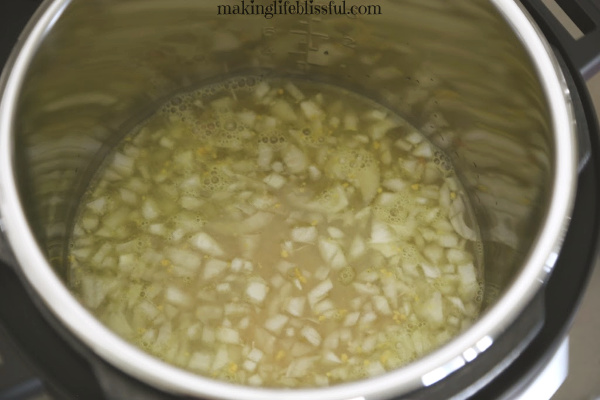 Pour chicken stock, chopped onions, and garlic into the steel pot of your pressure cooker. Place the pressure cooker trivet over the top of the stock mixture.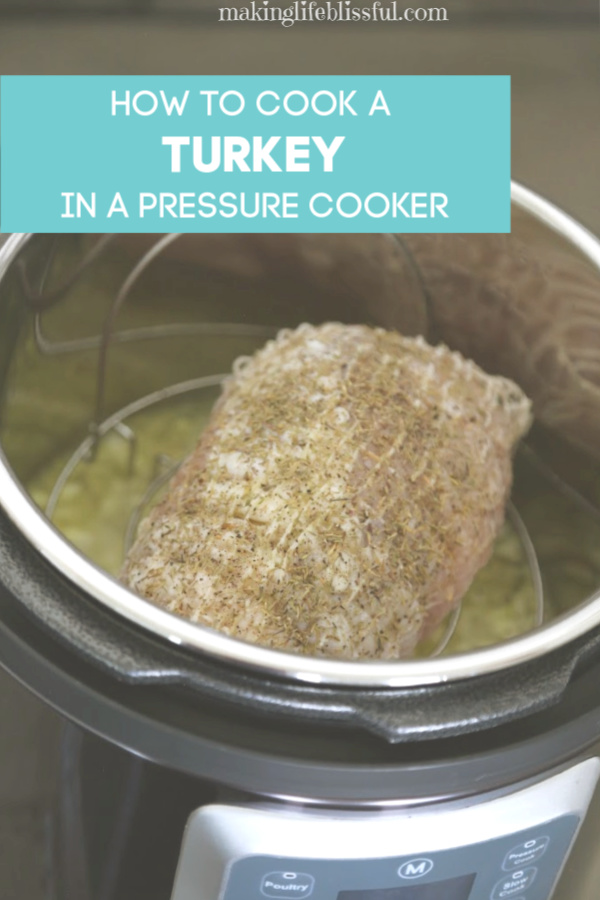 2. Season the turkey with salt, pepper, thyme, rosemary, and sage. Place the turkey, breast up, on the trivet in the pot.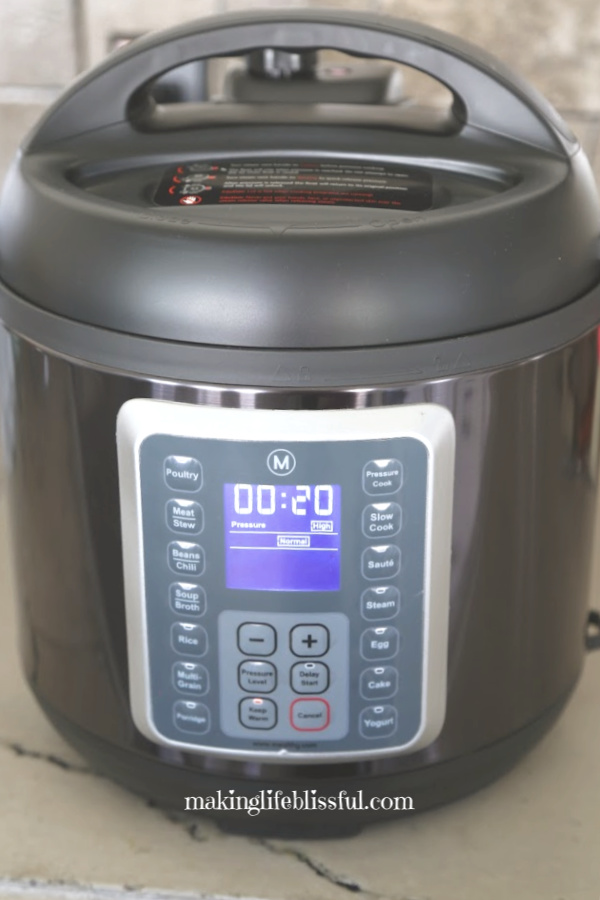 3. Lock the pressure cooker lid in place, turn the steam vent handle to SEALING and select Poultry on the key pad. Cook on HIGH PRESSURE for 20 minutes. When cooking is done, turn the steam vent to VENTING to quick-release pressure. You can also let it release slowly on it's own if you want.
4. Remove lid. Pull turkey and the trivet out of the pot and discard the stock and onion mixture. Your turkey is done. If you want to get the rotisserie look and taste, follow the next few steps for using the air fryer CrispLid.
5. Replace the turkey and trivet back into the pot. UNPLUG THE PRESSURE COOKER. You do not need the pressure cooker on for this step.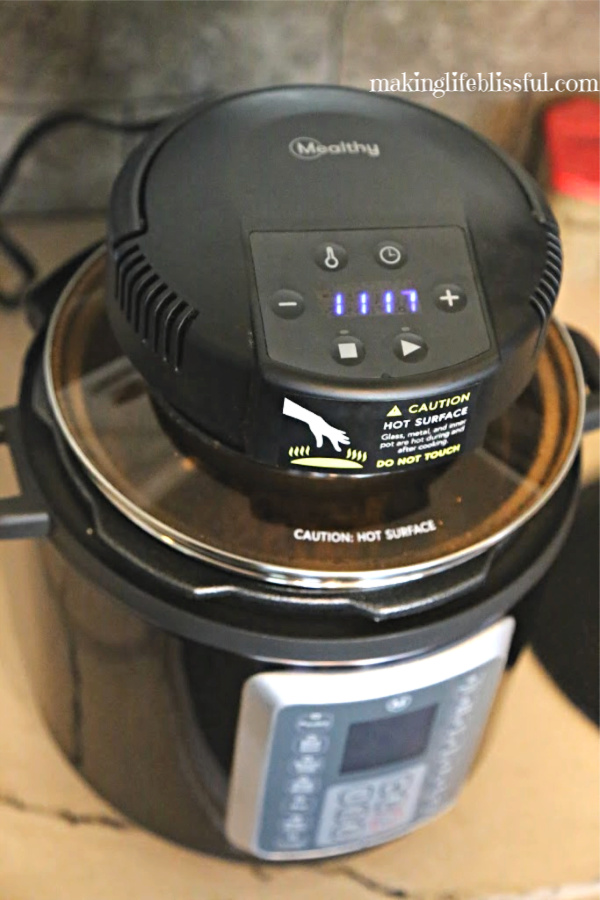 6. Brush olive oil all over the top of the turkey breast. Sprinkle with paprika. Place the Mealthy CrispLid on the inner steel pot of your pressure cooker. This air fryer lid works on ANY brand of pressure cooker. Plug in the CrispLid.
7. Set temperature to 500 degrees and cook the turkey for 5 minutes. If desired, you can remove the lid and turn the turkey over on the trivet and cook it for another 5 minutes.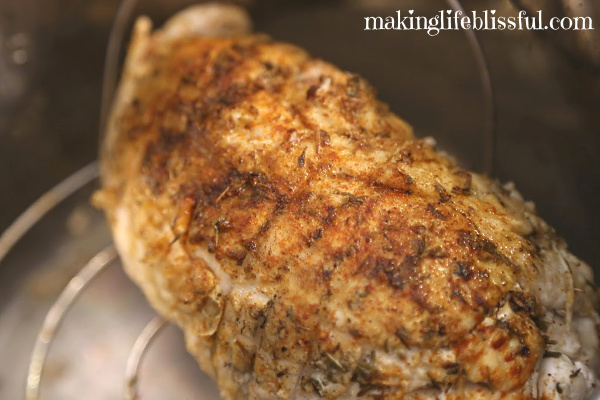 Your turkey or chicken will look deliciously roasted and super appetizing!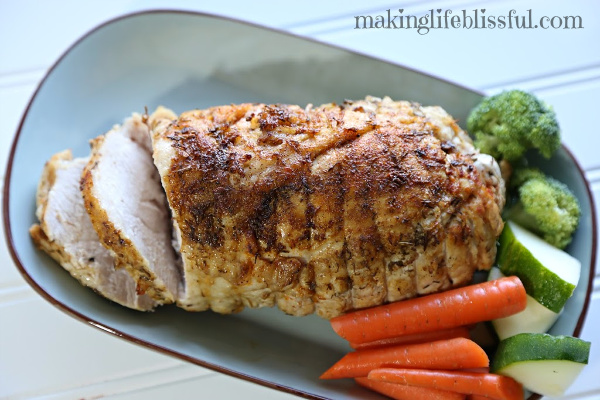 Transfer your turkey or chicken to a serving dish and get ready to carve it for your next Thanksgiving dinner or warm winter meal!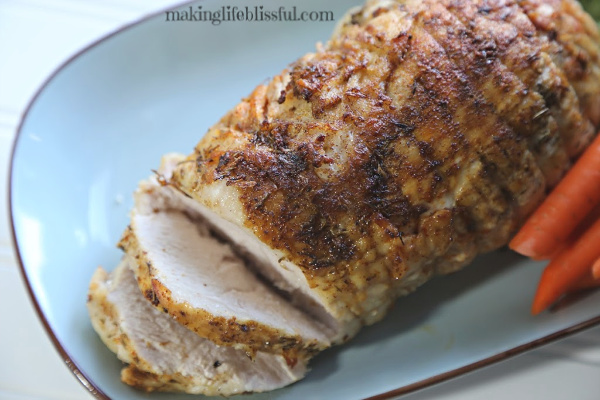 We loved our roasted turkey breast and I hope you do too! Enjoy!
You may also like: