Easy Halloween crafts for kids to make! Simple craft stick pumpkin craft and fun clothespin bat craft that kids will enjoy making with such easy to find craft supplies.
Halloween is just around the corner and it never fails that I need a quick Halloween craft for kids to make. Whether is for a class party, homeschool, preschool, or just for fun at home, these easy Halloween crafts are just what you need. The craft supplies are easy to find and most likely can be found at your home. There are also so many parts that your child can do on his own, which is so good for helping them learns skills. The craft stick pumpkin craft is easy and super cute. The tissue paper clothespin bat craft would be fun to hang around the house or classroom. See the easy kids craft tutorial below for all the steps and info. And be sure to check out all my easy Halloween ideas for kids!
*This post may contain affiliate links.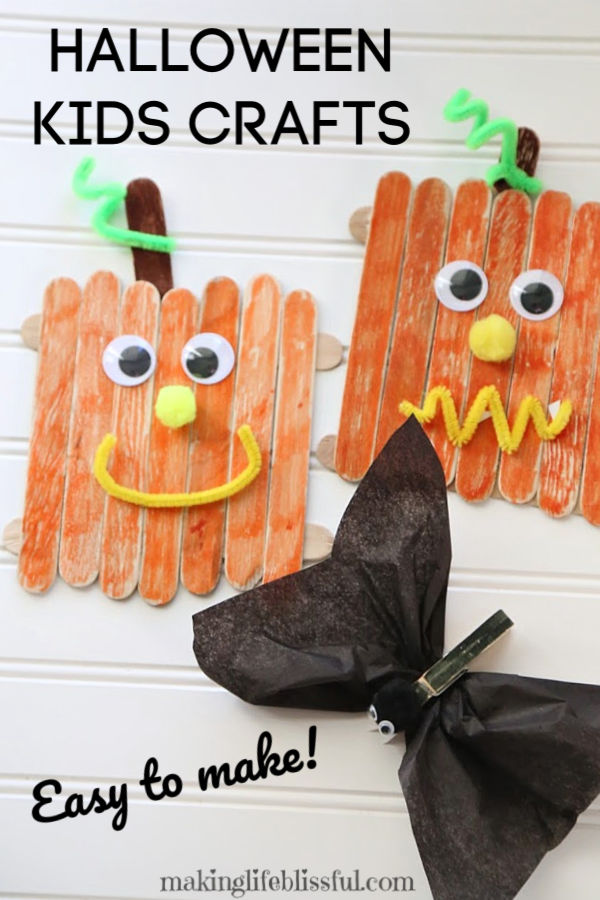 An easy Halloween craft are a must for any fall party with kids. This simple pumpkin and bat craft ideas will help you check that part off your list. I also have an easy Halloween spider craft that you may want to try and many other Halloween ideas, including Halloween printables for kids.
Other Halloween ideas for kids:
10 Last Minute Halloween Ideas
Halloween Minute to Win It Games
Halloween Peek-a-Boo Ghosts Craft
Ghostly Forest Kids Craft for Halloween
How to Make a Craft Stick Pumpkin Craft:
Here's how to make this easy pumpkin craft for kids! The supplies are easy to find!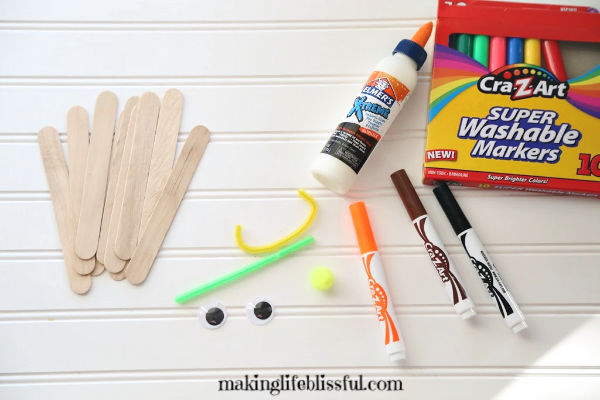 Supplies needed:
9-10 craft sticks (medium or large size)
craft markers, orange, black, brown, etc
google eyes (I used large size)
chenille stems or pipe cleaners, cut into small 2-3 inch pieces per craft–one is for for the stem and one for the mouth.
1 pom pom fuzz ball for the nose
craft glue (I use Elmer's Xtreme for all my kids crafts! I love it!)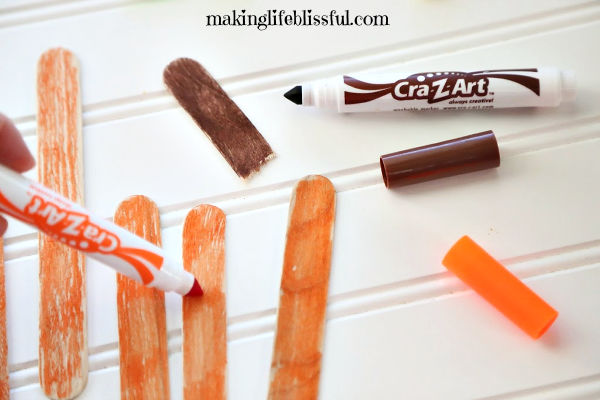 Color your craft sticks with the markers. Kids will love this part. You can also use craft paint, but markers are better for a cleaner work space if that's what you want. Be sure to break a piece of one stick and color it to be the stem of the pumpkin.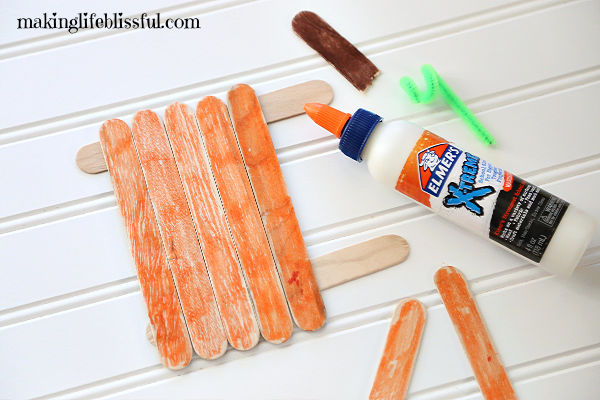 2. Glue the colored sticks onto 2 support sticks that are placed in the opposite direction of the other sticks as shown above. Use glue to attach them.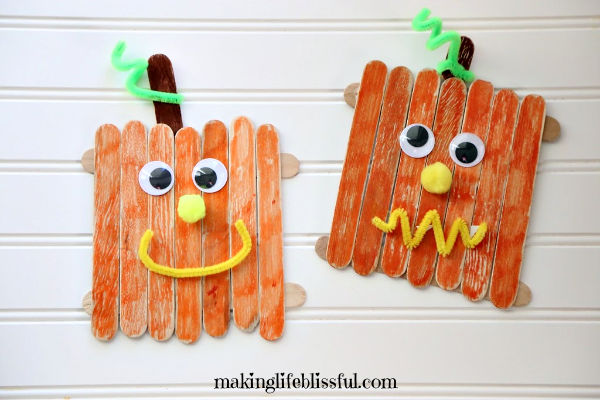 3. Glue the stem of your pumpkin onto the back and let dry. When dry curl one of the chenille stem pieces around the stem. Use another chenille stem to be the mouth and shape it as desired. Glue the rest of the pieces on to create a face for your jack o' lantern. Let dry thoroughly.
How to make a easy Halloween bat craft for kids: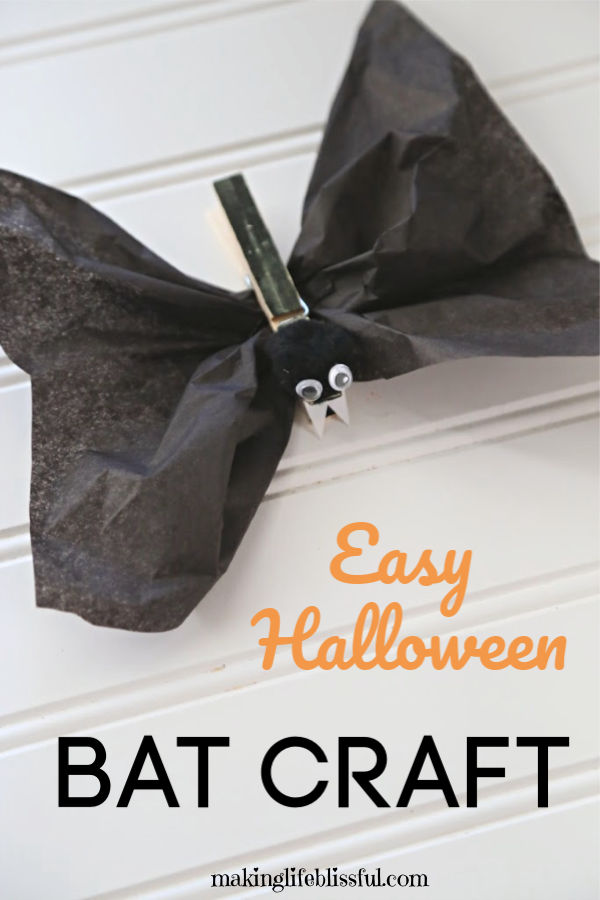 Now let's make this cute and simple bat craft for kids. Perfect for Halloween decor to hang around the classroom or home!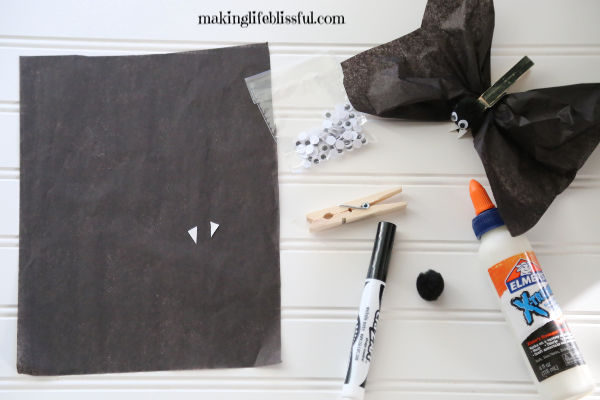 Supplies needed:
1 piece of black tissue paper (about 8.5 x 11 size)
1 clothespin
google eyes, small size
1 black pom pom fuzz ball
black craft markers
white paper cut into tiny triangles for fangs
craft glue (again I use Elmer's Xtreme–it dries faster, holds better, and is safe for kids!)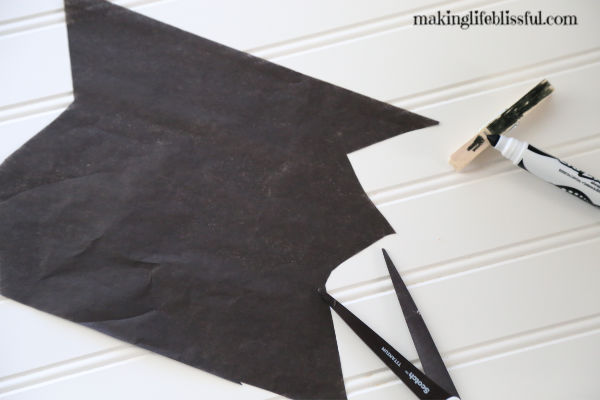 Color the clothespin with the black marker. Using scissors, cut 2 triangles out of the edge of one side of the tissue paper. Repeat on the opposite side. This makes the bat wings.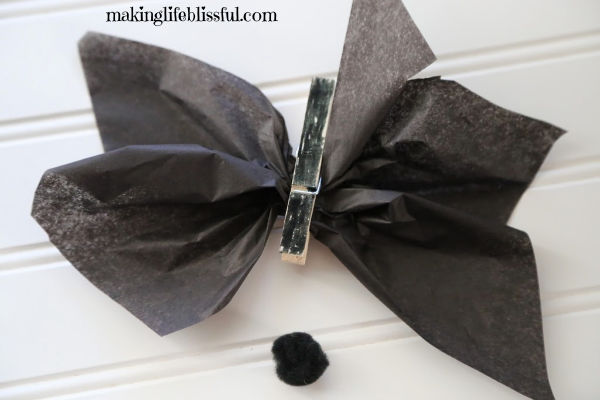 2. Gather the tissue paper in the middle and place it inside of the clothes pin opening, pinching it down on the tissue paper to hold it. Glue on the pom pom for the head near the end that opens on the clothes pin.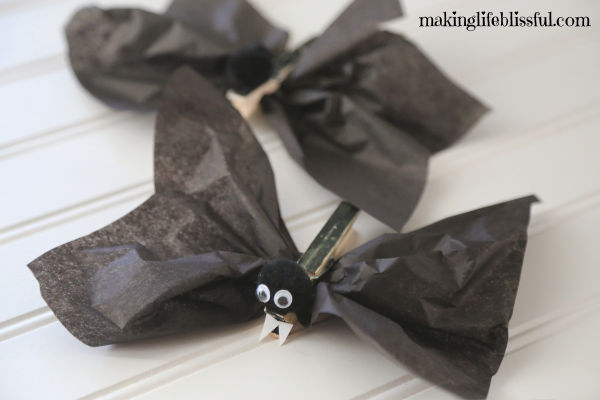 3. Glue on the eyes and the fangs. You can put the fangs at the bottom of the head to open when the clothespin opens.
And you're done! Thanks for completing these easy Halloween crafts for kids!
You may also like: