10 easy last-minute treats and ideas for Halloween. If you need a quick Halloween idea, this is the place to start!
Feeling lazy about celebrating Halloween? Too busy to think of an over-the-top Halloween idea? I've got you covered with these easy Halloween treats and ideas for you! Alright, I gotta confess something. I sorta hate Halloween. (Yikes, don't hate me for this!). I mean, it's fun for about 2 weeks, but then I'm sick of it. The stores and my kids all get excited for it early in September so by the time October thirty-one comes around, I'm super tired of ghosts, zombies, and jack-o-lanterns. I'm not even gonna go into my lack of creativity for Halloween costumes (*eyeroll). But I gotta put on a good face and muster up some energy to create a fun Halloween day for my kidlets. So here's my lazy, I'm-sick-of-spooky, last-minute Halloween round up of ideas for you.
*This post may contain affiliate links
Hopefully, these last minute Halloween ideas and treats will make your Halloween celebration simple and fun (and lazy . . . hee hee).
4. I've made this Perfect Fall Cheeseball from Family Fresh Meals. It's got a yummy southwest zest to it and it's covered in Doritos, so how can you go wrong? Super easy to make!
5. Surprise your kidlets on Halloween night with a simple Glow-in-the-Dark Party! Have dinner in the dark. All you have to do is set up some glow sticks and fun glowing items and HAVE FUN!
6. This on takes just a few minutes to throw together. Marshmallows in a zip baggie and call them Ghost Boogers. Click on the link for my FREE printable labels and other goodies!
7. This one is a no-brainer. Toss your favorite Halloween munchies in a bowl and you've got Autumn Harvest Trail Mix. Perfect for movies, parties, and just plain snacking! The Bugles snacks give it a delicious flavor!
8. Ok, this is not totally last-minute because you gotta freeze the water inside the latex gloves, but you could easily do this morning of or the night before! Call it Ghost Punch and kids will love you. We used the green Hawaiian Punch to give it that ghostly color.
9. This is what I call HEAVEN IN A BOWL! I learned to make this 3 Ingredient Toffee Apple Dip in Arkansas so it's a true comfort food. It'll be a hit, I promise! And it's so quick to make!
10. Lastly, make some vanilla pudding, add green food coloring, and call it Slime Pudding. Easy.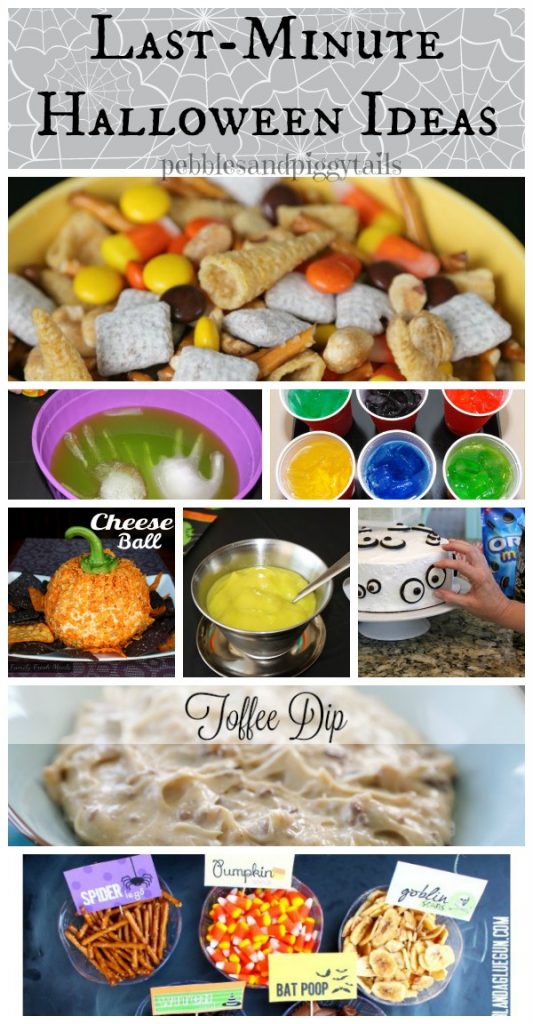 And here's a few BONUS HALLOWEEN IDEAS:
Halloween Minute-to-Win-It Ideas and More!






Thanks to Berries.com for these other fun ideas!