Fun painted rock ideas for kids and how to use painted rocks to teach children.
You guys, I couldn't help myself . . . when I saw painted rock ideas popping up on Pinterest and Google I knew that it was a kids craft I had to try. I mean, you know I created the Buggles craft for kids and that I'm into cute kids crafts made from everyday things, so I had to try the easy, inexpensive painted rock idea. The ideas for painted rocks are endless! I've seen rocks painted into food, animals, characters, and more. The best part about painted rocks for kids is that you can completely use your imagination and they can be used to help teach your child. So today I'm going to show you some awesome painted rock ideas and how to use painted rocks in the classroom to teach kids.
*This post contains affiliate links.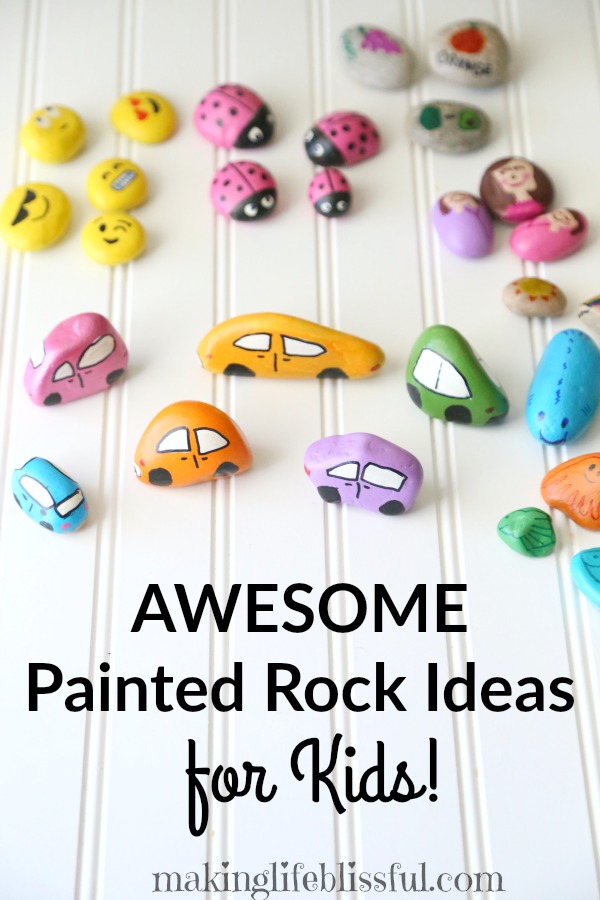 I love easy, affordable kids crafts. Painted rocks fit completely into that category. So this summer, my daughter and I collected a bunch of rocks and spent a whole afternoon painting rocks to our heart's desire. I'm going to show you all the ideas we came up with, but if you need more painted rock inspiration, check out 100 Best Painted Rocks from the Prudent Penny Pincher.
But if you are not in the mood to paint right now, here's a few easy kids crafts that I think you will love:
Easy Rainbow Crafts for Kids (free printable!)
How to Make Origami Bookmarks (free printable!)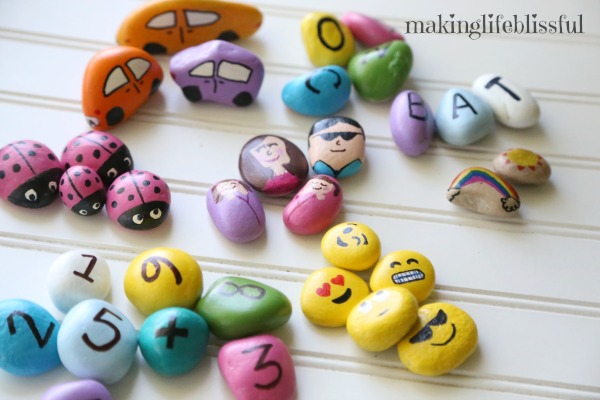 Why Rock Painting?
Rock painting has become the latest craze ever since Megan Murphy founded The Kindness Rock Project. The idea is to paint rocks with a positive picture or quote and leave it for someone to find, like on the beach or at a park. The person who found it will hopefully return the good vibes by leaving one of their own, or spreading kindness to another in some way.
But painting rocks has become more that just a kindness thing. It's also an artistic, crafty thing. And I believe it's can be an education tool as well. Here's some reasons why you should paint rocks:
Painting rocks uses your imagination. The ideas and possibilities are endless. There are no rules.
Painting rocks is cheap. Rocks are easy to find almost everywhere. The paint and supplies can be very affordable as well.
Painting rocks is educational. You can use painted rocks to teach counting, color recognition, letters, stories, open-ended play, and if you involve kids in painting the rocks, then they get the artistic challenge as well.
Painting rocks is easy. You can be super detailed as you paint rocks or you can just paint and go. But either way it doesn't take a lot of talent or time.
Painting rocks is FUN! I found it to be very relaxing. If you mess up, there's always more rocks. I challenge you to give it a try.
How to Paint Rocks
All you need to get started painting rocks is a few simple supplies. The photo below show the supplies we used to paint rocks.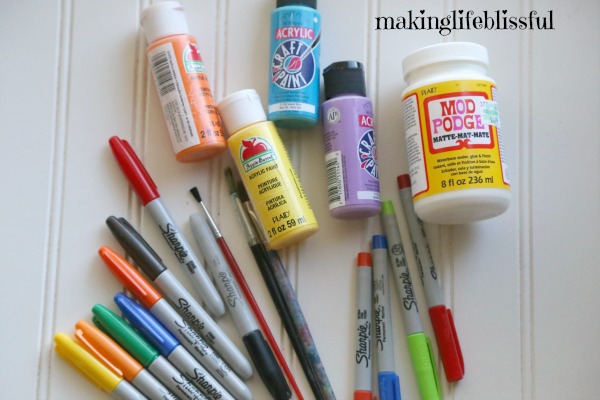 What you need to paint rocks:
Rocks, smoother ones work best
Acrylic Paint
Paintbrushes and/or sponge brushes
Sharpies Permanent Markers, for the fine details
Mod Podge, to seal the paint
plastic tablecloth and/or paper plates to keep the mess down
How to create easy but awesome painted rocks: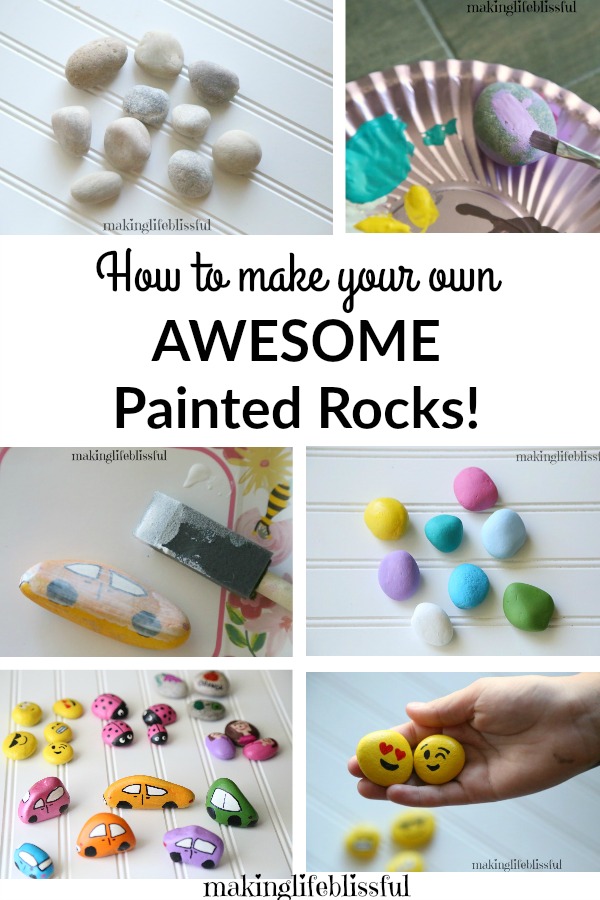 Select smooth rocks. Search for them in your yard or the park or you can even buy them at the store. Paint them with a base coat with acrylic paint. Acrylic paint is pretty cheap and can be found at any craft store. Let the paint dry between coats. Add more layers or paint as need to add details. For fine details use a fine permanent marker to color the details. Finish with a coat of Mod Podge to seal the paint and keep it from chipping. Let the Mod Podge dry thoroughly and you are ready to use!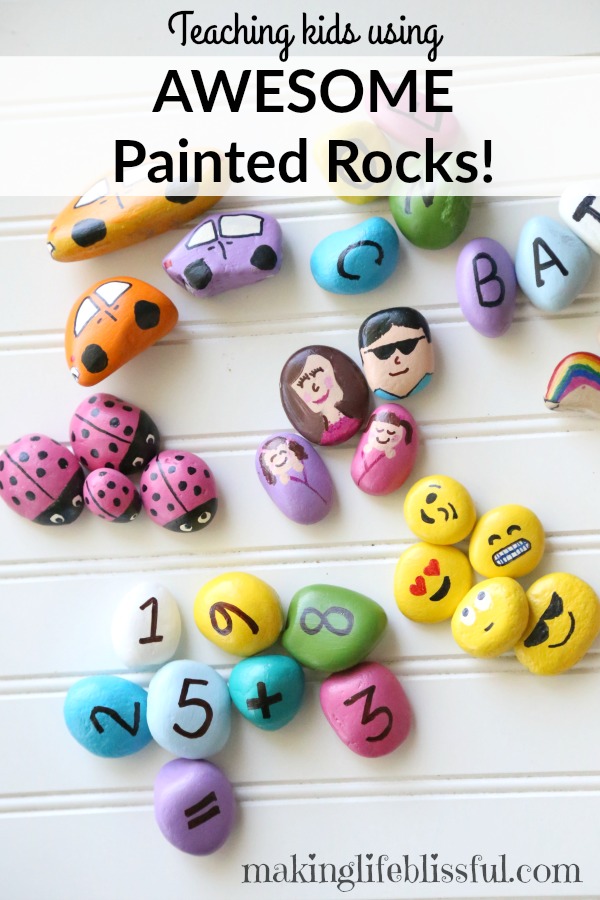 Painted Rock Ideas and Using Painted Rocks to Teach Kids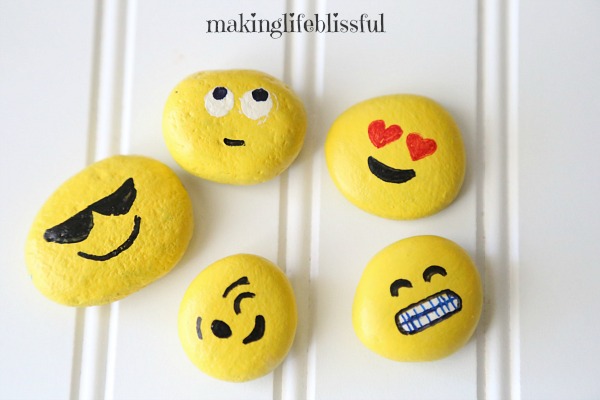 Emoji Painted Rocks. Use painted rocks to teach kids to understand their emotions. These emoji painted rocks are perfect for helping recognize their emotions and manage their feelings. Sometimes kids have a hard time explaining how they feel. You could practice the names of each emotion and talk about how we feel with each one. Let the child act out each emotion. You could also let your child tell you how they feel at that moment by choosing the emoji that reflects their feelings.
I have also created TONS of Emoji Printables that you may like as well. Emoji Printable Bundle and Large Emoji Printables.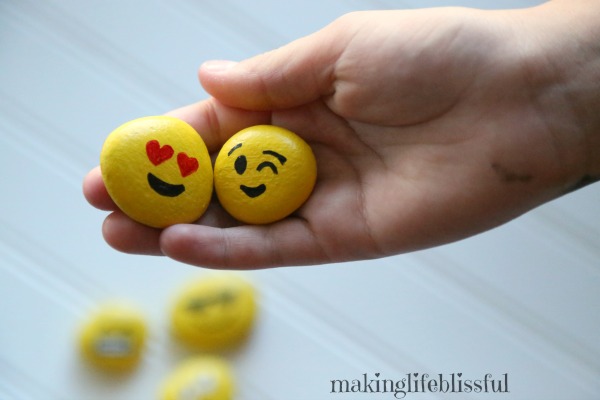 These painted rock emojis were very easy to do. I simply painted the rocks yellow (for me it took 2 coats of paint, drying between coats), then I used a permanent Sharpie markers to create the faces. I simply copied the emoji faces on my iPhone. When the paint is dry, paint a light coat of Mod Podge to protect the paint from chipping and to give it a shiny look.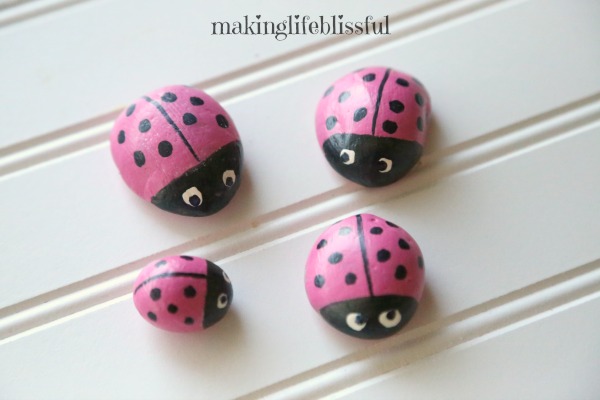 2. Ladybug Painted Rocks. Use painted rocks to teach big and small. A great way to teach the concept of large and small to preschoolers is using similar painted rocks, like these ladybugs and then show how they are the same except for the size. Learning big and small is a pre-reading activity. These lady buy rocks would also be fun to hide in the garden!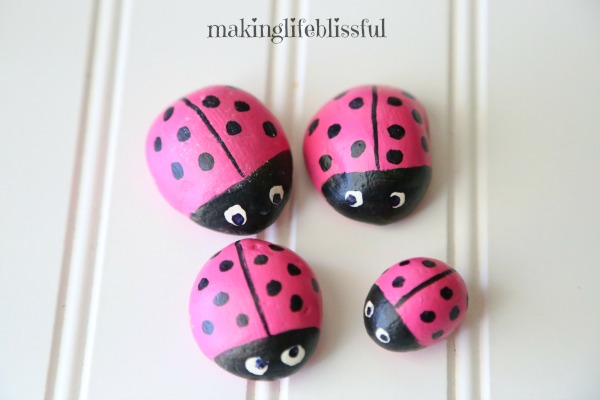 These ladybugs were so cute to make! I just looked for pebbles with a rounded hump. Paint them pink or red, adding black on the tip for the head. White paint dots for the eyes, and then use black Sharpie markers to add the polka dots, lines, and eyeballs.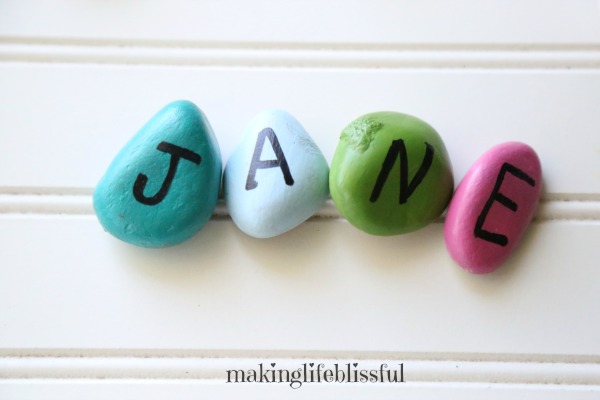 3. Alphabet Rocks. Use painted alphabet rocks to teach reading. These ABC painted rocks are a fun way for kids to learn how to spell their own name. You can also use them to teach phonetics and spelling. Help them take different letters and put words together. And of course you can always just sing the ABC song!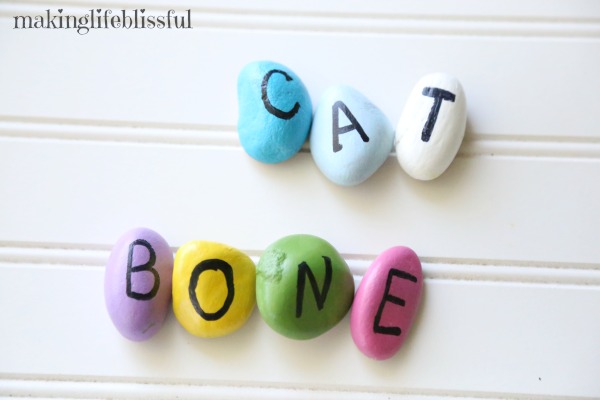 These painted alphabet rocks were so EASY to make. Paint the rocks any color you want. When they are dry, write the letters on with a dark colored permanent marker. Finish with a coat of Mod Podge to protect it.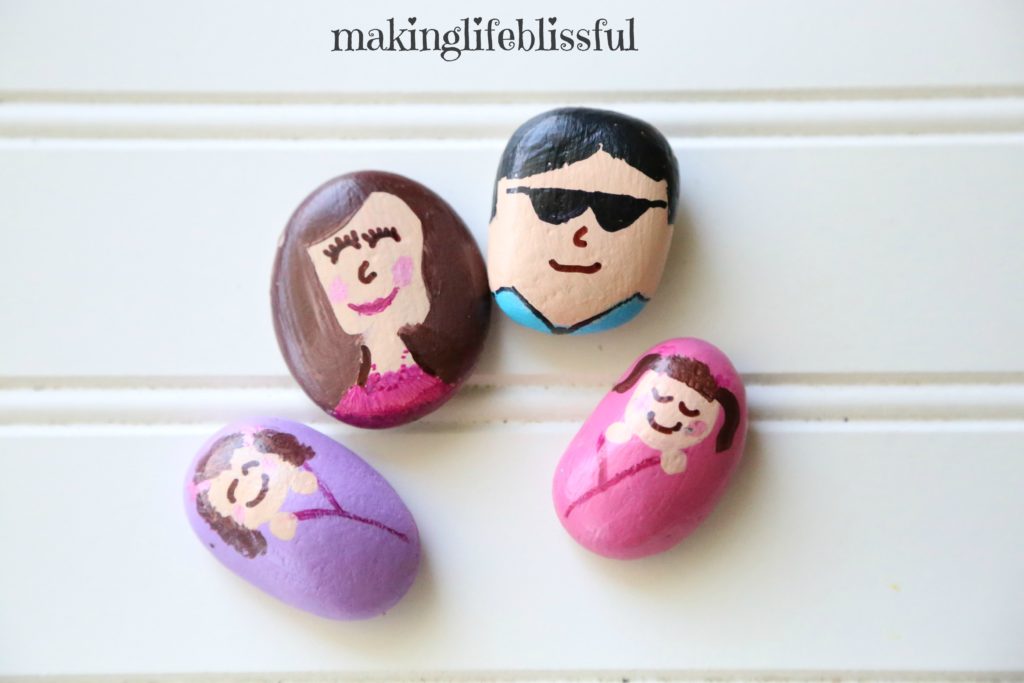 4. Painted Rock Family. Use painted rocks to teach about relationships. This painted rock family is the perfect way to teach kids about families and relationships. Kids can use these rocks as a pretend play item to help them work through relationship issues. You can teach about a new baby that will be joining the family, or any scenario that your child is dealing with. Simply act out a simple story with them with a small problem. Help them act out a solution to the problem.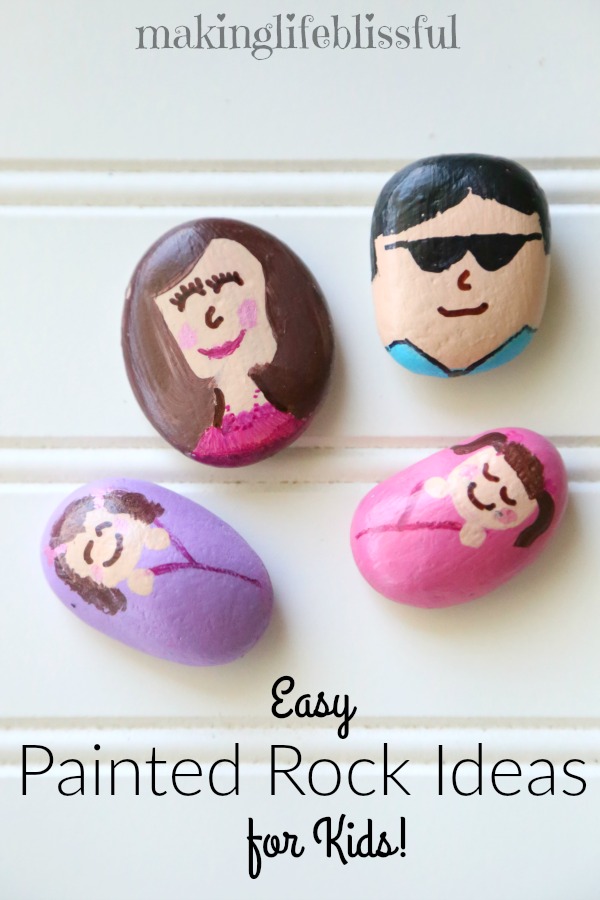 We actually made this painted rock family to look like my sister's family. They are coming to visit soon and we wanted a fun rock family for her little girls to play with. These painted rocks are a little hard to make, but all you have to do is paint the main skin color background and let it dry. Add hair with your paint and let dry. Then simply add the details with your permanent Sharpie markers. Coat with Mod Podge to finish.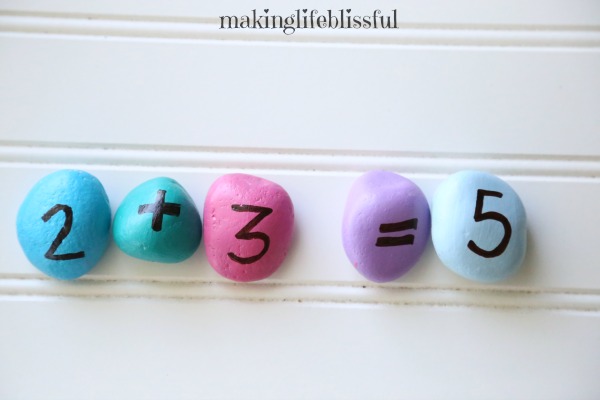 5. Number Painted Rocks. Use numbered painted rocks to teach counting and math. There are several ways you can use rocks to teach counting. Have your child count the number of rocks. You can also just teach number recognition. Adding and subtracting is another use for these number painted rocks. Using painted rocks makes math way more fun!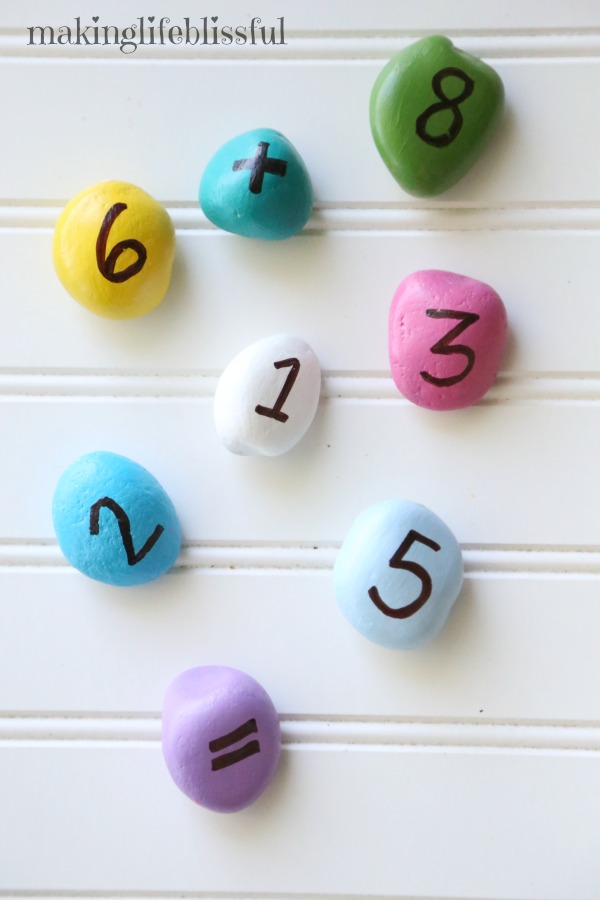 These colorful number rocks make math bright and playful. Theses rocks were painted just like the alphabet rocks (above). The best part is that really any size or shape of rock will do for these numbered rocks.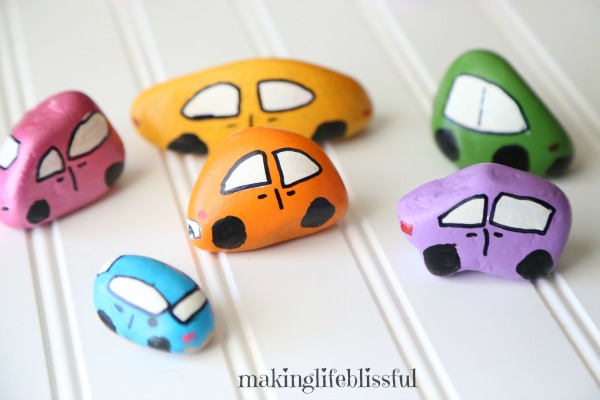 6. Painted Rock Cars. Use painted rock cars to teach about communities, pretend play, and taking turns. Painted rocks cars are so much fun because they can be any shape or color. You can use painted rock cars to teach a little science and movement. You can also use them for pretend play when teaching about communities or how roads work. They are also great for using the pretend play to talk about taking turns, waiting in line, and being courteous to other people (while driving). And they are just fun crash around!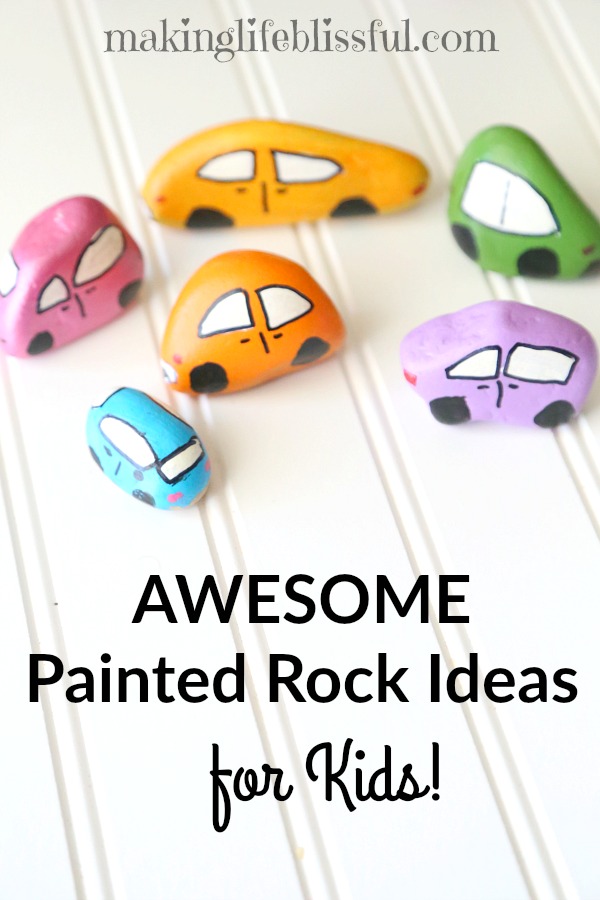 I gotta admit that these painted rock cars were the most fun for us to make! You can use all the odd shaped rocks that you have and make them into cool cars. Start by painting the car with a main color for the base coat. Let it dry then add white paint for the windows and black paint for the wheels. Be sure to use a fine permanent marker to outline the windows and add details like license plates, lights, and door handles.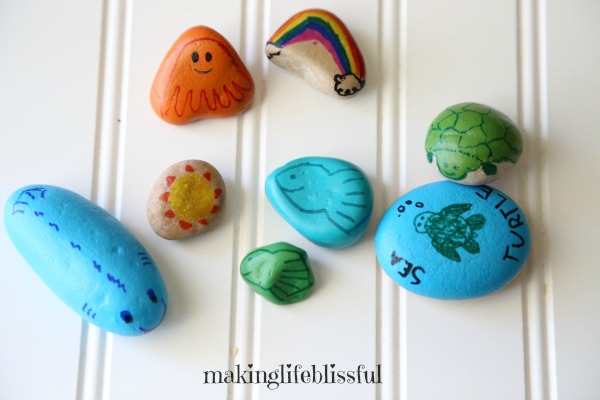 7. Painted Rock Animals. Use painted rocks to teach about nature. Because rocks come in all kinds of shapes and sizes, you can paint them to look like any kind of animal your imagination can think of. Teach kids about nature and the animal kingdom using painted rocks. Helps them see how animals are all different shapes and colors. Teach them the names of animals as well. Use the animal painted rocks for pretend play.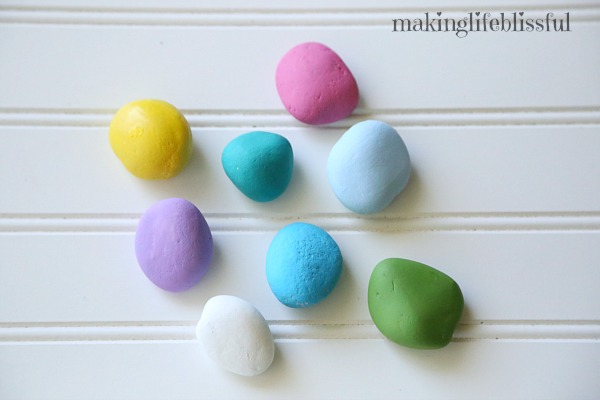 8. Colored Painted Rocks. Use painted rocks to teach about color. Get out all the paint colors you have and let kids learn about all the colors of the rainbow. These rocks are the easiest of all to paint. You could add the name of the color on the rock using a Sharpie if you want. Leaving the rocks blank allows your child to use their imagination. Will they make rock soup? Can they line them up in rainbow order? What will they imagine with the rocks? Paint some and see what happens!