I'm dying to show you these cute BUGGLES we made. It's a fun little kids craft using clear gems and reusing an Altoid tin and it would be an awesome kids summer craft. This easy Altoid tin project makes a fun little travel toy or bug collection for your children. We call the little gem critters "Buggles." Keep in your purse for when waiting at restaurants or offices. Kids can make them with friends and name them and trade them. Here's how to make it . . .


* Buggles Craft are copyrighted by Making Life Blissful. Only for home, personal, and non-commercial use. This post may contain affiliate links.




The little "bugs" or Buggles fit so nicely in an Altoid tin.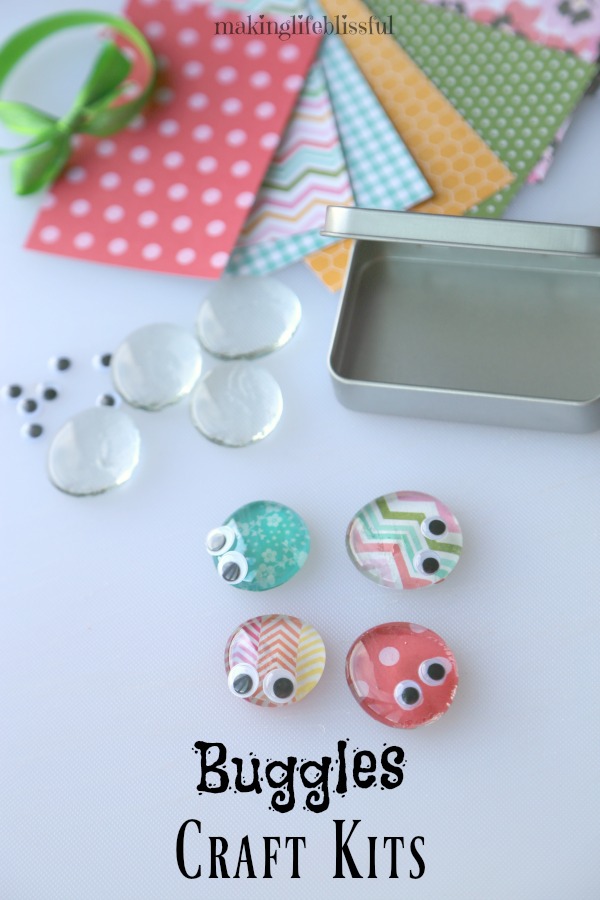 Now you can purchase all the pieces you need to make Buggles in one kit. Easy!
I've done the hard part of finding all the items, and you get to do the fun part! Makes a unique gift for tweens or a fun activity for families, parties, camps, scouts, and more!
Visit the link above to learn more.

This adorable craft kit encourages kindness and service too. Kids get to make the Buggles with all the items provided for them in the kits. Then they can play with them and do secret acts of kindness for their family and friends. Comes with kindness cards too.
Read more about the Kindness Buggles Story HERE.
Purchase the Kindness Buggles Craft Kits HERE
*part of the proceeds of each craft kit purchased with be donated to recent flood and hurricane victims in Florida and Texas.
How to make Buggles Craft:
The possibilities are endless. You can create buggles of all colors and patterns. Here we have a lady bug and even a little bumblebee. It's so easy!! Watch the video below to get an overall idea and then see my detailed instructions in this post and the next page over:




Step 1. Gather scraps of patterned paper. Add extra details if you want. We wanted this one to look like a bumblebee so we added some black stripes and a stinger.
Step 2. Put some glue on the gem and stick it to the paper. Press it down so the glue spreads out.
Step 3. Let the glue dry thoroughly.
Step 4. Using scissors, cut around the gem, trimming off the extra paper. Glue on the googly eyes.
Now let's head over to the NEXT PAGE to see how to make the cute tin container:

Get started with kidpik and create her style profile now!

30% Off Your Purchase + Free Shipping and Styling When You Sign Up for kidpik!
You may also like: