If you are having a waffle brunch or waffle party, here's a big list of waffle bar toppings! Plus, some cute waffle bar printables.
Don't you just love a waffle bar? Waffles are one of our favorite breakfasts. Whenever we have a special occasion to celebrate in our family, we have warm homemade waffles with ice cream and homemade berry sauce. It's heaven. And since waffles bars and pancake parties are all the rage, we wanted to share with you all the waffle bar toppings you could ever need! We came up with 91 waffle bar topping ideas for you! So if you are putting together a waffle bar, brunch, or just want a fun breakfast idea, check out our huge list of waffle toppings to get you started. Plus, you'll see that I have new waffle bar printables too. My pancakes and pajamas party printables are a big hit, so we've added the waffle party printables for those of you having a waffle party. Enjoy my friends! We appreciate your support!
*This post may contain affiliate links.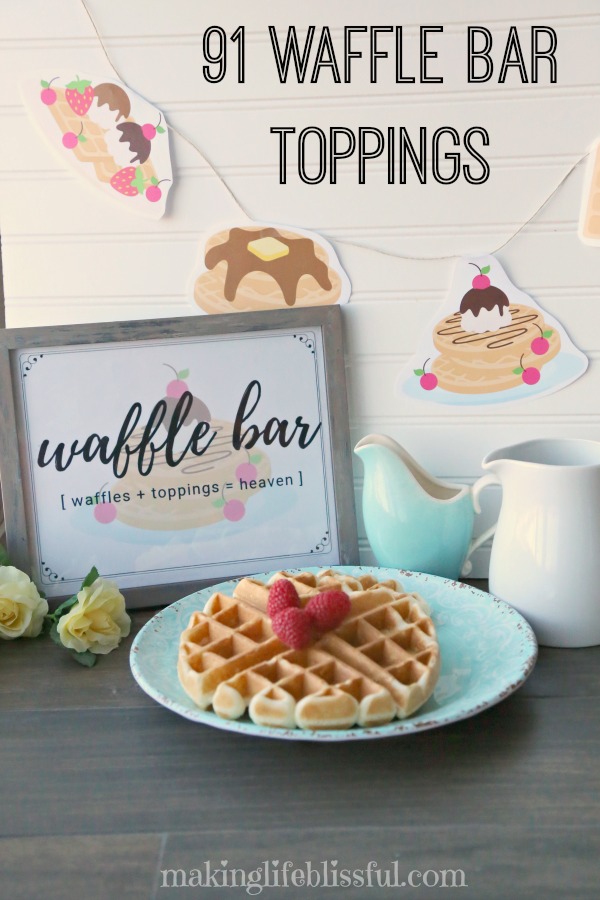 What are your favorite toppings to put on waffles and pancakes (and french toast too!)? Start by thinking about what you love to put on it first. Then also you could ask your family and friends what toppings they love to put on waffles and start collecting a list that your guests will love at your brunch party. And of course, check out our huge list of waffle toppings below. It's complete with waffle syrups as well as sweet waffle toppings and savory waffle toppings.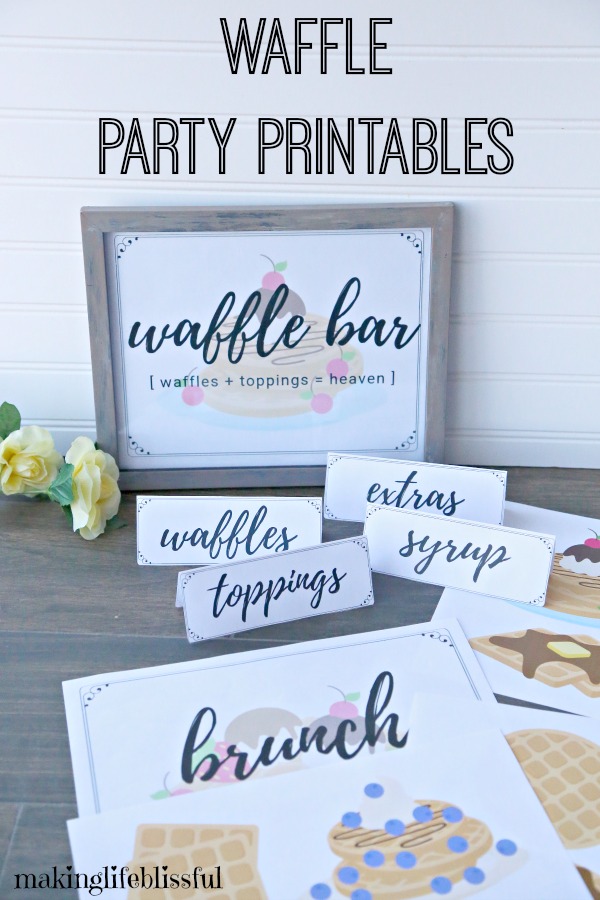 Like I said, our Pancakes and Pajamas printables are one of the most popular in our shop. So we've added NEW waffle bar printables for those of you serving waffles instead of pancakes. These waffle printables come with waffle bar and brunch signs and well as printable waffle bar labels to set out with all your toppings.
Click to see the waffle bar printables:
You may also like our other fun breakfast ideas:
Build Your Own Waffle Bar Ideas
Heart-Healthy Breakfast Casserole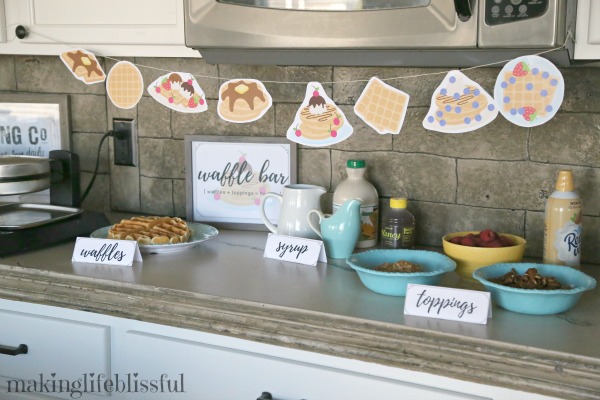 You can use these printables to make signs for your waffle bar to show where the toppings and syrup are, or you can make a garland to decorate for your brunch party.
These printables should make set up for a waffle bar quick and easy. And this list of creative waffle topping ideas will be so fun to try!
SWEET WAFFLE BAR TOPPINGS
Maple syrup
Ice cream
Strawberries
Chocolate chips
Coconut
Nutella
Bananas
Whipped Cream
Peanut Butter
Caramel
Blueberries
Chocolate Syrup
Pecans
Maraschino cherries
Applesauces
Butter
Sprinkles
Pie filling
Lemons
Blackberries
Heath bar
Pineapple
M&Ms
Snickers
Apples
Orange
Kiwi
Cinnamon Sugar
Oreos
Strawberry Syrup (easy homemade recipe here)
Marshmallow Creme
Crushed graham crackers
Grapefruit
Cookie butter
Peaches
Gummy bears
Powdered sugar
Pears
Almonds
Peanuts
Granola
Reese's Pieces
White chocolate
Mini cheesecake bites
Jelly beans
Cookie dough
Walnuts
Brownies
Nilla Wafers
Candy corn
Animal crackers
Dragonfruit
Popping bobas
Mangoes
Jam
Cream cheese
Marshmallows
Pirouline Sticks
Kit Kats
Twix
Candy cane
Gummy worms
Frosting
Almond Joy
Butterfinger
Raspberries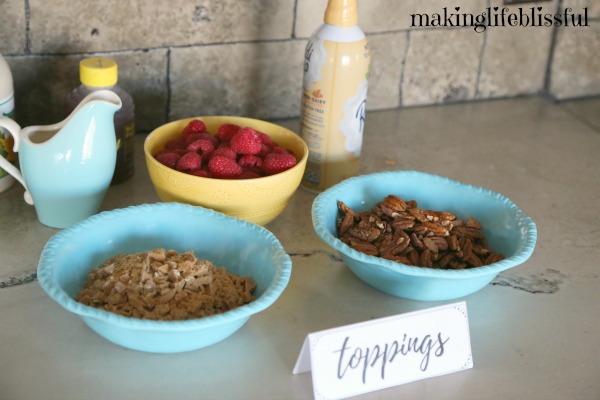 SAVORY WAFFLE BAR TOPPINGS
Bacon
Chicken
Avocado
Chili
Cheese
Gravy
Tomatoes
Pesto
Sausage
Taco Meat
Cilantro
Pepperoni
Potato salad
Sour cream & green onion
Cucumber
Ranch
Pulled pork with barbecue
Lime
Bell Peppers
Jalapeno
Ham
Eggs
Spinach
Feta Cheese
Olives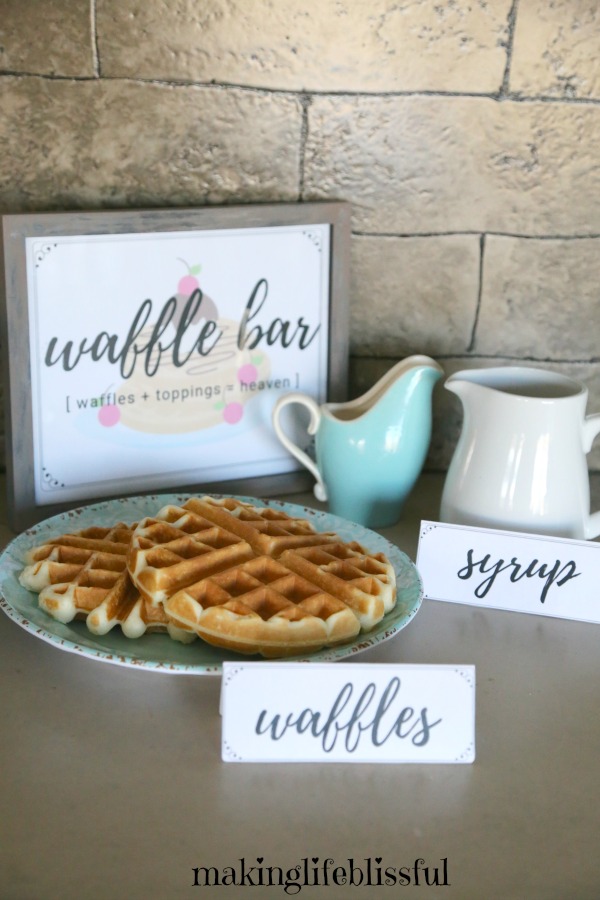 Have fun being creative with your delicious waffles and decorations at your next church gathering, office party, or brunch!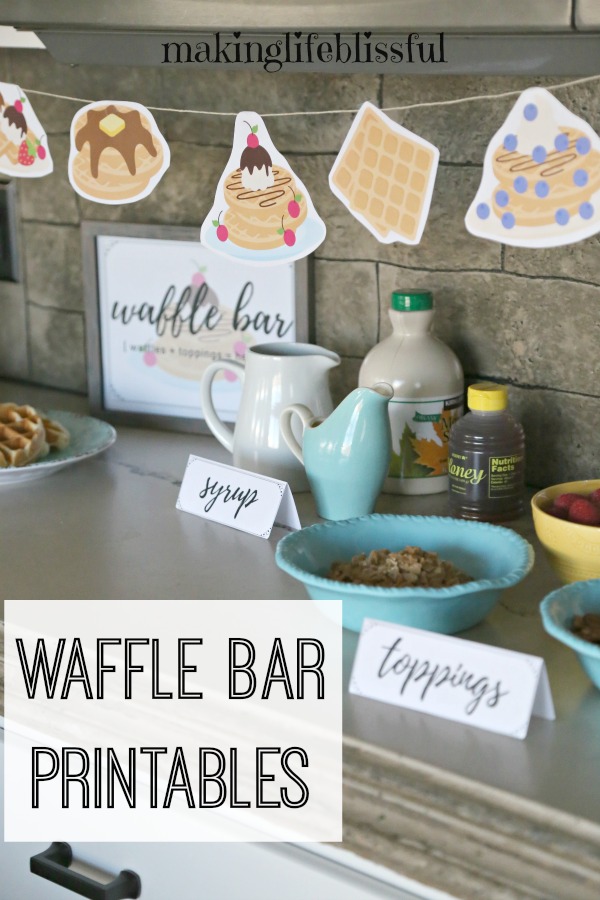 You may also like: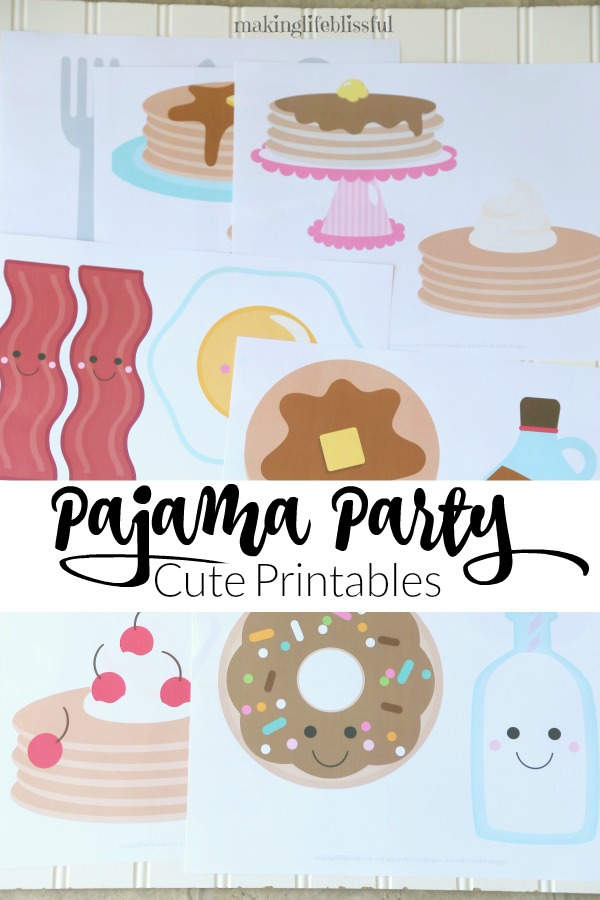 Pancakes and Pajamas Party Ideas