Alright folks, here's the deal. I know it's holiday time and I should be posting some delicious dessert or crazy-good holiday snack (don't worry, they'll be back–moderation in all things, right?). Instead I'm posting Heart Healthy Breakfast Casserole. So the reason is I am trying to eat healthier (as always) because high triglycerides are the bane of my existence. In my search for yummy, healthy recipes I came up with a healthier breakfast casserole and I LOVE IT! So I had to share with y'all. And who doesn't love a good Christmas morning casserole? So why not try this yummy, less-guilty, breakfast dish. My kidlets even loved it. Promise.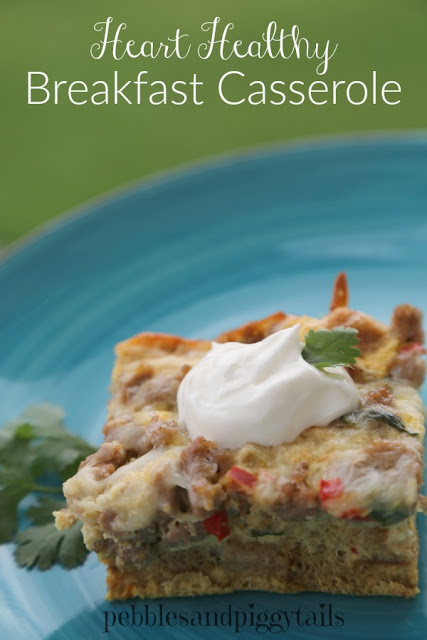 The best part about this casserole is that it's easy. AND it uses heart-healthy ingredients like whole wheat bread, egg whites, veggies, lean turkey sausage (regular sausage is a no-no for heart patients).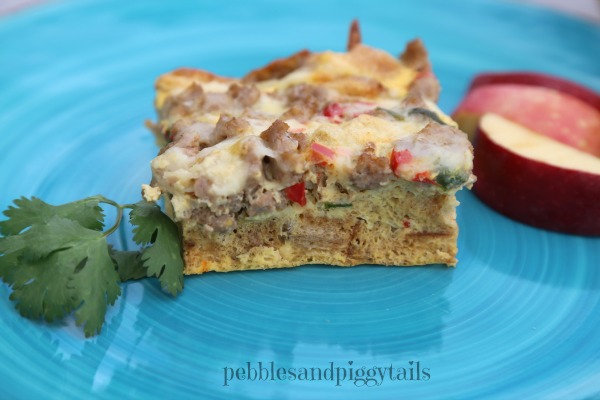 We often have this for dinner and then my kidlets love having the leftovers for breakfast the next day.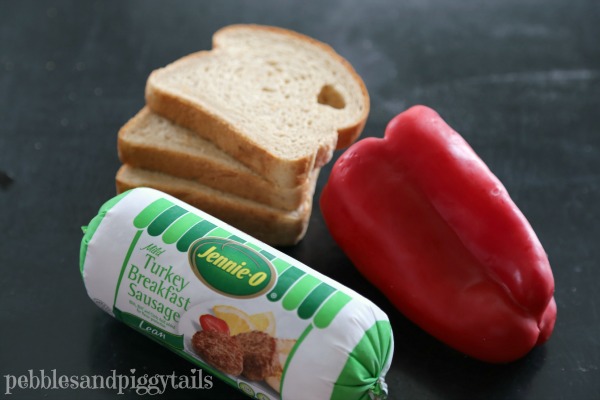 Healthier Breakfast Casserole
1/2 cup chopped green onion
3/4 cup diced bell pepper
1 tsp garlic powder
1 lb lean turkey breakfast sausage
4-5 pieces of 100% whole wheat bread
1 large carton of Egg Beaters Southwestern Style (30 oz)
salt and pepper to taste
olive oil cooking spray
optional: grated low fat cheese
Brown and crumble the turkey sausage in a pan. As it finishes, add in the chopped bell pepper, garlic powder, salt and pepper, and green onions. Set aside. Slice the whole wheat bread into small cubes. Coat a 9×13 casserole dish with cooking spray. Place the cubed bread evenly in the bottom of the casserole dish. Top with the crumbled sausage mixture. Then pour the entire carton of Egg Beaters onto the sausage and bread. It should soak all around it and fill up the dish. If desired, top with a low fat grated cheese.
You can let it sit in the fridge overnight if you need to, or just cook it right away. Bake at 325 degrees for about 25-30 minutes. When the eggs are cooked through and the cheese is melted, it's done! Serve immediately with fat free sour cream or plain Greek yogurt.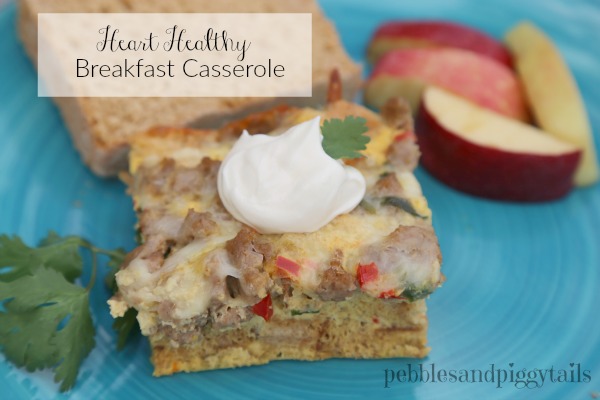 Make it a blissful day!

You may also like: