Sweet and slushy limeade party punch recipe that your guests will love. Easy 3 ingredient frozen party punch that is great for St. Patrick's Day or a hot summer day!
Growing up in the 80's we drank punch ALL THE TIME. Sugar free stuff was just beginning, so classic party punch was everywhere. My mom used to make this yummy slushy party punch for family get-togethers and parties. I loved the slushiness of it as a kid! Plus, it always looked pretty in the punch bowl. My mom actually called it Lime Frappe, but my kidlets now seem really confused when I say frappe so I just call it Limeade Slushy Party Punch. You actually can make it in ANY FLAVOR as you'll see below, but I used this for St. Patrick's Day, so the green party punch was perfect for that. It makes a wonderfully refreshing summer slush punch for picnics and parties that are hot and in need of some icy refreshment.
*This post may contain affiliate links that I earn a small commission for if you click on them (at no cost to you). Thanks for supporting my website!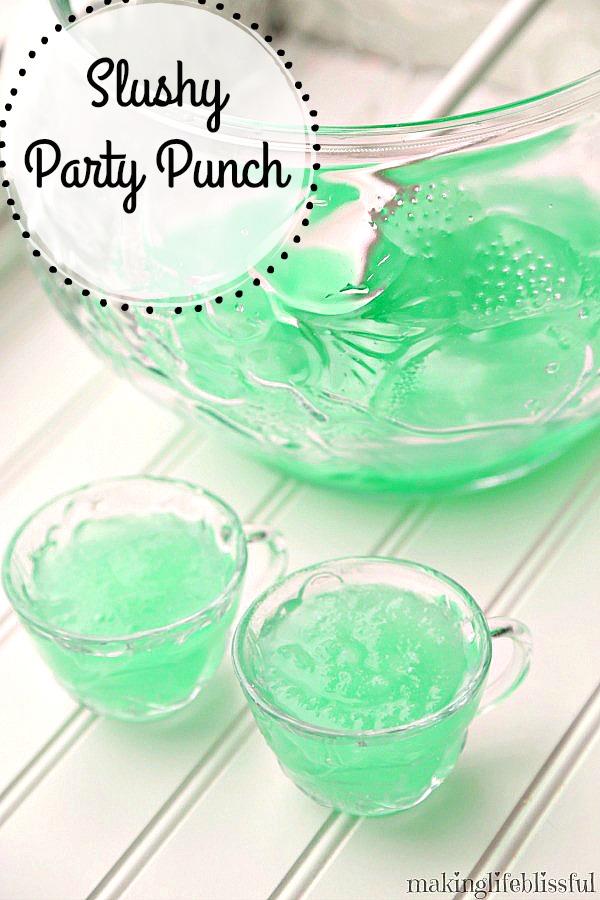 You can make this frozen slushy punch with an flavor really. You just need to find a frozen concentrate that you like. I have tried strawberry Bicardi frozen concentrate before and it was very delicious. This party punch is a fun drink to make for parties or just for a hot summer day. It's only 3 ingredients, so it's no big deal at all. It is full of sugar–but c'mon, sometimes we need a little sweetness, right? You can add food coloring (totally optional!) if you want a bright colored frozen drink.
Here's some other frozen recipes you may like:
How To Make Slushy Punch
For this slush punch recipe you will need:
Limeade Frozen Concentrate (or you can use ANY flavor of frozen juice concentrate)
Sprite or Sprite Zero or Lemon-Lime Soda
Sugar
Water
Food Coloring (optional)
Fresh lime slices (optional)
Here's a quick video of this recipe to give you an idea of where to start. And more details below it of course:
Slushy Punch Recipe Video: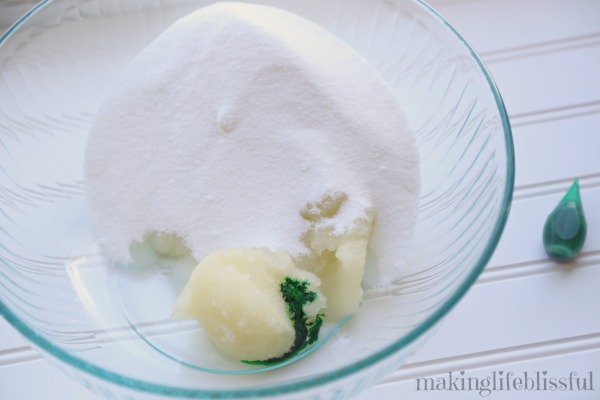 All you do with this recipe is mix all the ingredients in a large bowl (minus the soda and the fruit slices). The amount of sugar you add is up to you. You can add more or less depending on your preference. The food coloring is also up to you. I used this for St. Patrick's Day punch so I needed it to feel really green, so I added some food coloring. But it's totally optional.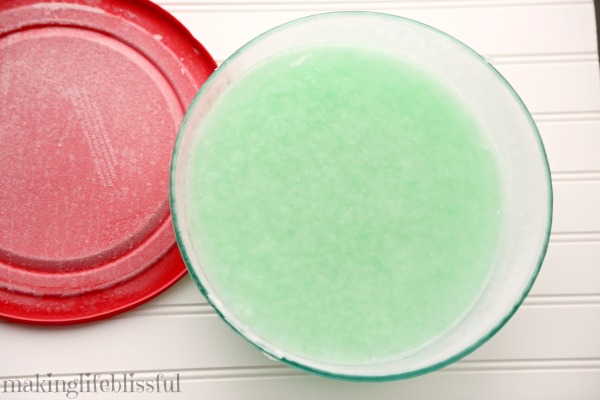 Then you freeze your mixture. I just freeze it in the bowl, but you can divide it into large gallon Ziploc bags if you want.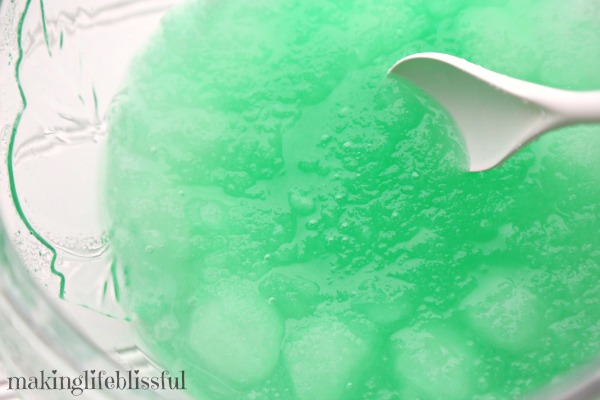 When you are ready to serve, simply pull out of your freezer and let it thaw just enough for you to release it from the bowl or container and put it into your punch bowl. Then you add the Sprite soda and the fruit slices as desired. Chop it up a little until it has a nice slushy texture.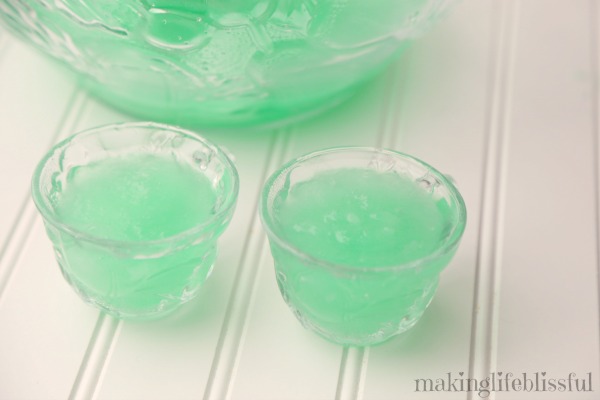 And then serve immediately!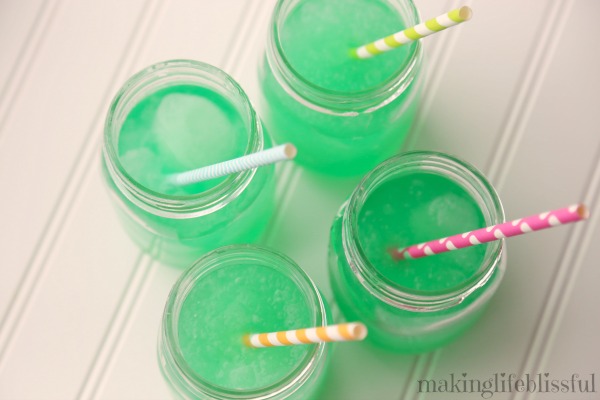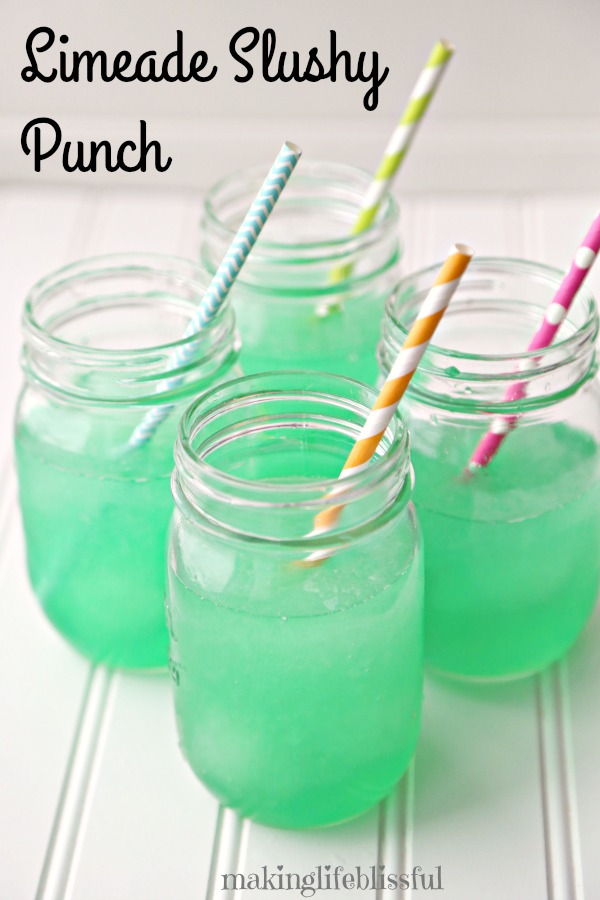 Limeade Slushy Party Punch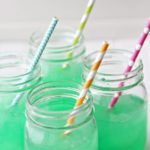 Easy, refreshing slushy punch. Perfect for parties, St. Patrick's Day, summer punch, etc.
Author:
Prep Time:

5

Total Time:

5
Scale
Ingredients
6 oz

of frozen limeade concentrate (other flavors work well too)

8 cups

warm water

2

–

3

cups of sugar
few drops of food coloring (optional)

6

–

8

cups of lemon lime soda pop
slices of lime or fruit to match your flavor (optional)
Instructions
Mix the first 4 ingredients together in a large bowl. Mix with a spoon until the sugar is mostly dissolved. Cover and freeze. You can also divide into large zip bags and freeze. When ready to serve, remove from freezer and let it thaw for a few minutes. Remove from the container and place into a large punch bowl. Pour in the lemon lime soda. Chop it around until it is as slushy as you desire. Add slices of real fruit to match your flavor and serve immediately.
Notes
You can use other frozen concentrate flavors. So many options with this recipe!
You may also like: