Every once in awhile I get in the mood for some kid crafts. I have no idea why. I guess in some ways I really am just a kid at heart. Like when I came up with the BUGGLES CRAFT (that is still one of my most popular posts) and that easy insect craft I shared with Juggling Act Mama awhile ago. Well, I've been at it again and today I've got another quick bug craft to make with your kids. This one is a Clothespin Dragonfly Craft. I had all the stuff for this craft at home and hopefully it will provide some busy creative time for your kiddos during the boring summer months ahead. You can also easily make this into a Valentine's Day dragonfly craft. Who wouldn't love make a fun little Valentine dragonfly with clothespins and gems? This also works as a great preschool bug craft too.
*This post may or may not contain affiliate links.
This easy clothespin craft only takes kids about 10 minutes. You will need to allow time for the glue to dry. Check out the video below for the quick demo of this dragonfly craft.
For this craft you'll need:
clothespins
googly eyes
pipe cleaners or chenille stems
plastic jewels or buttons
glue
mini puffballs or pom poms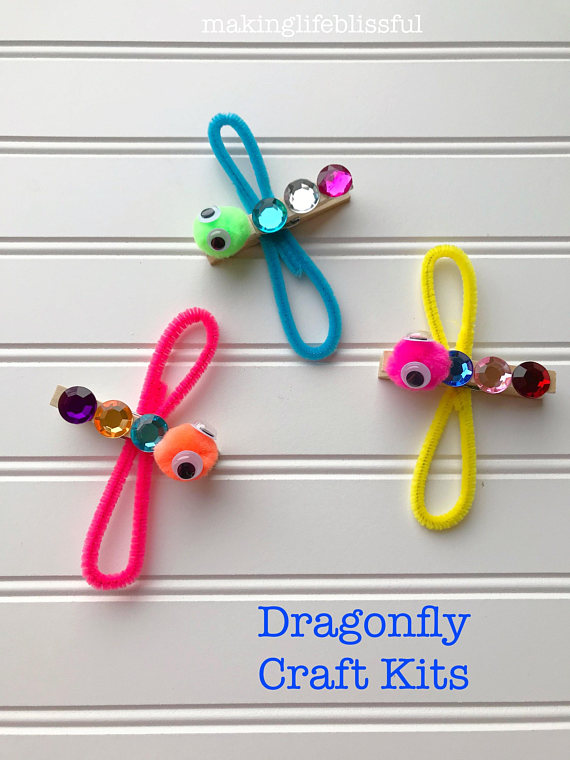 GET THIS CRAFT KIT SENT TO YOUR DOOR!
Pre-assembled Valentine Dragonfly Craft kits available for a limited time! Instead of searching for all these craft pieces, I'll send them to you in a nice little craft kit from my Etsy Shop. You can also purchase in bulk. Makes it easier for school groups, girl scouts, retirement homes, birthday parties, summer camps, and grandkids! etc. VISIT MY ETSY SHOP for more info!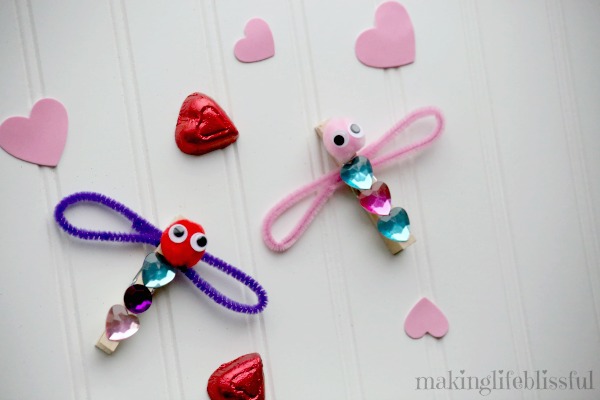 Here are the instructions for making your clothespin dragonfly!

Make the head by gluing googly eyes onto the puffball with the school glue.
Twist a pipe cleaner into a bow shape to look like wings.
Clip the pipe cleaner wings into the clothespin.
Glue the plastic jewels in a line onto the clothespin.
Glue the puffball head onto the clothespin.
Awww, isn't he cute?
Now you're done. You can use these as holders too–photos, cards, artwork . . . anything kids want.
Please PIN and share it!