Pina Colada Muffins with Toasted Coconut Streusel Topping! You'll love this pineapple muffin recipe and it's delicious topping of coconut to add that extra flavor kick!
With COVID-19 and quarantine going on we've had plenty of time to try and test out new recipes. And we are sharing them all with you! This is another awesome recipe from our specialist Amy, and she is using Paradise Candied Fruit pineapple to create this delicious Pina Colada muffin recipe. Give these dreamy pineapple muffins a try! Perfect for summer time!
*This post may contain affiliate links.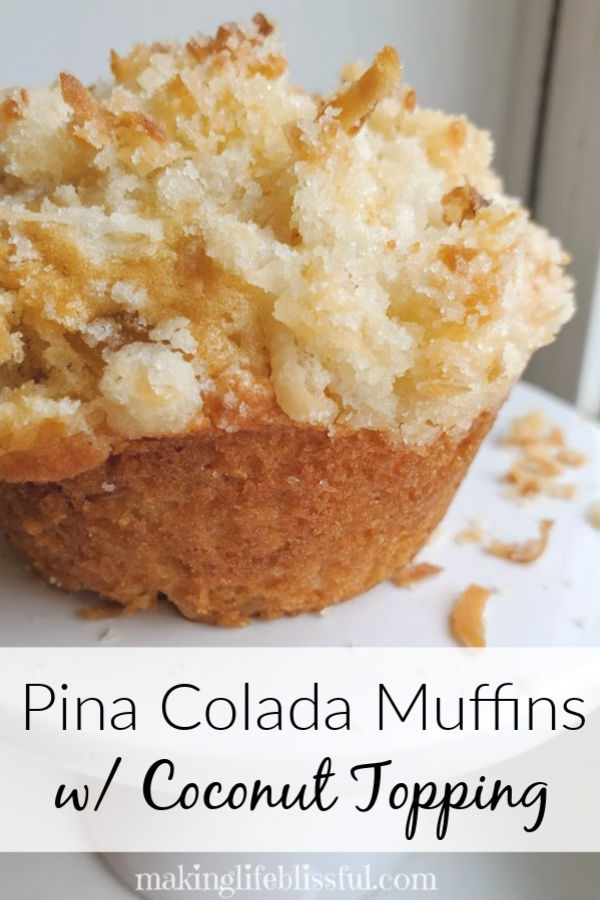 Do you love coconut? If you do…then skip the next few paragraphs. If you don't…then read on and consider a bit of free advice! HA!
This is a question I lovingly asked my nephew one day when we were making our favorite Porcupine Sundaes….a scoop of vanilla ice-cream rolled in toasted coconut and drizzled with our fav hot fudge sauce (a recipe I will post here at some point). Anyhow…he insisted he HATED coconut. WHAT?!!! Because I love him…and didn't want to kick him out of my kitchen…for life…I had to know more. I can understand that some people don't like plain flake coconut…it can be a little boring. I asked him if he had ever had TOASTED coconut. He simply replied, with a stale expression, "No…I don't like coconut." AAACK! ****CRINGE**** Now don't misunderstand, I realize everyone has the right to their own WRONG opinion…but COME ON! Don't say you don't like coconut unless you have also tried TOASTED coconut as well…the best most flavorful crunchy coconut experience possible.
After much coaxing and a tiny bit of blackmail…he tried a few slivers of toasted coconut….and…..
he agreed it "Wasn't bad"….
well that is a start at least!
Moral of the story…if you are standing in my kitchen and we are making one of our FAVORITE THINGS…and your judgement is clouded by a clear misalignment of opinion… TRY SOME and THEN have an opinion…we will still love you!!!! HA!! Time to bake!!!
Love and toasted coconut heaven,
Amy J 🙂
You may also like these pineapple and fruit recipes:
Pineapple Upside Down Cake Dessert
Pina Colada Muffins from Diary of a Recipe Collector
Retro Jell-O Salad with Pineapple Cream
Now for the good stuff!
Let the tropical explosion begin!
How to make Pina Colada Muffins (Pineapple Coconut Muffins)
Let's start with the COCONUT…of course!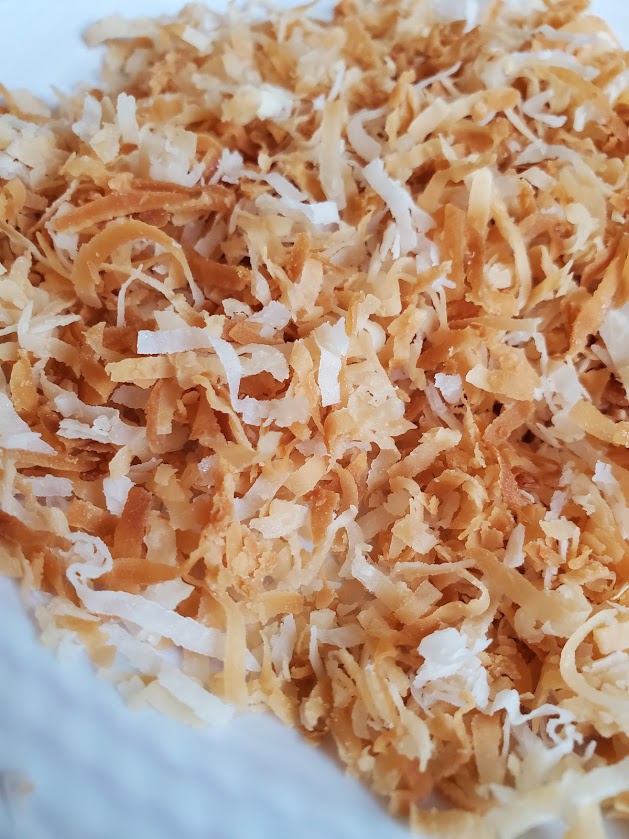 Toast your sweetened coconut on a cookie sheet in a 350 degree oven. Set your oven timer at 5 minute increments. Every 5 minutes take the cookie sheet out of the oven and stir/toss the coconut. Put the cookie sheet back in the oven and let it cook for another 5 minutes. This shouldn't take more than 20 minutes…but WATCH IT CAREFULLY! The last few minutes the coconut will toast quickly and you don't want it to get too dark. You want your coconut toasted to a nice light golden brown! The flavor will knock your socks off! YES!
2. Stir you toasted coconut into the dry ingredients until well combined.
3. This sweetened pineapple from Paradise Candied fruit gives the muffins and delicious punch of pineapple without adding extra liquid that could make the muffins flat and soggy.
4. I use full fat coconut milk and skim off the top layer of cream. This equals 1 cup of coconut cream. Discard the remaining coconut milk in the can. Mix the coconut cream into the melted butter, then stir in the buttermilk and eggs. Look how smooth and silky this liquid looks! This makes for muffins with a pillowy soft crumb! DELISH!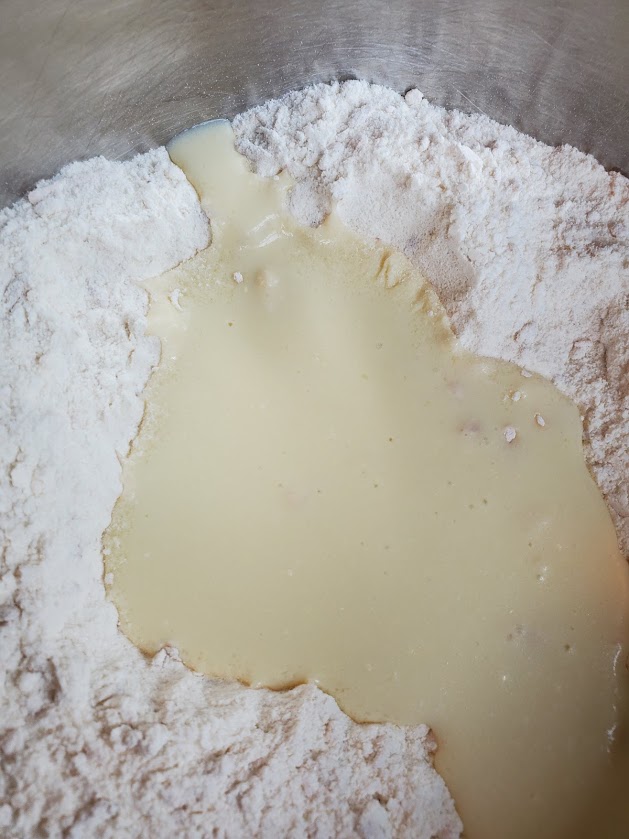 5. Make a well in the middle of the dry ingredients mixture. Pour the wet ingredients into the well. With a large spoon carefully fold the dry ingredients into the wet ingredients. Combine until just moistened. Do not stir like a cement mixer on over-drive…if you do, your muffins will be heavy and tough.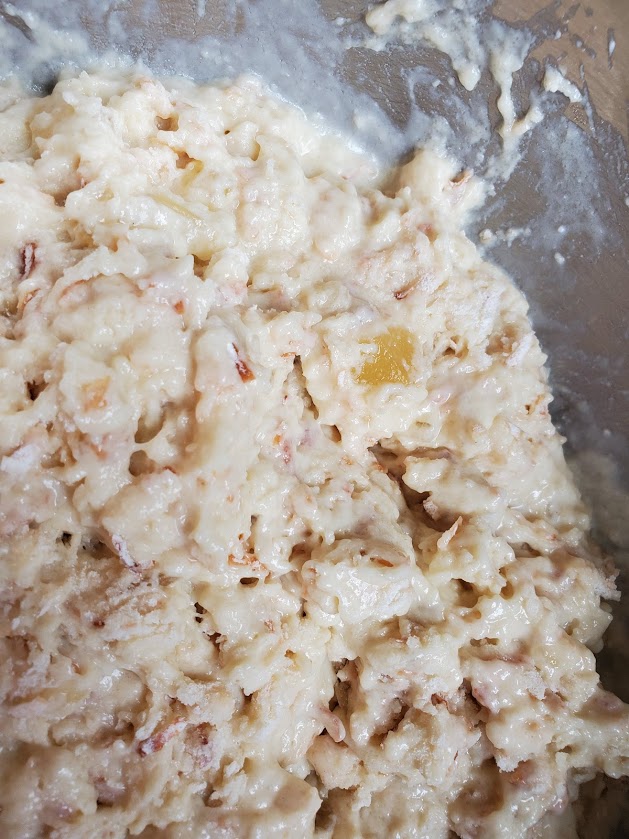 6. Check out this batter! If you mix it gingerly until the dry clumps are lightly incorporated with the wet…the batter will be thick…the muffins will turn out light, and soft inside. A bit of paradise really! Scoop this tropical heaven into 24 greased muffin tins. Fill each tin 2/3 full of batter. NOW…the best part of all…
7. Make your coconut streusel topping! Mix your butter, sugar and flour together until combined. Toss in a pinch of salt and the sweetened coconut.
(NOTE: the coconut in the streusel is NOT toasted. As the muffins bake the coconut in the streusel topping will get all toasty and delicious. No need to toast the coconut twice). Give it a good stir to incorporate. This stuff is TO-DIE-FOR! Try not to eat too much of it before you sprinkle it on top of your muffin batter. You want to have a nice tall crown of this crunchy-toasty-sweetness on top of each muffin! Watch it! Seriously! Stop eating the streusel topping! Quick! Spoon 1 Tble of this deliciousness on top of each muffin. HURRY UP! Put the muffins in the oven before you eat any more streusel topping! Bake for 25 minutes…don't sit there and watch these muffins bake through the glass of your oven door. Seriously…go do something! I know you can't wait…but seriously…go fold some laundry…or call your friend…
because…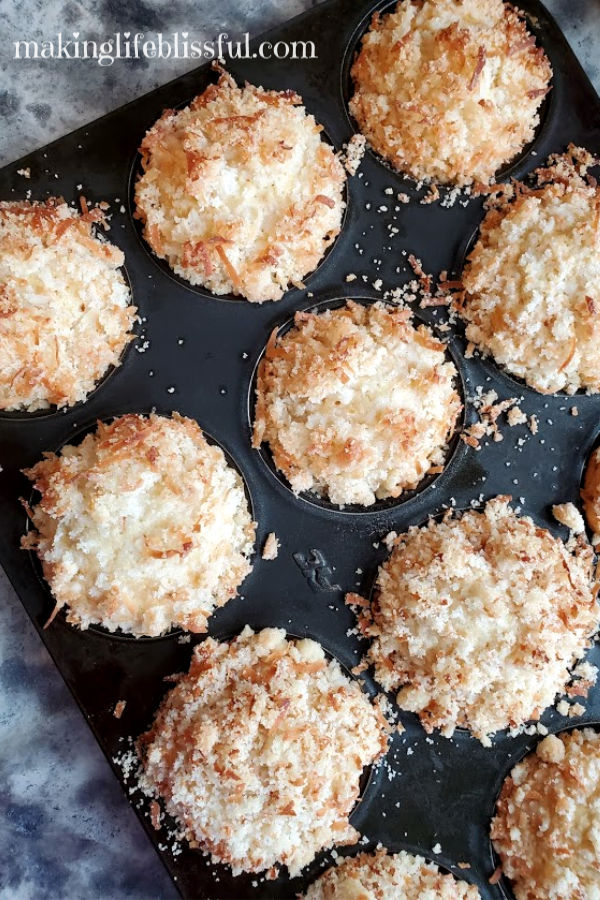 8. In 25 minutes you will stop…take this tropical heaven out of your oven…wait a few minutes so you don't burn the heck out of your mouth…make sure you are in the company of good friends or family because…
They are so good you are going to want to cry a little… 🙂
Seriously…that toasted coconut streusel topping will blow you away with its buttery toasted coconut flavor…not to mention the soft muffin crumb packed with…more toasted coconut and bits of sweet pineapple! DELISH!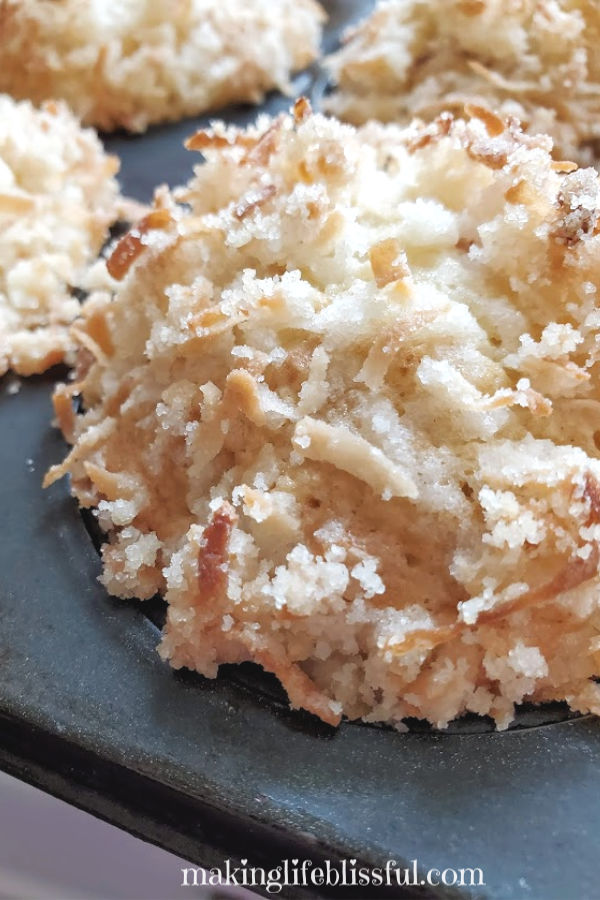 See what I mean?! These are crazy-good! Enjoy my friends!!

Pina Colada Muffins with Coconut Streusel Topping
2 1/2 cups flour
2 1/2 tsp baking powder
1/2 tsp baking soda
1 cup sugar
1/2 tsp salt
1 cup toasted coconut (bake on a cookie sheet at 350 degrees. Set timer and stir every 5 minutes until light golden brown. Takes about 15-20 minutes total. Watch carefully as the coconut browns quickly the last few minutes).

1 cup buttermilk
2 large eggs, beaten
1/4 cup butter, melted
1 cup coconut cream
1/2 tsp coconut extract
1/2 sweetened pineapple, chopped
In a large bowl mix dry ingredients: flour, baking powder, baking soda, sugar, salt and toasted coconut. Set aside. In another bowl mix together wet ingredients: First stir melted butter together with coconut cream. Next stir in buttermilk, eggs, coconut extract and sweetened pineapple. Take the bowl of dry ingredients and make a "well" in the middle of the dry mixture. Pour the wet ingredients into this "well" of dry ingredients. Fold wet and dry ingredients together carefully by hand with a large spoon. Mix until the dry ingredients are just moist. Batter will be thick but light as the buttermilk reacts to the baking soda. You do not want to over-mix this batter or your muffins will be rubbery instead of light, fluffy and soft inside. Generously grease 24 muffin tins. Spoon thick batter into greased muffin tins about 2/3 full. Top with 1 Tble of Coconut Streusel Topping. Bake at 350 degrees for 25 minutes. Cool slightly and then remove muffins from muffin tins. Finish cooling on a cooling rack. ENJOY your tropical vacation!
Coconut Streusel Topping:
1/4 cup butter, softened
1 cup coconut
3/4 cup sugar
1/2 cup flour
pinch of salt
Mix all together and set aside. Sprinkle 1 Tble on top of each muffin before baking.
You may also like: