Today we have another great recipe from my SIL Amy! She's always making the best stuff, so I hope you'll enjoy her fun guest post on these award-winning pumpkin muffins!
Aunt
Mikie's AWARD WINNING Pumpkin Muffins
I'm sure you have a
good recipe already….forget it! These
will melt in your mouth with unbelievable texture and flavor! You will thank me when YOU are famous for
these!


Yes, I know…….your grandma
makes the best pumpkin muffins/bread….EVER!
Well, you haven't tried Aunt Mikie's pumpkin muffins! Seriously. I have tried everyone's "famous" pumpkin….stuff. Most pumpkin muffins, bread, bars . . . whatever….
taste about the same. Maybe the spices
vary somewhat, but let's be honest, really it's all about the
same delicious….but still the same. UNTIL NOW!
I first heard about these
muffins almost 10 years ago when Aunt Michaeleen moved to town. Her kids raved about her incredible pumpkin
muffins. I thought, "That's nice." I mean, really, how good can a mini muffin
be, right?
Then I had one. No…. I had six. The first time she made them for us, I was in
love. Pumpkin love. We dumped all other pumpkin recipes and make
ONLY these! A total family
favorite. We have to ration these out as
children have been known to steal away a couple dozen and stash them in undisclosed
locations. These are ridiculously
fabulous! Make them….you will devour
them! Serious pumpkin paradise! Enjoy!
Let's get started:
Stir wet and dry ingredients
together until combined. Don't over-mix.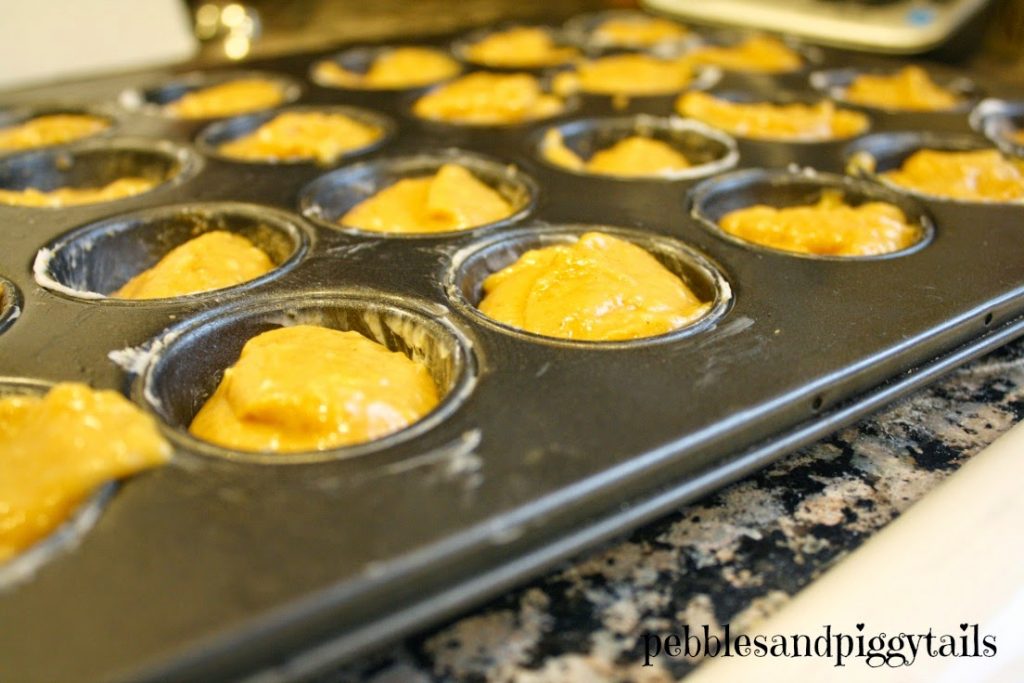 Scoop into greased mini
muffin pans….Or use cute little mini muffin papers…I don't have any. I'm sure they were all glue-gunned together
to create an amazing princess dress for one of the 100 dolls we have kicking
around our house….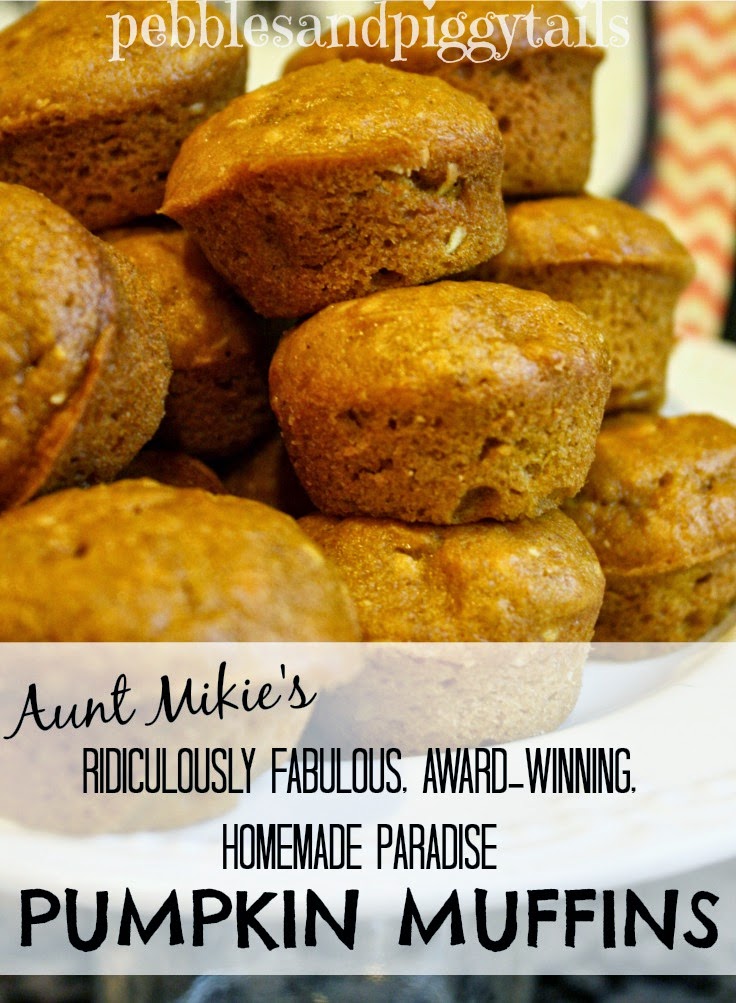 Aunt
Mikie's AWARD WINNING Pumpkin Muffins
Watch out!
You'll be famous for these and EVERYONE WILL HOUND YOU TO MAKE THEM!


var r = document.URL;
¾ cup oil
¾ cup applesauce
4 eggs, beaten
3 cups pumpkin (large 29 oz
can pumpkin)
1/3 cup buttermilk
2 cups sugar
3 pkgs INSTANT coconut
pudding mix (small 4 oz size)
3 cups flour
1 ½ tsp salt
1 ½ tsp baking soda
1 ½ tsp cinnamon
Mix oil, applesauce, eggs, pumpkin, and
buttermilk until smooth.
Mix together sugar, dry pudding mix, flour,
salt, baking soda, and cinnamon.
Stir wet and dry ingredients together until
combined….don't over mix.
Scoop into a greased mini muffin pan. Bake at 350 for 15-18 minutes.
P.S. You can also bake in a bread pan to make a
loaf. Bake at 350 for 25-ish
minutes
* Try not to eat a whole batch while you are waiting
for the next one to bake….Nice try….you can't do it!!