How to make Valentine Candy Houses for an easy Valentine treat and activity for kids! We call them Valentine Sweet Shacks!
Ohhhh goodness, I love Valentine's Day! Winter just needs a little extra boost of happiness and Valentine's Day does just that. So I thought today I would share a easy Valentine activity for kids that we did last year. We made Valentine Candy Houses that are just like Christmas graham cracker houses. However since they are a fun treat for Valentine's Day we decided to call them Valentine Sweet Shacks. See the basic idea below and my BEST TIP to put these candy houses together QUICKLY . . .
*This post may contain affiliate links.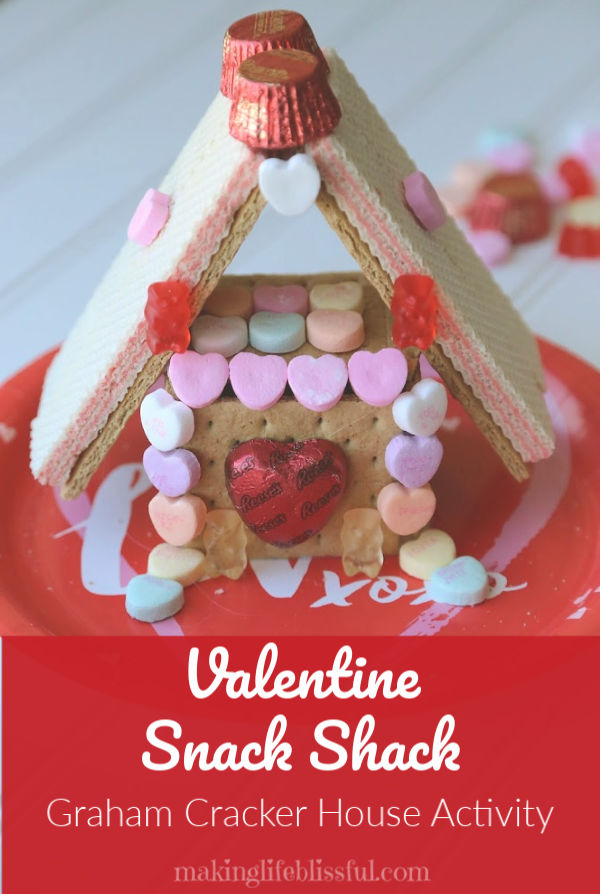 Easy Valentine Candy House
Aren't these Valentine Sweet Shacks just so adorable? And don't worry they are easy and interactive. Kids will love making these for Valentine's Day. They can creatively make their own little house and decorate them how they want. Plus, if you missed fitting in making candy houses with your kids at Christmas, this is your chance to enjoy it now. Who says candy houses and gingerbread houses are only for Christmas? Plus, it's a good way to use up leftover Valentine candy.
Also if you like this Valentine activity for kids, you'll also love my other fun family Valentine ideas:
Printable Princess Valentines (FREE)
Easy Valentine Crafts for Kids
How to Make Valentine Sweet Shacks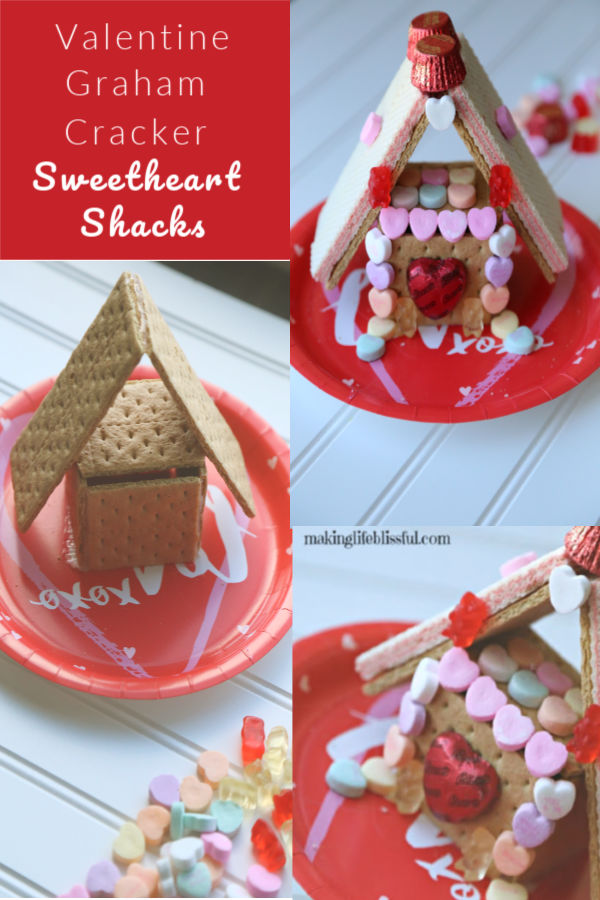 What you'll need to make a Valentine candy house: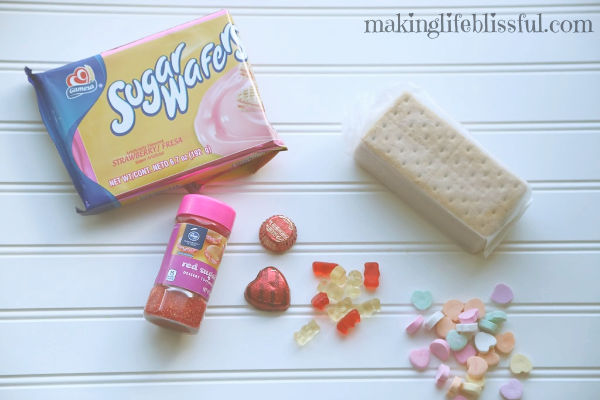 Basically you can use any Valentine candy or red and pink candy. But be creative in thinking of fun candy items that will add creativity to your project. Look around the house too, you may have stuff you can use! Here's what we used:
Graham Crackers (I like Honey Maid)
Haribo GoldBears (red and white are the best!)
Reese's Peanut Butter Cups (mini)
Conversation Hearts
Frosting, any kind (I use frosting like Duncan Heinz to make it easy)
GLUE GUN and GLUE STICKS for putting it together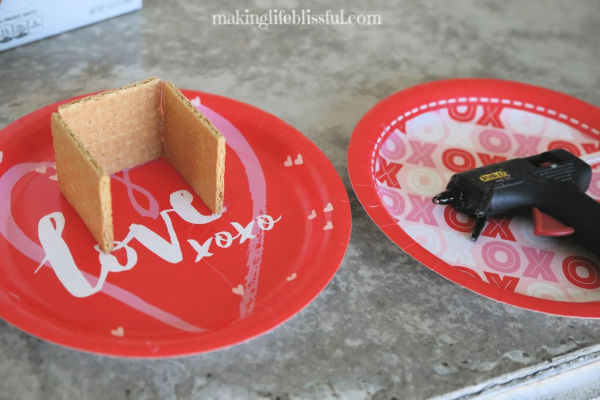 First put together you graham crackers. THE BEST TIP: Break them into desire pieces and sizes, then glue them on with a glue gun. I like to use a glue gun because it dries quickly and make this a quick project for excited kids who are ready to decorate. I also use decorative paper plates as a base to keep it on. Easy and inexpensive!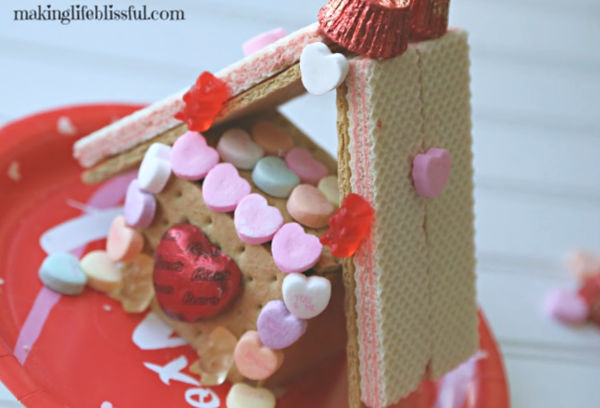 2. Let kids spread frosting on wafers and other pieces of candy as desired. Let them decorate it however they want, that's the fun part!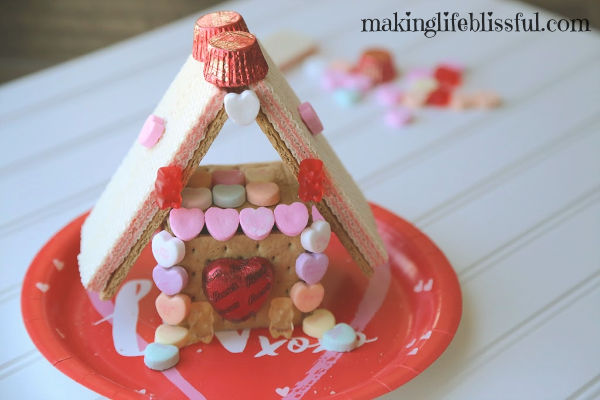 3. Let the frosting dry thoroughly and you're done! The best part is eating the candy off later.
Happy Valentine's Day!
You may also like: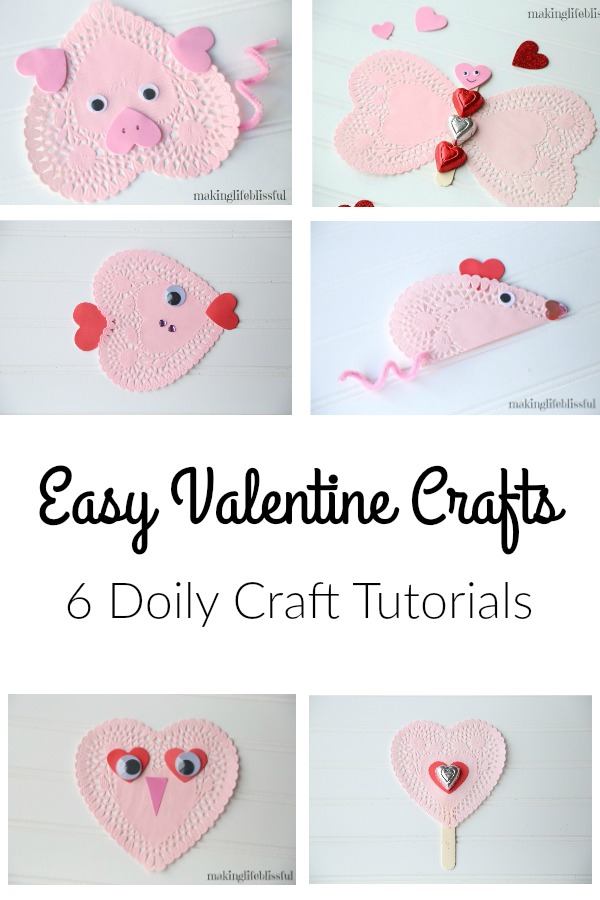 Easy Valentine Kids Crafts Using Doilies