FREE Witch Party Printables and some fun Witches Night Out party ideas and decorations for kids. You'll love these cute Halloween witches!
Let's talk about planning a witch-themed Halloween party for kids! I cannot get enough of all the cute Witch Party stuff that is going around. This year I was just so in the mood to make some witches night out party printables because of all the cute witch decor that is out there. I'm thinking that throwing a witches night out party for kids or adults would be a blast. So in all this witch cuteness, I decided to make a big list of Halloween witch party ideas for you and me. So below you'll find all the witches night out ideas you need for a fun Halloween party for kids, my Witch Party Printable Bundle (including witch food labels, witch party signs, witch images for decor or a witch garland, and witch thank you notes). AND there's some FREE printable witch party signs too. Happy Halloween!
*This post may contain affiliate links to help support the cost of my blog.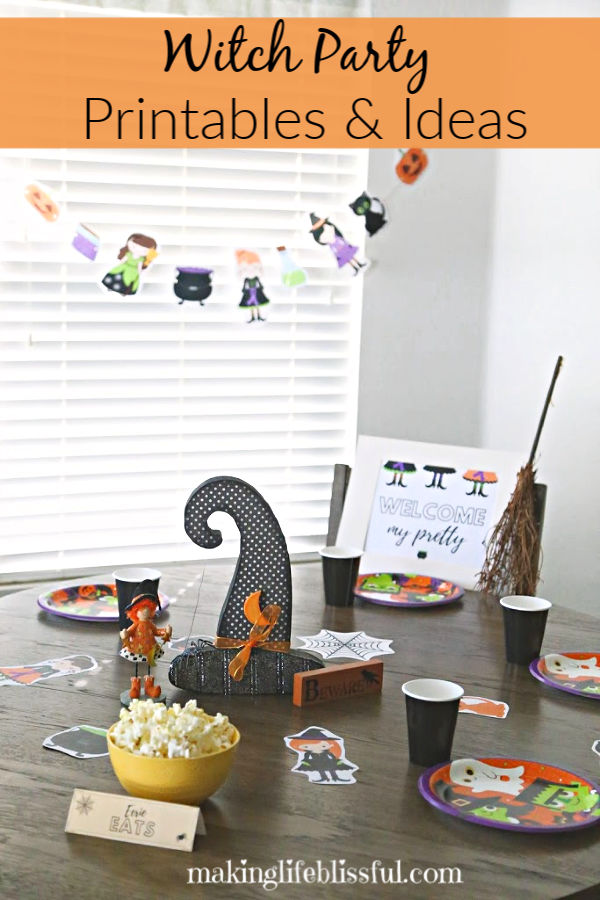 A witch party would be fun, right? Witch food with food labels and darling witches everywhere. Black cats, brooms, and spiders too. And don't forget Witches Brew! See my list of ideas below. Also, there's Ideas for a Witch-Themed Halloween Party over at The Lady Behind the Curtain to help you too.
If you are looking for other Halloween party ideas, be sure to check these out:
More Halloween Party Ideas:
Halloween Minute-To-Win-It Games
Last-Minute Halloween Treats & Ideas
Halloween Party Games for Kids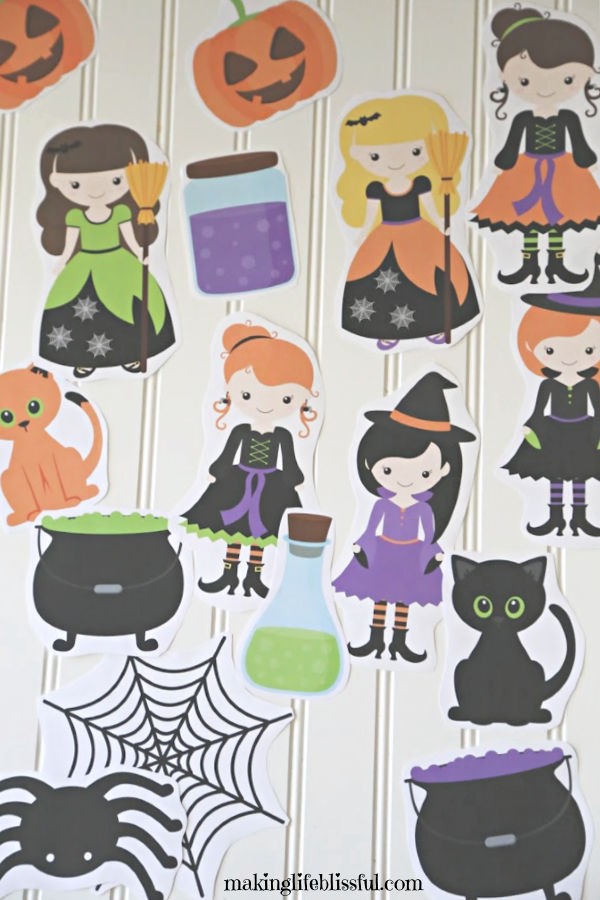 As I mentioned in the intro, I've created a darling printable bundle of witch party decor. It includes these printable witch images that you can cut out and use to make a garland, or place around the room or table for decor.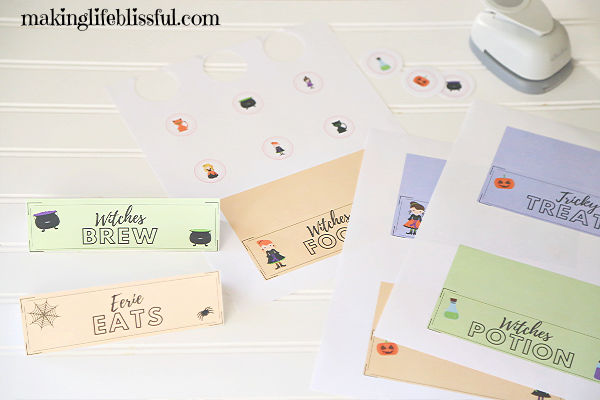 It also includes the fun food labels that can be used for many different kinds of witch party food. Labels include: Witches Brew, Eerie Eats, Witches Potion, Tricky Treats, and two blank ones to fill in your own ideas. There's also cupcake toppers to print as well.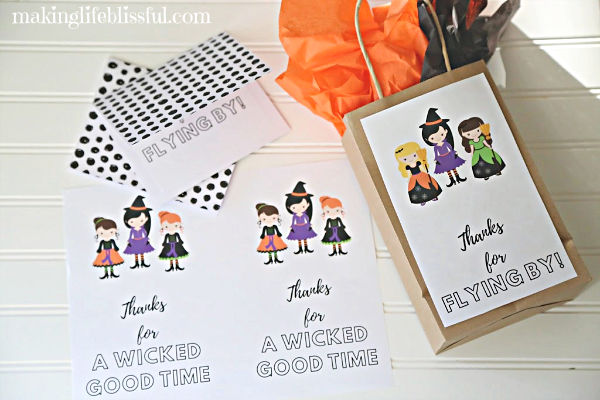 There's also Witches Night Out and Welcome My Pretty witch party signs, as well as printable witch party thank you notes to attach to a thank you gift or make into a nice card or note.
Witch-Themed Halloween Party Ideas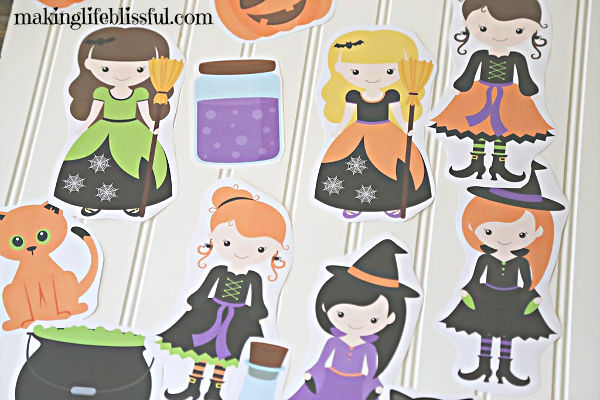 Okay, so let's talk witch party ideas . . . here's a few to get you started.
1. Witches Soda Station: Have a soda drink station for your guests to create their own witches brew using soda and flavored syrups. Start with ice in the cups. Use club soda, Sprite, or Coke as the base. Have a selection of Torani syrups (or something similar) for guests to add a few pumps to their base soda. You can also have half and half or cream available to mix in and make it more like an Italian soda. Whip cream and sprinkles on top would be fun too. Add a fun straw and you have your own witches brew! Kids will love creating their own unique flavor combos, but you can post a list of tried and true flavor combos for those who can't decide.
2. Witch Costume Contest: Of course you'll want your guests to come dressed as witches or even wizards. That's part of the fun! Have a costume contest. You can have prizes for everyone, like Most Unique Witch, Most Colorful Witch, Scariest Witch, etc. Or just have everyone vote on the Most Believable Witch costume. Have prizes or certificates.
3. Poison Apples Game: Have a pot full of water and red apples. Place in ONE or TWO green apples. The green apples are the poison apples. Blindfold your witches and let them reach into the pot of floating apples and choose one apple. If they retrieve a poison apple (the green apple), they get a special prize!
4. Witch Pinata: Get a Halloween pinata and fill it with little Halloween toys or candy. Take turns trying to break the pinata, using nothing less than a BROOMSTICK of course!
5. Witch Hat Ring Toss: Have the party guests toss a ring around a witch hat and try to get it on the point of the witch hat. You could make a ring out of cardboard or even glowsticks.
6. Witch Scattergories: Scattergories is an easy game to play at the table, or as an ice breaker to get things going. Simply set a timer for 1 minute and have party guest go down the alphabet and think of as many witch things as possible that start with each letter. I have printable Halloween Scattergories and Autumn Scattergories here that make this so easy!
7. Halloween Would You Rather: Create a list of different witch or Halloween items. For instance "would you rather be a ghost or a monster?" Have guests divide into partners and fill out their lists, circling the one they would rather have or be. Share them with each other. An easy way to get the kids talking and laughing. I have a printable Halloween games pack here that includes a Halloween Would You Rather Game, Don't Eat Pumpkin Pete Game,
8. Musical Witches: Play this just like musical chairs, but use cheap witch hats (having one less than there are guests) and have the kids walk around the witch hats. When the music stops, the kids grab a witch hat. Whoever does not have one is out. You could also just use chair and use the printable witch images in my bundle to decorate the chairs.
9. Witch Freeze Dance: Play freeze dance by turning on fun music for all the witches to dance to. Stop the music abruptly at different times. When the music stops the witch guests must freeze like they are under a witch's spell. Anyone who doesn't freeze when it stops is out. Play until there is only one player left to win a prize.
10 Witch Food: Have a table with some witch food. Here's some ideas: green punch, apple cider, hot cocoa, witch hand popcorn bags, bread stick witch fingers, broomstick treats made with Mini Reese's Peanut Butter Cups and pretzel sticks place in the middle, witch hats made with fudge stripe cookies and Hershey's Kisses, and so many other creative ideas! Try regular foods like pretzels and popcorn and give them funny witch names. Anything can work as a witches snack, especially if you use the witch food labels in my printable witch party bundle.
11. Watch a Witch Movie: Kids love having a movie night especially around Halloween time. There are several kid-friendly movies with witches you could use. Here's a few ideas: Witches (based on the book by Roald Dahl), Hocus Pocus, The Wizard of Oz, Halloweentown, Bedknobs & Broomsticks, Room on the Broom, Casper Meets Wendy, The Good Witch (Hallmark), Pooh's Heffalump Halloween Movie, Harry Potter and The Sorcerer's Stone.
So there you go. A big list of witch-themed party ideas for kids to get you started with your Halloween party plan. Most of them are so easy! And if you are interested in the free printable witch signs, check them out below . . . and also there's the whole Witch Party Printable Pack in my Etsy shop too.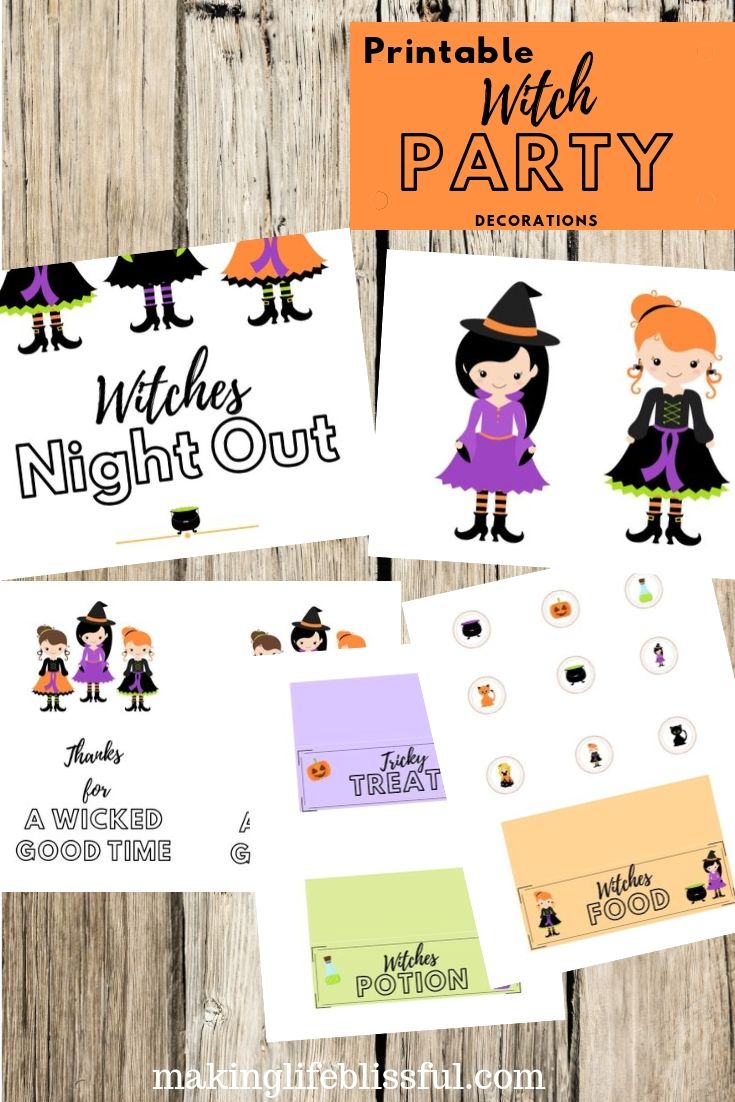 If you don't want the full bundle, below is the link for the FREE Witch Party Signs. There are 2 signs and both are standard 8.5 x 11 size. One sign says, "Witches Night Out" and the other says, "Welcome, My Pretty" (which is totally reminiscent of the green Wicked Witch of the West in Wizard of Oz). In order to have access to my free printables, you must sign up for my email list. When you sign up I will give you access to my full FREE PRINTABLES LIBRARY that holds ALL my free printables over the years. You'll be given a password to keep coming back and getting more free printables, plus you'll receive my weekly emails full of recipes, crafts, and other good news! If you are already a member, just head over to my Free Printables Library and sign in.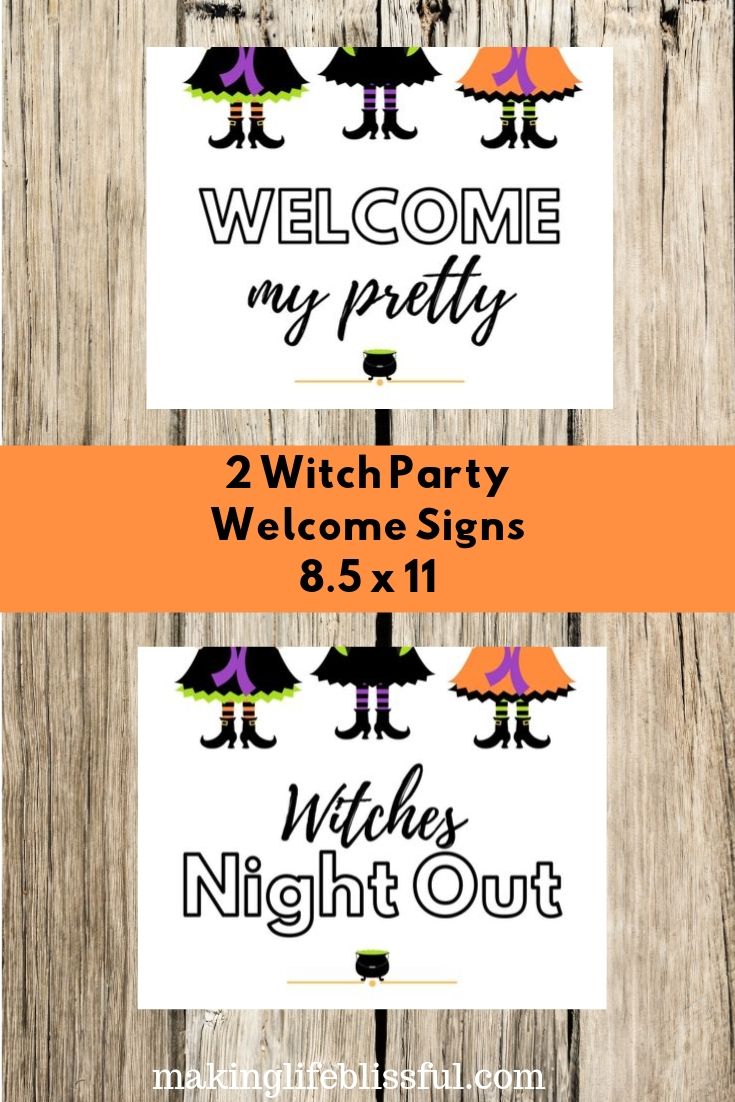 Sign up here to be a member of my email list and receive access to all free printables!
You may also like: