Best things to see in Capitol Reef National Park if you only have ONE day and the best app to help you get through Capitol Reef safe and sound! Here's why the Shaka Guide Utah app makes it easy to navigate!
One of my favorite places in the ENTIRE world is Capitol Reef National Park near Torrey, Utah! I LOVE it! It's one of the lesser known national parks in Utah, but it's simpler, picturesque, and still full of wonder. I love that it's a little less crowded and that it has an orchard oasis right in the middle of it. But even though it is simpler, it can still be hard to know what to do in Capitol Reef Park, especially if you are only there for one day. So here's some of the best things to do in Capitol Reef and how you can visit them in one day using the Shaka Guide app for Capitol Reef.
*This is NOT a sponsored post. I seriously LOVE the Shaka Guide App and have used it in Hawaii to navigate all the fun there. This post does contain affiliate links at no cost to you.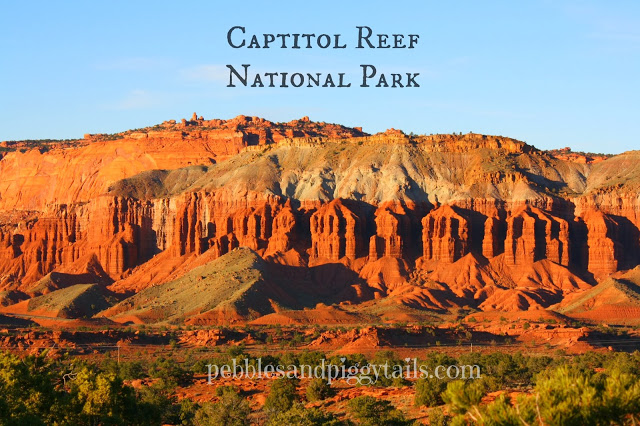 Is Capitol Reef Worth Visiting?
First of all, let's talk about if you should even visit Capitol Reef National Park. Like I said before, Capitol Reef is one of the lesser known National Parks, even in Utah. It is included in The Mighty 5 of Utah which are Arches National Park, Zions National Park, Bryce Canyon National Park, Canyonlands National Park, and Capitol Reef. In my opinion Capitol Reef is the best because it includes a little bit of everything. It has all the southern Utah, desert charm you are looking for along with plenty of hikes, scenic drives, arches and natural bridges, camping, history and culture, and even some quaint little towns nearby for hotels, good eats, and souvenirs.
However, if you are looking for the famous, big time highlights of southern Utah's national parks, then this one is not for you. If you want to hit the BIG highlights of Utah's spectacular canyons, thousands of arches, and giant cliffs that you see advertised on the internet, then make sure to visit Bryce Canyon, Zions, Canyonlands, and Arches. Capitol Reef is a little out of the way from these other parks, so it will be harder to hit it as part of a Mighty 5 adventure. But it is possible to visit Capitol Reef in ONE day, and below is what you will for sure want to see.
Best Places to Visit in Capitol Reef
There are some must-see places to visit in Capitol Reef National Park. Here's some of the more well-known places to stop in the park and some of the lesser-known places too:
Capitol Dome (it's the reason Capitol Reef has it's name!)

Fremont Petroglyphs

Fruita Schoolhouse

Fruita Orchards

Cassidy Arch Trail (moderately difficult hike)

Hickman Bridge

Capitol Gorge Trail (with the Pioneer Register)

Chimney Rock

Goosenecks Overlook

Factory Butte (my favorite!)

Behunin Cabin (where a family of 15 lived!)

National Park Visitor's Center

Gifford Home and Museum (get some fresh baked goods!)

Panorama and Sunset Point

Upper Cathedral Valley Overlook

Grand Wash
So there's a pretty quick list of some of the best things to do in Capitol Reef. It would be pretty hard to hit them all. But you can talk with park rangers and see what would be the best. The Earth Trekkers blog has a good one day itinerary for Capitol Reef that you could use as a resource as well. But my favorite way to get easy help when navigating new areas in a short time, is to use the Shaka Guide App.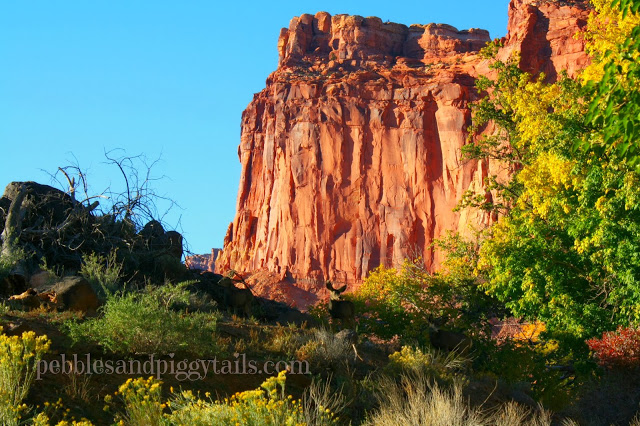 How to Visit Capitol Reef in ONE day:
As I mentioned, my favorite way visit new places when I only have a short time is to use the awesome Shaka Guide Capitol Reef Tour. Oh, how I love the awesomeness of this app! It is an app that you can play in your car as you trek along. It follows your route and gives you all the info you need along the way–where trailheads are, where to park, where to use the restroom, where to stop for photos and good views, and more! I also love that the app guides you through the history of the area with FUN storytelling and interesting tidbits. The Shaka Guide app reminds you of safety concerns, and helps you keep track of time as well so you can get to all the places you want to. It's truly awesome!
The Shaka Guide Capitol Reef tour is perfect for a one day trip. The tour has 82 narration points and 19 places to stop in Capitol Reef. It takes about 4-8 hours to complete, depending on how much time you want to take. It's very personalized to how you want to plan your day. The Capitol Reef tour will take you to many stops including the top places to stop in Capitol Reef. And just to add to the coolness of this tour app, your tour NEVER expires, there's a money back guarantee, and a portion of your purchase is donated to a non-profit you choose!
We have used it in Hawaii on the Road to Hana more than once and have loved that experience as well. See our review of the best way to drive the Road to Hana.
Things to Remember When Visiting Capitol Reef
Get to the park early to avoid the midday crowds (yes it still get crowded)

Start your driving tour by 8:30 a.m. to get in as much as possible

Bring lots of water

Stay on the trails and stay in groups for safety

Beware of flash flooding. This area is prone to flash floods, especially during the wet seasons

Be prepared to drive on narrow roads with tight turns

Stay away from ledges when at overlooks and on trails

Keep pets on a leash
What to Pack for One Day Itinerary in Capital Reef
Sneakers

Hiking clothes

Water bottle

Bug spray

Sunscreen

Sun glasses and/or hat

Hand sanitizer

Snacks

Cash

Car charger *VERY IMPORTANT*

Phone mount

First aid kit

Camera
I hope you have fun in Capitol Reef, whether you stay for 24 hours or a few days, enjoy!
–Lisa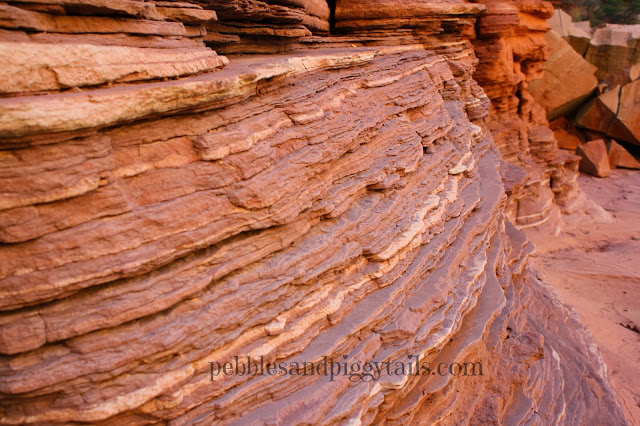 You may also like: