The best way to drive The Road to Hana in Maui using the awesome Shaka Guide App to make it the best experience ever! Here's why the Shaka Guide app makes driving The Road to Hana easier.
This past week we visited Maui for the first time ever and we loved every single minute of it. Before getting there we knew we wanted to try driving the notorious Road to Hana. We had heard about its hairpin turns, crazy drivers, and narrow bridges. We heard it was long and made those prone to car sick want to turn around within the first hour or two. However, we found an awesome travel guide app that made huge difference in our trip to Hana. The Shaka Guide App made driving The Road to Hana one of our most favorite experiences in Maui! It's the way to go! It tells you the BEST places to stop on the Road to Hana and where not to stop. It follows you along with GPS and knows There are many options depending on what kind of tour in Maui you want to take. Here's how the Shaka Guide App works, and why it makes driving the Road to Hana so much better. Read on, if you are planning a driving the Road to Hana anytime in the near future!
*This is not a sponsored post. I just truly love this app and wanted to share. This post contains affiliate links.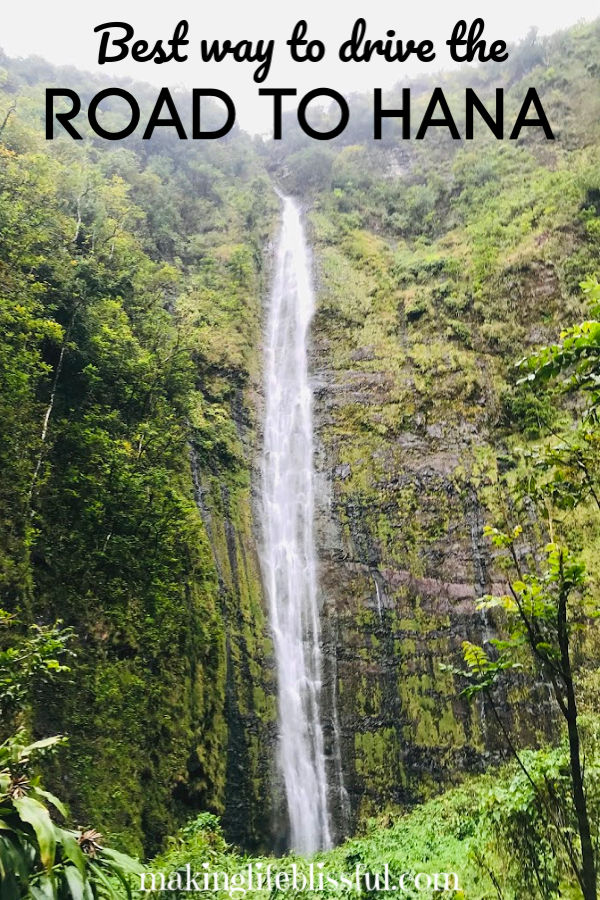 Don't Miss the Road to Hana in Maui
If you've been planning a trip to Hana town or Haleakala National Park in Maui, you've probably already heard a lot about the Road to Hana and that getting to Waimoku Falls is quite a journey. The Road to Hana is long. The Road to Hana is curvy and tedious. All of this is true. However, we found out that our experience driving to Haleakala National Park (which is located at the very top end of The Road to Hana) was one of the best experiences of our vacation in Maui. And this is completely because of the Shaka Guide App. I'll explain details below.
If you are looking for more travel information, check out these posts:
10 Family Things to Do in the Caribbean
8 Things to Know Before Visiting BANFF
9 Tips To Know Before Your First Cruise
Reasons to Get the Shaka Guide App
1. The Shaka Guide connects to your car sound system. You can hook it up to your sound system and the app will easily play along while you drive. It's like having the tour guide right in the car with you. It connects with Bluetooth, USB cable, or auxillary cord. We had a rental car and it worked just great in that car.
2. The Shaka Guide uses GPS technology. You never have to push stop or figure out where you are. The app follows you using GPS technology and when you get to a certain point it automatically will play the info that you need for that area.
3. The Shaka Guide gives info and stories. The app guide is very interesting. He tells stories, history and legends, fun facts, and information that only locals would know about the area. He tells you exactly where to park, what to expect, and more! He even told us where to find the best banana bread along the way. He told us where the bathrooms where and how to best cross the narrow bridges. We found all of this so helpful. We learned so much about Maui and how the Hawaiian islands were united during our tour.
4. The Shaka Guide helps you know where to stop and where not to stop. There are so many points of interest along the Road to Hana and it's hard to know which ones to spend time on. Many of the areas have small parking lots (if any parking at all) and few signs to help you know where you are. The tour guide tells you how long certain interest points will take, what to expect, and places that may not be worth your time. This way you can make an informed decision on whether or not to stop at every waterfall along the way. And it you take a detour, your Shaka Guide app will help you right along the way. You will be told when is a good time to turn around based on the time of day and other tidbits of info that help you know what to do.
5. The Shaka Guide app helps you drive the long road back. When you have finished seeing what you want to see on the Road to Hana, the Shaka Guide app is worth continuing on your long drive back because he'll help find points of interest that you may have missed, as well as tell you stories and legends as you drive the 2-3 hours back. We found this part so helpful because we were tired and bored as we drove back in the dark after a long, fun-filled day, so it was nice to have the company.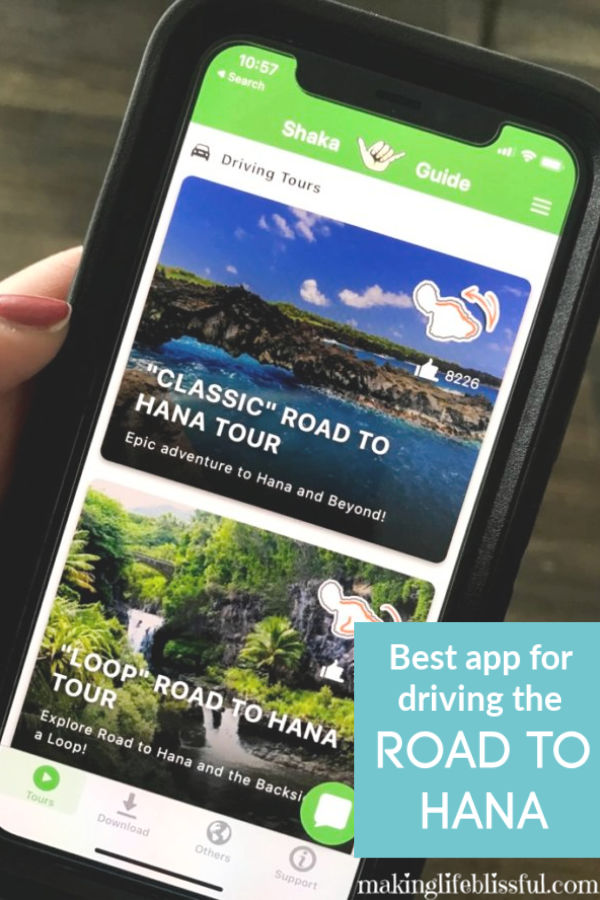 How the Shaka Guide App works:
Download the Shaka Guide App a few days before your trip to Hana or other Hawaiian tour location. The app is available for free with in-app purchases at the App Store or Google Play. They offer many different tours for different places on the Hawaii islands.

Purchase and download the specific tour you want before you go. Create an account to do this. We purchased the Classic Road to Hana Tour and loved it. Make sure the tour is completely downloaded before you head out.

Hook it up to your car stereo and listen as you go!
Here's a list of places we loved visiting on the Road to Hana. I hope you enjoy it as much as we did. Click here for the full itinerary of the classic Road to Hana tour.
Twin Falls

Keanae Valley Overlook

Kaumahina State Park

Waikani Falls (3 Bears)

Honomanu Bay

Wailua Iki Falls

Secret Lava Tube Cave

Nahiku Landing

Oheo Gulch (7 Sacred Pools)

Pipiwai Trail (Bamboo Forest)

Haleakala National Park
UPDATE! Shaka Guide also now has guides for UTAH TOURS! Check out all the Utah National Parks with help from ShakaGuide! Connect with me on Instagram @makinglifeblissful and let me know if you have any questions!
You may also like: