How to make healthy wraps with garden fresh vegetables and info about balcony gardening too!
The holidays are over and it's time to get back on the healthy bandwagon. Don't you love all the fresh garden vegetables?! Did you know that you can created a successful balcony garden too? You don't have to have a large garden to enjoy fresh vegetables. So let's get eating some vegetables! I'm sharing our amazing Pesto Veggie Wraps. It's the perfect way to ease your family back in the healthy eating after all the holiday junk and it's so deliciously loaded with vegetables!
*This post is created in partnership with Responsival. All recipe info and opinions are my own.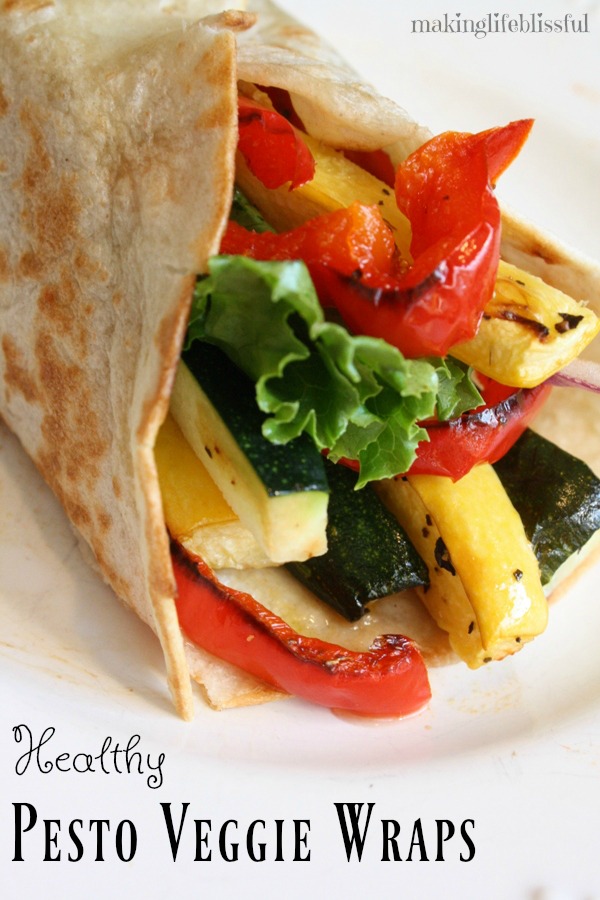 I've said this before and I'll say it again…MY KIDS HATE ZUCCHINI. It is such a bummer! (I'm sure it stems from some zucchini-hating-propaganda courtesy of my husband) BUT…they will tolerate a small slice of zucchini in these Pesto Veggie Wraps. I figure it's a win for both of us…I feel like our garden produce is feeding their growing bodies, and they ***may,*** at some point, lose their aversion to zucchini…if…they eat a bite or two regularly throughout their growing years. I can only hope. In the mean time…these are always a HIT! They pile other veggies around the zucchini sliver to hide it's taste and texture. Whatever works! They are juicy and hardy, but the flavor explosion of the pesto aioli will knock your garden boots off! These are quick and easy and a total family favorite…minus…of course…the zucchini. Pull out your griddle to cook some fresh tortillas while the veggies roast! AACK! The aroma in your home will be amazing! Your neighbors will come knocking…oops…I hope that is a good thing! ENJOY!
Love and roasted veggie heaven,
Amy J. 🙂
What is a balcony garden?
And just like we mentioned before, you don't have to have a big expensive garden in your backyard to enjoy the luxury of fresh veggies. If taking care of large garden scares you, like it scares me, a good idea is to look into easy balcony gardens! What an amazing way to garden and it could even work for small spaces like apartments and townhouses. A balcony garden is basically a vertical garden. It's an easy way to keep track of all those vegetables and flowers too. And there is not as much back-breaking work to do!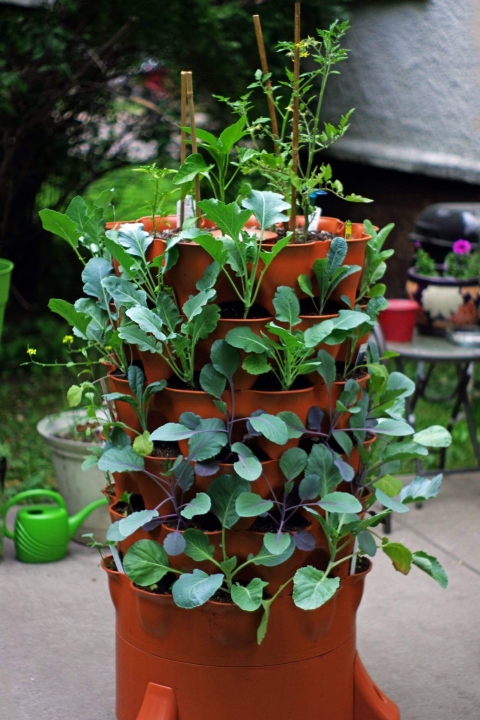 The cool part about balcony gardens is that they grow vertically, so you don't have to have a lot of space, plus you can grow multiple items all in one area. It also makes it easy for kids to help you too.
Here's a few other vertical garden ideas:
Now onto the yummy garden vegetable recipe for you:
Pesto Veggie Wraps: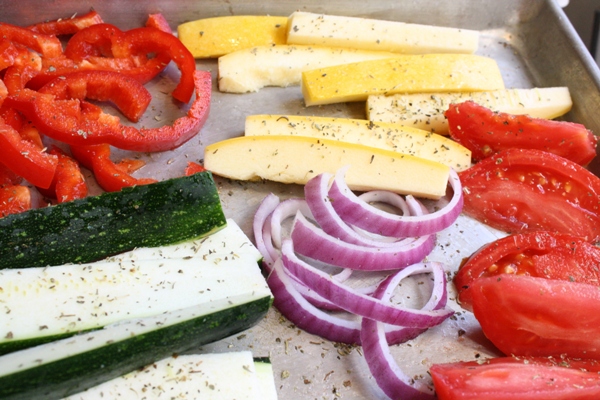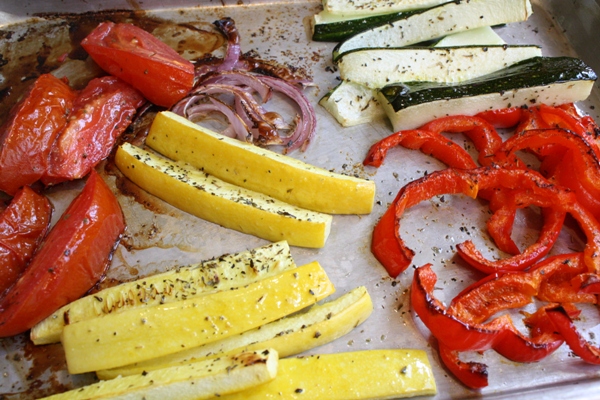 Cut up veggies, toss in oil, sprinkle with garlic salt and Italian Seasoning. Broil into roasted deliciousness!
While the veggies roast…pull out your pancake griddle and cook your flour tortillas. This meal takes no time at all!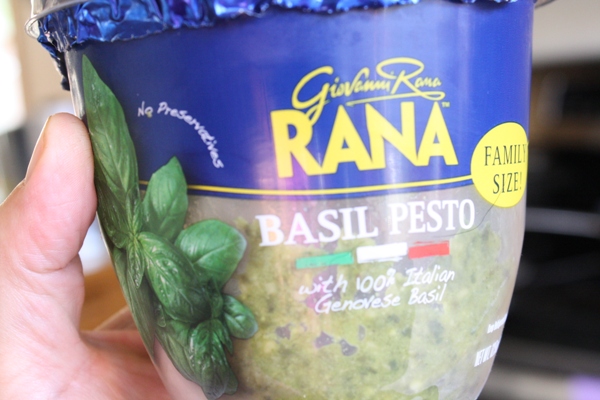 Get some yummy pesto like this one.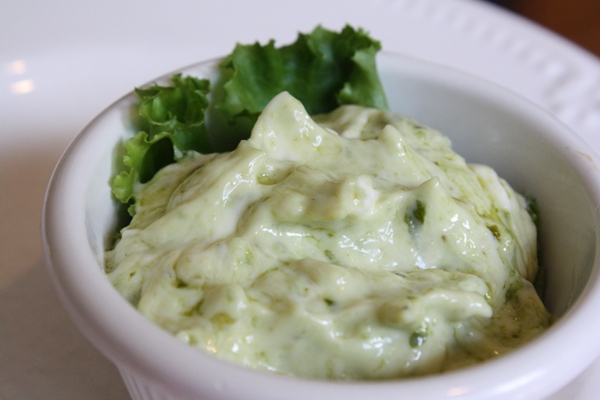 This sauce MAKES ALL THE DIFFERENCE! When I serve this people ALWAYS ask me, "WHAT IS THAT AMAZING SAUCE?!" Hee, hee, hee….I love easy recipes that taste incredible! The secret sauce is nothing more than good quality refrigerated fresh basil pesto mixed with equal parts mayonnaise. That's it! It takes 1 minute and can be stirred together right before serving. Lunch with friends is ready in a snap!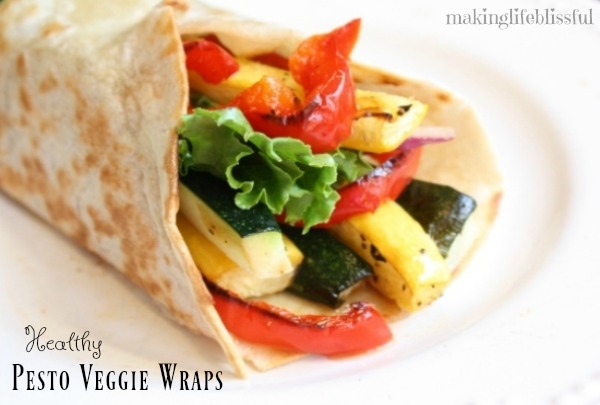 Print
Pesto Veggie Wraps
1

lb.     Zucchini, cut in strips ½ inch thick

1

lb.     Crooked necked yellow squash, cut in strips ½ inch thick

1

          Red pepper, sliced

½

        Purple onion, sliced

1

          Tomato, sliced
Olive or Canola oil
Garlic salt
Italian Seasoning

1

lb      Leaf Lettuce or spinach

¼ cup

  Good quality Refrigerated basil pesto (usually in deli section)

¼ cup

  Mayonnaise

1

pkg   UNCOOKED flour tortillas…YES it makes a difference!  Spend the extra 5 minutes and get uncooked tortillas!
Instructions
*Preheat oven's BROILER on HIGH.
*Drizzle large jellyroll pan with 1/2 Tble oil.  Toss veggies onto pan, turning them to lightly coat with oil.  Arrange veggies on pan.  Lightly sprinkle veggies with garlic salt and Italian Seasoning.  Put in oven under broiler.  Set timer for 5 minutes.  After 5 minutes remove tomatoes from the pan (this way they won't over cook), set them aside and keep warm.  Return pan to oven and BROIL for 10 more minutes to lightly char the edges of veggies.
*While veggies are broiling.  Cook flour tortillas on a pancake griddle…this cooks them lightning fast!
*Stir together pesto and mayonnaise to make a delish pesto aioli!  Don't skip the sauce!  This MAKES the wrap AMAZING!  YUM-O!
*To assemble:  Pile cooked tortilla with veggies you love, top with a heaping Tablespoon of aioli and a healthy serving of spinach or lettuce.  Wrap all together and enjoy!