How to make delicious Apple Pie Pancakes topped with Buttercream Syrup that is to die for! Think of these pancakes as caramel apple pancakes! You'll love them!
Mornings won't come quickly enough when you start serving these amazingly delicious Apple Pie Pancakes topped with Buttercream Syrup! And the best part is that this recipe uses your favorite pancake mix that you already have in your pantry! This is an easy breakfast recipe that makes breakfast feel gourmet. This is the perfect easy breakfast idea for Mother's Day, Father's Day, brunches, pajama parties, or just a lazy Saturday morning. Try these caramel apple pancakes! You won't be disappointed!
* This post may contain affiliate links that help support the cost of my blog so I can continue to share these recipes for free.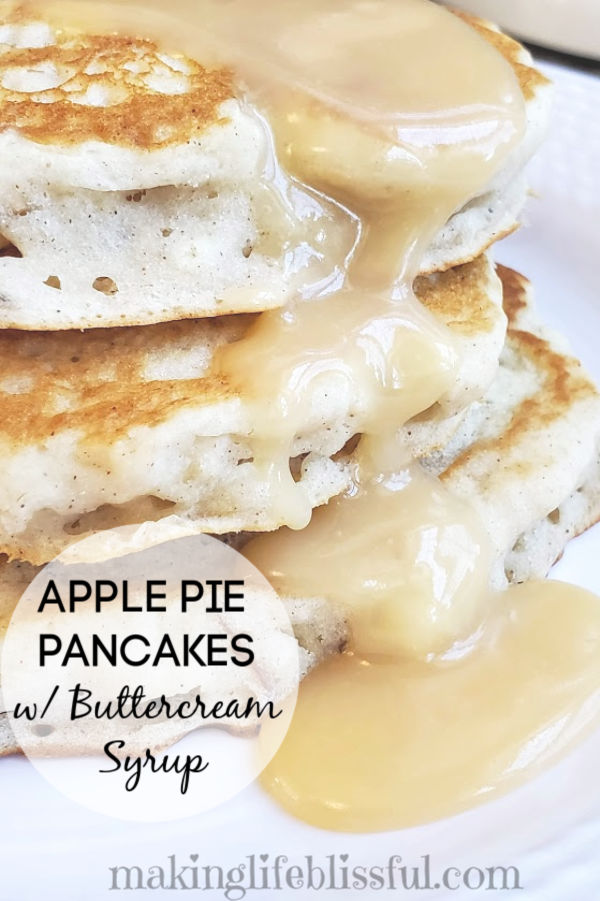 Apple Pie Pancakes with Buttercream Syrup
WE LOVE BREAKFAST!!! We get up super early, so we rarely make a big breakfast. Birthdays are the exception of course! We get up in the wee hours of the morning and make a birthday breakfast feast! WE LOVE BREAKFAST! Our kids voted…and we agreed…to have breakfast for dinner once a week. Hands down…without fail…this ONE night of the week there will be no complaints or scowls of disgust at the dinner table…because…like I said before…WE LOVE BREAKFAST!!
This beloved recipe is a family original that came about one autumn when we were experimenting with apples. We had picked about 300 lbs of crisp apples from a local orchard and before we set up our applesauce making EXTRAVAGANZA, we were experimenting with apple recipes. We first made these with our scratch recipe for buttermilk oatmeal pancakes, but the batter was too light and the apples weighed them down. The flavor was AMAZING, but the texture was off…so we had to make an adjustment. We rarely use pancake mix, but for this recipe, the leavening in the mix is perfect to support the cups of fresh, crisp apple shreds!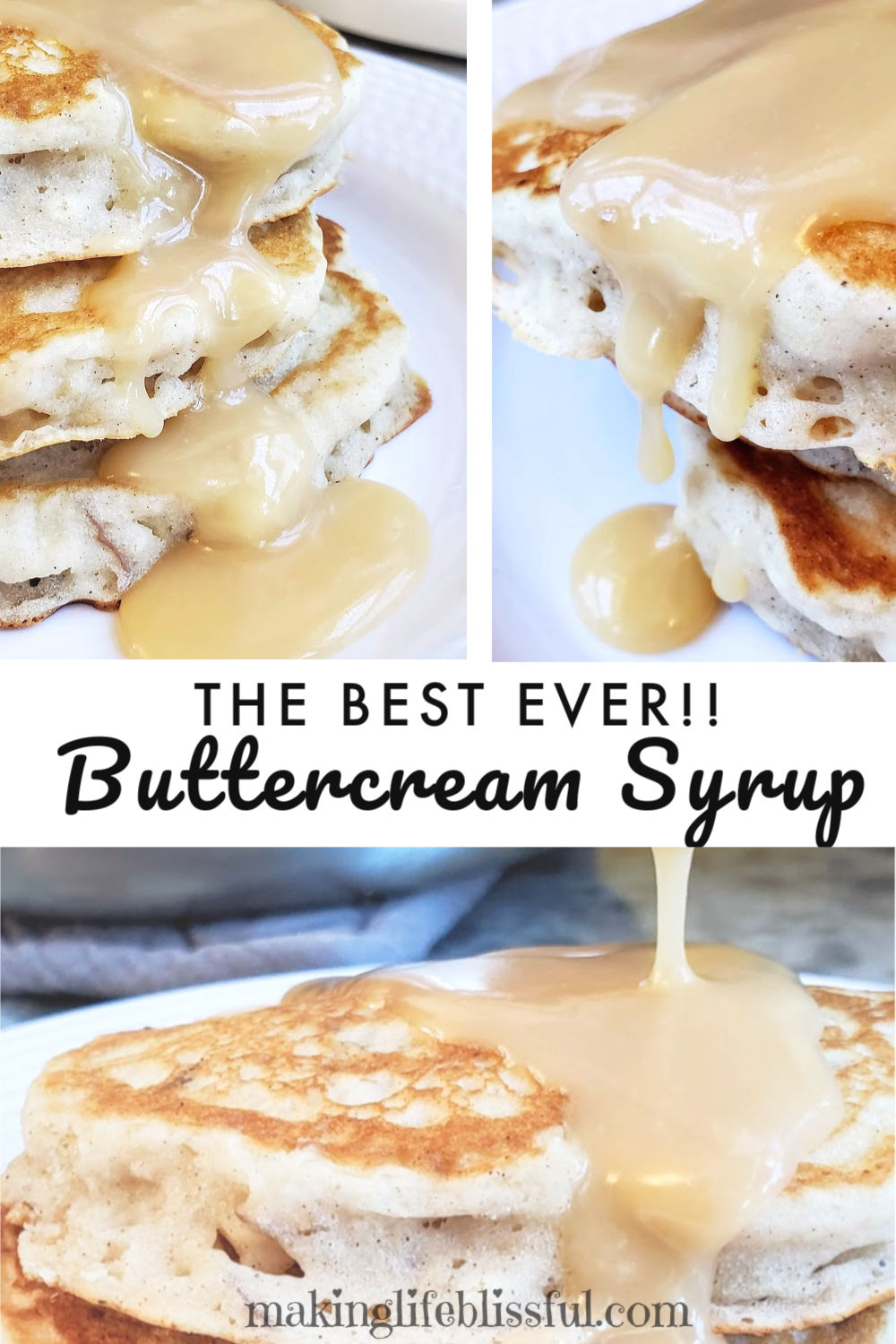 These pancakes cook up tall and fluffy! The apples cook perfectly on the griddle…no crunchy bits…I promise! The warm Buttercream Syrup adds a velvety, warm, caramel sweetness to your stack of warm apple hotcakes! JUST THINK…CARAMEL APPLE PANCAKES!
Make these for breakfast or make them for dinner…you will be hooked! DELISH!
Love and apple goodness,
Amy J 🙂
This recipe is SUPER FAST! Let's roll!
How to make Apple Pie Pancakes: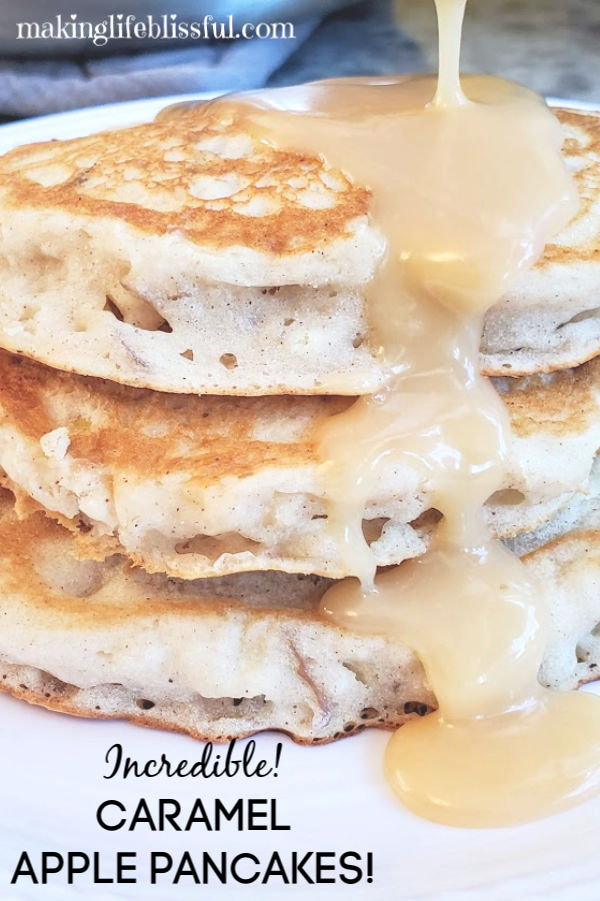 You will need:
pancake mix (use your favorite–I used Krusteaz!)
cinnamon
nutmeg
water
grated apples (see recipe below for all the details)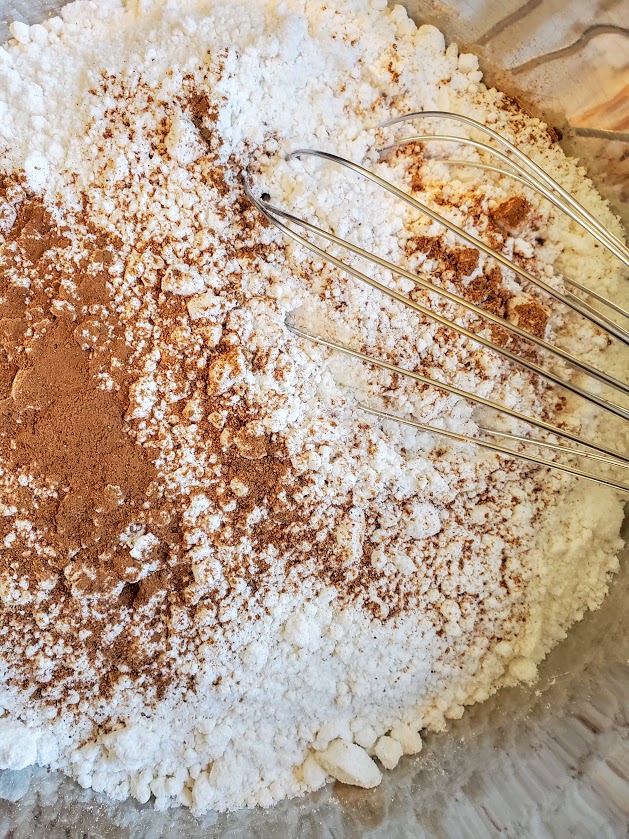 Mix your spices into your favorite pancake mix. Don't be afraid to use pancake mix here my friends. The leavening in the mix is a perfect scientific recipe for light, fluffy pancakes that will sustain the apples. My from-scratch pancake recipes turned out dense and heavy when I added the apples. But…these are APPLE PIE PANCAKES! The apples are in…the from-scratch recipe was out! The mix made for nice tall, perfectly soft Apple Pie Pancakes! Serve these to breakfast guests…they will never know your secret! HA! (P.S. I used Krusteaz brand pancake mix…and no they didn't pay me to say that!)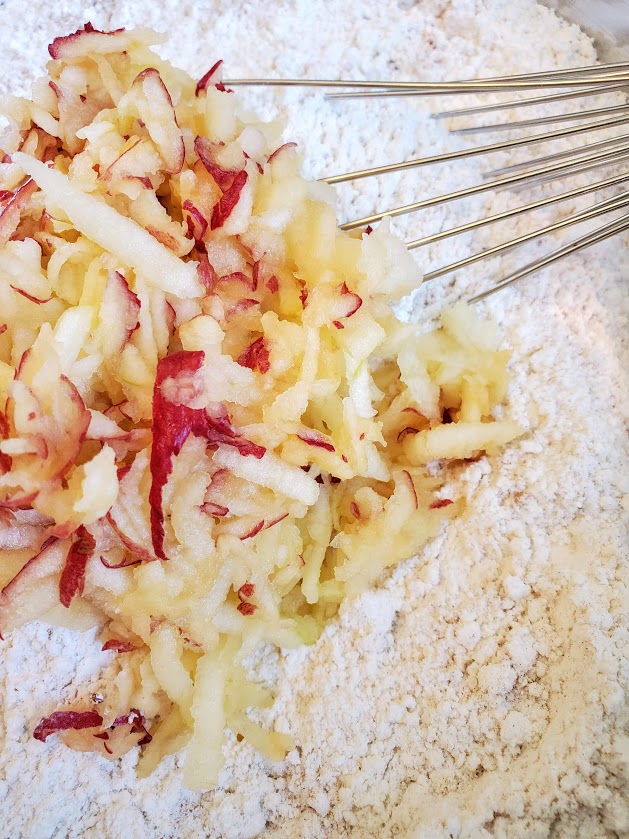 2. Stir in your shredded apple. I used Gala apples for this nice bright picture…if you use Granny Smith apples you will enjoy a delish tart apple flavor! AAAAAACK! These are good!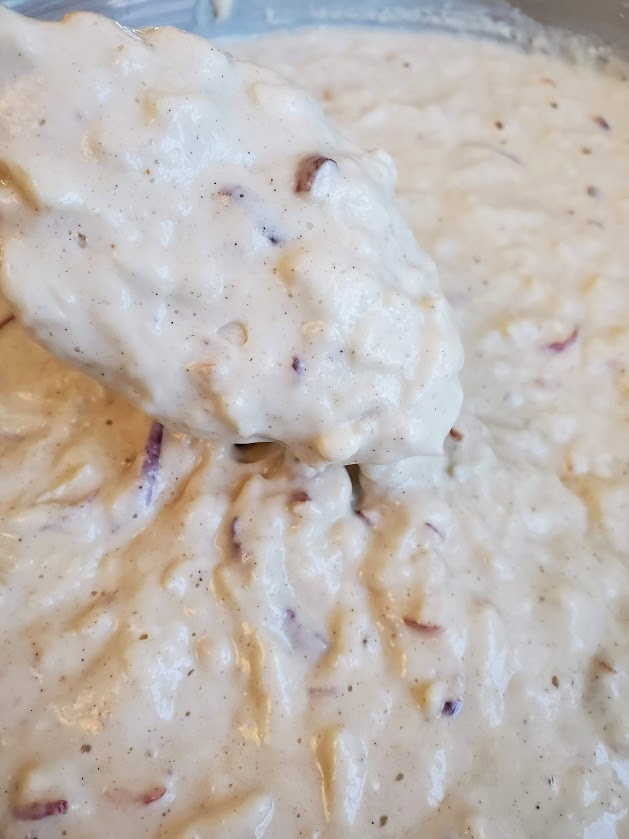 3. Add water. SERIOUSLY EASY MY FRIENDS!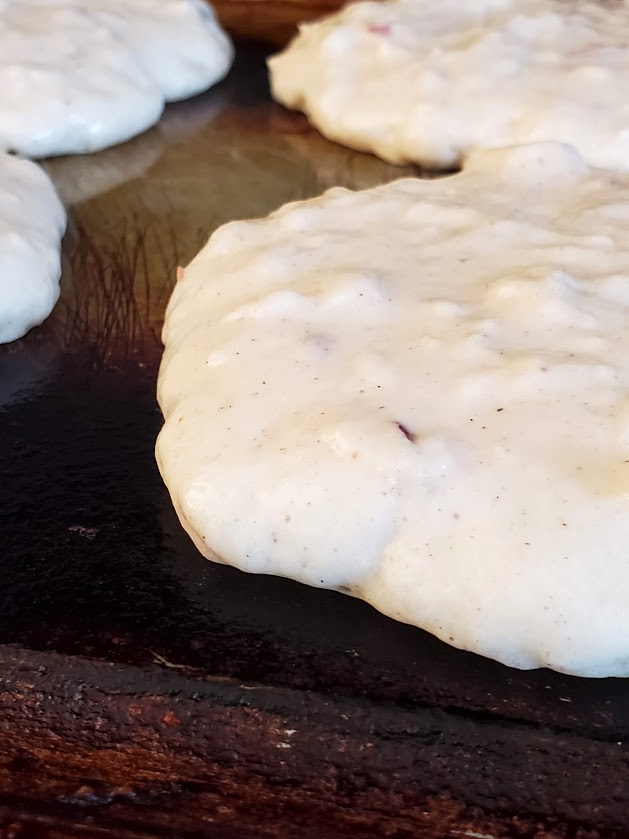 4. Drop large globs of batter onto your greased, hot griddle. Notice this well loved griddle! You would never be able to tell my kids have used a metal spatula to scratch the heck out of this! HA! Well…they have learned how to cook, which is the goal. There are plenty of appliance casualties in my kitchen classroom…a price well worth the experience!
5. Check these out! They cook so tall and fluffy!
How to make Buttercream Syrup: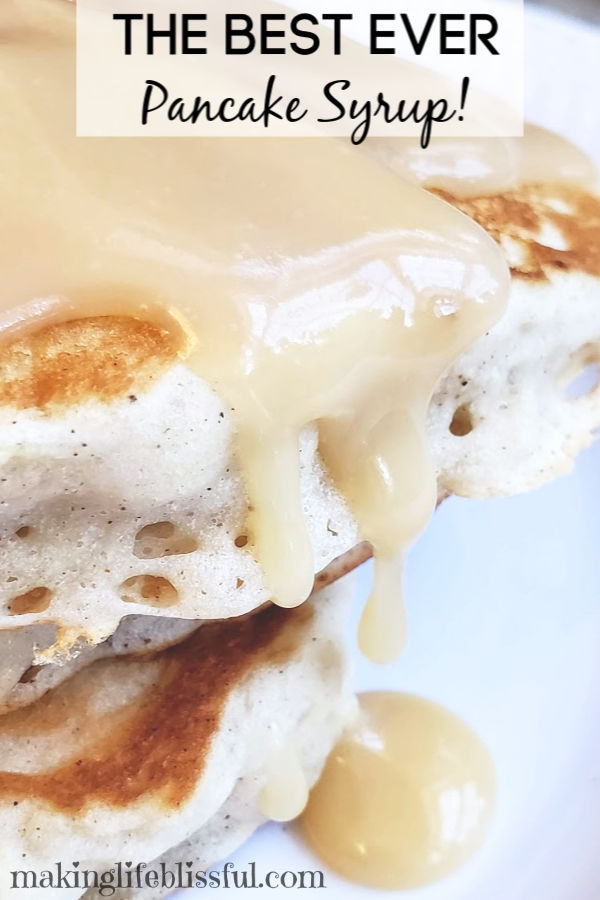 1. Toss evaporated milk, sugar, salt, and butter in a heavy sauce pan. Bring to a boil while stirring.
2. Boil at a rolling boil for 3 minutes.
3. Remove from heat, and stir in vanilla. Keep warm and serve. Mmmm!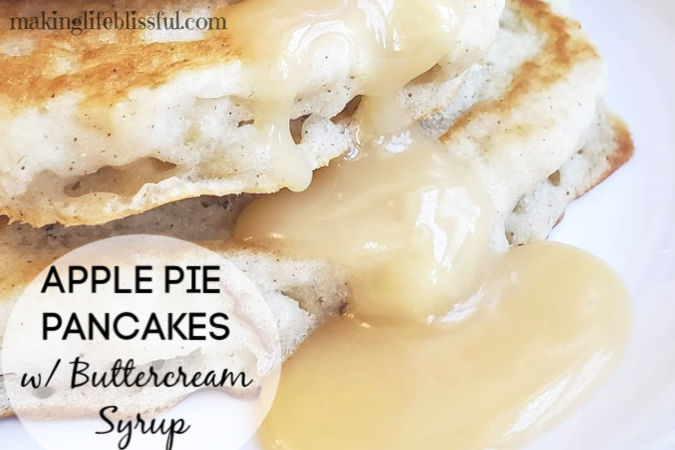 4. Serve a stack of hotcakes drizzled with warm caramely buttercream syrup. ENJOY!
Apple Pie Pancakes with Buttercream Syrup
RECIPE
3 cups favorite pancake mix
1/4 tsp cinnamon
1/4 tsp nutmeg
2 large apples grated….DO NOT peel them…it is not necessary…I promise! Tart apples are a FAV, but you can use any variety!
2 cups water (add more later as desired)
Mix first 4 ingredients together until combined. Add water. Stir to combine.
Heat griddle. Grease griddle and pour large spoonfuls of batter onto griddle. When bubbles form and pop on top of hotcakes, flip and cook on opposite side. When golden brown on both sides, remove from griddle and keep warm in an oven set at 250 degrees. Drizzle with warm Buttercream Syrup
Buttercream Syrup Recipe
1 can evaporated milk (12 oz)
1/4 tsp salt
1 1/2 cups sugar
1/2 cup butter
1 tsp vanilla
Place first 4 ingredients in a heavy sauce pan. While stirring, bring to boil. Cook at a rolling boil for 3 minutes, stirring the entire time. Remove from heat and stir in vanilla. Serve immediately drizzled over warm apple pie pancakes! ENJOY!