How to make 4th of July Parade Wands for kids! Easy 4th of July kids craft wand ideas that shows their patriotic spirit!
I kind of have this obsession with paper straws. Like a big obsession. I think that paper straws are the cutest things ever, especially with all their cute decorations and designs. My kids have said before, "Mom why do we have all these paper straws that we never get to use for drinking?" Oh, honey we use them . . . we use them for paper straw crafts–doesn't everybody? So if you are into paper straw crafts, this post is for you, but no matter what you are going to love these 4th of July Parade Wands for kids to make. This parade wand craft for kids shows their patriotic pride and is fun for them to wave around during a 4th of July parade or celebration! This easy 4th of July kids craft is fun to make and it's a quick kids craft too. It's also cheap and fairly simple to find these items around your house. So let's get crafting . . .
*This post contains affiliate links to help support my website. I get a small commission when you purchase from these links and it helps keep my blog going!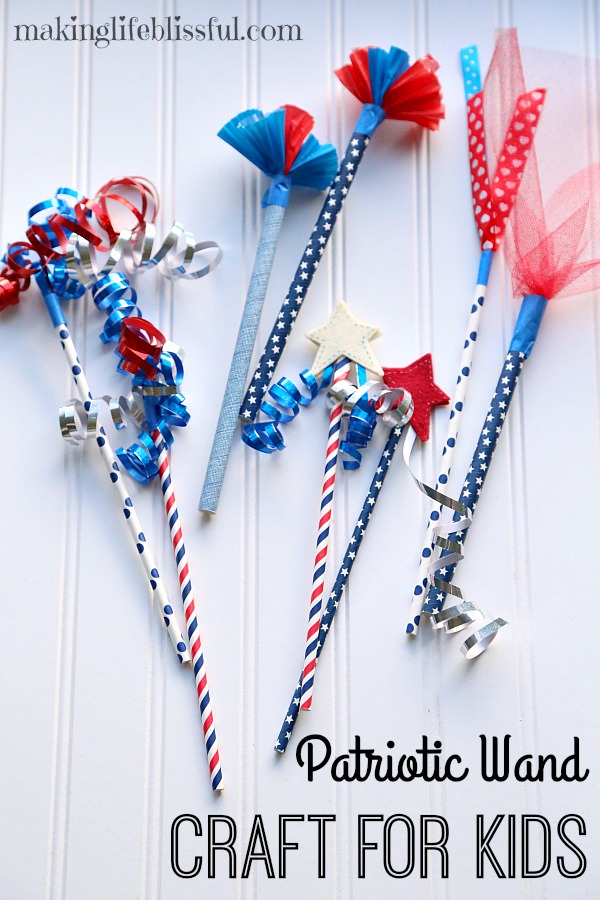 I think this parade wand craft is so colorful and even makes a fun decoration on your picnic table. Here's another paper straw patriotic craft I showed ya'll how to make once. This 4th of July craft went viral on Hometalk for awhile.
Also, if your kids are into making princess wands or fairy wands, I have some easy fairy wand craft kits or flower wand craft kits , and even patriotic star wand kits in my ETSY SHOP. These are great for birthday parties, school groups, or preschools. I find all the items for you and send them right to your door. I make them into individual kits so your kids can make them right away.
Wouldn't these be so fun to wave around at the 4th of July parade? The kidlets could make some at the family picnic and then use them to wave during the fireworks too. There are so many ways you can make these and I'm giving you a bunch of ideas to get you started in this post. This is another patriotic wand idea from Buggy and Buddy that uses wooden dowels if you want to go that route. You could also use regular straws.
By the way, if you are looking for patriotic printables, I've made these adorable 4th of July Popsicles Matching Game (or it can be a garland decoration too!)
Aaaand, if here's ANOTHER easy 4th of July craft for kids to make. It's a simple t-shirt they can make themselves in about 5 minutes!
How to Make Patriotic Parade Wands
I came up with these easy parade wands for the 4th of July because I'm always in need of an EASY kids craft for Independence Day and not something complicated. We sometimes need something for the hot part of the day or something fun for the parade–but it's gotta be easy. This 4th of July craft is easy with almost NO MESS.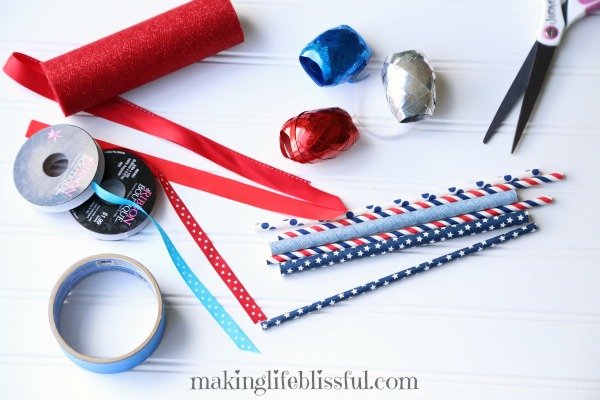 For these patriotic wands you will need various craft supplies. Here's what we used: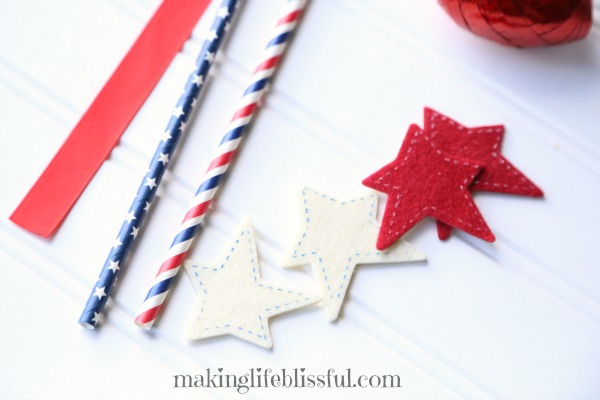 You can be as creative and elaborate as you want with these paper straw wands. Or you can be simple. So many possibilities. As I mentioned above, I got a lot of my craft supplies from DollarTree and Amazon . . . like these 4th of July paper straws.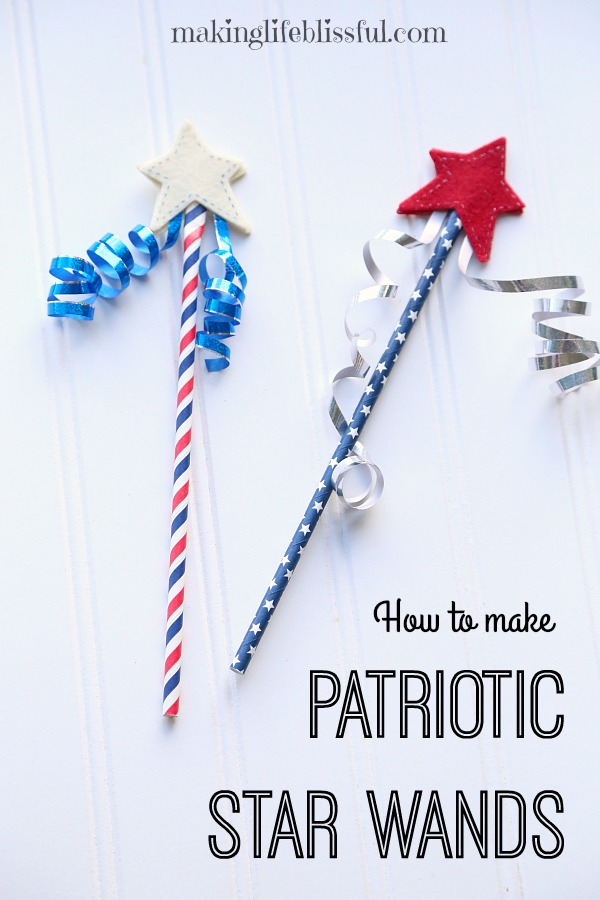 To make these star wands, you will want to find adhesive sticker stars to make this super easy. The stars could be felt OR craft foam stars. You will also need some ribbons for this wand craft.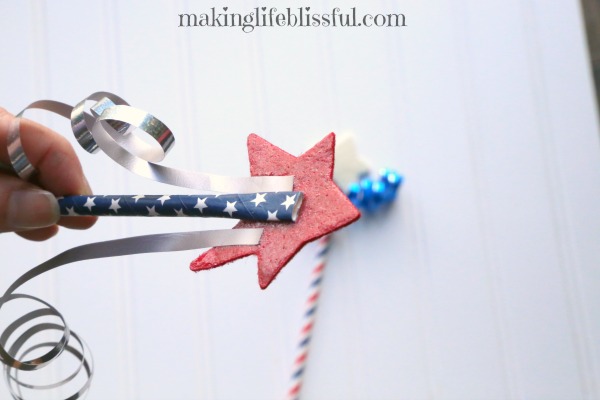 Remove the paper backing from 2 adhesive stars. Simply flatten the tip of one of the papers straws and stick it onto the adhesive side of the star. Place the tips of the ribbon on the adhesive part as well (as shown). If you use curling ribbon here, curl it with scissors first and then attach it to the star.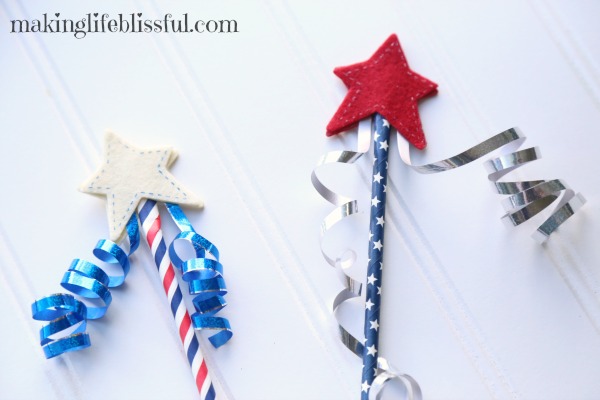 Add the second star by sticking it on top of the other star, attaching the sticky sides together. Press together so the two stars adhere to each other. And you are done!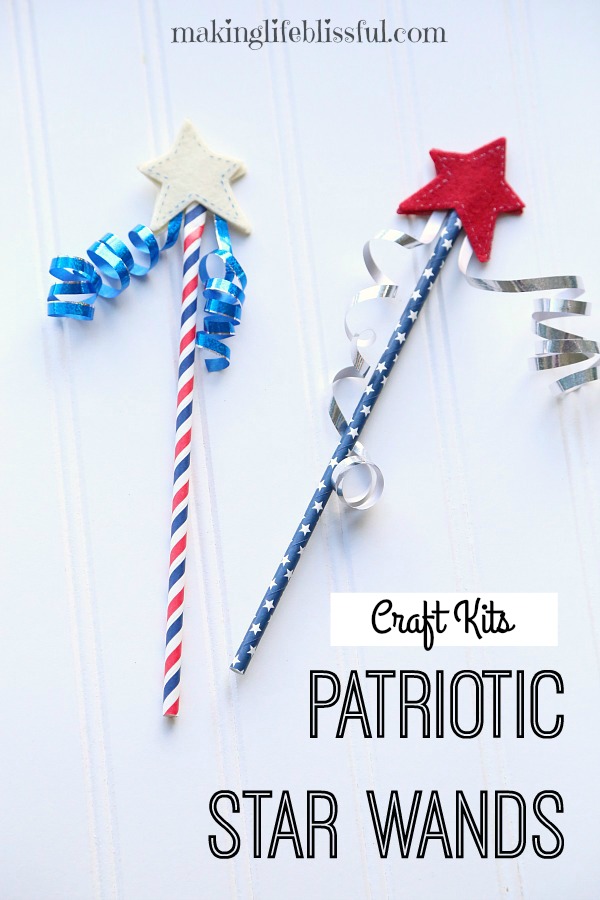 If you are short on time and need a quick craft for kids, don't waste time searching for all the supplies.
Perfect for parties, groups, or just a fun summer boredom craft. I have many craft kits available so check them out!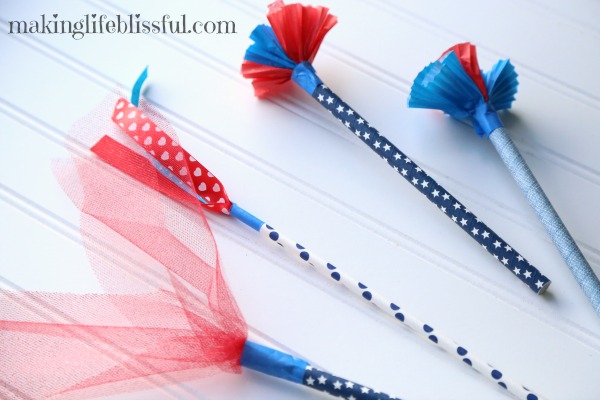 Here's some other ideas of parade wands you can make with fabric ribbons and cupcake liners. With the ribbon wands or tulle wands, you can stuff some ribbon down the top of a paper straw and use tape to wrap around the ribbon and top of the straw to secure it into place.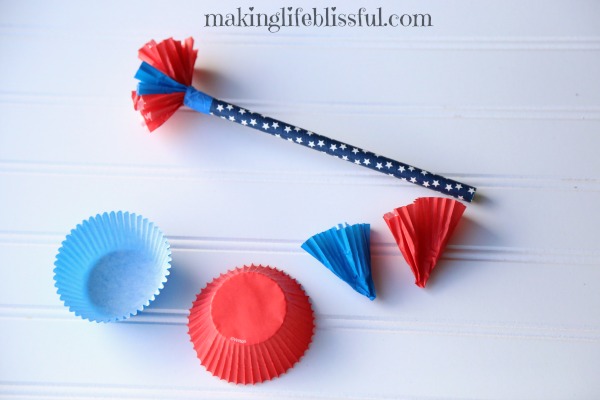 For the cupcake liner wands, I found it easier to wider straws (like the ones used for smoothies). Various colors of cupcake liners made it look more festive too.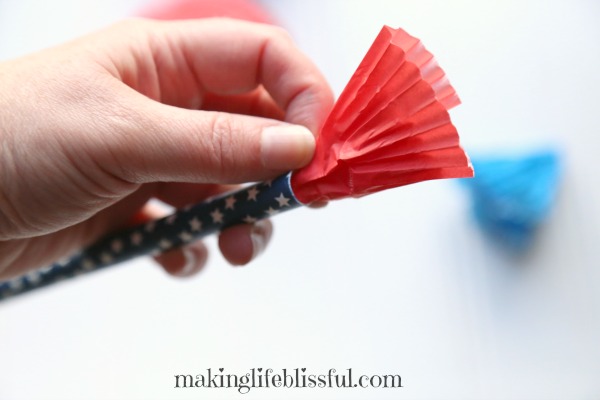 Simply fold the cupcake liners and crumple the corners so the the edges look feathered out. Stuff the crumpled tip into the paper straw. Repeat with more cupcake liners. Then use tape to wrap around and to secure the liners to the top of the straw and keep them in place.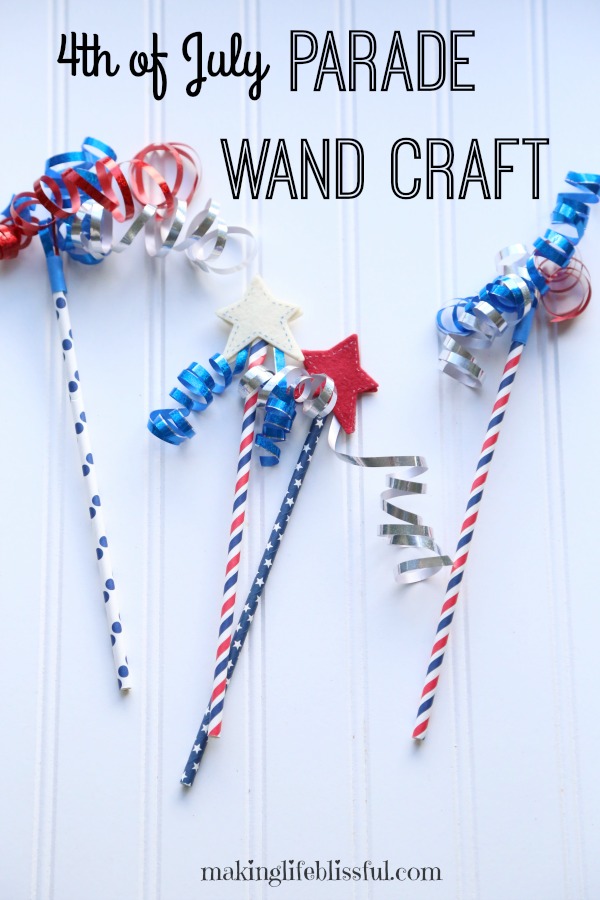 The wands with the curling ribbon are my FAVORITE ones! You just need curling ribbon, straws, scissors, and tape. Begin by curling your ribbons with the scissors. Use any length of ribbon you desire.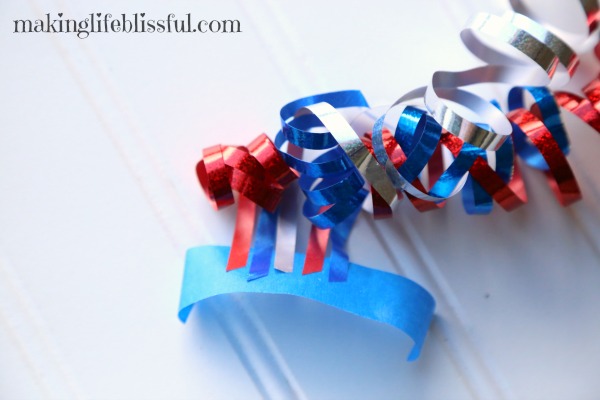 Then place the tips of each ribbon on the sticky side of you tape as shown in this picture. Leave room on the outer edges of the piece of tape to secure to the straw.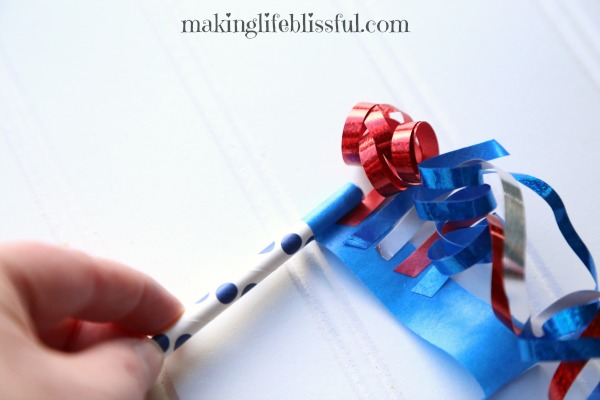 Then roll the tape and ribbons around your straw. It will stick keeping the ribbon tips safely underneath.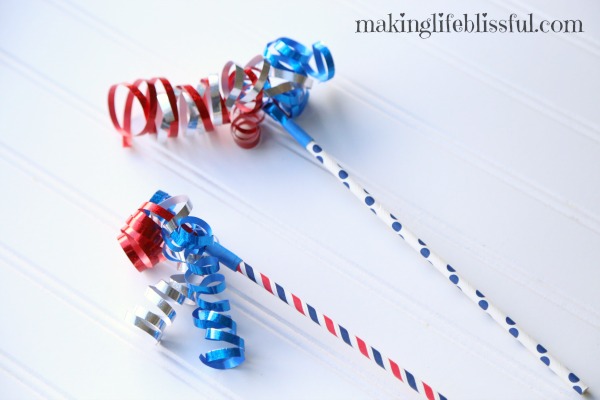 Seriously, these curling ribbon wands are the BEST. We all could not resist waving these around.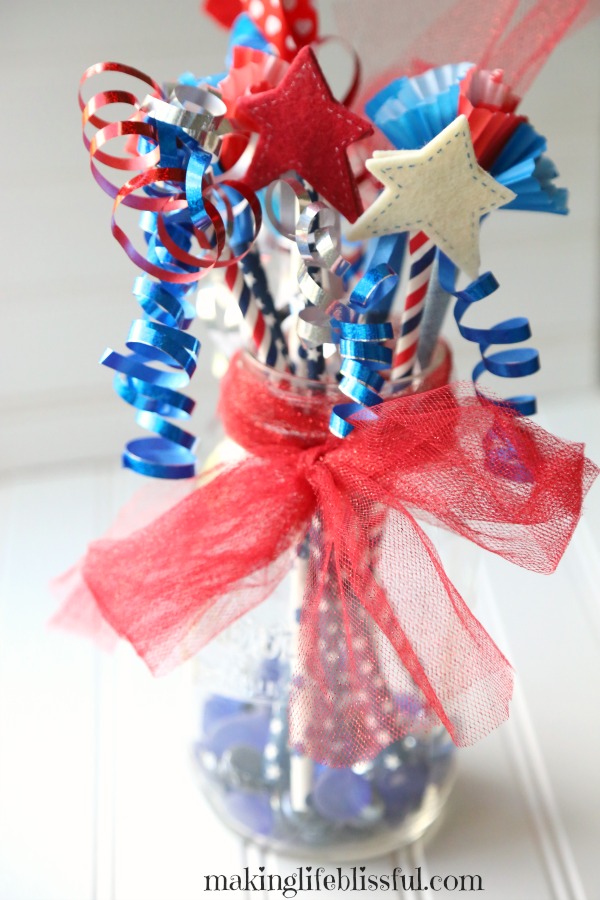 You could pack up all your parade wands and add them as part of your picnic decor for the 4th of July or Memorial Day too. Put them in a jar and add some ribbon and you have an instant decoration!
Hope this helps make crafting easy for you! Happy 4th of July!
You may also like: