Pretend play costume ideas for little boys to dress up in and be imaginative! 14 easy costumes for little boys.
Sometimes we think only little girls like to dress up and do pretend play. We forget that little boys love acting out adventures or pretending to be adults with awesome jobs. They love role-playing and being the hero. So because I know what it's like to try to find costumes and dress up clothes for boys among the racks and racks of princess dresses for girls, I'm sharing 14 easy costume ideas for little boys to get your wheels turning. Some of these dress up ideas for boys are pretty easy to throw together yourself with stuff you have at home. And some may take a few accessories or costume pieces, like the ones I show you here from Little Adventures Dress Ups. I hope you love these EASY costumes for boys as much as I do.
*This post contains affiliate links that help keep my blog running. Thanks for your support!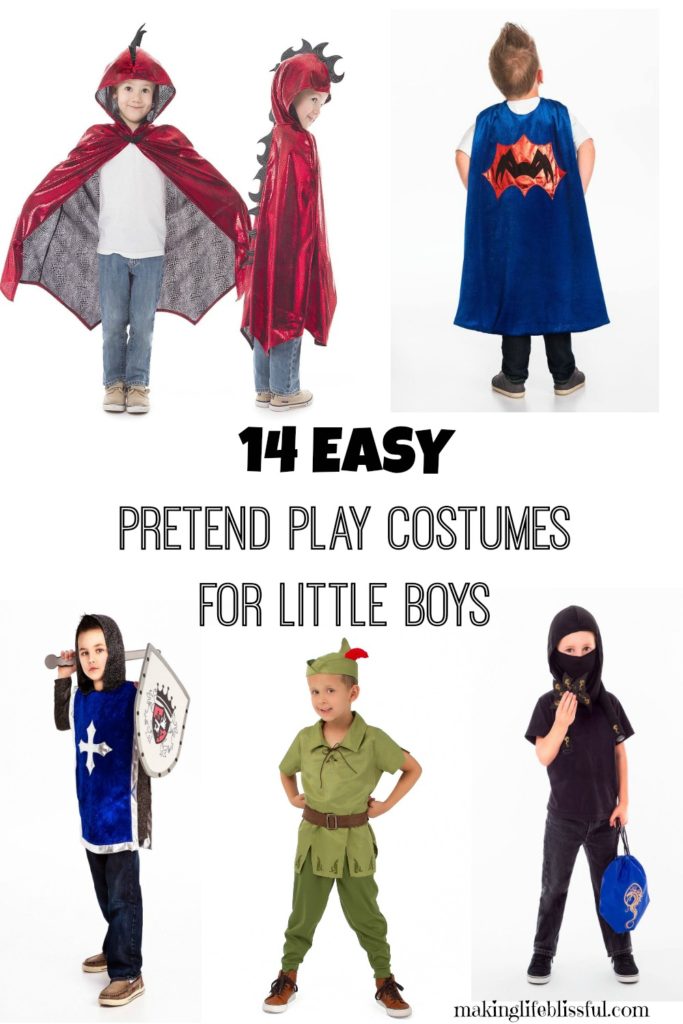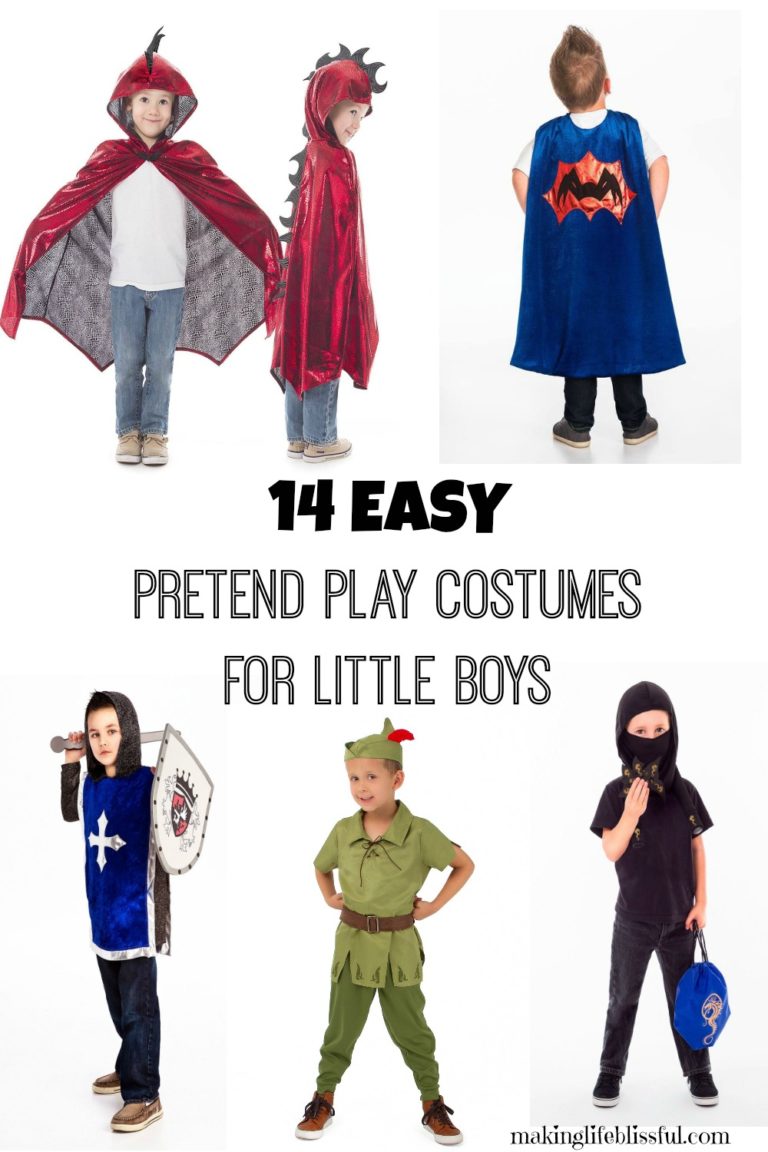 When my son was a little boy he loved to play pretend with his sisters. We had a box full of pretend play dress ups but most of those dress up clothes were the easy-to-find fairy costumes and princess gowns for toddlers and preschoolers. My son wanted to play with them, but he wanted to dress up in a cool costume for boys too. He wanted to be a knight or a dragon or a video game character. He wanted a masculine costume for boys that made him feel strong. So I had to be a little more creative and search a little harder for costumes for boys that he would want to wear over and over again. That's why I LOVE Little Adventures Dress Ups. So many wearable, washable costumes for girls and boys.
Here's some more cool costumes for boys. This post has like 18 boys costumes that are pretty unique. And you may like my post with 6 Tips for DIY Halloween Costumes or maybe you are like me and sometimes the mama needs a good costume . . . so check out these easy costume ideas too.
Here's what you first need to know about Little Adventures Dress Ups and why I have chosen to work with them. Truly a good company!
I LOVE Little Adventures Dress Ups so much for these reasons:
Always FREE SHIPPING (on everything!)
Washable, wearable dress up costumes (they can wear it all day!)
Affordable, reasonable prices (on everything!)
Cute, quality, costumes to wear over and over again!
Easy Costume Ideas for Little Boys
Ninjas are one of the easiest ways to dress up your little boy. Black clothes, ninja mask (I've made one out of a t-shirt before, but the costume set above may be worth your time) and then just a few accessories like nun chucks and stars (try origami stars?). Girls like being Ninjas too . . .
While the girls are dressed up as princesses, boys may like being the knight in shining armor! This can be a comfy dress up too and easy to wear all day (or at a Disney Park?).
Here's another way to create the knight look. Use a gray hoodie and create a tunic out of material or an old shirt. The link above is for a really awesome foam sword and shield so that your kid can really feel authentic when he fights those dragons.
Some boys may not want to fight the dragons, but they may want to BE the dragon! Dragon costumes are hard to make and come by, but I think this dragon cloak idea is GENIUS!! Not only is it easy to put on and wear, but it's comfortable to play in!! Plus, the one pictured above is washable and wearable. Win win for mom and son.
If you are in need of a last-minute dress up idea for a kid, grab that black cloak you have lying around (from your daughter's witch costume?) and let your son imagine want he wants with it. How about a magician or a wizard? A vampire?
I couldn't let this post go by without some kind of Star Wars costume for little boys. They love their Jedi warriors, so here's a simple costume idea that's so easy for your boy to play in all day if they want to. It's soft and flexible and WASHABLE. Because, you know, boys will get dirty.
And let's not forget about superhero dress ups for boys. Seems like most boys go through a superhero phase and so you'll probably need a superhero costume at some point. Sometimes all you need is a simple cape and mask and your kid is good as gold. EASY!
Peter Pan is a classic character that everyone loves! He's adventurous, and full of spunk and wonder. A Peter Pan costume would be fairly simple if you get a green shirt and pants for you kid to wear with a belt around his middle. The Peter Pan dress up linked above comes complete with the hat and it looks pretty authentic!
This is an easy one too. Have your child wear all white, or a little lab coat, or some scrubs. They can pretend to be a doctor or a veterinarian. And with some fun toy medical tools it will be a complete costume!
Okay, how handsome is this little prince! Love this prince charming dress up idea!
Pirates are a classic boy costume favorite. And the best part is that they are fairly easy to create. With a vest and a few pirate accessories, your kid will be ready to set sail.
How about a handyman? Mr. Fix-it is an easy costume idea for boys. Get an apron (like those Home Depot ones for free) and some wooden handyman tools like the ones pictured here. That's it! Easy!
Li
This is a unique idea, but it may be fun for your aspiring business man. Dress up as a grocer or a store owner! It would be complete with these grocery items!
And finally, let your boy dress up as a cowboy. The wild west is still fascinating for young kids and this wild west hoodie is comfy and wearable for your favorite little cowboy.
And last but not least I just have to share these CLEVER CHAIR COVERS for pretend play!! It's genius! Simply put the cover over your chair and your child can instantly play. Then put it away when they are done. No need to have big toys cluttering your house all day! Amazing. See all the available pretend play chair covers here.