I still remember how it felt to come home from the hospital after I was hit by that car. I was overwhelmed with emotions. I was beyond grateful that I had survived. I was anxious about the health of my baby in my womb, and yet I was hopeful too. I was elated to see the faces of my children and have my husband there to hold me. I was in pain all over my body and sick from my concussion, but I was humbled that this was all I had to endure, knowing others had endured much worse. I slowly walked into my house, my lovely, tiny, ramshackle house full of mismatched medical student furniture . . . and I loved it.
I came home from the hospital that day very bruised and banged up. I felt very broken. Not only was I not able to drive, I was not even able to go to the bathroom without help. I was almost 7 months pregnant, thousands of miles away from family, with a husband in med school, and two little darling children who needed me constantly. I worried how I would get better to continue our hardest year in medical school–the year that if he didn't pass, we would have to quit.
And then I walked in my kitchen, there on the table was a basket of goodies from my friend Griselda who had already been there and cared for my little 3 year old boy that day.Before long there was a knock at our door, it was my friend named Terri. She had in her arms another basket full of helpful items, including a bottle of peppermint lotion for my many aches and pains. I marveled at how she even had the strength to come considering her younger brother in the army had tragically died 4 weeks earlier in Iraq. I had been to his funeral and viewing. I knew the wounds she felt were still fresh and yet here she was on my doorstep ready to help me.
Within thirty minutes, another knock sounded at my door. It was another friend named Susan. Susan is often the first to volunteer for something and she had been through hard things too.
She had dinner for us. We talked for awhile and I told her how amazed I was at all the help I had already received, and I distinctly remember her telling me, "People are going to want to help
you." To this comment, I quickly replied, "Oh, I'll be fine. I just need a couple of days to get on my feet. It's no big deal."
I have always been independent and I have never wanted to be a burden to others. It's a skill you learn growing up in a large family. I am a person who definitely hates the feeling that someone is being put out just because of me.But I have never forgotten how Susan responded to this. She said firmly yet sweetly, "Let them help you. They need it just as much as you."

And that is when I started to understand. Compassion isn't about me. It's never about me. No matter what side of the story I am on, whether I am the one in need or the one helping, compassion is about others. And no matter what side I am on, compassion is about peace.
So I let them help. And it turned out I really did need the help for the next few weeks as I regained my abilities and strength. And as they helped me, my heart was changed forever. I was humbled and I was given peace. Peace of mind about my own troubles as the compassion of others helped solve my immediate problems; and peace to my soul that there was still so much good in this world. All because of compassion.But most of all I learned that I needed to give this kind of compassion to others. Just as Terri showed compassion in the middle of her grief, I knew I needed to always strive to give that kind of compassion. The kind of compassion that is selfless even in the hardest of times. Seeing their compassion for me, helped me be able to have compassion for the intoxicated driver who hit me and caused me so much worry. Because of all the goodness around me, I found myself feeling sorrow for him and hoping his life would turn out better. It's not easy, and I struggle as much as the next person to think outside of my own troubles. But I've see that compassion brings peace to a person because having compassion for that driver eased my mind in so many ways. I was not burdened with unkind thoughts. Instead I was uplifted by love. If we want a good world without war and strife it starts with compassion. It's exactly how Jesus Christ lived his life. Compassion is empathy. It is tenderness and warmth. It is selflessness and it is tolerance. Compassion is peace. Compassion is power.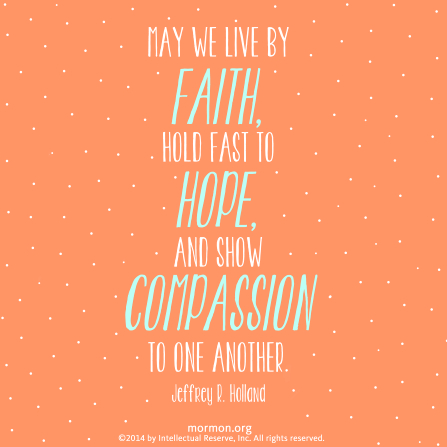 So today I just want encourage all of us (myself included) to show little compassion to someone today. Show your tenderness. Show your warmth Show your tolerance. Show your power to change world.

This is a beautiful video about a family who found that compassion for others took away their own pain. I hope you check it out!
For more ideas and inspiration about compassion and other tips for peace follow the comeuntochrist.org #PrinceOfPeace Easter initiative HERE. You'll learn how to find peace through faith, compassion, scriptures, forgiveness, repentance, gratitude, prayer, and hope.
Join our monthly newsletter & make life meaningful!

You may also like: