Oh my heavens! Our BEST recipes are just waiting for you to download. YOU NEED THESE RECIPES IN YOUR LIFE! Crazy-Good Asian Dressing, Mountain Mud Pie, Heavenly Morsels, Easy Shepherd's Pie, Perfect English Toffee . . . to just name a few!!
If you are like me, you find tons of great recipes online and on Pinterest. You try to save them, but it's hard to find them again or remember their names. I wanted to make an e-cookbook of our best yummies so that you can put them on your iPad or print them and save them forever! This e-book has been swirling around in my head forever and now it's finally done! Today, I am happy to announce our first ever e-cookbook from Making Life Blissful. It's simply called Top 30 Recipes from Making Life Blissful. See what our e-book download has to offer!
The best part about e-cookbooks that they don't have to be high-priced
Price is only $4.99
I want this to be easily accessible for you. Checkout is easy. All transactions are through Etsy so it's safe and reliable. They take care of it all. And then you'll instantly have all our best recipes in your inbox, ready to download and keep.
And remember if you are not completely satisfied, there is a 10 Day money-back guarantee!!! If you don't like it, we won't keep your money.
All recipes include FULL COLOR PHOTOS (it really is cute, you guys . . . )
There are savory dishes, scrumptious salads, and blissful sweets.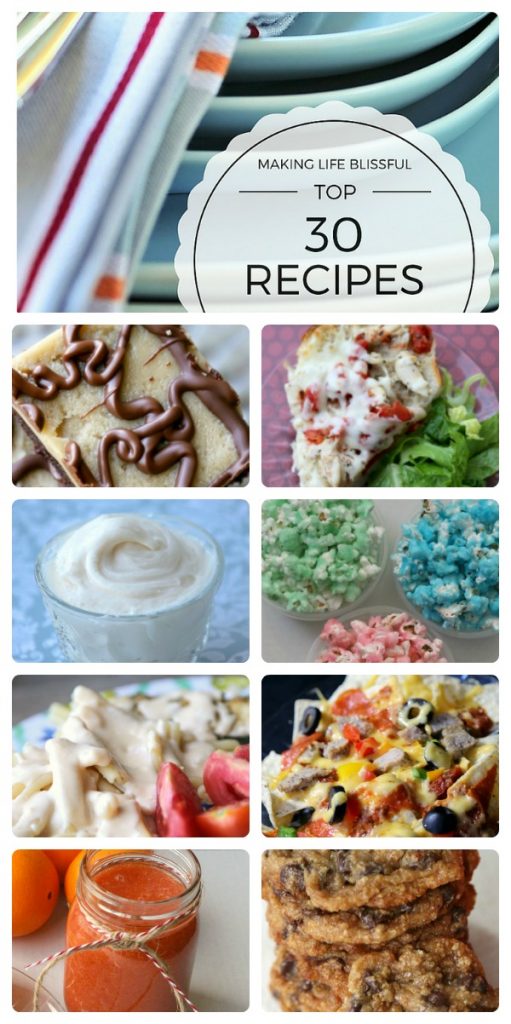 Here's a sample of the recipes included:
Heavenly Morsels


Asian Chicken Salad and Dressing (our most sought after recipes)


Mountain Mud Pie


Ivy League Chicken Salad (to die for!)


Simple Shepherd's Pie (easy dinner!)


Fresh Berry Trifle (family favorite!)


Homemade Alfredo Sauce (better than Olive Garden's)


Sugar Popcorn (quick treat for a crowd)


Green Chili Tacos (so easy!)


My Man's Cinnamon Rolls


Chicken Bruschetta Pizza


Simple Sugar Cookies (easy but THE BEST!)


Perfect English Toffee (the tutorial you've been looking for!)
So what are you waiting for? Dinner help is just a click away. Thanks for all your support!