How to make perfect chicken salad sandwiches with a secret ingredient of thyme! If you love chicken salad, this recipe will knock your socks off!
Hi! Amy here again with a seriously amazing chicken salad recipe! This is my mom's ivy league Chicken Salad!!! IT IS THE BEST! I know you've had all different varieties….with pineapple and mandarin oranges, full of apples and pine nuts…tossed with craisins and almonds…you name it…people toss it in a chicken salad and serve it up to their friends. These are delicious and satisfying, BUT there is only ONE chicken salad that I can say is the BEST and it's my mom's! It has a secret ingredient that packs a serious punch of savory flavor!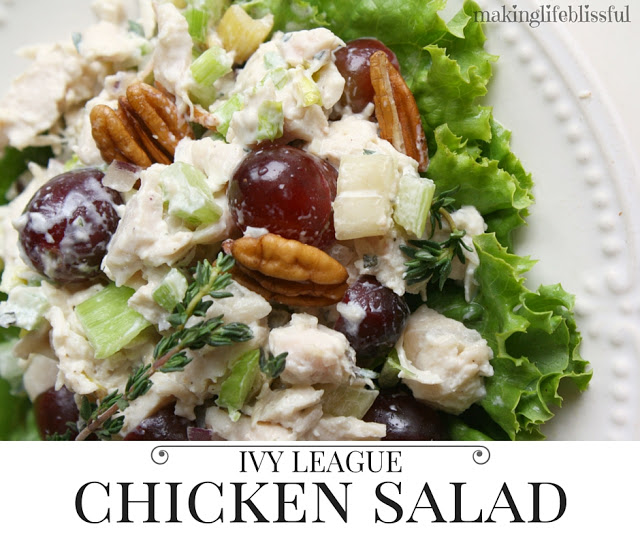 She made truck loads of this for my sister's wedding and these chicken salad croissant sandwiches were flying off the serving trays!
TO DIE FOR! Fresh, savory, crunchy, creamy deliciousness! Serve these at your next shower or luncheon and you will be a rock star! Better yet…next time you see my mom, Barbara
J….tell her she's a rock star for sharing this recipe!
ENJOY!
Love and pecans! Amy J. recipe contributor J
Let's get started!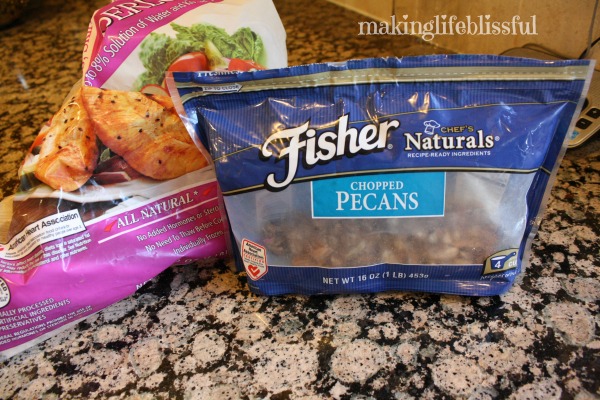 Chop your pecans and set aside.
If you prefer to roast your own chicken instead of using rotisserie chicken, you can pan-roast your chicken by sautéing chicken in a hot skillet with a bit of oil. Let chicken cook until nice and brown on the bottom, then flip over. Deglaze the pan with some water or chicken broth to collect all those delicious bits of browned chicken in the bottom of the skillet.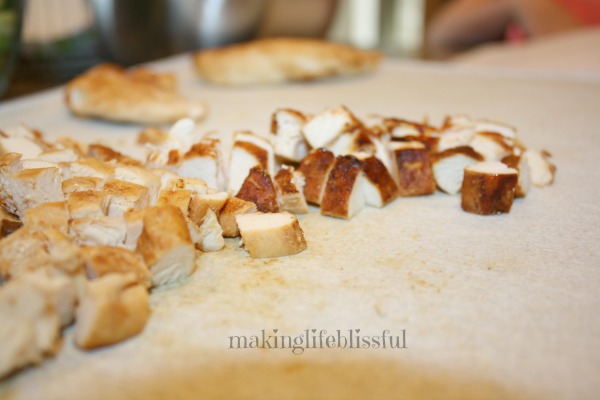 Chop chicken into bite-sized pieces.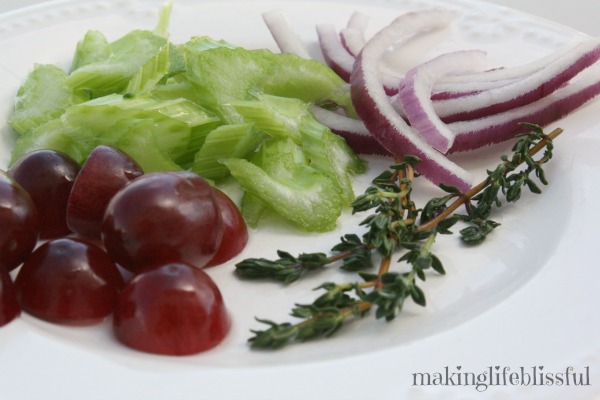 Chop celery and slice grapes. Mince the onion.



Now for the
SECRET INGREDIENT…..
My mom uses FRESH THYME leaves in her chicken salad! The flavor is INCREDIBLE! The first time I tasted her chicken salad with the addition of thyme leaves I couldn't put my finger on what the extra level of flavor was. It was so subtle yet wonderfully flavorful! Now you know the secret!!!!! This will turn you into a chicken salad snob…I'm so sorry…but, nothing compares to mom's chicken salad! Just saying!
Now that you have your fresh thyme all ready to go…pull the tiny leaves off the stem. The leaves are tiny enough you don't need to chop them unless you prefer them to be smaller.
Now you're ready to combine all your ingredients.
Toss all with desired amount of mayonnaise….1 or 2 spoonfulls. Sprinkle with salt and fresh pepper to taste.
*NOTE: You can lighten this up by using light mayo or an olive oil version of mayo. Also, nonfat greek yogurt is a great substitute as well to make it healthier.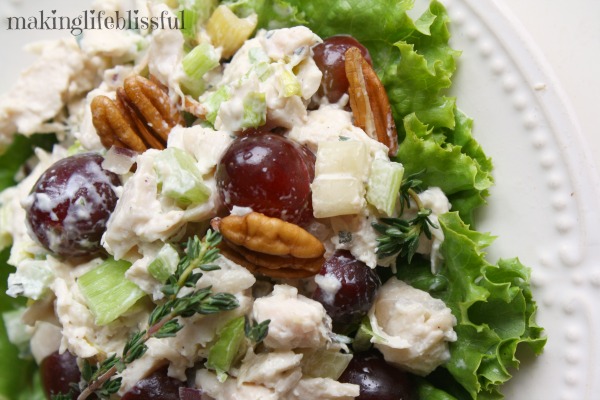 Serve over a bed of lettuce…..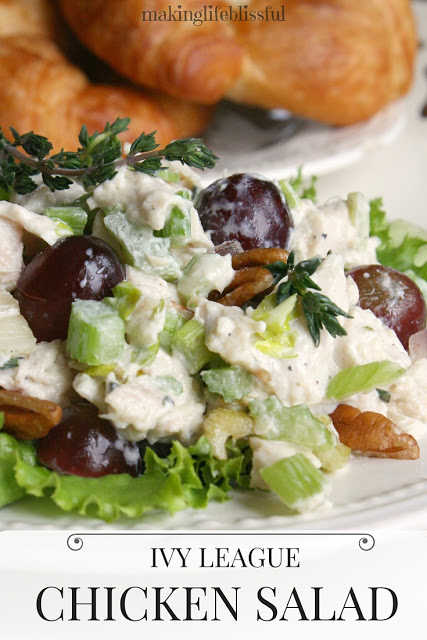 IVY LEAGUE Chicken Salad/Sandwiches with Thyme
4 cups roasted chicken, chopped ….we like to use deli rotisserie chickens….so
moist and flavorful!
½ to 1 cup lightly chopped pecans (or other nuts)
2 cups chopped celery
2 cups sliced red grapes
½ red onion, minced
2 Tble FRESH thyme, washed, tiny leaves plucked from stem (use
dry thyme
as a second choice)
mayonnaise
salt
fresh pepper
*Toss chicken, pecans, celery, grapes, onion and thyme together. Stir in desired amount of mayonnaise to just moisten the other ingredients. Salt and
pepper to taste.
Serve over a bed of LETTUCE or inside a sliced GOOD QUALITY BAKERY CROISSANT. (Make sure they are made with real butter or it's not worth your time. Costco's
croissants are our favorite…other grocery store bakery croissants don't even come close to the quality!)