*"This post is part of a social shopper marketing insight campaign with Weave Made Media®, Smithfield®, but all my opinions are my own. #weavemade #SummerSizzling http://my-disclosur.es/RgFrEH"
Goodness gracious it's HOT! We are having a heat wave and have maxed out at 103 degrees some days. Ugh. The heat makes cooking inside unbearable and I can hear my A/C unit groaning every time I turn on the oven. And yet I am tired of saying, "Kids let's just have cereal for dinner because Mommy is too hot to cook." So I tried something new and I'm sharing the goodness with you. I made DELICIOUS Chili Lime Pork Tenderloin on our grill using this yummy Smithfield Pork Tenderloin that is already marinated. It's so so quick and easy and I am lovin' the southwest flavor. Best of all, I didn't have to turn on my oven.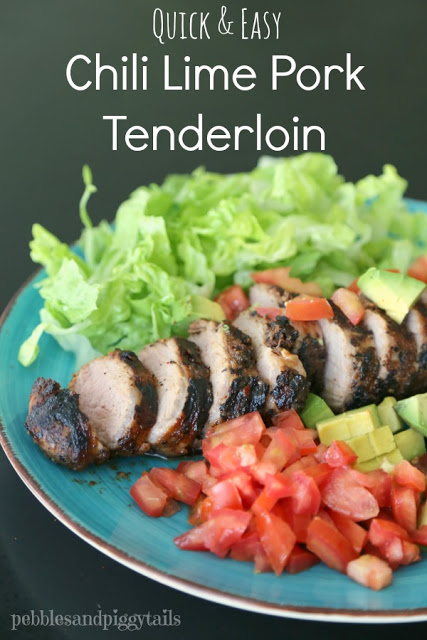 The other best part about this easy pork recipe? It got rave reviews from the kidlets and My Man. They gobbled it up (even Baby Girl, who is a little skeptical of meat, loved it!)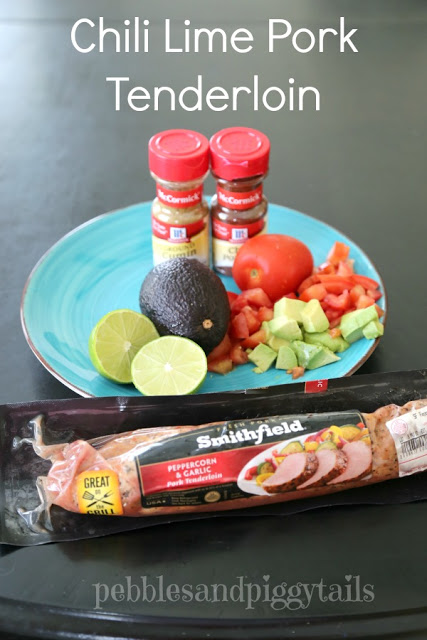 I used the Smithfield Marinated Fresh Pork with the Peppercorn and Garlic marinade. I got mine at Walmart. The price was super awesome there.
Take advantage of this coupon (while supplies last):
Southwest Chili Lime Pork Tenderloin
Ingredients:
Smithfield Marinated Pork Tenderloin (Peppercorn and Garlic)
1 lime (the juice only–about 1/3 cup of lime juice)
1 tsp chili powder (divided)
1/2 tsp cumin
1 TB of honey
1/2 tsp of red pepper (optional, if you want a little kick!)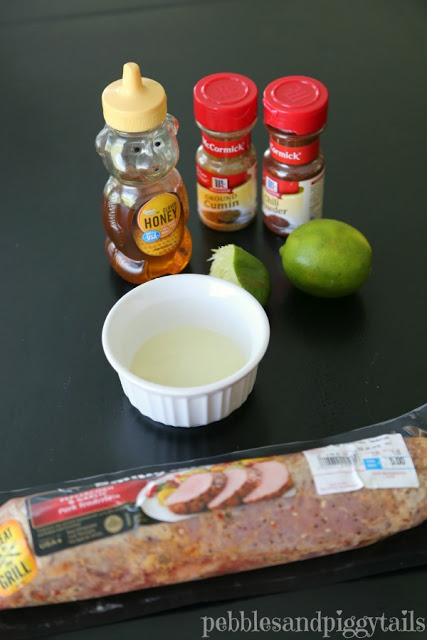 Step 1:
Mix together the lime juice, honey, cumin, HALF of the chili powder, and the red pepper (if desired).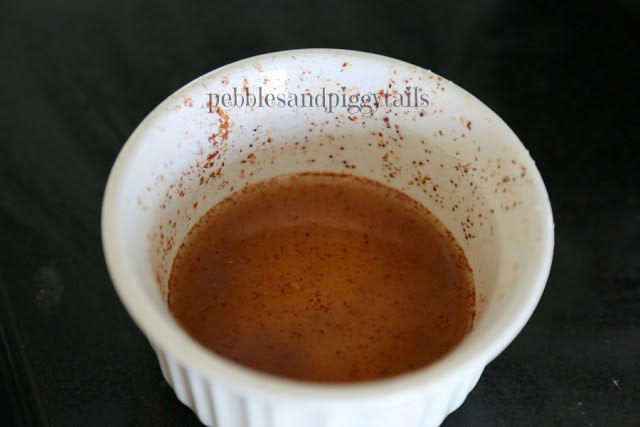 It should look a little like this. The honey adds just enough sweetness to tart of the lime.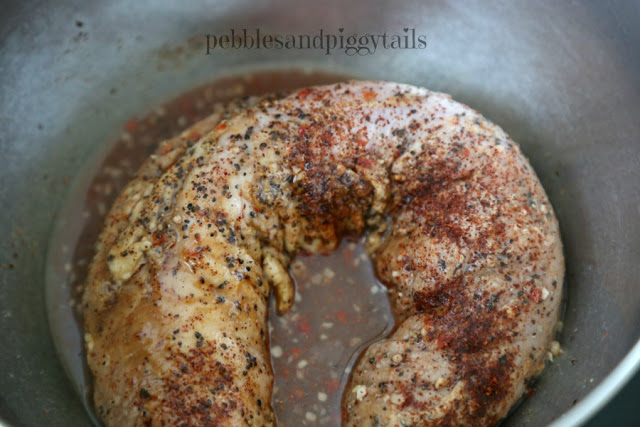 Step 2:
Open your marinated pork tenderloin into a bowl. Dump in all the marinade that came with it too. Sprinkled the other half of the chili powder on top of the pork. Pour the lime/honey mixture on top of the pork and it will be added to the marinade.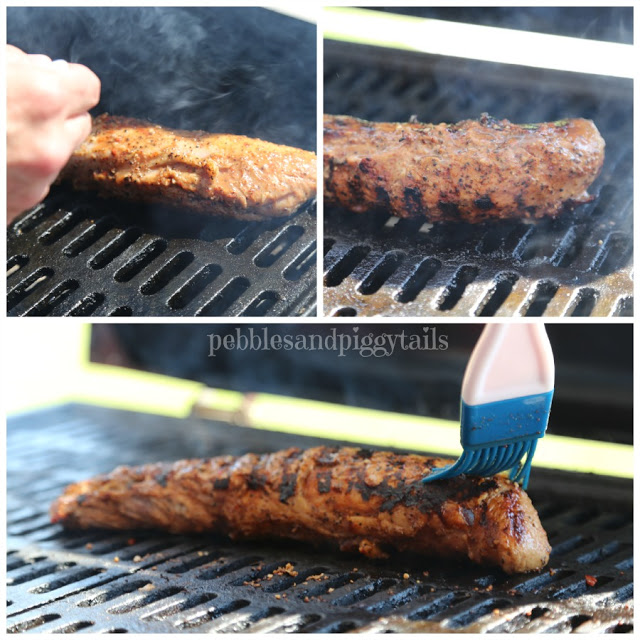 Step 3:
Fire up your grill! When the grill is nice and hot, coat with a little oil to keep it from sticking if needed. Then place your pork on it and brush it with the marinade juice leftover in the bowl. Shut the lid and let it cook for 1-2 minutes. Then open it and turn the pork to another side. Brush again with marinade and shut the lid for another 1-2 minutes. Repeat this process until you have cooked all sides and continually brushed with marinade for a total of 12-15 MINUTES. Make sure your meat reaches the safe 140 degree internal temperature.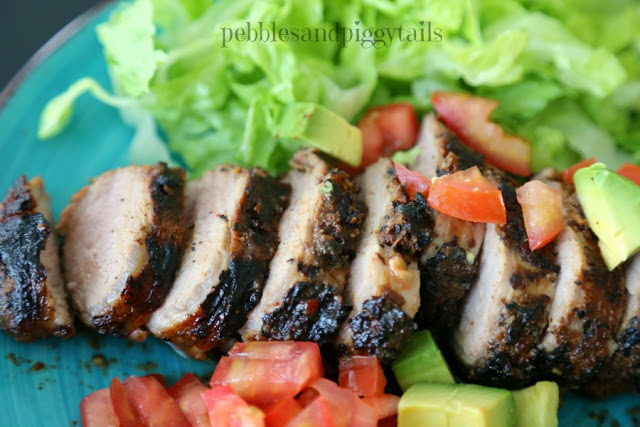 Then serve it with avocados, tomatoes, lettuce, cilantro, etc. I love the grilled flavor and it was very very tender. You can squirt a little lime juice on top and salt and pepper to taste as you serve it.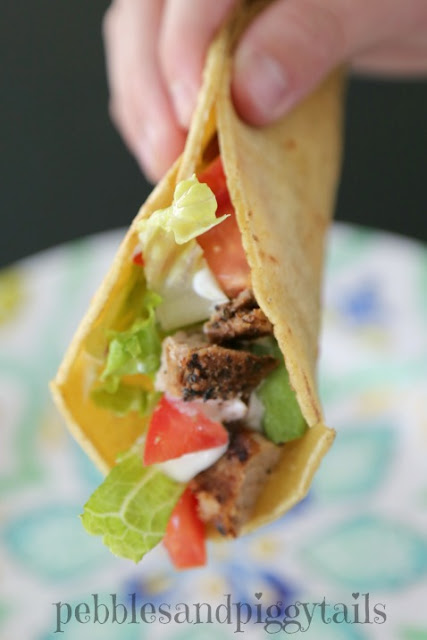 Another option is to serve it inside of warm corn tortillas for some delicious pork loin tacos! This would work well if you have any leftovers too. We loved it both ways!!

You may also like: