Hi it's Amy again! I'm sharing my Balsamic Glaze Spring Salad just in time for March to begin. It's really called Spring Salad with a Balsamic Glaze Reduction, Avocado, Crunchy Bacon, Fresh Apples, Candied Pecans and Bleu Cheese Crumbles. Yes, I know this name is ridiculously long and detailed….but I couldn't leave out any ingredient! If you are new to making your own dressing…this is a perfect place to start. Enjoy!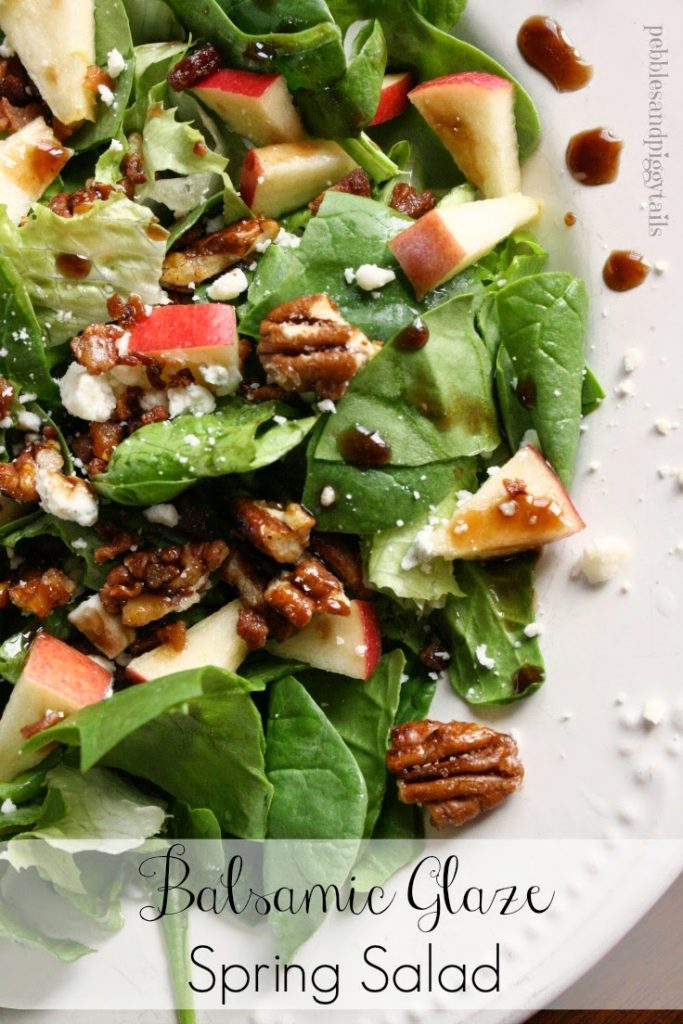 So here's the scoop….We have a local bistro that serves a killer mixed greens salad! It is similar to this, but since I haven't figured it out yet, I thought I'd share my new FAVORITE….TOTALLY ADDICTIVE….SPRING SALAD OF ALL SALADS!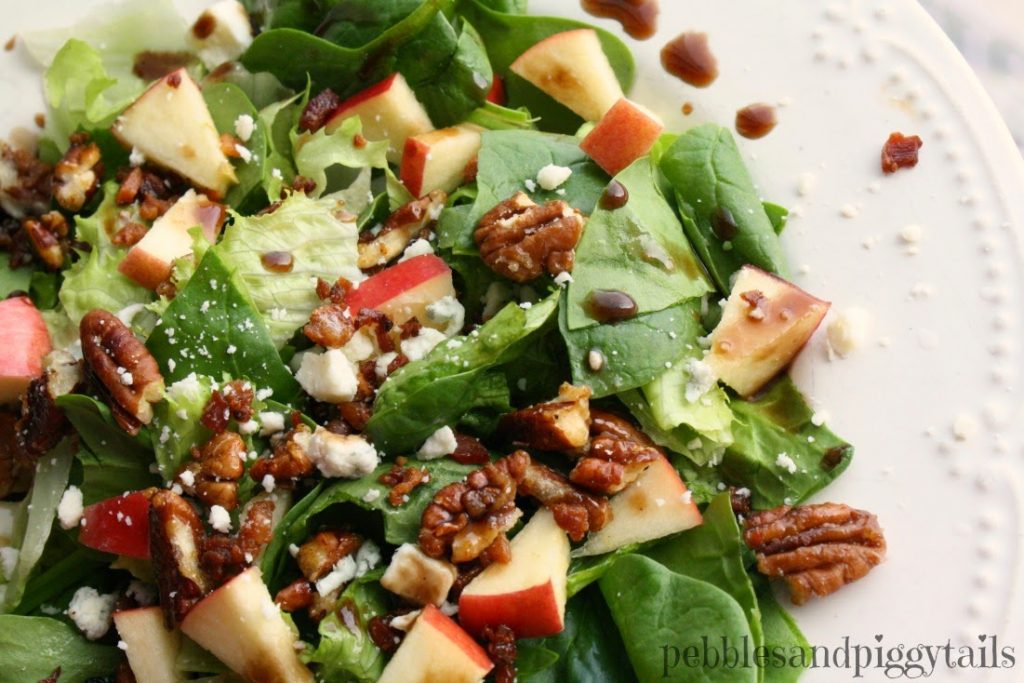 I tried a recipe from
sweetlittlebluebird.com
and changed it….added my own twist….and fell in love. I made a balsamic reduction glaze that is mild, sweet and tangy, and packed with flavor. It doesn't overpower all the fresh ingredients, it combines everything to make the perfect ensemble. The sweet and salty pecans, the crispy bacon with creamy mild avocados, the crunchy fresh apples, crispy greens with a punch of bleu cheese! (Now, if you aren't a fan of bleu cheese and prefer a more mild, soft cheese… just toss in some goat cheese clumps for the ultimate creamy/savory texture and fantastic flavor). TO DIE-FOR! This will STOP YOU IN YOUR TRACKS! Make it. You will be thrilled with the results and want to invite me to all your Tupperware parties!
Love, Amy J
Now, here are a few elements that make all the difference . . .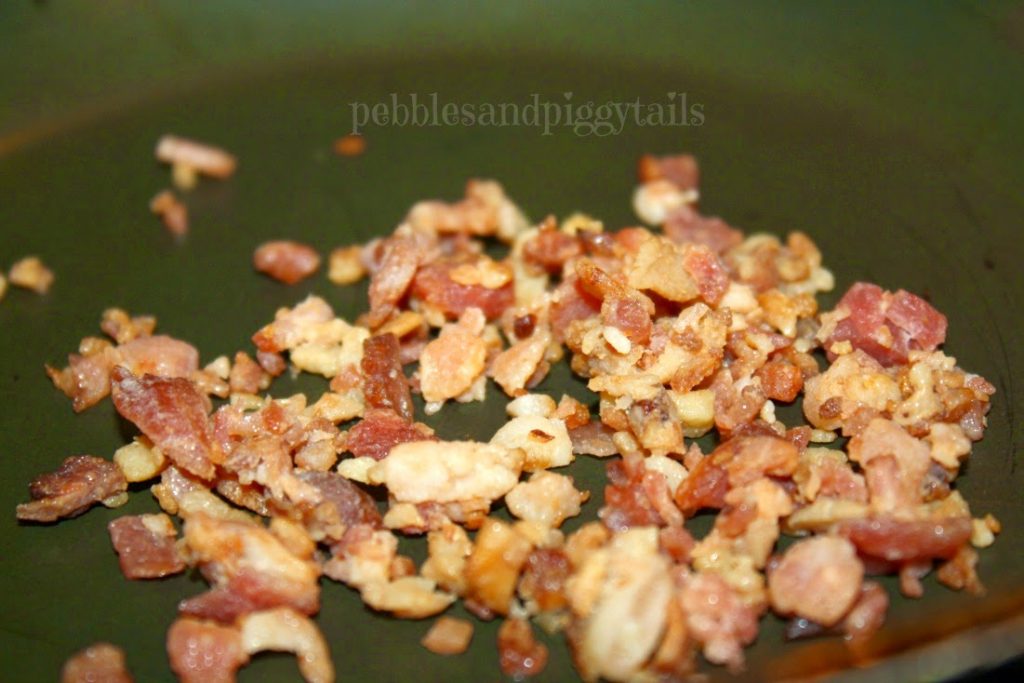 I love the real bacon bits you can buy….but they are a bit rubbery and I don't enjoy rubbery bacon bouncing off my teeth. So…let's take care of that!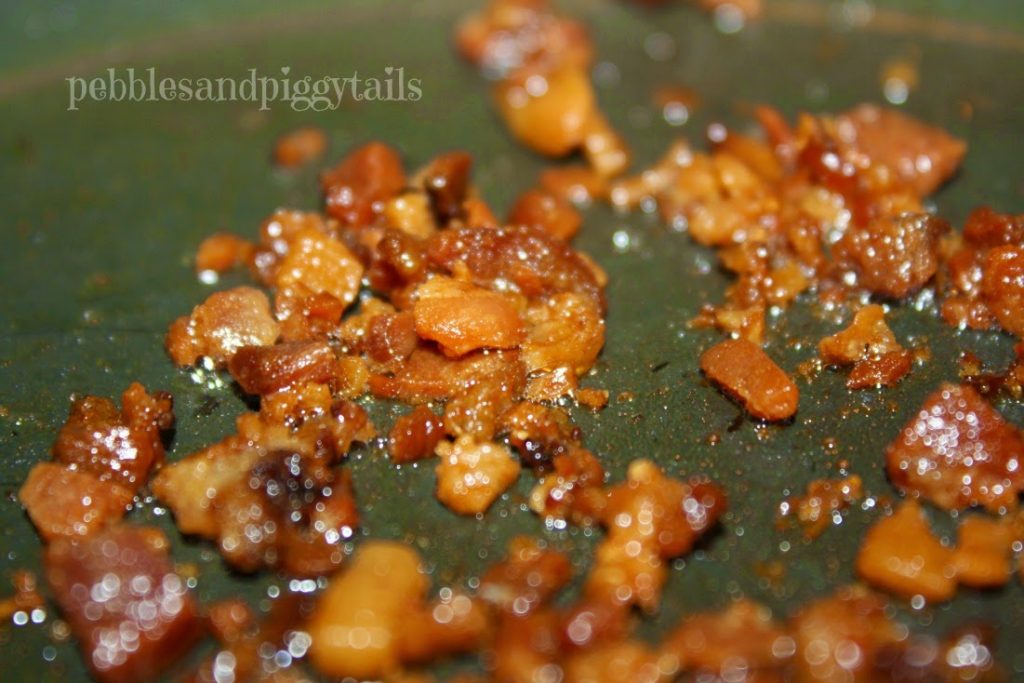 I toss mine in a pan and cook them over medium heat, stirring continually, until they are all crispy and brown. Perfect!
When the bacon is cooked, scoop out the crispy morsels and reserve the small amount of fat in the bottom of the pan. This is perfect for making our candied pecans….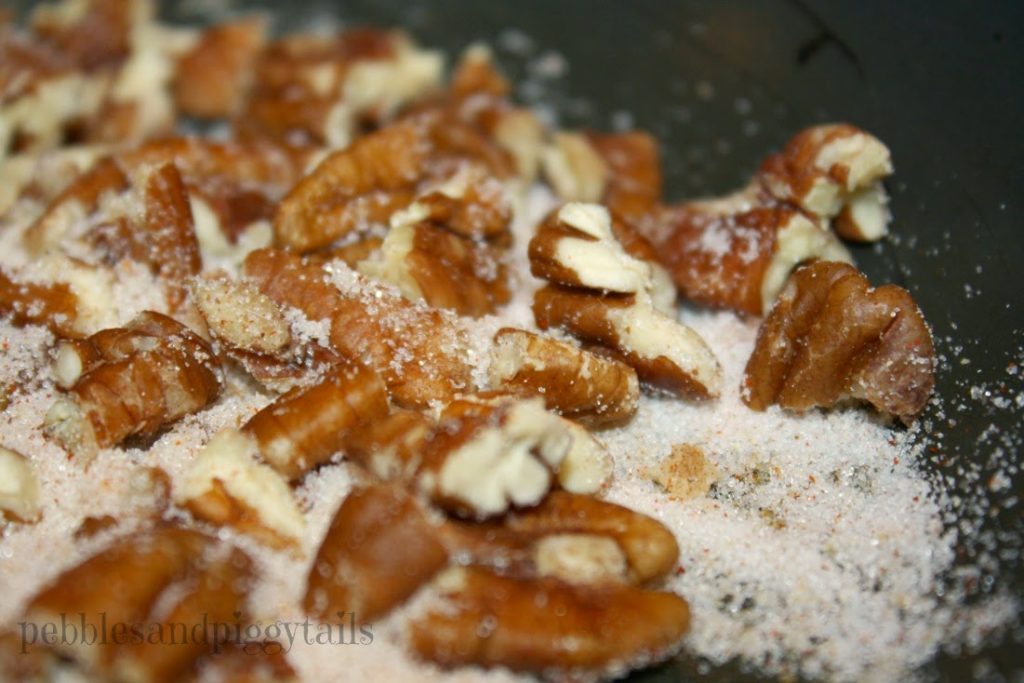 Candied pecans cook quickly, so don't plan on answering the door, or talking on the phone while you make these….they can overcook in a flash.
Toss your ½ cup of chopped pecans into the pan with a bit of leftover bacon grease. Sprinkle with a healthy sprinkle of salt, and toss in ¼ cup sugar. Cook over medium heat, stirring constantly. You will watch the sugar caramelize and stick perfectly to the pecans. At first you will think nothing is happening…then ALL AT ONCE…the sugar turns into an amazing bronze color and coats the pecans.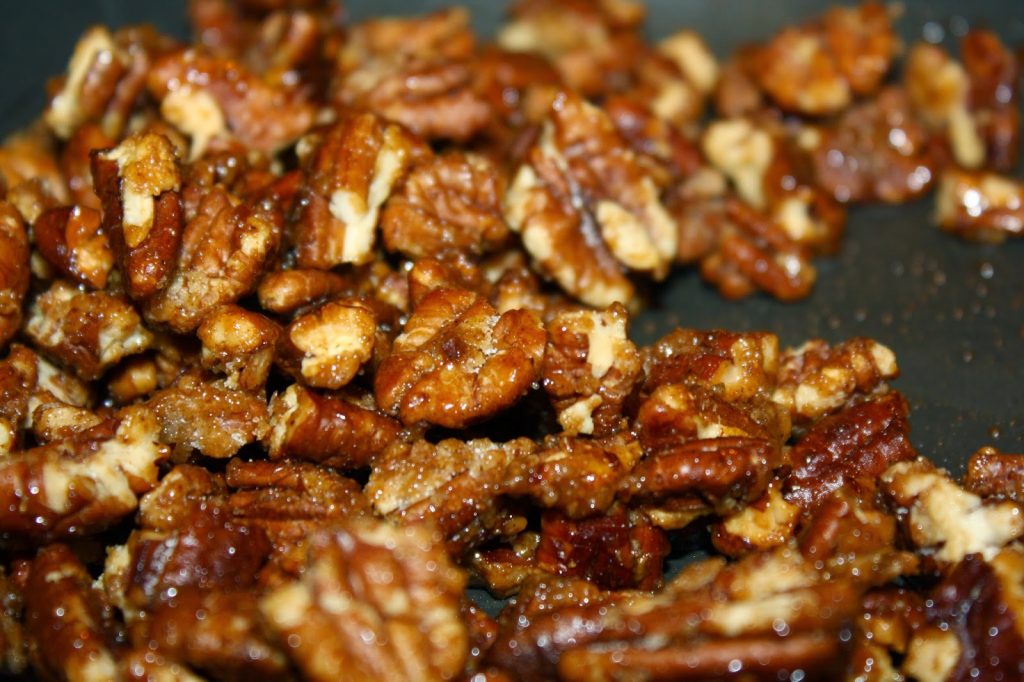 See? Don't those look incredible? This happens fast….so keep stirring… even if your phone starts ringing, the kids start fighting, the neighbor is pounding on your front door….keep stirring… these cook that fast!
Delish! Toss them on a plate to cool. Try not to eat them all before you sprinkle them on your salad!
Just warning you…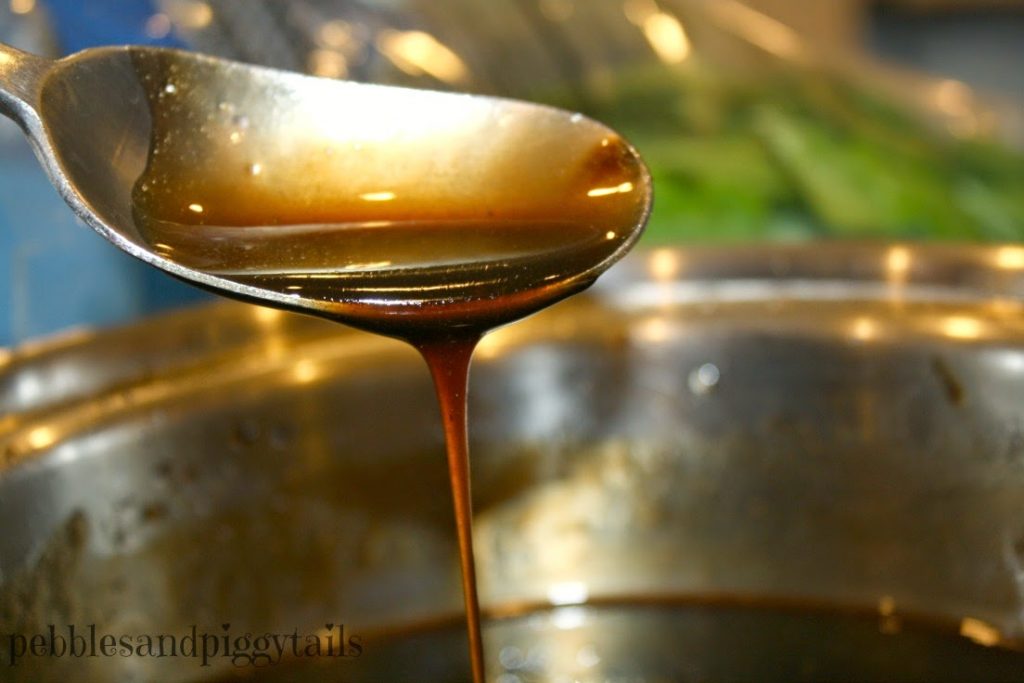 The Balsamic Reduction Dressing is super easy:
Balsamic Reduction Glaze
¼ cup good quality balsamic vinegar
1/3 cup sugar
¼ cup oil
1 tsp salt
¼ tsp garlic powder
1/8 tsp fresh pepper
pinch celery salt
½ tsp Dijon mustard
In a medium sauce pan, toss in your good quality balsamic vinegar, sugar, oil, garlic powder, celery salt, fresh pepper, and salt. Cook over medium heat to melt the sugar. Keep stirring. Bring to a boil and cook for 1 minute.
Stir in Dijon mustard and boil for 30 more seconds. Remove from heat and cool. Add water to produce the preferred consistency.
INCREDIBLE!
Spring Salad with a Balsamic Glaze Reduction, Avocado, Crunchy Bacon, Fresh Apples,
Candied Pecans and Bleu Cheese Crumbles
1 large head green leaf lettuce, chopped
1 head romaine lettuce, chopped
6 oz package baby spinach
2 ripe avocados, cubed
1-2 apples, chopped
¼ to ½ cup blue cheese crumbles, or goat cheese clumps
½ cup real bacon bits, sautéed to crispy deliciousness
½ cup pecans
¼ cup sugar
salt
For the Salad
*To crisp the real bacon bits: Cook bacon bits in a pan over medium heat until brown and crispy. Set bacon aside but leave the small bit of grease in the pan.
*To candy the pecans:
add pecans to pan with leftover grease, add sugar and a generous sprinkle of salt. Stir constantly and cook over medium heat. Watch as sugar quickly caramelizes and turns the pecans a glossy caramely shiny color. This happens quickly so watch closely so you don't burn the pecans. Remove from heat and cool on a plate.
*Lightly toss lettuce, spinach, avocado, and apples to combine. Drizzle with balsamic reduction glaze, sprinkle with bleu cheese, bacon, and pecans. Dive into your salad paradise! Enjoy!
Join our monthly newsletter & get recipes, free printables, and fun family activities!