Enough with the Halloween candy y'all! Time to get back in the saddle and eat healthy again. How about starting with this Colorful Healthy Granola full of whole grains, protein, and fiber. And it's soooo good too!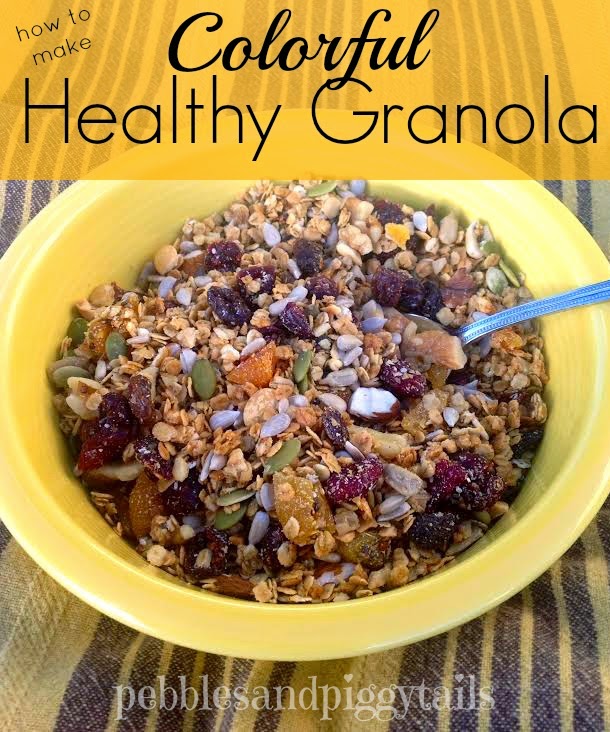 Today My Sis is sharing her delicious homemade granola recipe. This granola is colorful, healthy, and just pure good. I've tried it and loved it. Here's her tutorial:
Set your oven to 325 first and start with one cup and measure out ⅓ cup oil and pour it into a small sauce pan. If I again use this cup to measure the 1 cup honey than the honey slips out easily into the pan because I used it for the oil first! See? Get it? Easy!
Next add the salt. Salt is a must for me in this recipe but it can be left out or reduced to ⅛ tsp.
Turn the stovetop to low and just simply stir often to warm the oil, honey, and salt, together. Do not let it get to a boiling! We do not want to kill the healthy qualities of the honey. Take it off the burner after it gets warm and runny and set it aside.
Meanwhile, measure your 6 cups of rolled oats out into a huge bowl. I like to keep my huge metal bowl around just for this purpose (and for my mother in laws soft caramel popcorn recipe –maybe Lisa will let me post that recipe!)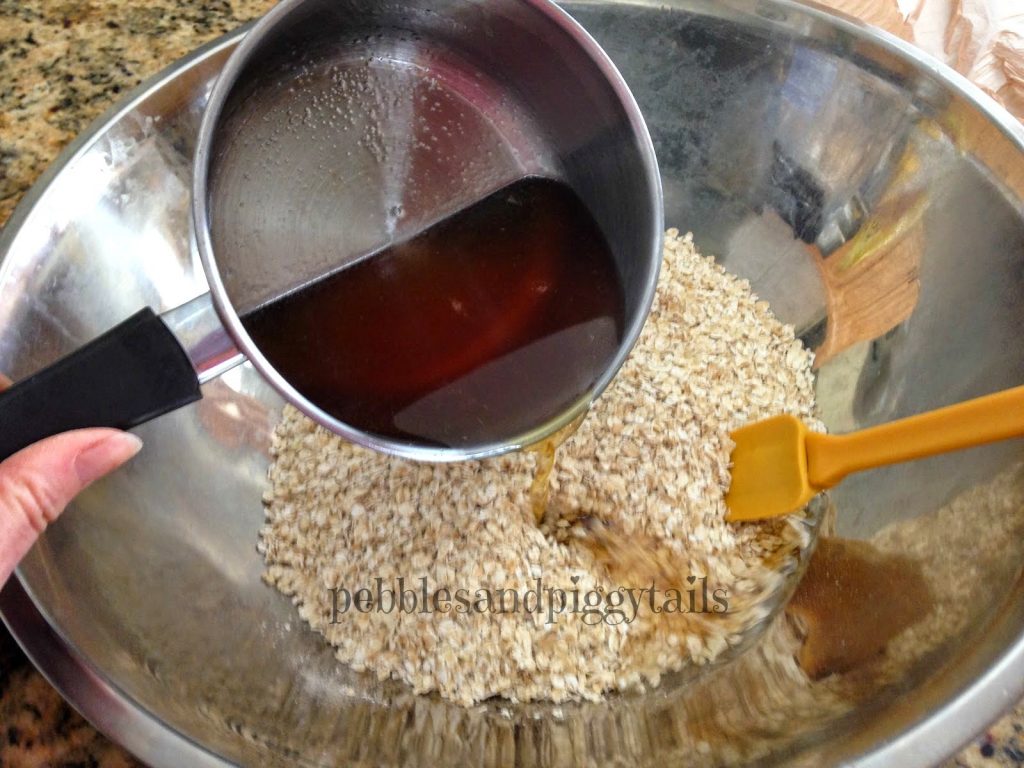 Pour the honey and oil mixture into the bowl with the oats and…….
STIR! Stir, stir and stir until all oats seem coated and sticky!
At this point if you would like to add in your nuts to roast them along with the granola you can do so. I personally like to leave them out of the baking process to preserve the natural oils in the nuts because some of them are already roasted enough.

Spray two large baking sheets with cooking oil and evenly spread the granola onto the pans making sure to make it even. The more evenly divided they are on the pan the more evenly the two pans will bake in sync together.
At 325 degree oven place one pan on the middle and one on the top rack. Bake for 15 mins. Stir and then rotate pans top to bottom and front to back. Continue baking and stirring every 5 minutes, until the granola is golden brown, 10 to 20 more minutes depending on your oven so WATCH IT CAREFULLY.
Meanwhile, don't wash out your bowl yet! You'll need it to combine and stir together all of the yummy ingredients to this granola……
Make it colorful and full of healthy variety! Here is what we usually keep on hand in the pantry and I use it all. You can use any combination of seeds, nuts, fruit you want as long as it turns out to be about 5- 7 cups. If you're allergic to tree nuts than you can certainly substitute for peanuts and seeds. I added, mixed tree nuts, peanuts, chia seeds, raw sunflower seeds, walnuts, flax seed ground, chia seeds, dried apricots and craisins. This is your personal granola, make it exactly with what you want with as much or as little as you want.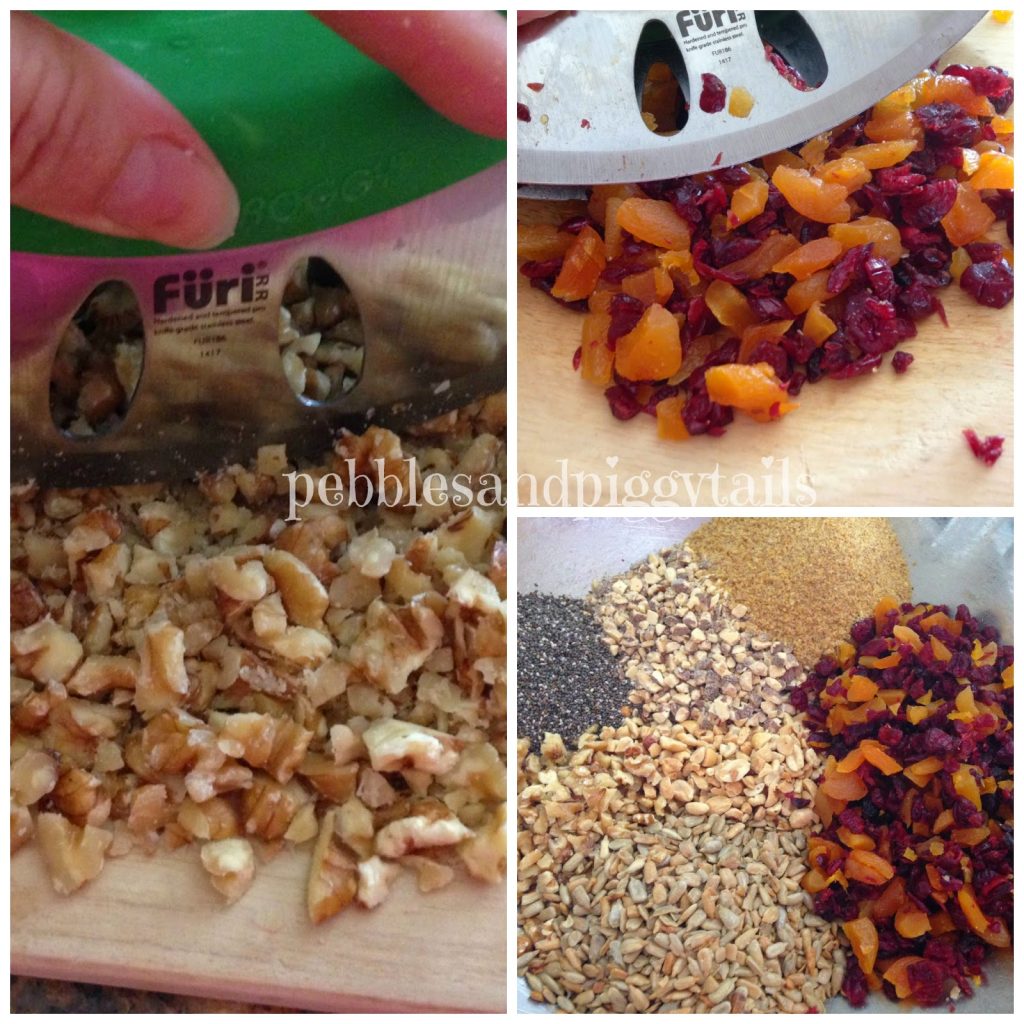 Prepare your add-ins while you watch the oven by chopping and measuring if needed and add to the big bowl!
This is baked just right!
This is prebaked. Look at the difference….
Isn't it beautiful! (I added in pumpkin seeds and white quinoa for extra nutrition simply because I was out when I made this batch but they are now mixed in this picture…..)
After you let it completely cool for a few hours dump it all into the bowl and mix well with the other ingredients and then scoop all into an airtight container and ENJOY!!!!var r = document.URL;
Colorful Healthy Homemade Granola Recipe:
⅓ cup of canola oil
1 cup honey
¼ tsp. salt
6 cups rolled oats
2 cups of nuts chopped
3 cups of seeds-pumpkin, sunflower, chia, flax
3 cups of dried fruit chopped
Preheat oven to 325. In medium saucepan combine oil, honey and salt. On a low setting warm the mixture just until it's combined and runny. Set aside. Combine oats and honey mixture into a large bowl and mix well until mixture is all coated. Spray two large baking sheets with cooking oil and spread granola mixture evenly onto pans. Bake 15 minutes. Stir. Rotate pans top to bottom and front to back. Continue baking, stirring every 5 minutes until golden brown, 10 to 20 more minutes. Watch closely to avoid burning. Cool and stir in remaining ingredients. Transfer to airtight containers.
GO AHEAD–PIN IT! You'll want this recipe saved!