Guest Post by Amy (Lisa's sister-in-law and crazy-good cook!)
These Green Chili Chicken Tacos with Cabbage Pico received an enthusiastic #5 VOTE from the whole crew at my house. So I have to share it. You can make it with leftover pot roast as well and it is FAB! But, today we are making the tacos with chicken. Trust me….these rock!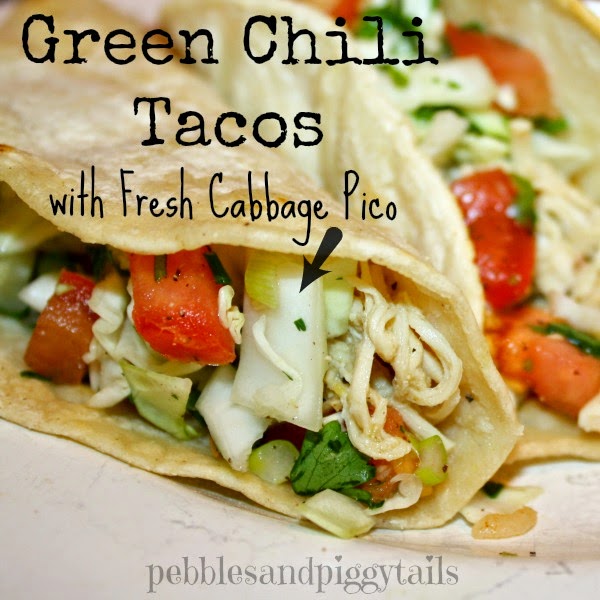 So…when I try a new
recipe for dinner, my family gets to vote on the recipe! We use a 5 star rating system. #1= please don't EVER make it again…..#2=
just a step above #1……#3= not bad…….#4=Mom made something I
LIKE!!!!…..#5=We love this! This works
well for all parties involved. It gives
the crew a chance to voice a food opinion and I can't get irritated because I have
no particular expectations myself. Even
after all the work of making dinner….if it's a flop…no biggie! HOWEVER…I have given myself FULL veto power!
If I love something….frankly….I will make it again…..just a side note
before you think that I'm some kind of benevolent soul or something! There are so many great perks to being the
mom.
If we are having
something we've eaten in the past and a certain someone doesn't like
it….well…..then I employ the sign which hangs prominently in my kitchen
reading, "DINNER CHOICES: 1. Take
it. 2.
Leave it!" I don't allow voting
on a regular basis…my kitchen is not a democracy….but sometimes I listen to the
voice of the people.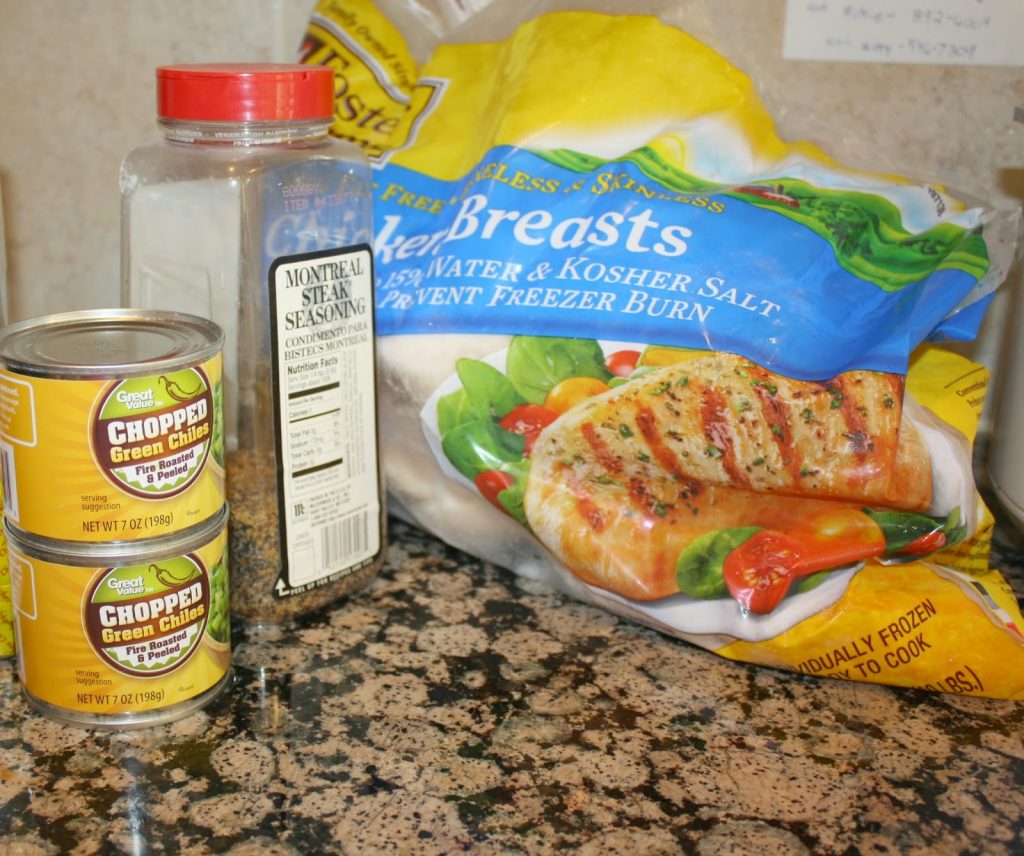 There is nothing
better than tossing dinner in the crock pot early in the morning….taking off
for a crazy-busy day….and returning home to the aroma of delicious food
cooking. These take so little
effort. I love it! 4 ingredients my friends! Chicken, Montreal Steak Seasoning, green chilies. That's it! Dinner is in the crock pot in 5 minutes.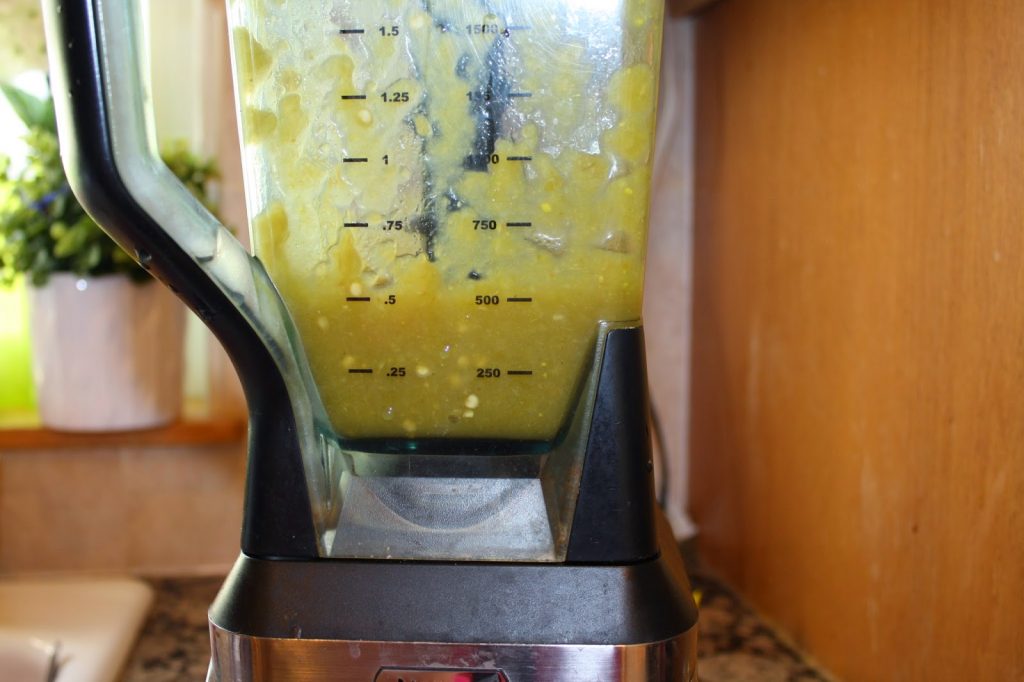 Blend the green
chilies until smooth.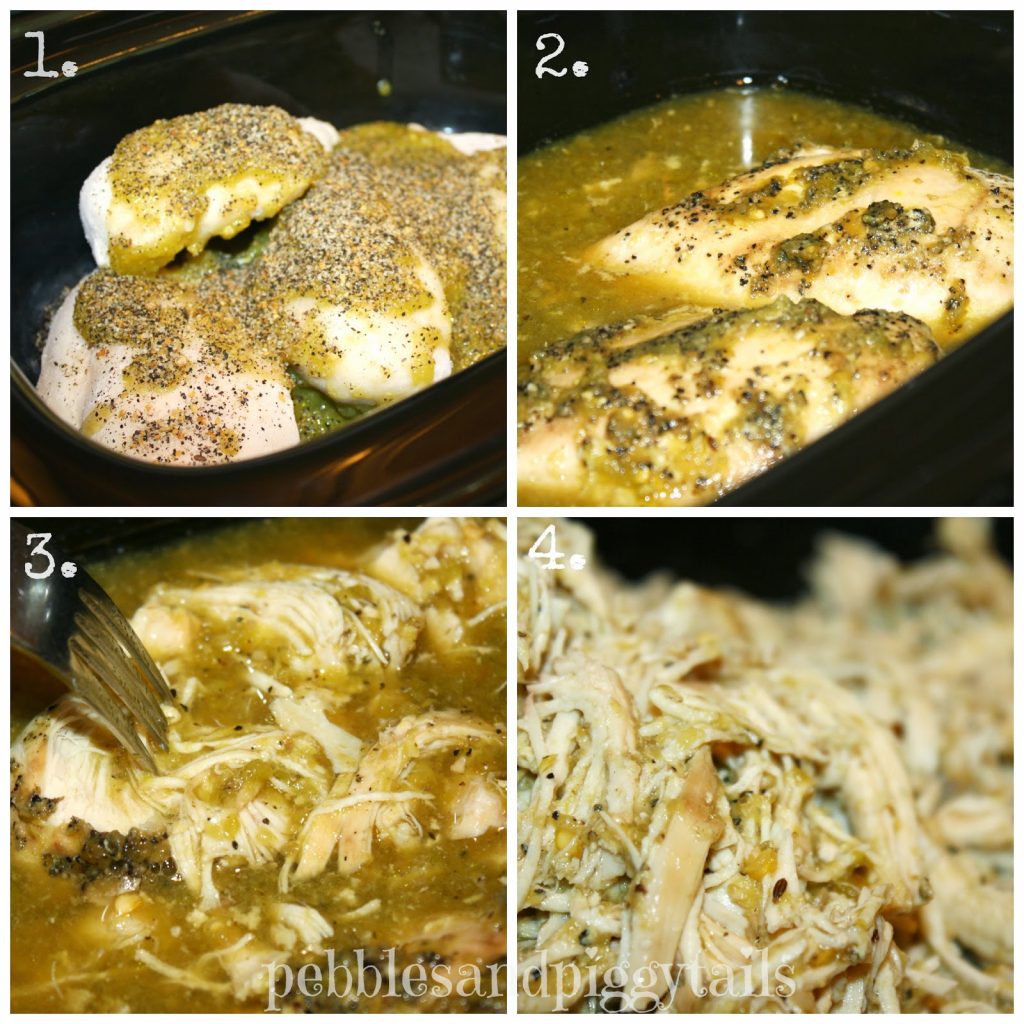 Place 4 frozen
chicken breasts in a crock pot. (You can
use fresh of course, cooking time will be decreased by a few hours….but I
always have frozen chicken, and this recipe is so handy…I just toss in my
frozen chicken and I'm out the door).
Pour the green chili mixture over the chicken and sprinkle with Montreal
Steak Seasoning. Cook in crock pot on
high for approx. 6 hours. You know your
crock pot…the time may be different for you, but 6 hours is just right at our
house!
After 6 hours the
chicken is cooked to tender perfection!
I know it seems like there is a lot of chili sauce….but wait….this is a
very good thing….
Shed chicken with
two forks. The meat is so tender this
will take less than 5 minutes. The green
chili sauce will be just enough to moisturize every inch of your chicken…..perfect!
Don't you want to
grab your fork and dig in?! The flavor
of this chicken is unbelievable! Go
ahead… try to take only one bite! You
can't do it. You will be instantly
addicted.
This chicken is incredible in
burritos and tostadas. Today we are making tacos with
fresh cabbage pico
(soft, warm corn tortillas, green chili chicken, cabbage pico)..
Note: Our favorite
way to make taco shells is on our pancake griddle. We lightly oil the griddle and crank up the
temp to 400 degrees. With the griddle
piping hot, we warm 6 shells at a time.
We heat them just until hot, but still soft, and then flip them to heat
the opposite side. Don't get me wrong,
we like crunchy shells from time-to-time.
But soft, warm corn tortillas are hands-down the FAV!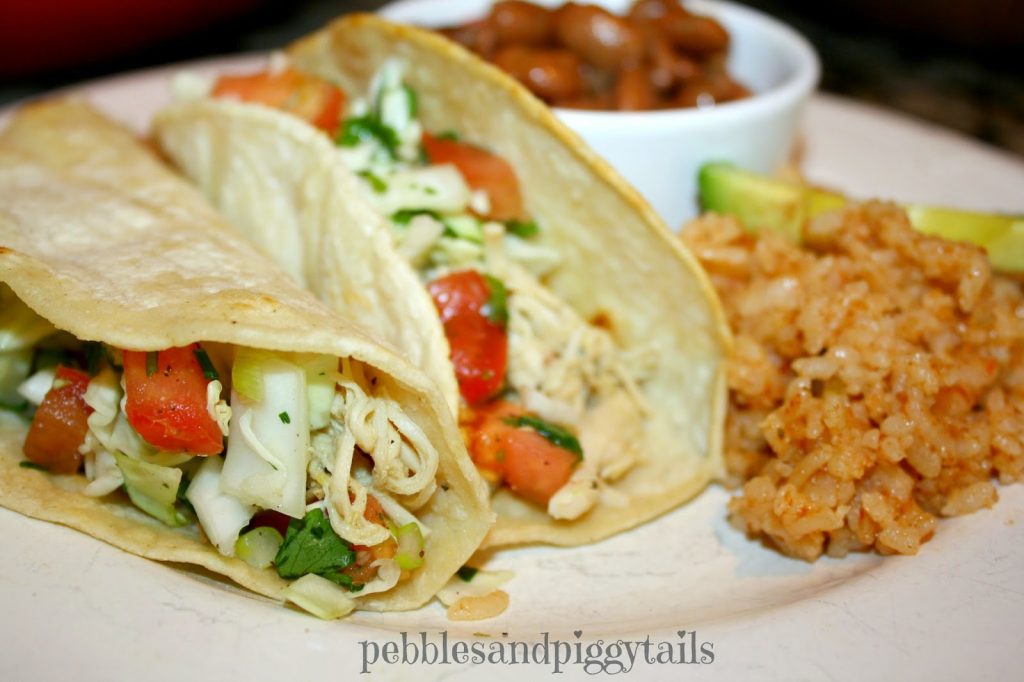 Green Chili Chicken Tacos
2 – 7 oz cans green
chilies, blended in blender
4 chicken breasts,
frozen or fresh
1 ½ TB Montreal
Steak Seasoning
*Blend green
chilies in the blender until smooth. Place chicken breasts in crock pot. Pour green chili sauce over chicken. Sprinkle with Montreal Steak Seasoning. Cook several hours on high. (Frozen chicken
cooks for approximately 6 hours, fresh cooks for 4 hours….but all crock pots
are different…you know yours best)
*When chicken is
tender, shred with two forks to incorporate all the green chili sauce. There will be just enough sauce to season all
the succulent chicken! Delish. Serve in warm corn tortillas with your favorite
toppings….cheese, lettuce, tomatoes, salsa, sour cream….make a burrito….or
top with cabbage pico!