Welcome! I'm glad you are here to get the recipe for CRAZY-GOOD Asian Chicken Salad and CRAZY-GOOD Asian Salad Dressing! We love quick and easy, fresh meals just like you and this one is the best!
We have given this recipe out COUNTLESS TIMES! It's CRAZY GOOD!
Our cute little Grandma B. is 100 years young! She has always been known for her incredible cooking! We took her famous Oriental Chicken Salad and added some fresh ginger! My kids request this more than any other salad! A great way to get them to eat cabbage! So DELISH!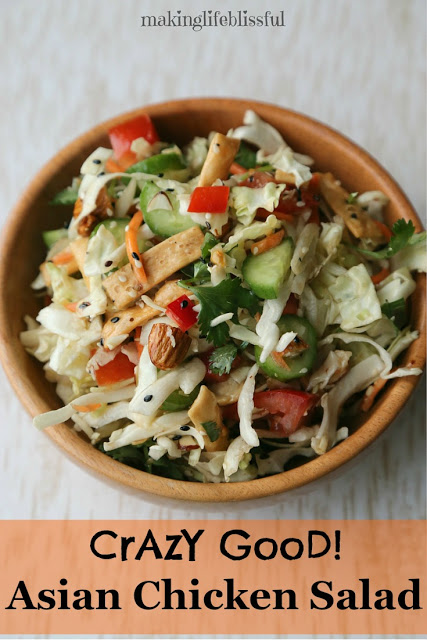 A twist on Grandma's original! By recipe contributor Amy Jensen
You are gonna want this recipe and keep it forever!! Download and keep this recipe. CLICK BELOW to download our Top 30 Recipes, including this one, for only $5.99.
Payable via Paypal through Ejunkie. Top 30 Recipes E-Book from Making Life Blissful


$5.99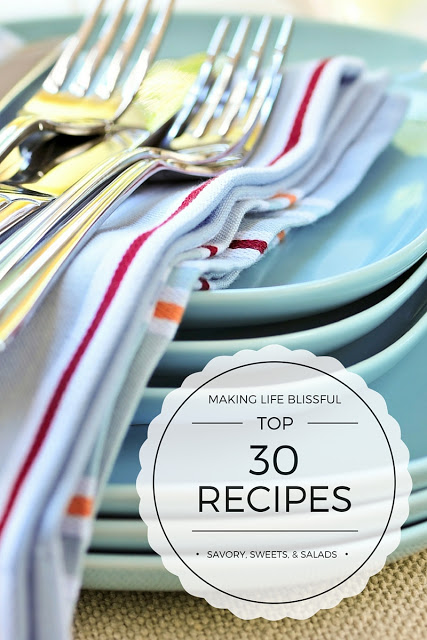 Top 30 Recipes from Making Life Blissful
So are you ready to learn how to make this crazy-good salad? Don't forget to click through to Page 2 to get the Crazy-Good Asian Salad Dressing recipe!
Toast your almonds while you prepare the rest of the salad. Chop 2 cups of raw almonds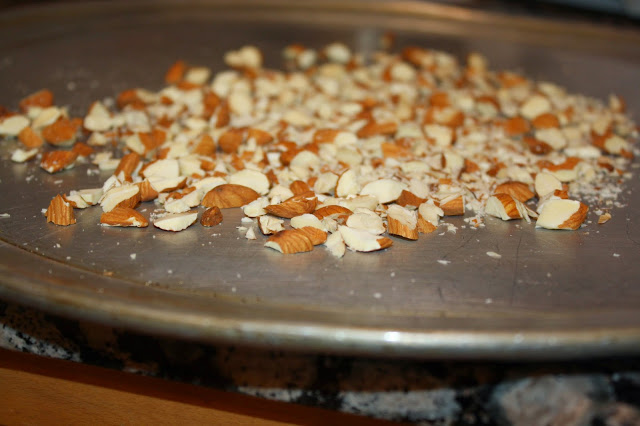 Sprinkle onto a cookie sheet and bake at 350 degrees for 10-15 minutes. The time depends on your individual oven. Set the timer to stir every 5 minutes. The almonds are perfectly toasted when you can smell them and they are a soft golden brown…. the color of honey. EXCELLENT!
Note: If the sesame seeds you are using are not already toasted. Toss them on the pan with the almonds and toast them together! Let them cool before tossing in the salad.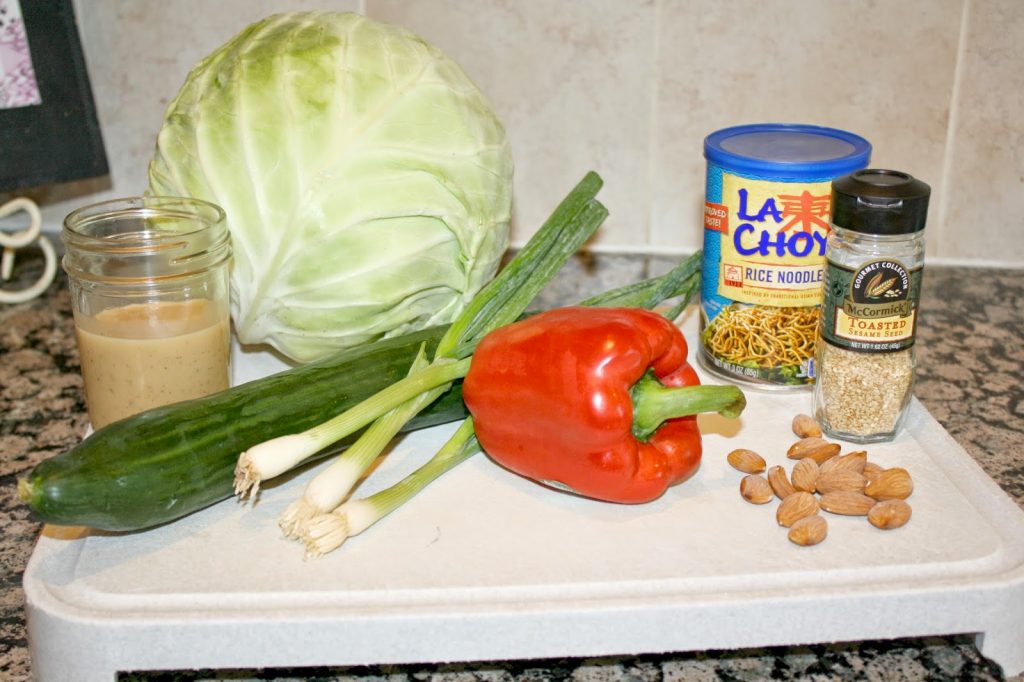 SALAD:
1 head cabbage,
shredded
3 green onions,
chopped
1 red pepper,
chopped
1 cucumber, chopped
shredded carrot, optional
2 cups almonds,
chopped, toasted
4 cups cooked,
chopped chicken


*You can also add freshly, chopped cilantro and tomatoes (Lisa adds both of these when she makes it and LOVES it!)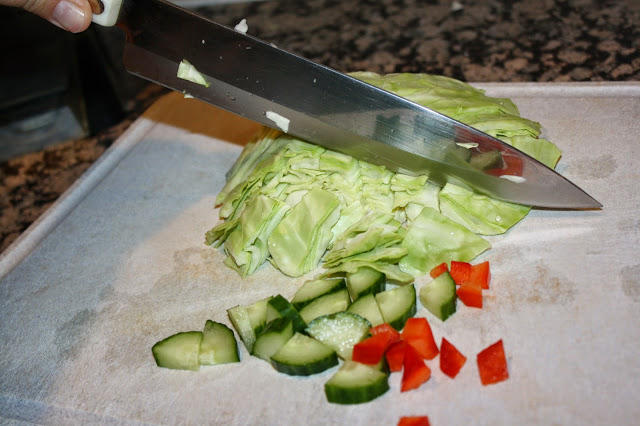 chop, chop!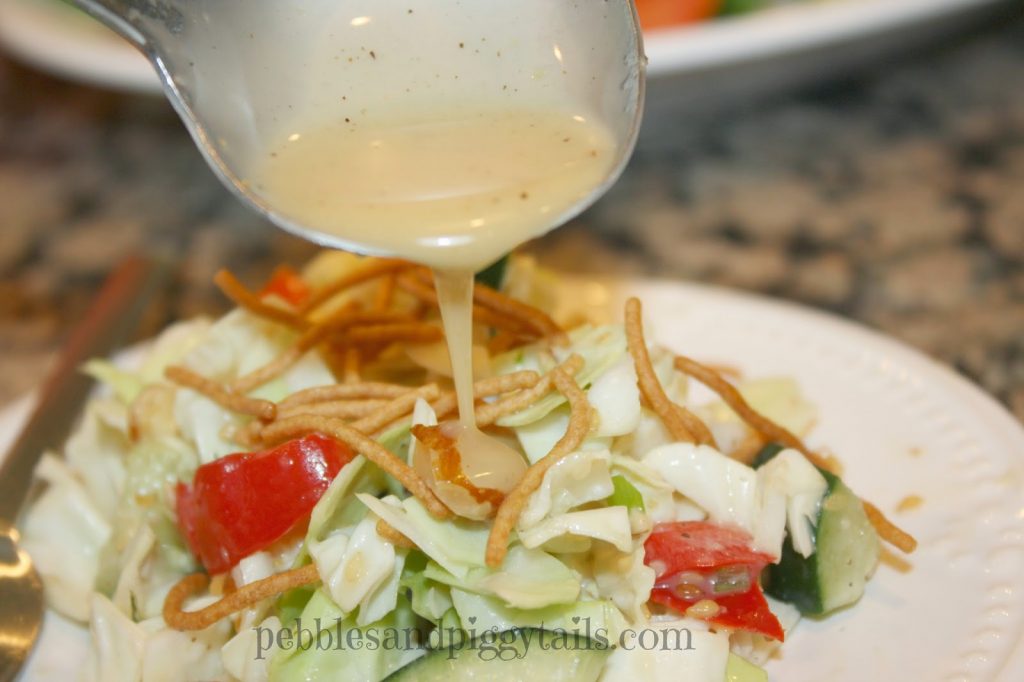 Toss toasted almonds, sesame seeds, chicken, and veggies together with the dressing. Sprinkle in chow mien noodles. Give it a quick toss and you've got a killer salad my friends! ENJOY!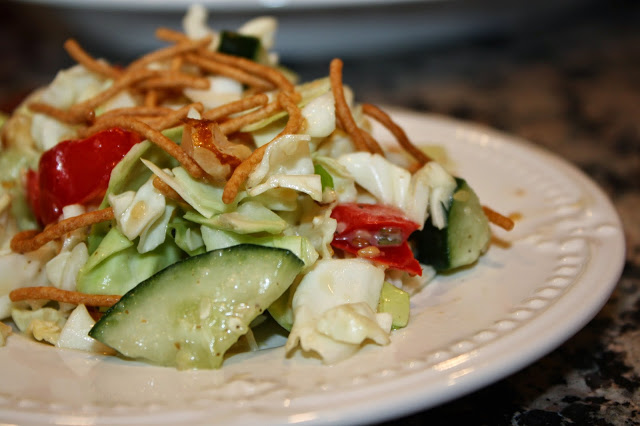 P.S. Today when I made this, my daughter Re did a little 6 year-old-happy-dance all over the kitchen when she saw this was our lunch for the day! Try it and you'll have your own little kitchen happy-dance! ENJOY!

</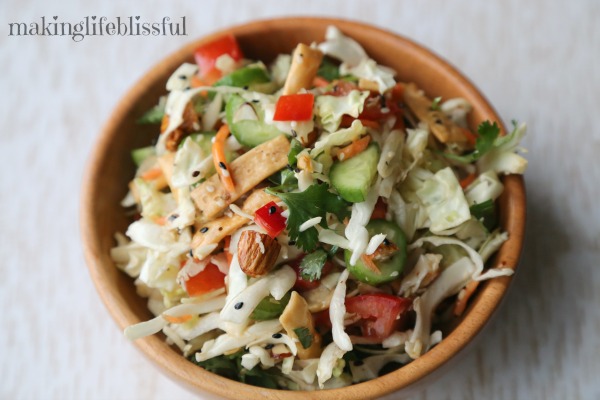 I've finally posted some updated pics of this salad. This one shows it with cilantro, tomatoes, black sesame seeds, and wonton strips. *Tip: You can also use bagged cabbage or coleslaw that is already shredded to make it an even quicker meal!
You may also like: