Okay, so I am no baking expert. I'm learning like most regular moms out there. BUT I have a super-duper EASY way to roll out your pie crust . . . with NO FLOUR MESS.
I learned this trick 15 years ago from my wonderful sister-in-laws (who frankly are amazing cooks). So just in time for the holiday baking season I bring you my tutorial on how to roll out pie crust–the easy way.
You'll need PLASTIC WRAP for this method.
Wipe down your work space with water.
While it's still wet, spread 2 large pieces of plastic wrap onto your work area. You want the plastic wrap to stick to the table. The 2 pieces should overlap a little.
Place your dough (in a ball shape) on top of the plastic.
Put 2 more pieces of plastic wrap (they overlap each other as well) on your dough ball.
Smash it down a little.
Start rolling out your dough, trying to keep a circular shape, to your desired thickness.
When you got it how you want it, you can lift your crust off the table and place one hand underneath it.
With the other hand remove ONLY the top layer of plastic wrap.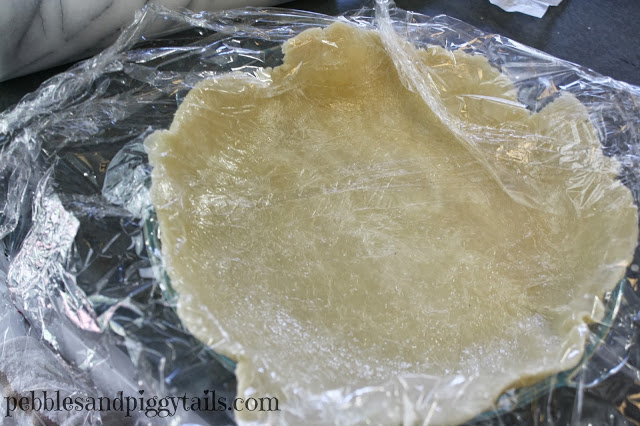 Flip it over into you pie dish, so that now the bottom layer of plastic is on the top. While the plastic is still on the crust, move the dough around to your desired placement and press into the dish.
Remove the rest of the plastic wrap. Cut slits in the bottom and trim the edges.
Voila'. Fill crust and repeat for the top crust.
If you want to make shapes for the top crust, just simply make them when you remove the top layer of plastic.
It's easy to keep your design with the bottom layer of plastic holding it together when you place it on top.
I like to put a little egg white and sugar on top.
Bake as your recipe directs and there you have it.
Easy as pie.
Share and PIN this!