Photowall is a Swedish wall-art company passionate about creating inspiring living spaces with personality. Here's a few reasons why you should check it out!
I had such a great experience trying Photowall that I had to share with you what I learned and liked about it and also I have a discount code to share too! So read on! What is Photowall? Let me share with you my Photowall review. As I mentioned above, Photowall is Swedish wall-art company passionate about creating inspiring living spaces with personality. If you are looking to decorate your home, they have wallpaper, wall murals, canvas prints, or posters to fit all your needs. Plus they have free shipping in the U.S. So here's a little more about my experience with Photowall and why I think it was the perfect gift to give myself.
*This post is in partnership with Photowall. I received product compensation for an honest review. All thoughts and opinions are my own. This post may contain affiliate links.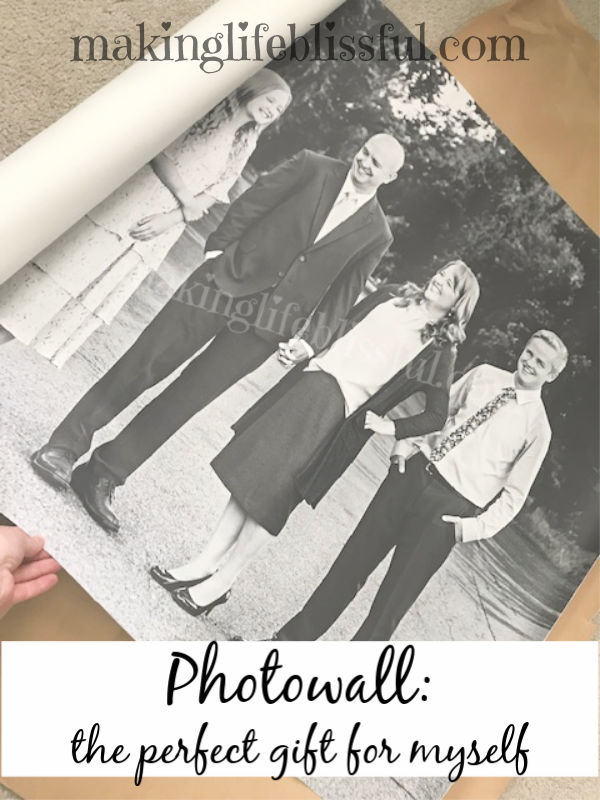 First of all let me tell you the backstory of our family picture drama. We have not had a professional family picture taken of us in probably 10 years. TEN years my friends! In order to save money or time or whatever, we have been setting up the good old family camera on a tripod, setting the timer and taking our family pictures ourselves. Which I have to say that this isn't necessarily a bad thing. I like to dabble in photography here and there and so taking our family pictures myself has often been a joy. But lately it hasn't been. I don't know if it's because my kids are getting older and no longer smile for real when I tell them too or if we've all just become too self conscious to take a good family photo. It seems like lately our family photo sesh was always turning into a fight. So we took a break from family pictures for a few years (shocking right?) and I only forced a family photo now and then at Christmas and Mother's Day.
Well, now that my oldest has left home and is leaving to go on a mission for our church, I decided it was time to get a real family photo with a professional who would help capture my family and their true smiles. So we did it. And they turned out great. However, all I got was the digital files from our photographer and now I need a way to display my family photo quickly and easily.
Photowall is easy
Now if you are like me, once those digital photos are uploaded to the archives of your computer, they rarely come out again. And I hate that. I didn't want that to happen to me again after I went to all that trouble to get a great family picture. So I knew I had to act right away and I needed it to be easy so that I could just get the photo displayed on our wall as soon as possible. So that is where Photowall came in. It took few only a few minutes to upload my file to Photowall, pick the size and style and then it was done! Photowall has many beautiful canvas art to choose from in their library or you can easily upload your own art or photography as I did.
Photowall will help you with edits
Another bonus is that Photowall will help you with edits to your own picture if you want. I didn't need this, (because I already had the perfect picture, right?) but it's nice to know the option is there.
Photowall is FAST with FREE SHIPPING
Photowall ships within 1-4 days and they have free shipping to the U.S. which is a huge perk. I'm pretty sure I was notified that my item had shipped within 2 days. And it arrived at my doorstep very quickly too. It was nice to get it so fast so I could complete my project of getting our family photo displayed while it was still fresh on my mind.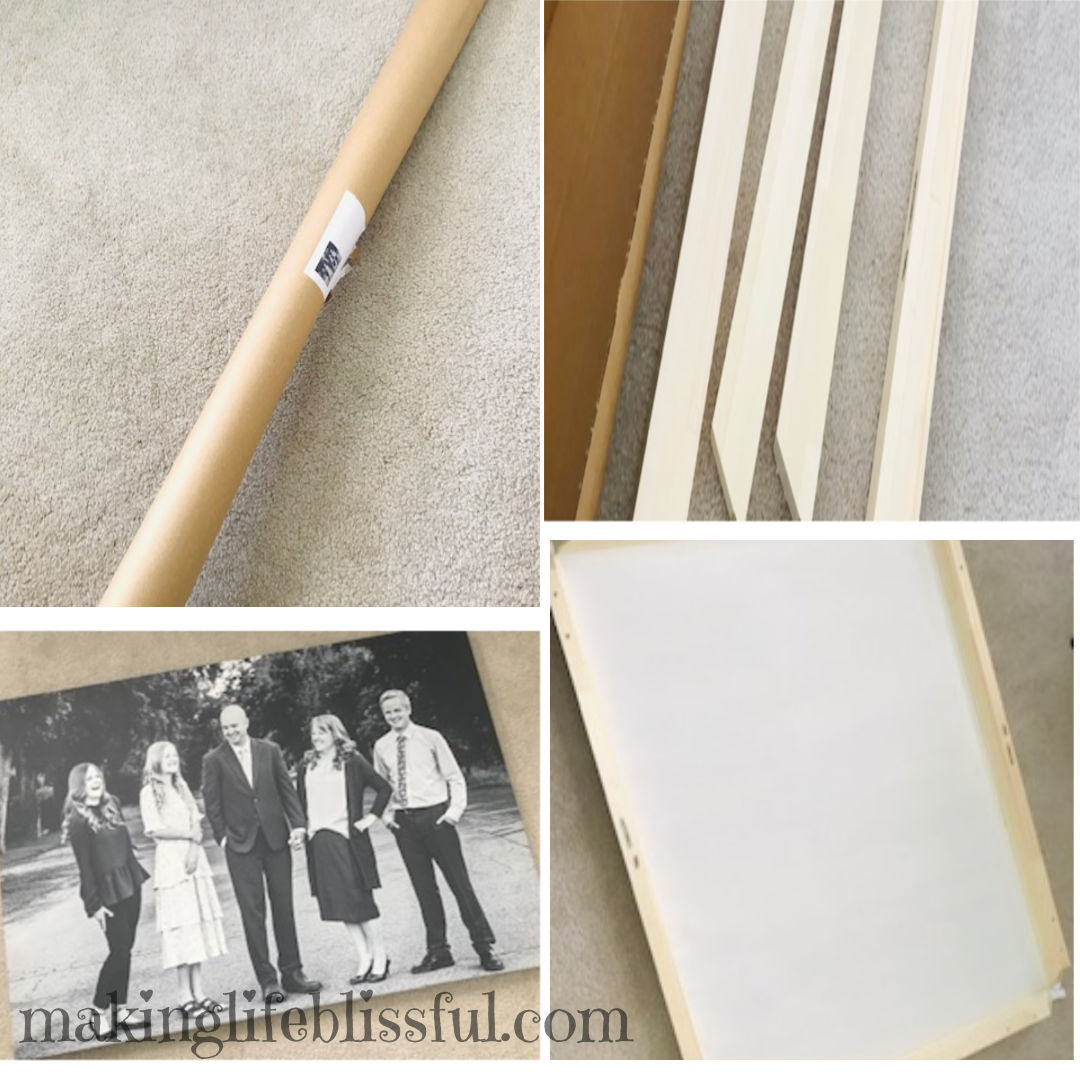 Now one thing to know about the canvas prints as that they do not come fully assembled in your package. As you can see from my pictures, my package came with the canvas print in a roll and then the boards to put the canvas frame together myself. But do not despair. It was super easy! All the instructions and tools are included in your package (there's even a how-to-video on their website) and it took me less than 10 minutes to put together. It also comes hardware to hang your canvas picture correctly.
Photowall has more options
Now just because you are not looking for a canvas photo print, doesn't mean Photowall isn't for you. They also have wallpaper and wall murals, which I think is totally awesome. If I didn't have textured walls all over my house I would have looked into the wallpaper for sure. Such a fun way to add an accent wall. They also have posters and framed prints. I highly recommend this great company! Easy to work with and very accommodating to my concerns and needs. I as able to get my family picture up on the wall in no time at all! A perfect gift for myself! Thank you Photowall!
Photowall 25% DISCOUNT CODE
Also don't forget to get your 25% OFF discount code right here. Use makinglifeblissful2020 at the checkout and you'll get a 25% discount off any product on the Photowall website. This code expires July 31, 2020.
Happy decorating friends!
You may also like: