As you plan your first cruise, it's helpful to know a few tips and tricks to make it even better. You'll love your first cruise!
Okay my friends, I am finally getting a chance to tell you all about my first cruise and if you are a first-time cruise traveler like me, you're gonna want to listen up because I'm going to give an idea what it's like to take a Caribbean cruise for the first time. These are 9 things I wish I would've known before my first Caribbean cruise. We went on a Caribbean cruise on the Royal Caribbean Jewel of the Seas which was a 7 day cruise that started in Puerto Rico and then went to several islands including St. Thomas, St. Kitts, St. John's (Antigua), St. Lucia, Barbados, and then ending in Puerto Rico again. We had a blast! And we learned a few things too. So here's a few things to know when you are cruising for the first time. I hope what we learned will help you . . . happy sailing!
*This post may contain affiliate links.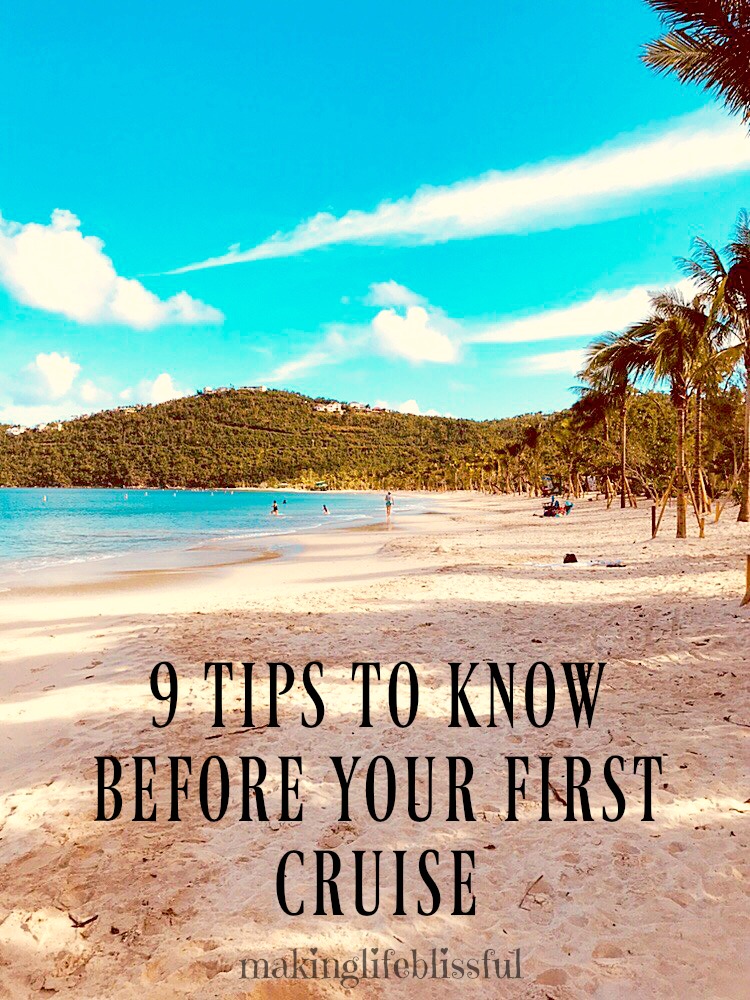 9 Things to Consider Before Your First Caribbean Cruise
Sea sickness. If you are nervous about getting sea sick on the ship, know that it is a possibility. Sea sickness doesn't affect everyone, but if you are prone to it (I definitely am!) then you will probably not like the feel of the ship moving. I could definitely feel it moving but for us, our cruise mostly only traveled at night, so I was able to sleep through much of it. Some cruises have a day or two of daytime travel. Look into getting a few medicated sea sickness patches from your doctor before you go. A lot of sea sickness medication make you feel very drowsy. I didn't want to feel sleepy through my whole cruise, so I only use a half of a patch at a time. I just snipped it in half and put it on my hip (which also helps). One half would last me almost 2 days. Everyone is different, but this may help give you an idea.
Enjoying the view. Cruises are all about seeing wonderful things. Be sure to take advantage of the spectacular views. If you can get a room with a window or a balcony, I say it's totally worth it! There was nothing more amazing than watching the ship sail through the Caribbean sunset each day. If you aren't able to get a room with a view then make sure to spend a few evenings out on the deck and seeing some of that beautiful scenery. AND make sure you enjoy the water. The Caribbean beaches have such clear, blue water. Enjoy it.
Emergency drill. When you first board the ship (which takes quite a few hours to get everyone on), you will have to take part in a mandatory emergency drill. Everyone must participate. They will give you specific instructions when you get there. Once this is all taken care of, the fun can begin!
Attire to wear. As you may have heard, or at least figured out from watching The Love Boat show, most cruises have a couple of nights where everyone where formal attire. I brought a nice comfy dress to wear and my husband brought a nice shirt and slacks, but that is as formal as we got. We found that there are all levels of dress each night. The cruise staff suggests certain attire to wear on certain nights like casual, business casual, or formal but they are just suggestions. Some people go all out and have a blast doing it. Others wear nice clothes that made them feel comfortable. From our experience, the fine dining room can feel very fancy, so it's kinda nice to feel a little dressed up.
What to eat. The cafeteria was almost always open on our Royal Caribbean Cruise. This is the main eating area and was an all-you-can-eat buffet for breakfast, lunch, and dinner. They did close some of the sections down for a few hours each day, but even then they still offered snacks. This eatery offered anything from ice cream, pizza, hamburgers, salad bar, fruits, etc. There were also some fine dining restaurants open each evening to enjoy a fancier meal. These restaurants had steak, shrimp, cheesecake, bisque, and more. They are a little more gourmet. It's best to get reservations for these ahead of time. On our cruise all the food was included in the price.
Choose excursions wisely. Excursions are activities or adventures that you pay extra for when the ship docks at a location for a day. Not all excursions are created equal. These excursions can run anywhere from $100-$200 per person, so do your research and make sure it's a good one. Many of our excursion leaders told us they are on Trip Advisor, so look up their reviews there. We did a dolphin excursion that had a cranky staff and was poorly run. But then our other excursions, like the Stingray Experience and a jungle ride to a tropical waterfall were amazing! Just something to think about.
No excursions option. You don't have to purchase extra excursions to have fun on a cruise. On our cruise there were taxis waiting at each port to help travelers see the island or get to the beach. Also, there is often a lot of shopping nearby the port. Just make sure to get back on time. The ship will leave without you if you are not back when it sets sail.
No treasures on the ship. On our cruise we were not allowed to bring any natural treasures we had found on the islands. Items such as sea shells or tropical fruits were not allowed on the ship. Each time we got back on the boat we had to go through a security screening to make sure were bringing the wrong stuff on the boat. So don't buy that big sea shell at the local shop. You won't be able to keep it.
The cruise staff. As with most cruises, our cruise staff really took care of us on the Royal Caribbean. We had a certain woman assigned to clean our room each day and she did an excellent job. We also had the same waiter at the restaurant each day. As far as I know you do not have to tip the staff, but it's feels totally appropriate to do so. They work really hard to make it a good experience for you, so give them a tip if you can.
If you want even more tips for your first cruise, check out these 15 First Time Cruise Tips
Here's a few pictures from our cruise to give you an idea of what it's like: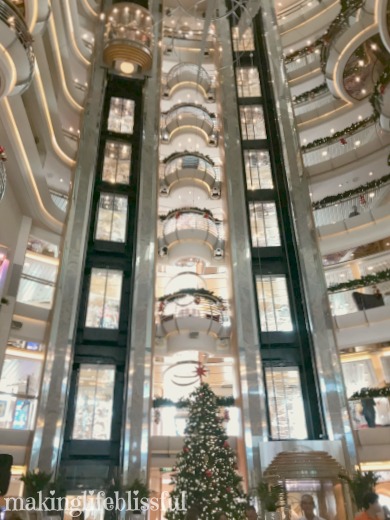 There's a lot of levels on a cruise ship. I was impressed at how pretty this lobby area was!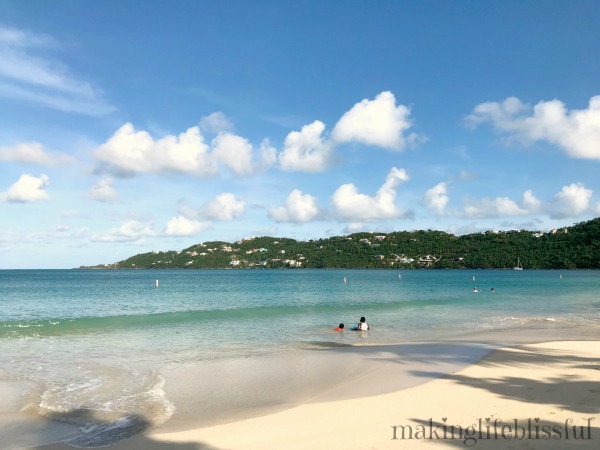 This is a beautiful beach on St. Thomas. We were here on New Year's Day and it was a great way to start out the year!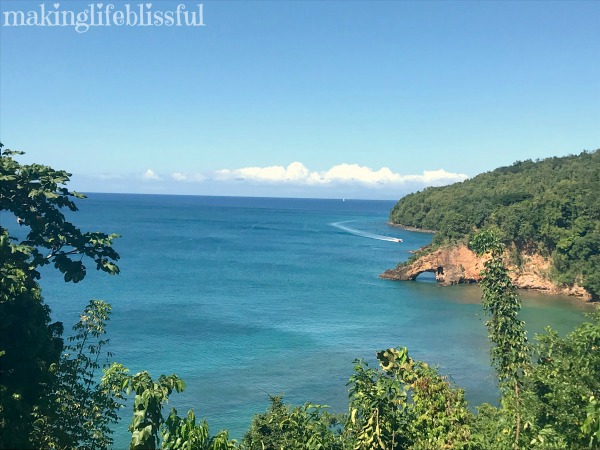 If you are a movie buff, you may recognize that little arch there from the beginning of Pirates of the Caribbean.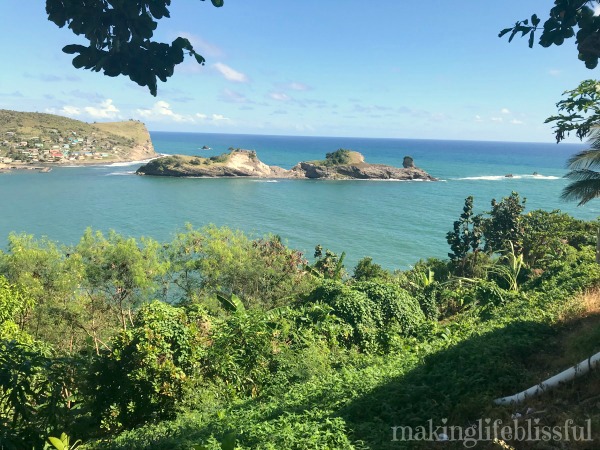 Gorgeous views. Blue water. Lush greenery. You won't be disappointed.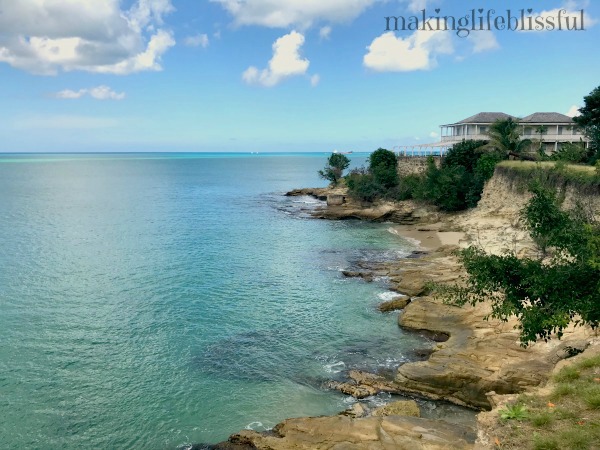 I just loved this coast. Look how clear the water is.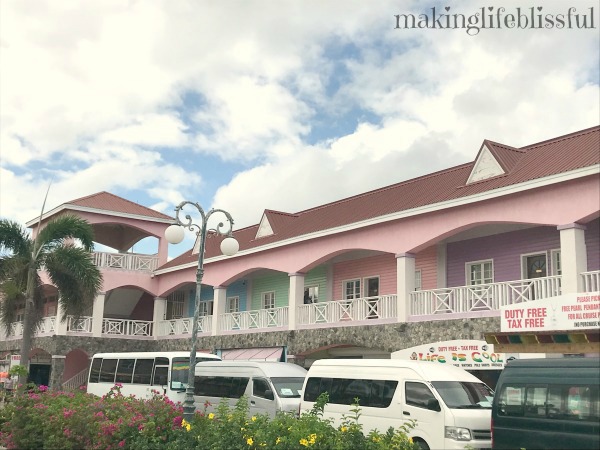 I love all the colorful buildings on the Caribbean Islands. One thing to know though is that not all the homes are this cute. There is definitely some low income house and run down buildings on each island, but for the most part the cities and towns are quaint and cute.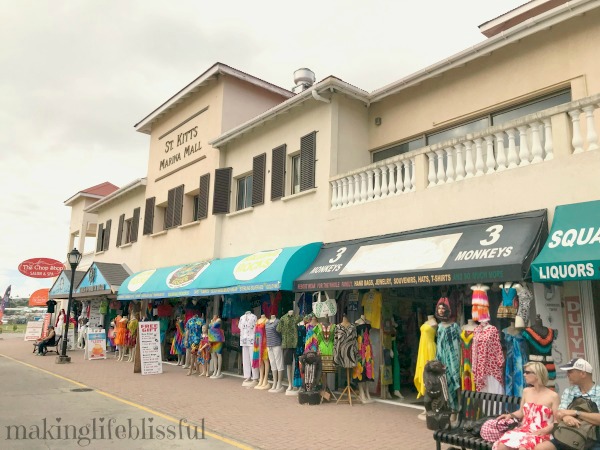 Each port has shopping galore. Be ready to get a few souvenirs!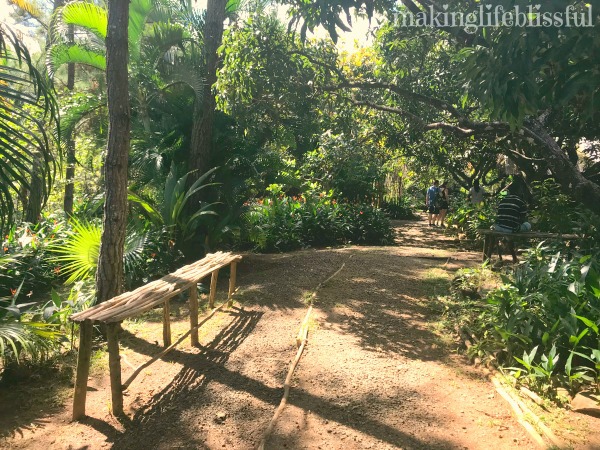 You don't have to spend all the time on the beach. There's plenty of lush jungle on the islands. We took an island tour by 4×4 jeep with a guide. We were able to taste tropical fruits from the island and visit a waterfall that we could swim in! Awesome excursion.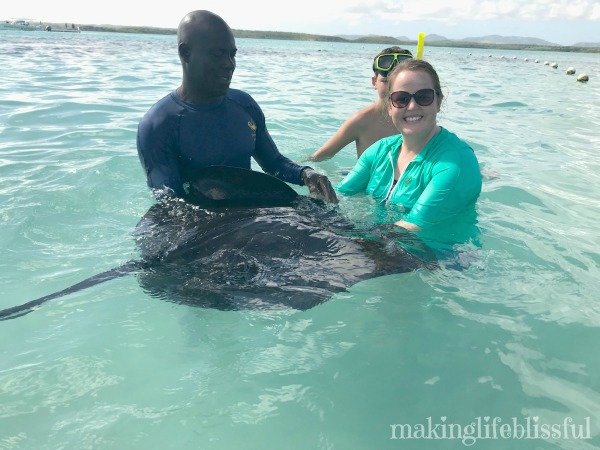 My other favorite excursion was swimming and snorkeling with the stingrays at Stingray City in Antigua. Seriously, it turned out way better than I expected (and I'm a scaredy cat of things kinds of things!).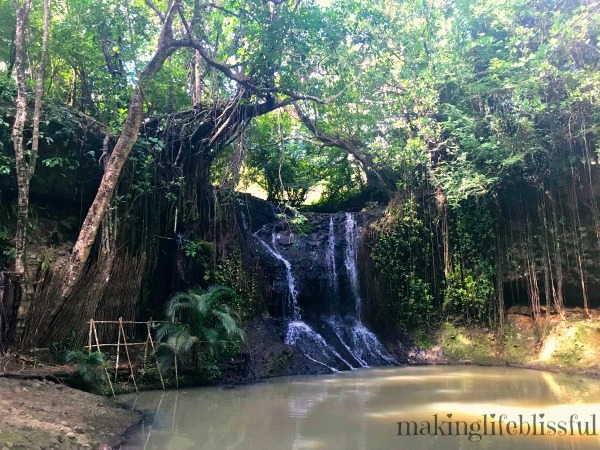 Nothing better than a tropical waterfall . . .
Hope this helps you get a start on some planning as you prepare for your first Caribbean cruise. Happy Travels!
You may also like: