Merry Christmas my blissful friends! I hope this holiday season is treating you well so far. As you know my site is loaded with ideas for the #LightTheWorld initiative that The Church of Jesus Christ of Latter-day Saints puts on every year to help people look a little more outside of themselves and find simple ways to do Christ-like service in their communities, homes, and personal lives. Light The World is chance to focus on what really matters without making you feel overwhelmed like you have to do a perfect service project. It's actually more simplified and more personal than that. It's a reminder of how each individual can make a difference just by doing something small for someone else each day. No guilt. Just goodness. This year Light The World is having a different focus for each week in December (more about that below). So I decided to make a fun, simple family Christmas activity printable for the Light Your Family week. This is a Christmas Nativity printable that comes with printable family service cards too. It's very versatile and can be used in many ways, including as a printable Nativity Christmas countdown. And best of all? THESE PRINTABLES ARE FREE. Yep, totally free. Just pay it forward if you can.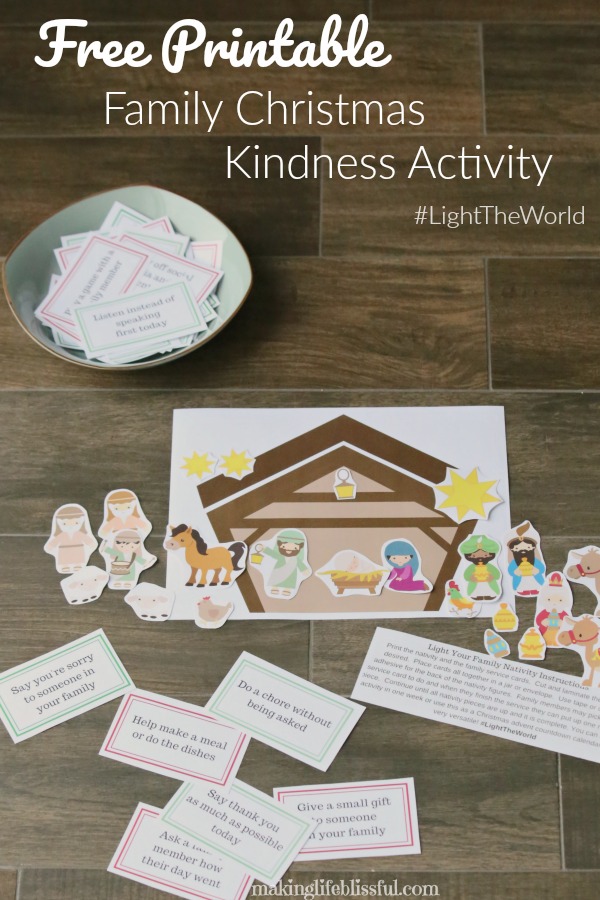 The Light The World movement starts with a Worldwide Day of Service on December 1st. Join thousands of people in serving others on this day. Visit justserve.org for ideas. And as I mentioned before, the #LightTheWorld campaign has changed it's format a little this year. Instead of encouraging a different kind of service each day during the holidays, there are 4 themed weeks in December instead. Find ideas and download your FREE calendar for Light The World 2018 here.
Week 1: Light The World (find ways to help with a global need)
Week 2: Light Your Community (find ways to reach out and help your own community)
Week 3: Light Your Family (show extra love in your family)
Week 4: Light Your Faith (increase your own personal faith and focus on the Savior Jesus Christ)
This weekly schedule allows for individuals and families the flexibility to focus on service in that area for the week in whatever way they choose. Some service projects take longer, some are quick and easy, but I encourage you (and myself) to find a way to help in some way.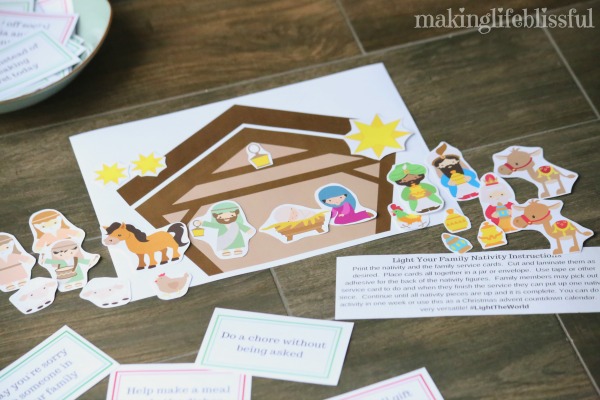 I created these Light The World printables to be used for the Light Your Family week. You can use this Light Your Family Christmas Activity just for the one week or they can be used all through December as a Christmas advent countdown calendar. This printable Christmas Nativity activity are easy and versatile so they can be used in many different ways to help your family love each other just a little more during the Christmas season.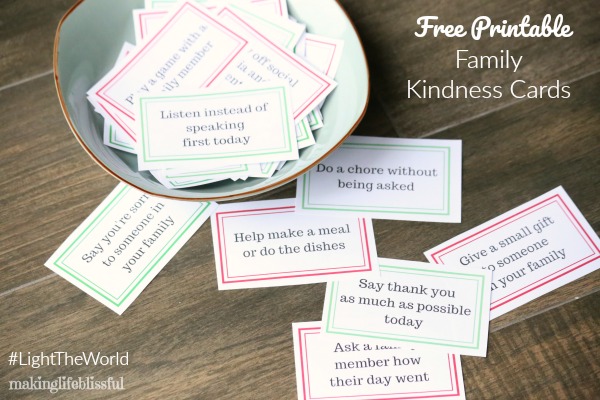 I know that the holidays are already CRAZY. It feels like there is no extra time. So this printable is SIMPLE. It's a small printable Christmas Nativity and some family service idea cards. The family kindness ideas are very doable things that any age can try to do. They are simple, but sweet and will truly encourage a little extra love in the family.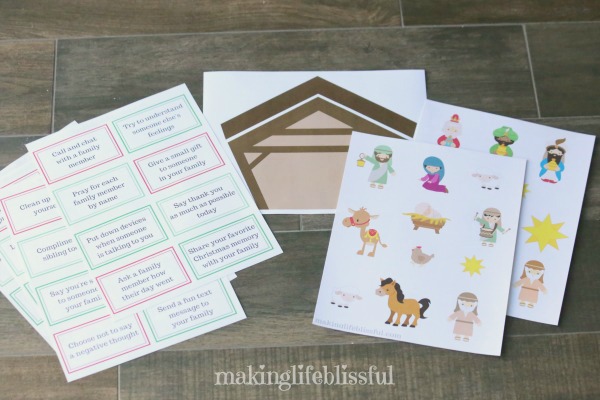 Print the nativity and the family service cards from the link below. Cut and laminate them as desired. Place cards all together in a jar, envelope, or bowl. Use tape or other adhesive for the back of the nativity figures. Family members may pick out a service card to do and when they finish the service they can put up one nativity piece.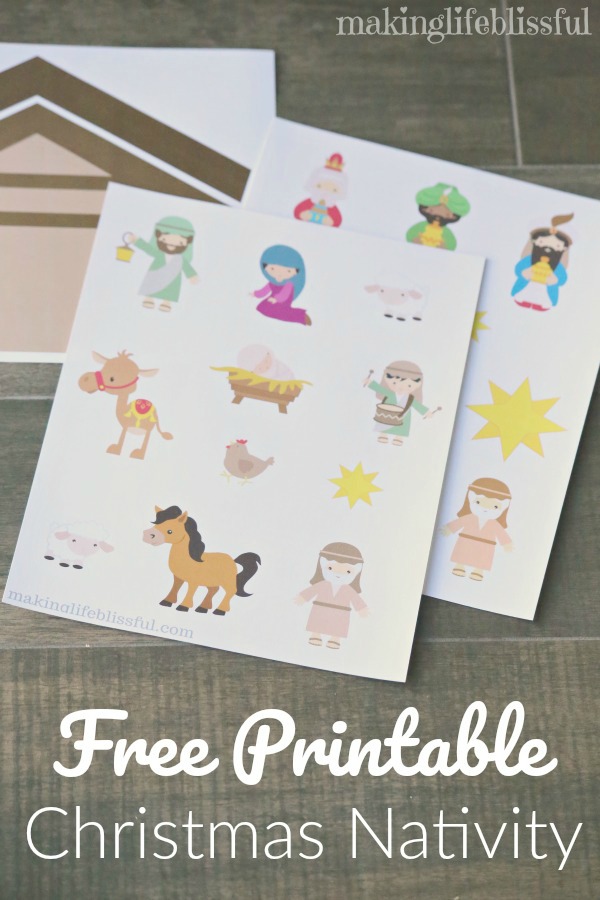 Continue until all nativity pieces are up and it is complete. You can do this activity in one week (like during Light Your Family week) or use this as a Christmas advent countdown calendar. Use the nativity without the cards, or use the cards without the nativity. Or think of your own way to use this in your family. It's very easy. I hope this Nativity activity will bring a little extra love in your family during Christmas.
Click link for free printables: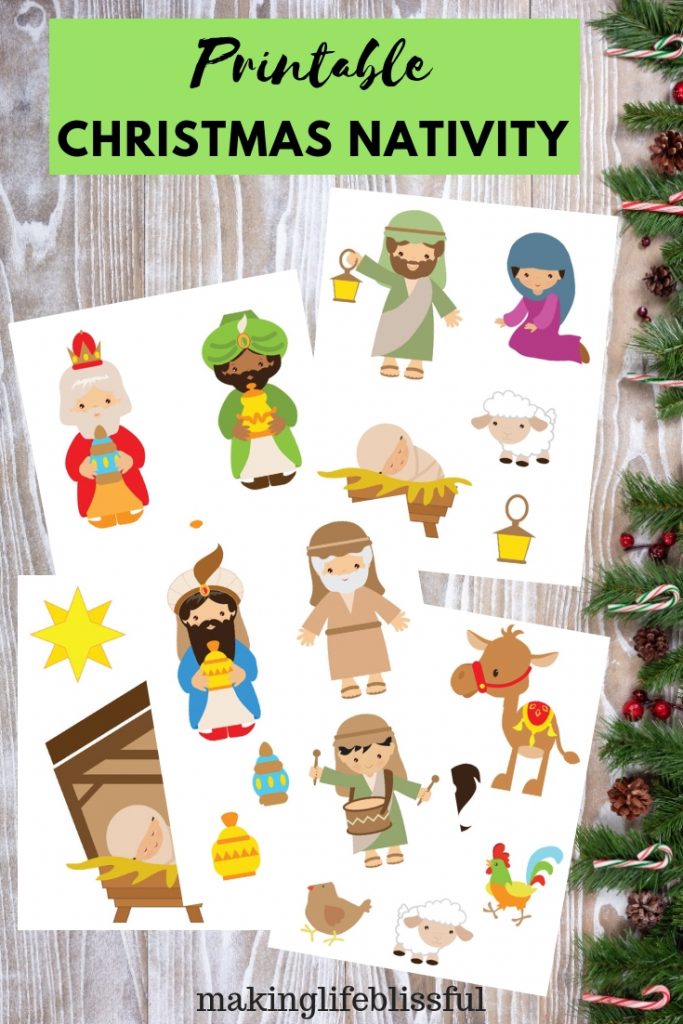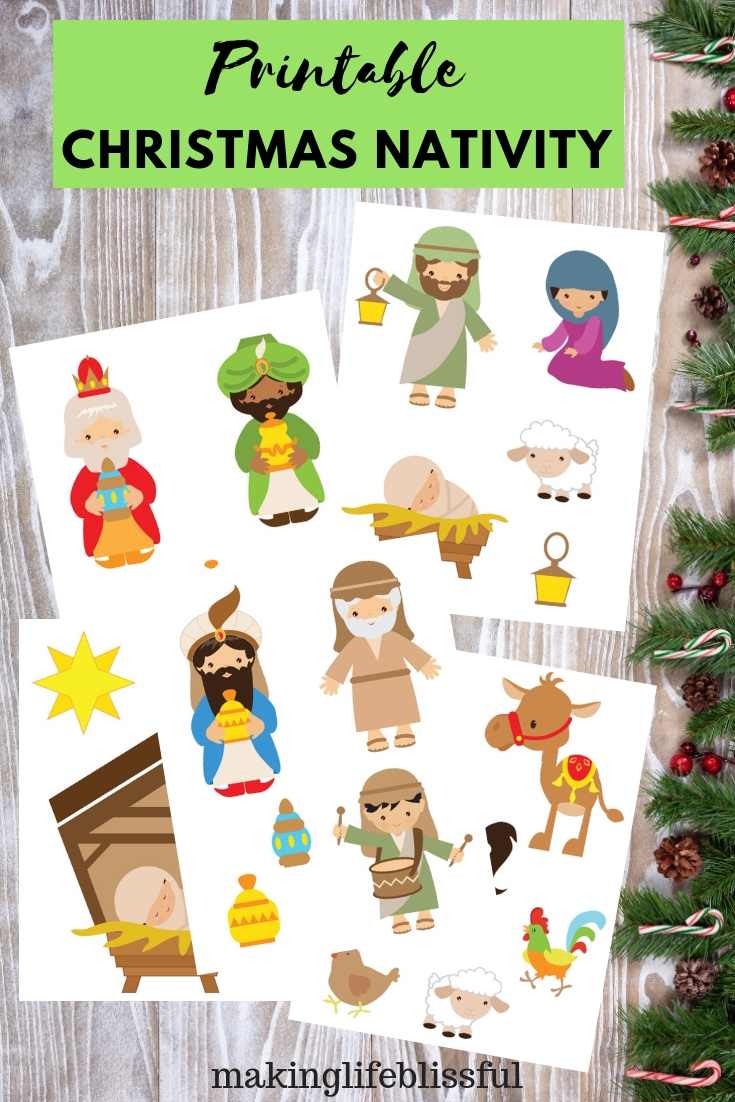 This large nativity printable is perfect for teaching and playing. The free one offered above is much smaller than this one.
It works well for Christmas nativity stick puppets or flannel board stories for use in church, classrooms, and family nights.