*This is a post prepared under a contract funded by the Centers for Disease Control and Prevention (CDC) and written on behalf of the Mom It Forward Influencer Network for use in CDC's Be Antibiotics Aware educational effort. Opinions on this blog are my own and do not necessarily reflect the views of CDC.
Antibiotics Aren't Always the Answer
I think we've all done it. That cough and congestion hits us hard. We feel tired and lousy as illness takes over our body. It stop us from what we need to be doing and from what we want to be doing–that deadline at work, that vacation coming up, or that holiday gathering. So we head to the doctor and request a round of antibiotics–just in case–to clear things up and keep us going. I think for many of us, asking for antibiotics just seems like the normal thing to do when we are sick. But antibiotics are not always the answer. Everyone can help improve antibiotic prescribing and use.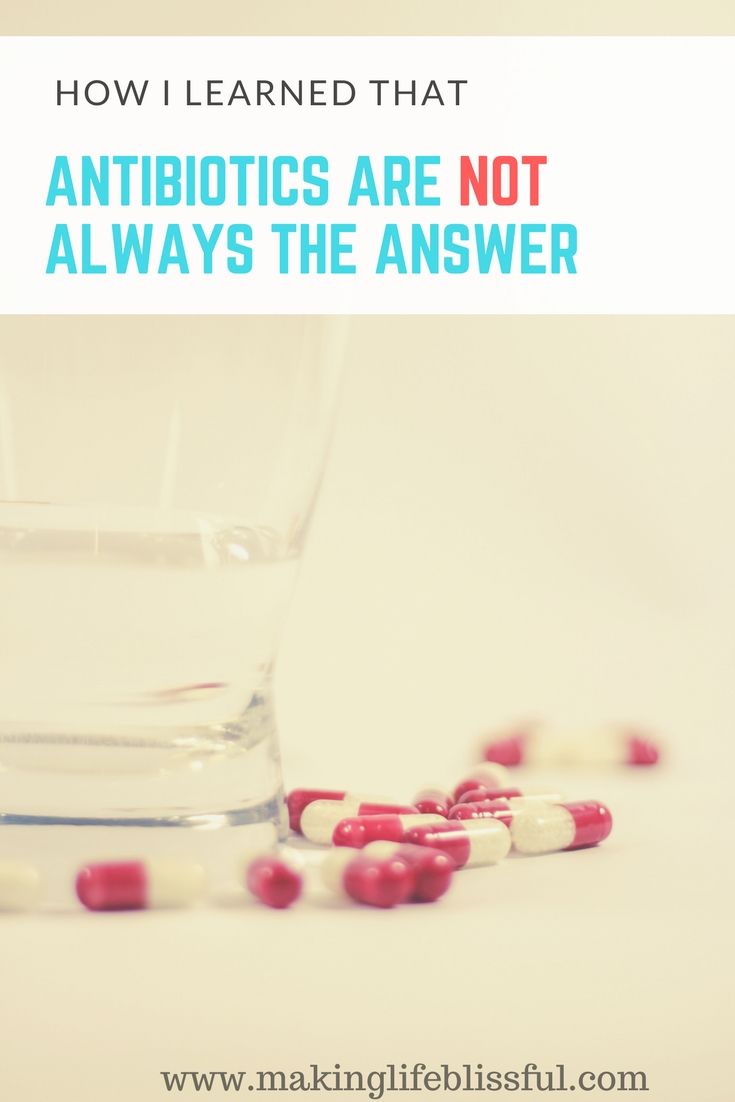 My antibiotics story
Let me share with you a little bit of my own story and how I learned both sides of this issue.
Years ago, my oldest daughter (then seven years old) became sick right before Christmas. She was sick for a whole week with fever, fatigue, and a sore throat. I kept her home, diligently cared for her, and yet she did not get better. I thought, "Well, surely she must have strep throat or something bacterial since it's not going away." However, with Christmas coming in the next few days, I knew it would be hard to get in to see my pediatrician and then his office would be closed for the holidays. And I really did not want this sickness to get in the way of our Christmas plans, right?
I decided to take the easier route and ask a young doctor in residency, whom I knew, to prescribe her a round of amoxicillin to see if that would help. This young, kind doctor complied to my demand and I gave the antibiotic to my daughter right away. A few days later, to my complete horror, my daughter's body was covered in a very rosy, bumpy rash! Well, I immediately took her in this time to my pediatrician and as soon as he saw her he knew I had given her antibiotics without his consent. He then tested her for mononucleosis (mono) and it came back positive. My pediatrician went on to explain (in a kind, but scolding manner) that when you give amoxicillin to someone who has mono, it often leads to this horrible rash—thus complicating her sickness. He reminded me that I should not have pressured that doctor to give me antibiotics and that I should have brought my daughter in to get an official diagnosis instead.
What do antibiotics treat?
Antibiotics are only needed for treating certain infections caused by bacteria, but even some bacterial infections get better without antibiotics. Antibiotics do not work on viruses that cause colds and flu, bronchitis, or runny noses, even if the mucus is thick, yellow, or green. Antibiotics also aren't needed for some common bacterial infections, including many sinus infections and some ear infections.
Harmful side effects
When antibiotics aren't needed, they won't help you, and the side effects could still hurt you. Side effects range from minor to very severe health problems, such as a rash or Clostridioides difficile infection (also known as C. difficile or C. diff). Talk with your doctor if you have any questions about your antibiotics or if you (or your child) develop any side effects, especially diarrhea, since that could be a C. diff infection, which needs to be treated. I felt bad that I had caused my daughter extra suffering because of my "self-diagnosis" and desire to keep things running smoothly for the holidays, but I was also grateful to my pediatrician for helping me understand and be more aware of how to use antibiotics properly. Lesson learned, my friends.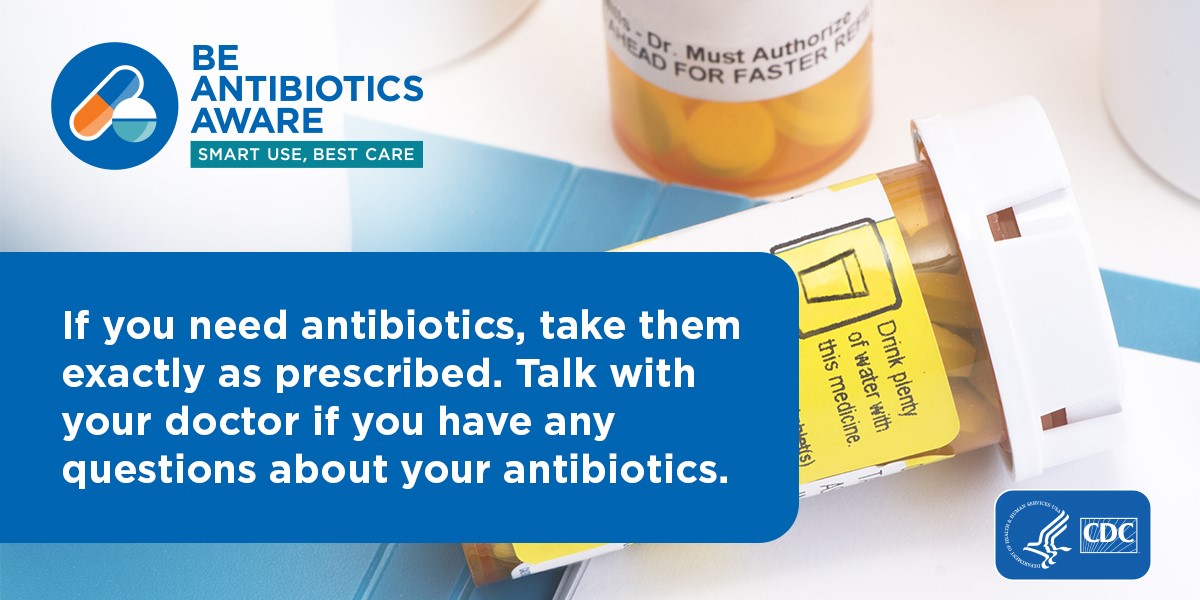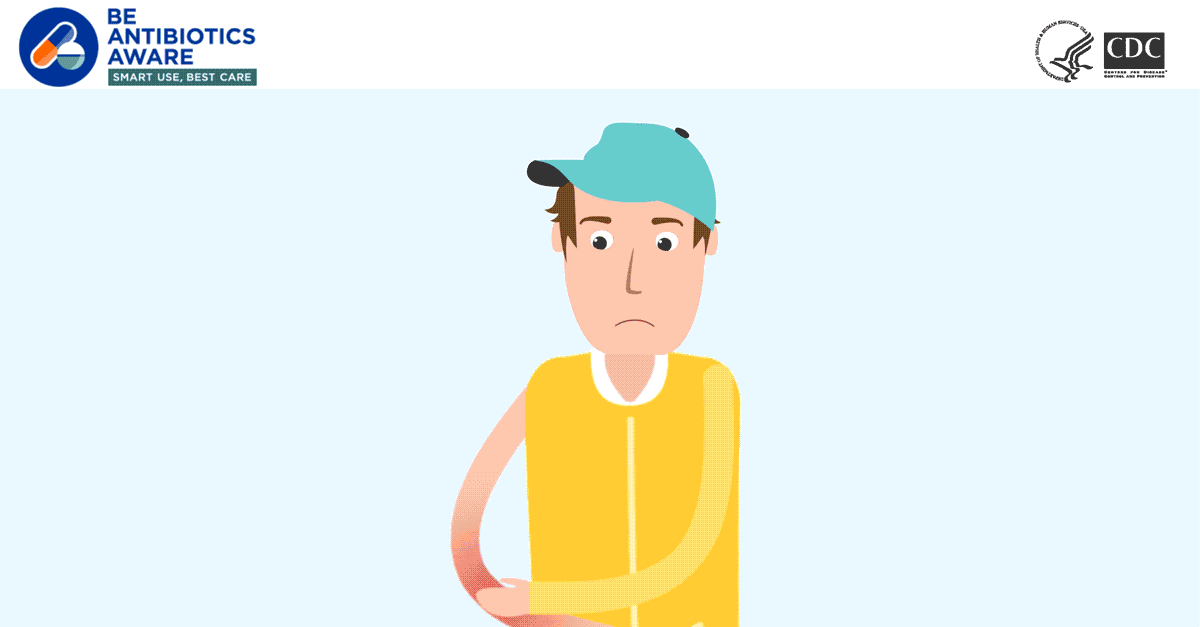 Antibiotics save lives
I also have learned firsthand about the miracle of antibiotics in our lives. In more recent years, my other daughter was very sick with a kidney infection. Her little six-year-old body was frail from the constant high fever and lack of nourishment, as she had a hard time keeping anything down during this infection. She became very pale and unable to move. It became serious and I took her in to the doctor's office, where she was hooked up to an IV and given fluids. They also gave her a shot of antibiotics to fight the infection, and the antibiotics eventually won. I am very grateful they worked, and I am grateful that the bacteria causing her infection was not resistant to antibiotics.
Antibiotics are critical tools for treating people with serious and life-threatening conditions like bacterial pneumonia and sepsis, the body's extreme response to an infection.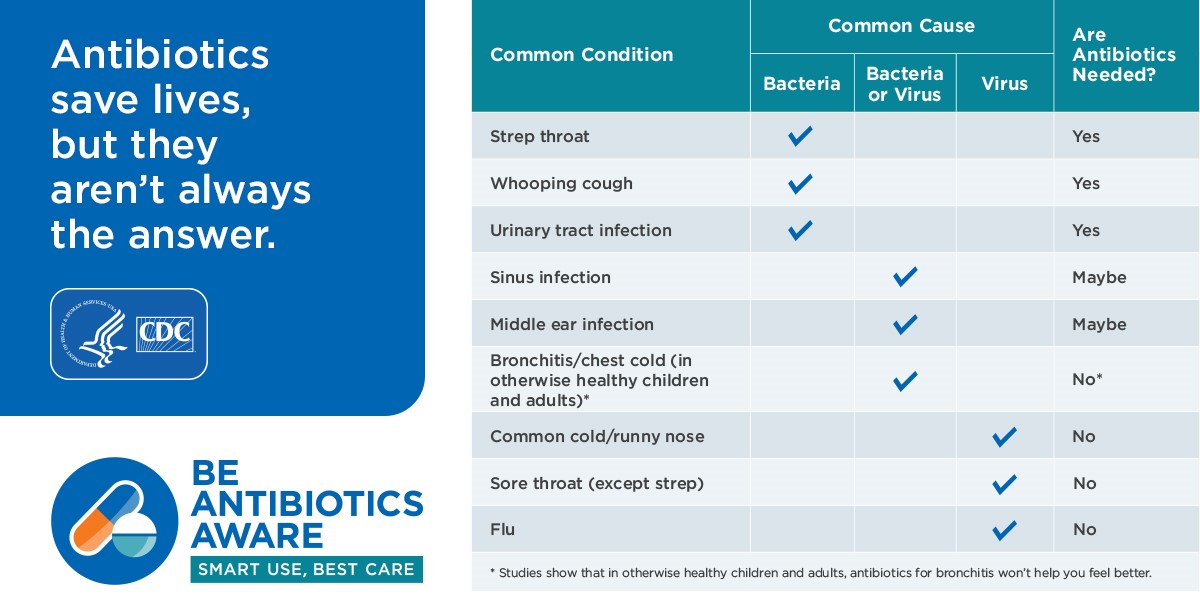 Antibiotics save lives. When a patient needs antibiotics, the benefits outweigh the risks of side effects or antibiotic resistance.
What is antibiotic resistance?
Antibiotic resistance is one of the most urgent threats to the public's health. Antibiotic resistance does not mean the body is becoming resistant to antibiotics; it means that bacteria develop the ability to defeat the antibiotics designed to kill them. Some resistant bacteria can be harder to treat and can spread to other people. Each year in the United States, at least 2 million people are infected with antibiotic-resistant bacteria. At least 23,000 people die as a result. Anytime antibiotics are used, they can cause side effects and can lead to antibiotic resistance.
Remember that an antibiotic will not make you feel better if you have a virus. Respiratory viruses usually go away in a week or two without treatment. Ask your healthcare professional about the best way to feel better while your body fights off the virus. Check out this video from the CDC for a great explanation:
So here's my call to action for you: Think about how to use antibiotics appropriately. Talk with your healthcare professional and take antibiotics only when they are needed. Spread this message by using the hashtag #BeAntibioticsAware.
Improving the way we take antibiotics helps keep us healthy now, helps fight antibiotic resistance, and ensures that life-saving antibiotics will be available for future generations.
To learn more about antibiotic prescribing and use, visit www.cdc.gov/antibiotic-use.
To learn more about sepsis, a life-threatening condition that is treated with antibiotics, visit www.cdc.gov/sepsis.
PIN and SHARE this important information!