It's the first day of May . . . which means summer is around the corner and for me that means I have to get drinkin' my water. I get dehydrated so quickly. And if I don't drink enough water, I get headaches, and yes, I even get kidney stones (so horrible!). Does this happen to anyone else? So I thought I'd tell you about the True Citrus – Be Healthy, Be Happy, Be True Sweepstakes. True Citrus has unsweetened water enhancers and sweetened drink mixes to brighten up your water a little. And you can win huge prizes just for entering their giveaway! Also, there's a discount code below for 40% off if you wanna give them a try.
*This post is sponsored by US Family Guide and True Citrus and may contain affiliate links at no cost to my readers.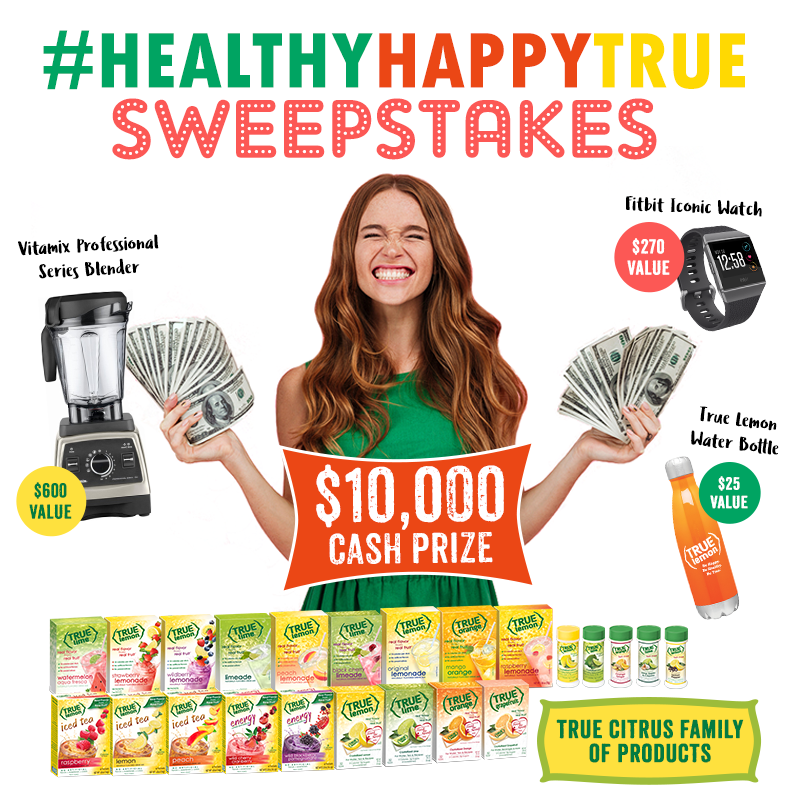 All True Citrus Products:
are made with ingredients that you can pronounce
are made with citrus juices and oils (which is what gives them their fresh-squeezed taste)
have low calories (0 to 10 calories per serving)
have low sugar (0 to 1 gram per serving)
contain NO artificial sweeteners, flavors, preservatives, gluten or sodium
The #HealthyHappyTrue Sweepstakes was created by True Citrus to celebrate how people live their healthiest, happiest and truest life possible.
Entering provides the chance to win a grand prize including a $10,000 cash prize, a Vitamix Professional Series Blender ($600 value), Fitbit watch ($200 value), a True Lemon thermal water bottle and a sampling of all True Citrus products.
To enter the sweepstakes and for details on how to increase chances of winning, visit www.truelemon.com/be-healthy-be-happy-be-true-sweepstakes through June 15.
ENTER HERE: https://www.truelemon.com/be-healthy-be-happy-be-true-sweepstakes/
Interested in trying True Citrus for yourself? Save 40% on your order at www.truelemonstore.com by entering the code TRUEFAMILY40US at checkout.
You may also like:
[soliloquy id="5000″]