Emoji printables galore! Full free pack available on my Teachers Pay Teachers site. Read on!
The Emoji Movie is out and making it's way through the box office this summer. Have you seen it? What did you think? I find it hilarious that there is now an entire hour and a half dedicated to the tiny texting faces on our cell phones. But it's totally the way my teenagers talk. They use emojis like crazy in their texts and texting is their number one way to talk . . . so I guess it's a useful way of communication. I can't decide if our modern world is less progressive because we talk in emoji or if it shows we are even smarter because we can understand full convos made up of mostly yellow faces and pictures . . . anyway, I digress. That's a subject for another post. The main thing I wanted to tell you is that I've got some EMOJI Party Printables for you. Because I actually do think emoticons are cute and they help me express my feelings better when I send a vague text. So they are cute enough for me to make some printables. I've got an Emoji I Spy Printable Game, Printable Emoji Go Fish Cards, Emoji Cupcake Toppers, an Emoji How Do You Feel Printable Poster, and Printable Emoji Photo Props that can also be used as party decor or for any party game. As of today, ALL of these printables are discounted for a limited time (at my Etsy Shop) and for FREE (at my Teachers Pay Teachers site). So get them while you can!!!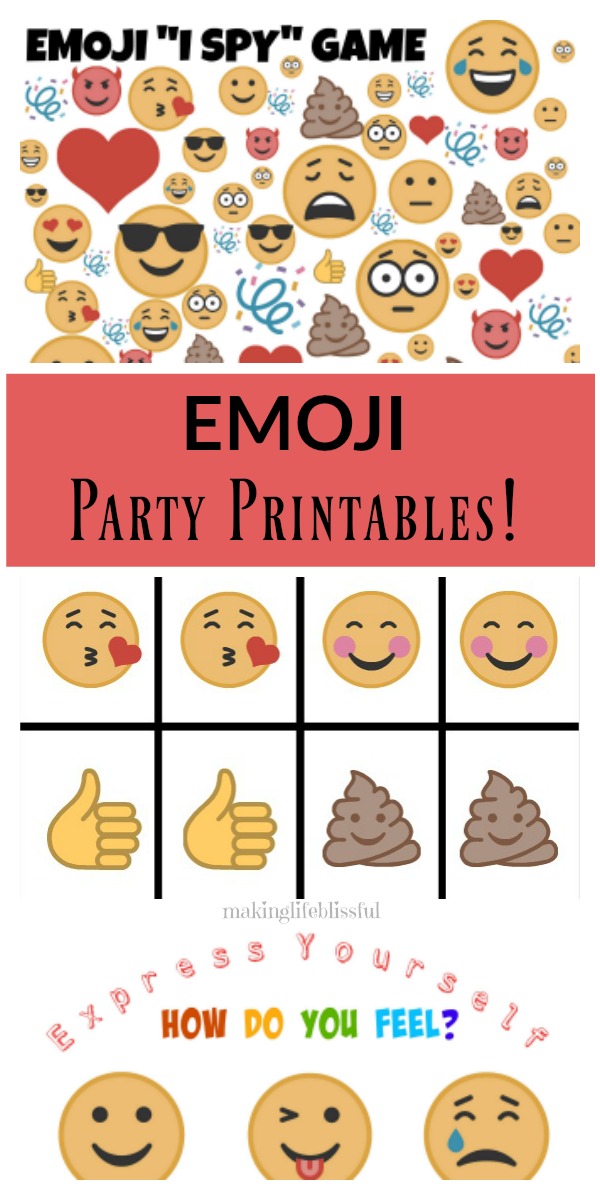 Emoji Printables Available (at the bottom of this post):
Emoji Photo Booth Props and Party Decor
Cupcake Toppers
Emoji I Spy Game
Emoji "How Do You Feel?" Poster
Free Emoji Go Fish Game Cards
at Teachers Pay Teachers!
CLICK HERE TO JOIN MY BI-MONTHLY NEWSLETTER AND GET MORE BLISSFUL IDEAS & FREEBIES!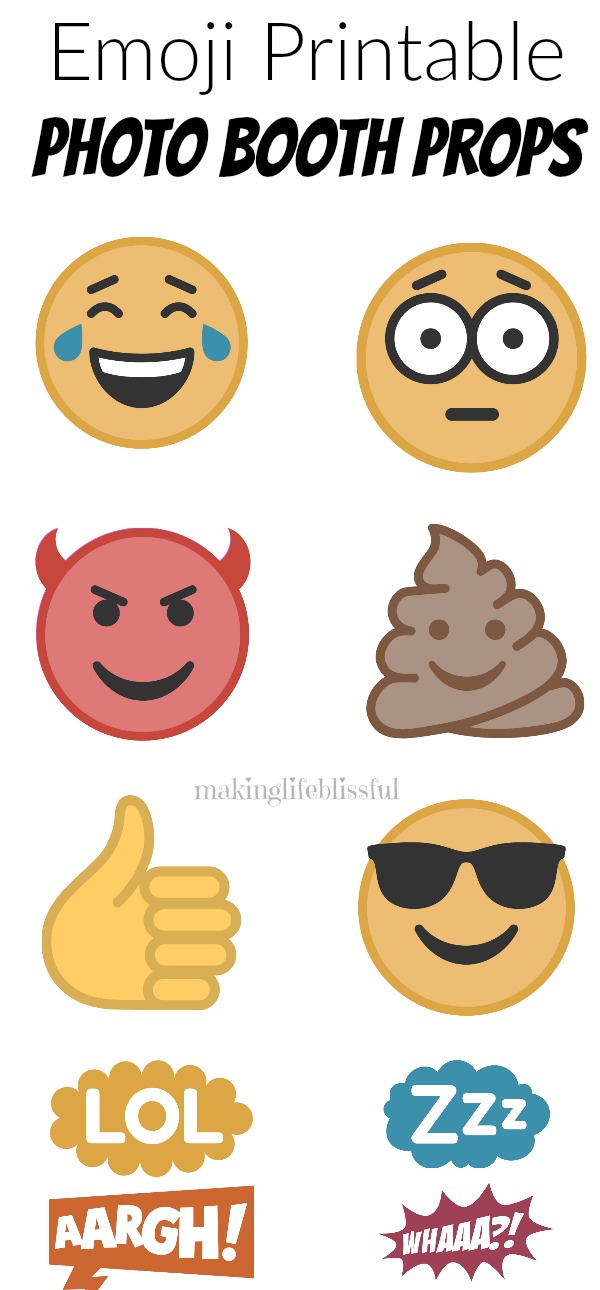 Aren't these the cutest? Simply print and cut out. You can use them for a photo booth or as decor for any kind of emoji party or activity. The photo booth set includes 10 sheets, each with a large emoji on it.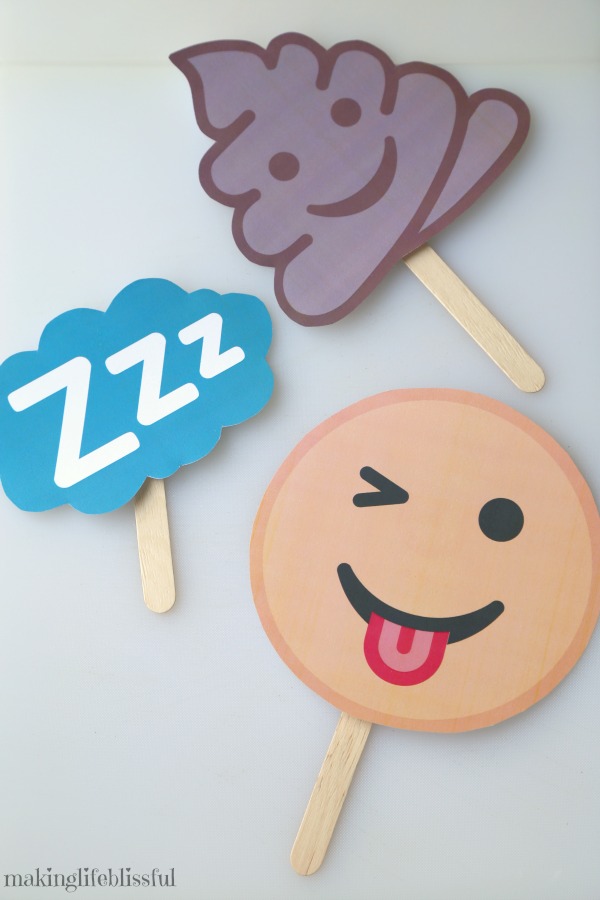 Add tongue depressors sticks to make them easy to hold in the photos.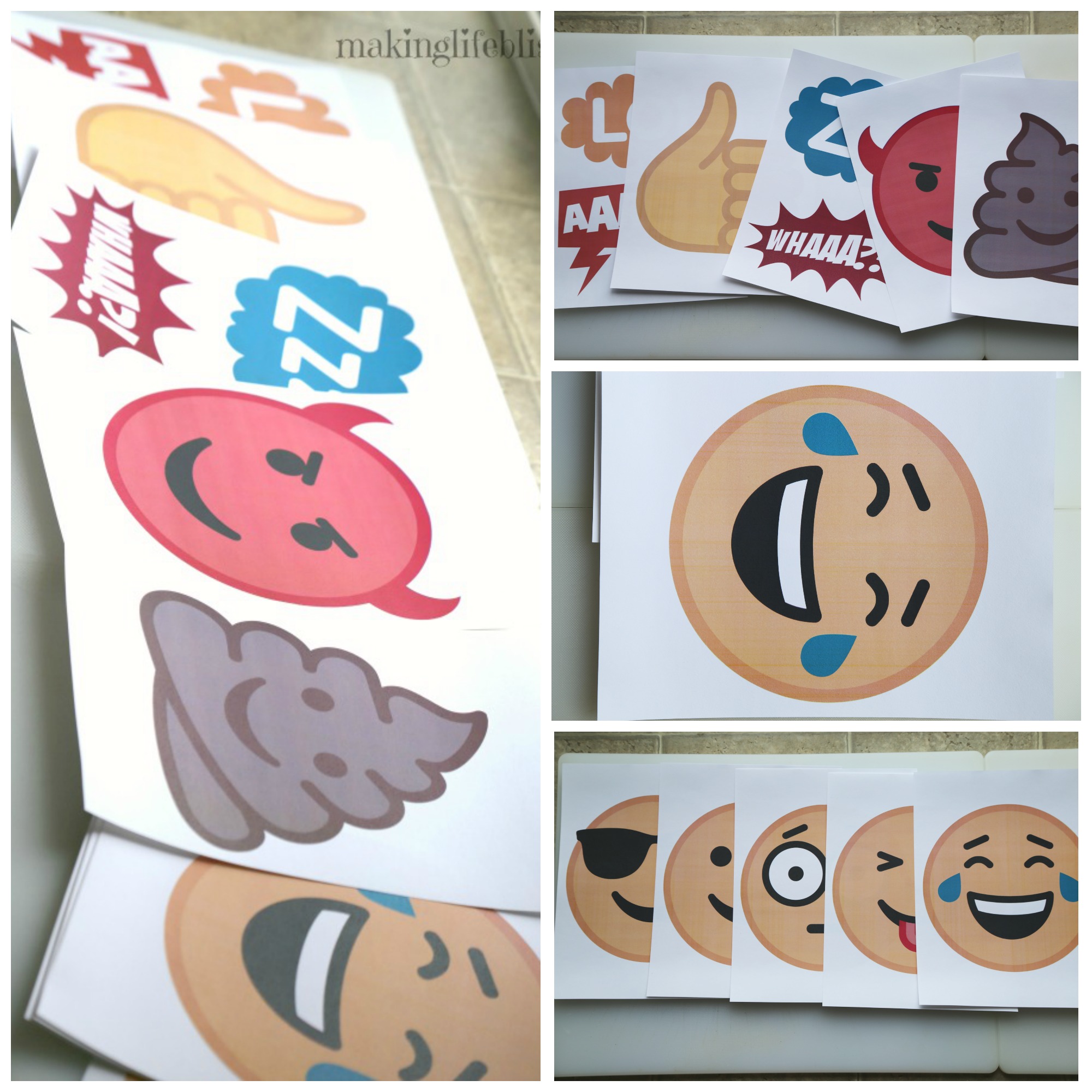 Here's a sample of what you'll get in this pack.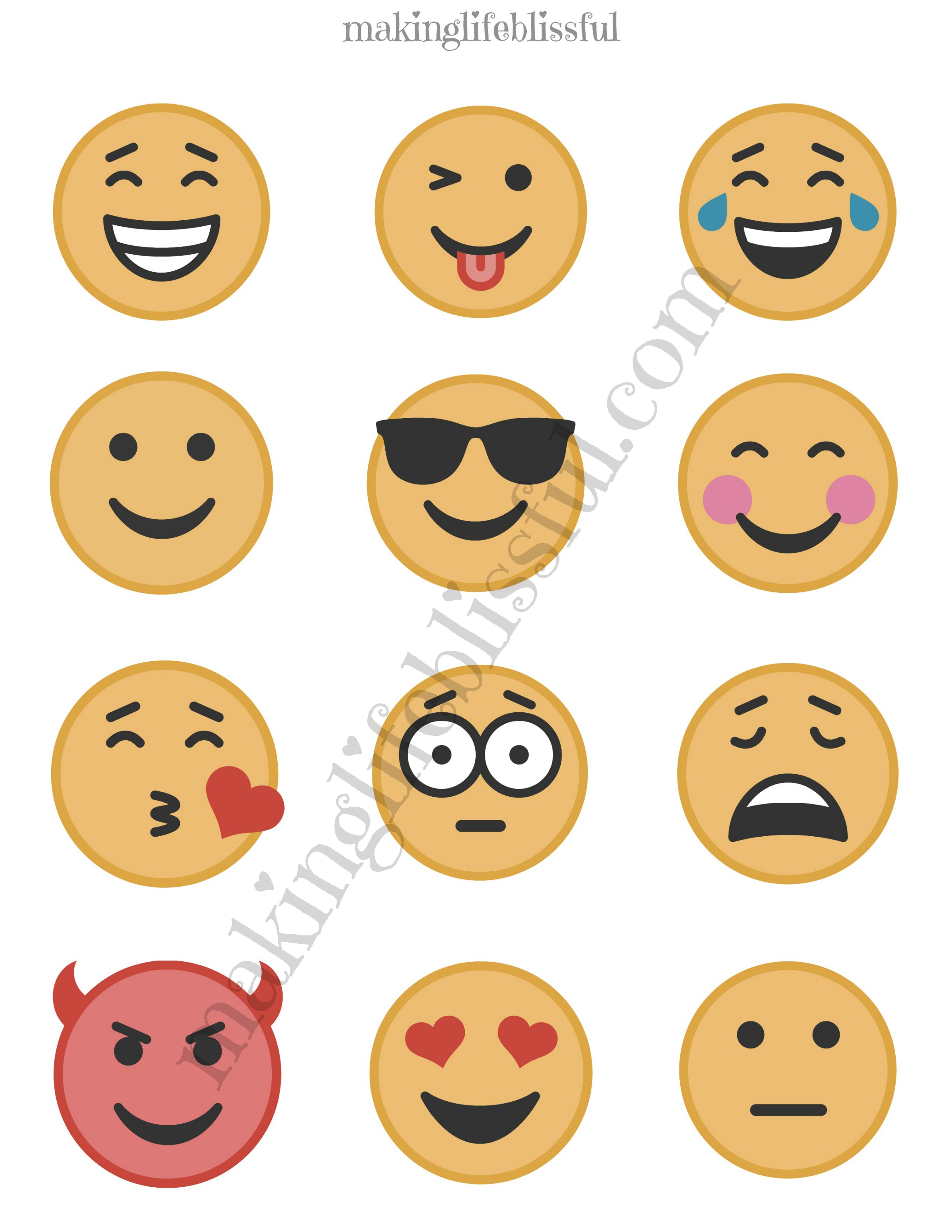 These Emoji cupcake toppers can also be used as table scatter for a party or for any kind of game, decor, or school item.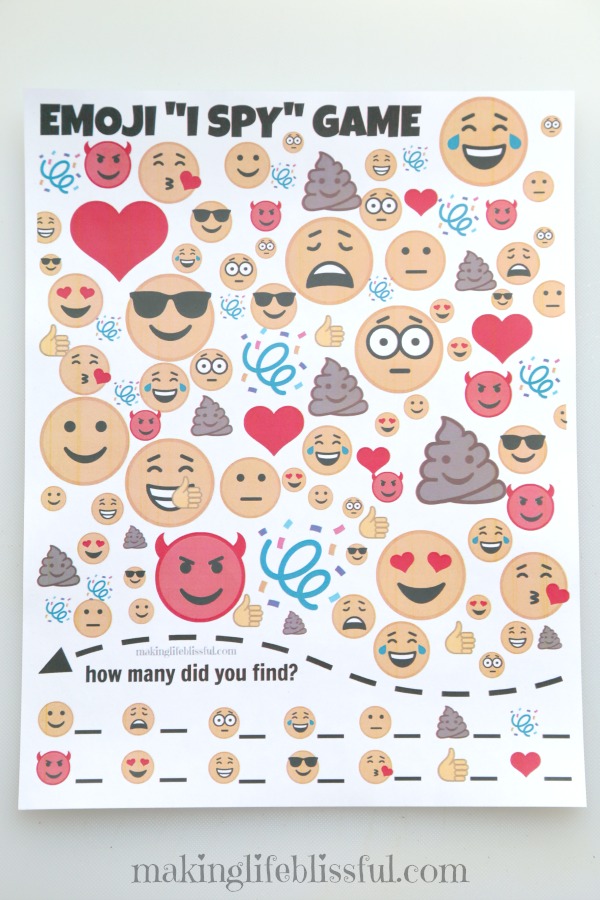 I have to say that the Emoji I Spy Game is one of my favorites (you may know it as Seek and Find). A good way to use this is to laminate it or place it in a page protector. Use dry erase markers and then it can be used over and over again! Great for car trips, schools, and boring summer afternoons.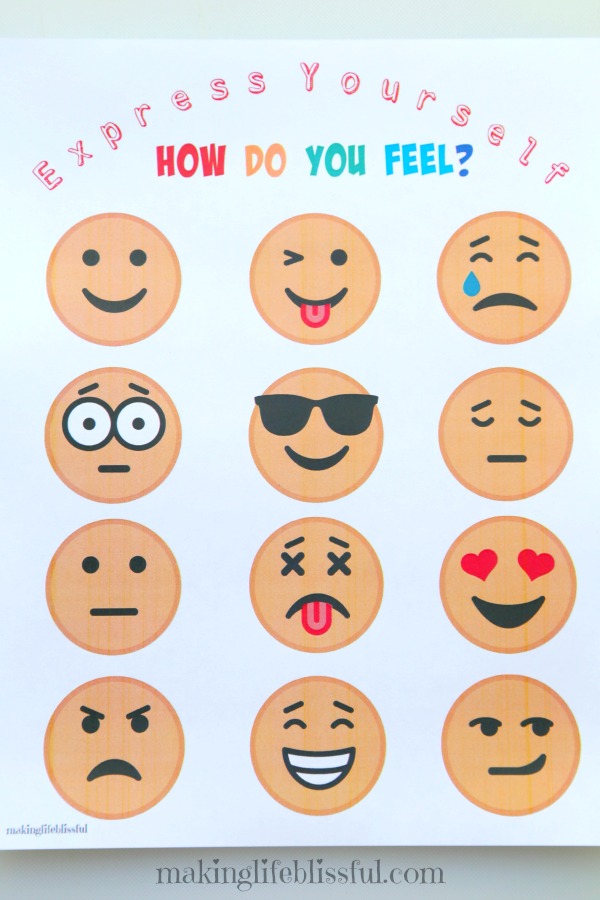 This Express Yourself Emoji Poster is reminiscent of the pain scale posters you see in hospitals. This is a way to have fun with that but it can also be useful with non-verbal kids for teaching emotions and feelings.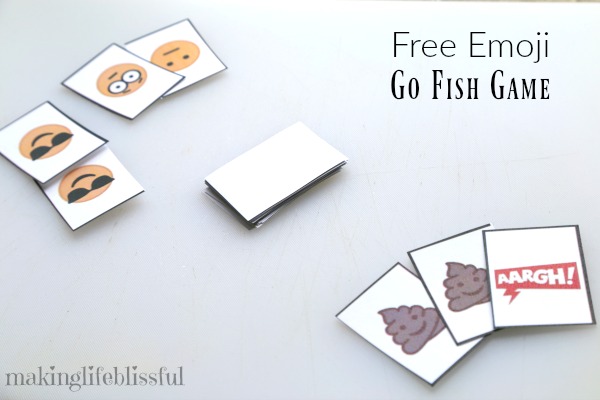 And last but not least is the Emoji Go Fish Game Cards to print. You can also play Old Maid (my daughter says the poop emoji should be the Old Maid card) or you can play the Memory match game too.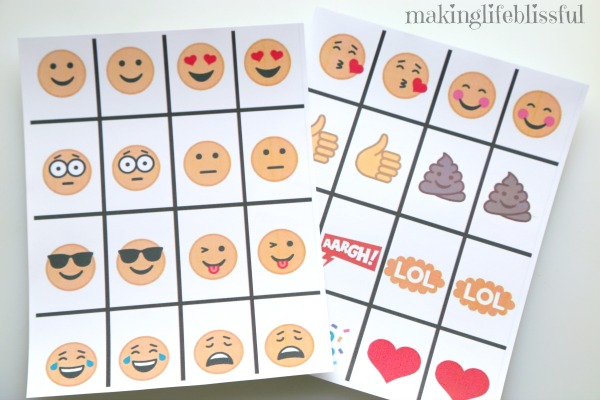 ENJOY THESE EMOJI PRINTABLES! Click below to access and use code BLOGFREE to get them FREE this week:
(includes Cupcake Toppers, Emoji I Spy Game, Emoji "How Do You Feel?" Poster, and Emoji Go Fish Game Cards