If you could only say one last thing to your family in 25 words or less, what would you say? I recently heard an address given by Rosemary M. Wixom.  She is a wise woman who was the President of the worldwide children's organization for The Church of Jesus Christ of Latter-day Saints.  In the address, she told a true story about a man named Jay Hess who was an airman that was shot down over north Vietnam in the 1960's.  For 2 years his family had no idea whether he was dead or alive.  His captors in Hanoi finally let him write home to his family, but they limited his message to only 25 words.
He had no idea whether or not he would see his family again.  I'm sure he had so much he wanted to tell them.  There was probably so much that his family wanted to hear from him.
But he only had 25 words.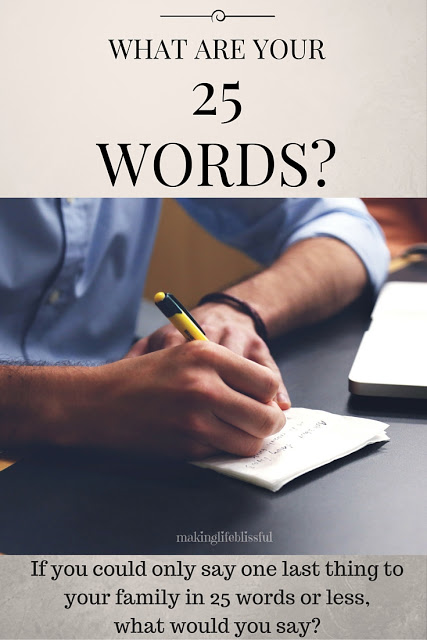 So I'm asking you now,  what are your 25 words? 
What are the most important things you would want to say to your loved ones?
In 25 words or less.
Mostly likely what you would put in your 25 words is what you want them to know the very most of all.  So make sure they know those things.  Take a few minutes and write down your 25 words and make sure your loved ones know what is most important to you.
I've been so very close to death when
I was hit by an intoxicated driver
.  By pure miracle I have been given more time with my kidlets and My Man.  I have often reflected on my life since.  I wonder if I am living the best I can.  If my time to pass should come unexpectedly again, would I be satisfied with the memory I had left behind for my family?
Did I laugh with them enough?
Did I teach them to be strong and to love life?
Did I show them how to help others?
Did I tell them to stay hopeful and hold onto faith?
Did they know how I adored them and loved them with my whole soul?
If there is one thing I could pass onto each of my readers today, it would be to DON'T WAIT. 
Laugh with them now.  Listen to them now.  Teach them now.  Show your love now.  
Take your 25 words and tell them now.  Don't wait.
I'd love to hear what your 25 words would be in the comments below.  Please share!
— LISA