I've been thinking today about goals and making things happen in my life.  I have always hated new year's resolutions because too often I find myself failing when I don't follow through on my resolutions perfectly and then I feel worse than ever before.  But I am slowly learning . . . and I mean VERY SLOWLY . . . that life is not about perfection.  Life is about progress.  Can I just say that again in case you just glazed over that part?  LIFE IS ABOUT PROGRESS.   NOT PERFECTION.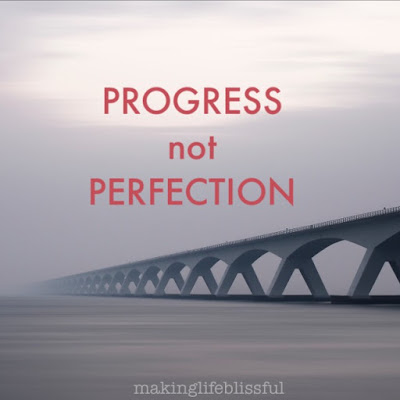 Sometimes we get so caught up in trying to be perfect that we never progress–we never get anywhere.  We stop completely.  We give up.  We feel like failures because we expect ourselves to be perfect, and that will never happen.  Life is not about perfection! It's about trying, learning, messing up, and trying again. Progressing is what really helps us on our journey–not being perfect.
Now that does not mean we should not try.  Every time I give up on my goals doesn't get me anywhere either.  I do have to TRY.  I do have to take steps and work towards the place I am trying to get to.  Every little step in the right direction matters. The progression and the journey along the way truly matter.  Each time I choose to do something better or make an effort towards my dreams and goals counts for something, even if I mess up the next day.  Take notice of those little steps of progress.  Glory in them and move forward little by little.
Have a blissful day my friends and my you find peace in progression, no matter how slow.

You may also like: