I have been very humbled these past few weeks to be in the presence of 10 little angels. While the world was in political turmoil fighting over candidates, arguing on social media, and choosing sides, there were 10 little girls running through my neighborhood full of giggles and smiles spreading goodness. These little 9 and 10 year old girls created their own club that they affectionately call Service Friendzy. Every Wednesday they gather after school and find ways to help others. For one hour each week they put away their scooters, video games, and toys and do service. But it's not only that they help others, it's the way they do it. Let me tell you the story . . .
My own daughter is in this group as are many of her good friends in the neighborhood. It was started by twin sisters who wanted to make a difference. The Service Friendzy club is open to all who want to join in. All of us mothers in the neighborhood are in awe of their enthusiasm for this service club. One mom told me how the girls came to her house to plan what services they would do that month. The girls sat in a circle and took turns sharing ideas. This mom said that tears filled her eyes as she heard them talk about children who did not have any toys and how they wanted to help them by making some dolls. The Service Friendzy girls came up with many ideas like tying quilts, raising money for charity by selling hot chocolate, raking leaves for their neighbors, and "heart-attacking" the doors of people who need cheering up. They spread goodness because it's the right thing to do and because they are having a blast doing it.
I have never seen a more boisterous, and cheerful group! The Service Friendzy girls are so enthusiastic about helping others and it rubs off on everyone they meet. I had a chance to have them over at my house to help tie some fleece blankets to give to our local children's hospital. One by one they showed up at the appointed time, each girl bringing happy energy into my house.
They tied the blankets carefully, but also with amazing speed. They didn't need my help. They took charge of the project right away, dividing themselves among the two blankets. They chatted, giggled, and worked with joy. Each girl was completely willing to do her part. No one wanted to quit or be lazy. They just did it. And to my utter surprise, when they finished the blankets they immediately asked me what else they could do to help me! They wanted more. The natural high they felt from serving was contagious. I could have asked them wash my dishes or clean the grout in my shower, and they would have done it with joy. My heart melted as I saw their eager faces wanting to serve me and I was completely uplifted. I always tell my children that KINDNESS ALWAYS WINS and now I was seeing the truth of that phrase played out before my eyes.
Like many, I had been caught up in the political drama of my country. My mind and heart were worried for the future. I was worried that America was losing it's greatness and it's goodness. I heard the fighting on the news. I read the arguing on social media. I stressed. I complained. I got lost in the selfishness of the moment.
And then I spent this one afternoon with these 10 Service Friendzy girls . . .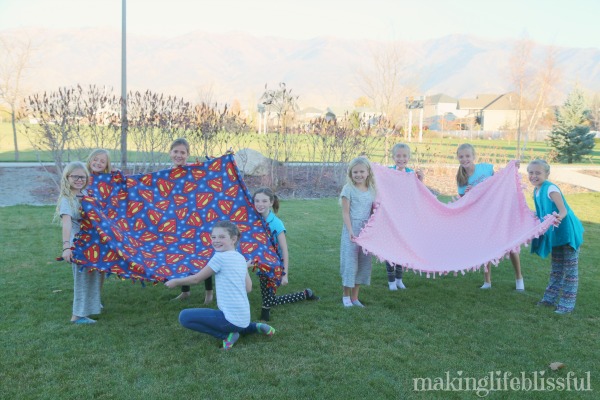 The Service Friendzy Girls (note: one girl was missing for the pictures)
I felt of their love for others. I relished in their happiness for life and all things good. I listened to their giggles and squeals. I watched them forget about themselves. And I realized then and there that America is great and that there is tons of goodness in this world. If all of their generation is like this, then the world is in good hands. But I also realized at that moment that goodness needs to be created. Love needs to be helped along. They created two little blankets to comfort someone else. Two little blankets will not relieve the thousands of people suffering out there, but it will comfort two children who are sick in the hospital and that is a start. Now it is my turn to comfort someone. I need to do my part.





These 10 little girls cannot do it alone.
Now is the time to do something. It is time for all of us to bring light to this world, just as Jesus Christ taught us to do. It does not have to be big. It does not have to even be known by anyone else. But it does have to happen. Let's take heart and follow the example of these young girls.
Join me and thousands of others in the #LIGHTtheWORLD campaign put on by mormon.org this Christmas season. The idea is to find little ways to serve a little each day. This initiative is for everyone. Whether you are Christian or not, we all have goodness to share.
Visit mormon.org for a free calendar of service ideas and more info. Get inspired by watching the video above. Whether you do one act of service or 25, I truly believe that the light of love will fill your hearts and this world will be blessed. Let's show these little girls that we are with them all the way.
Merry Christmas my blissful friends!