What did your children learn from you today? Was it positive or negative? Did they learn anything at all from you? Today I want to share with you a way to teach your children things that really matter. I'm gonna show you how to make an simple Family Night Kit (Family Home Evening or FHE idea kit) and tell you all about My Lil Pumpkin Patch and their Scripture Stories on Etsy to help make your family night kit quick and easy (and cute!). You'll love the 30% discount coupon code at the bottom too.
*This post is sponsored by My Li'l Pumpkin Patch. This post may or may not contain affiliate links. All opinions and ideas are my own.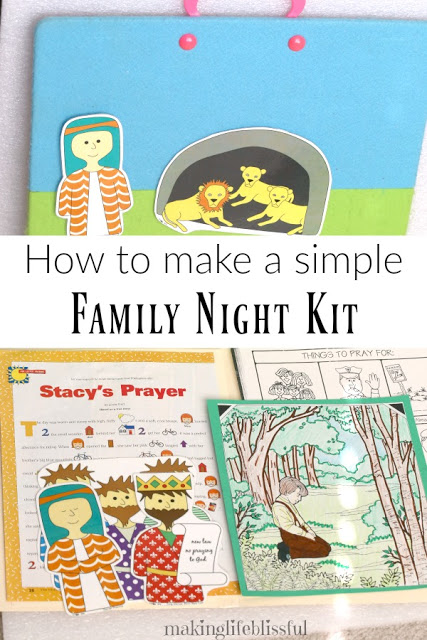 I decided a long time ago before my children could even walk, that I was going to be their number one teacher. Like many of you, I decided that there were certain things I wanted them to know about life, and that I did not want them to find it out from the world first. I wanted to tell them first. I decided NOT to depend only on the schools, church teachers, or neighbors and family to teach them, but instead to first to depend on me. When my children were younger, many people asked me how my kidlets knew so much about good values, the gospel, and even just random good things. The answer is simple . . . I just taught them. I didn't have a magical technique, but I did have a strong desire to make learning fun and engaging for my kidlets, no matter how small they were. AND I made it a regular occurrence–at least once a week I sat down with them and just taught them in the best way I knew how. It wasn't always perfect and sometimes what I taught didn't sink in. But over time, I have reaped the rewards of my efforts and you can too.
I remember as a child sitting and church or school and loving visuals and interactive learning. I hated long, boring recitations that someone just read from a paper. I hated busy work. I wanted to touch, see, try, and feel something while I learned. So I carried that over into the teaching of my children. I knew they could learn if I helped them enjoy it.
So I made a little Family Night Kit. Family Night is a special night just for the family. It's something my LDS faith really encourages. We gather in our home for an hour or less. We sing, play games, teach values, pray, and eat dessert. We take turns teaching each other lessons. My kit makes this easy. In our crazy world, it's the one night where we all sit down, look each other in the eye, and actually talk. We talk about what matters most. We do our best to bond (and not fight . . . though it has happened), and to enjoy the few moments where we are all in one room. Our Family Night Kit is my go-to kit to teach values when I need a quick lesson.
How to make a simple Family Night Kit: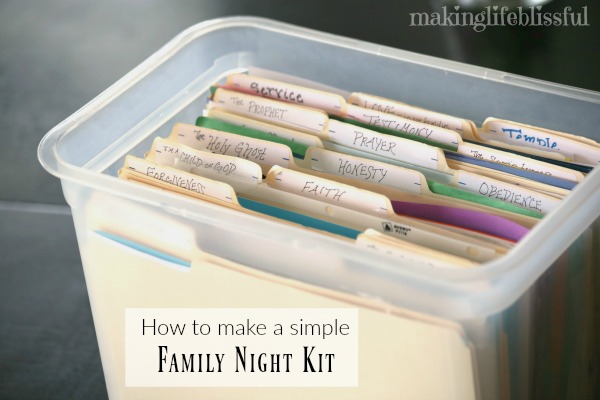 1. Make a simple list
Make a list of the subjects and values you want to teach your children. My list included things like: obedience, faith, honesty, service, love in the family, forgiveness, prayer.


2. Put together a storage box
Make a file folder for each of the subjects on your list. Store them in a file box or file cabinet. Notice how my labels are even handwritten. Whether typed or not, do what is easiest for you.
3. Collect supplies on each subject
Take some time to gather some teaching materials that go along with each subject. Keep an eye out for articles, stories, coloring sheets, and pictures. When you find something that goes with one of your subjects, simply add it to the file folder. This is a process that can be done over time. Think of it as your family night collection.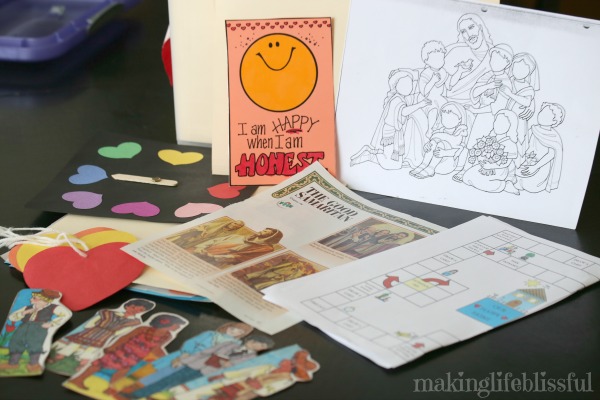 I held onto items I got from church and stories from our church's children's magazine. Don't make this a big chore. Kids will be happy with any variety. Use a laminator to help items last longer and survive kids touching them.
This is the laminator I use . . .
4. Add visuals and printables
It's nice when you can find some easy printables and visuals. Kids need a lot of hands-on stuff and visuals. Games are good too. Remember to keep it fun for them.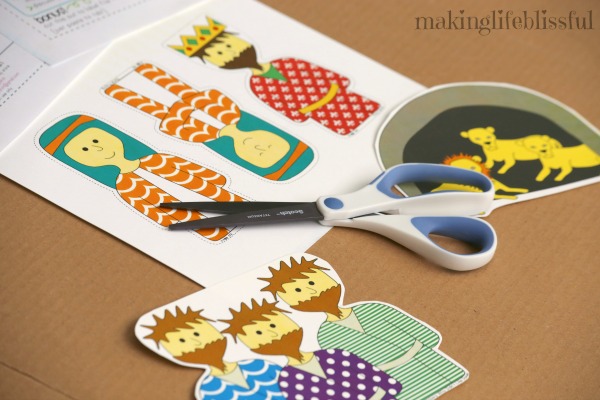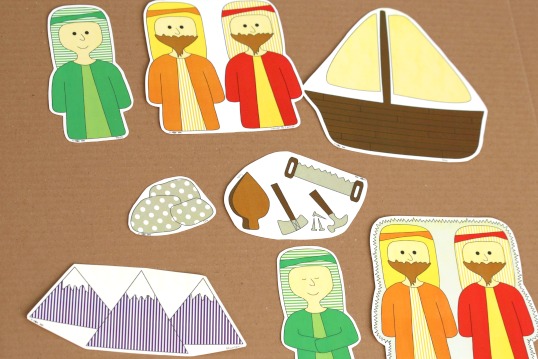 I love these printable Scripture Stories from My Li'l Pumpkin Patch. So cute and colorful!! They are perfect for teaching your children the stories in the scriptures. These scripture printables were created by Stephanie Albright who says of them,
"I had the idea to create visuals for scripture stories a couple years ago for my kids, and I'm so excited to share them with you! I desire to instill in my children a knowledge and love for the scriptures and the people therein, so my kids may look to those people/stories as an example of faith and courage when they are faced with their own trials. These stories work great for Family Home Evening, talks in Primary, and Sabbath Day learning. I hope you
enjoy!"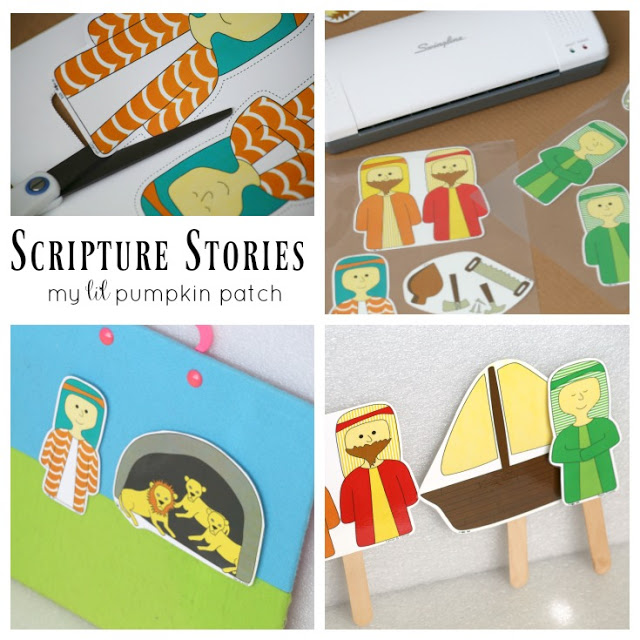 The Scripture Stories are easy to print and easy to cut. No intricate lines to try to get around with your scissors (I only have time for 3rd grade cutting–seriously!) You can laminate them for extra sturdiness. You can add felt to the back to make them into flannel board stories, or add sticks to make them little puppets. The ways to use these are endless!
There are Bible story printables as well as Book of Mormon printables. Stephanie has more stories coming like The Nativity story, as well as other items for kids like quiet books, mini scripture cases, carseat covers and more!
I want you to be able to try these Scripture Stories! Because I LOVE them so much Stephanie is offering my readers at 30% discount with code BLISSFUL30! This is awesome because they are already a low price, so this discount makes them only $2.80 and $3.50!! Code expires 11/1/16.

You may also like: