So now that you've read my review of the Midway, Utah Ice Castles let me tell you a little more about our awesome accommodations at Mountain Springs Inn also in Midway AND our experience at The Homestead Crater.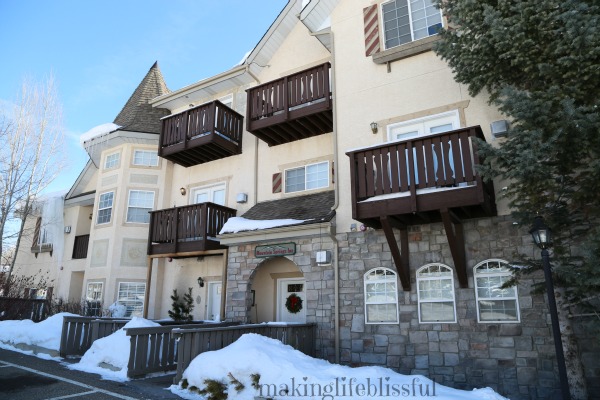 Isn't this just so cute and cozy-looking? Love the Swiss style.
MOUNTAIN SPRINGS INN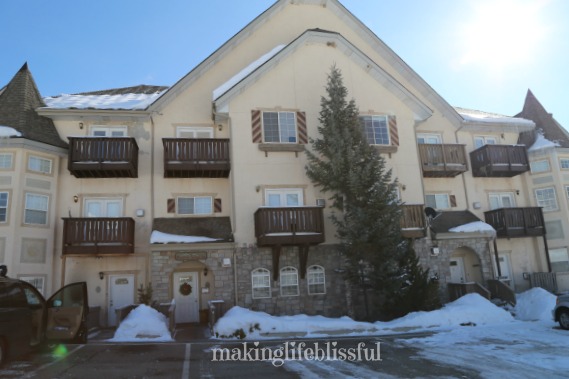 Here's what you need to know about Mountain Springs Inn in Midway, Utah:
* It's very reasonably priced! I found the price to be just as good as any hotel or resort I checked out up in Midway (and it was even better than some!). The room we stayed was about $150 per night. Plus, the amenities were much better!
* Beautiful rooms! We stayed in the Valley View room, so my info is all about that room. It has 2 king size beds. One is upstairs (yes in a loft room!). The loft has plenty of room for kids to play and put stuff along with a small lamp and chair.
* Large bathroom with a jetted tub, shower, large mirror and vanity area, hairdryer, etc.
* Kitchenette that includes: dishes, a sink, soap, microwave, coffee maker, toaster, and mini fridge.
* Living area with small table, fireplace, and sofa.
* Free Wifi and television with Netflix included (my kids loved watching endless episodes of Phineas and Ferb).
* Large windows with lots of natural light. High ceilings too.
* Private balcony with a gorgeous view!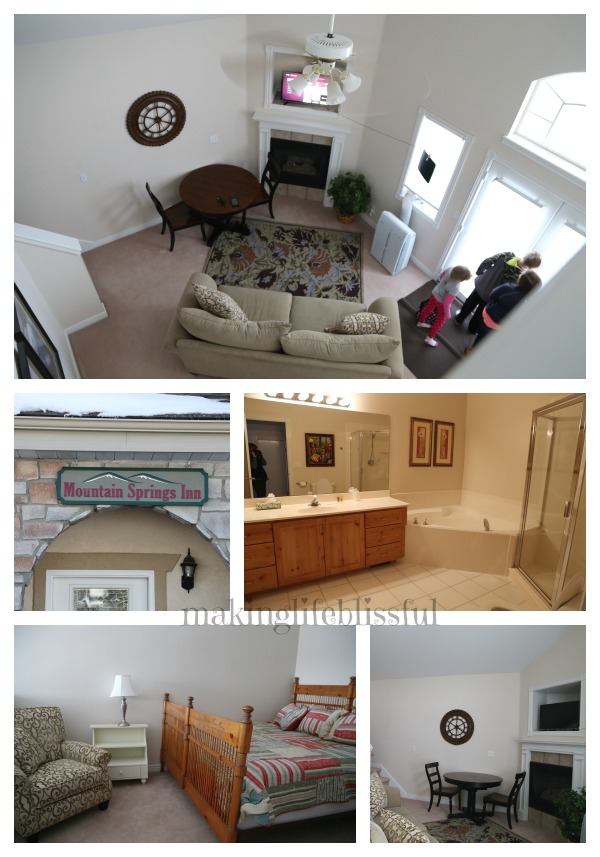 I love the view from the upstairs. Notice the ceiling fan too (we love ceiling fans after living in Arkansas!). The bed pictured above is in the loft upstairs.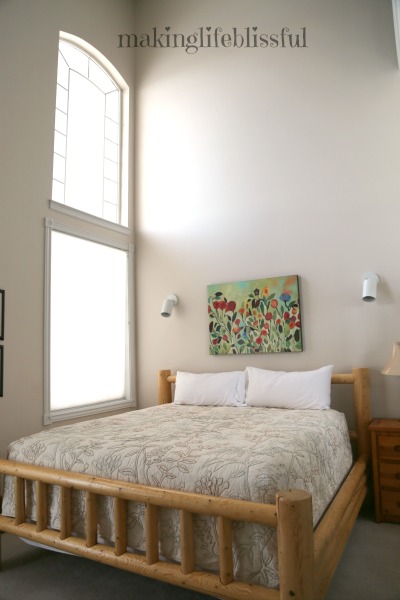 This is the king bed downstairs. I LOVE the huge windows!!!
This was such a fun place to stay. I hope we can go back again someday!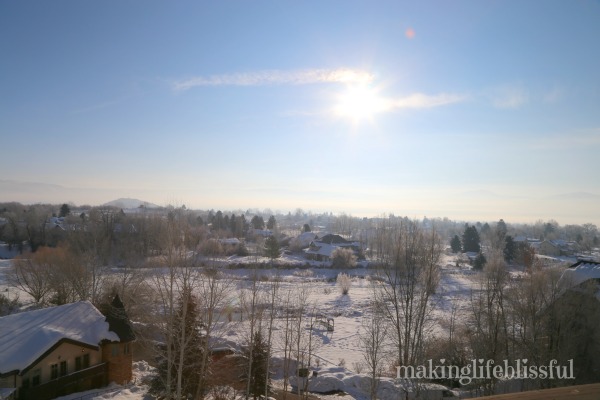 Look at this view from our balcony . . . totally worth it.
THE HOMESTEAD CRATER
And in case you are curious about The Homestead Crater . . . look at these pics!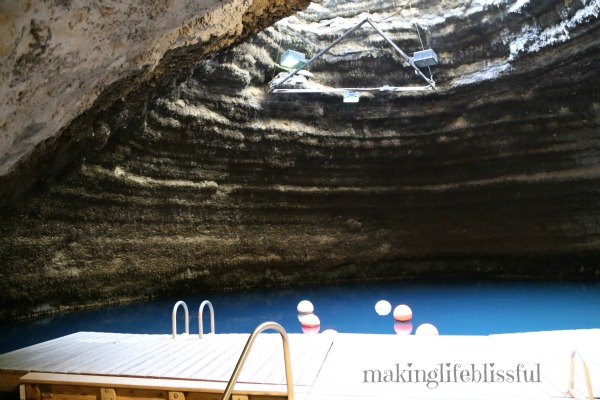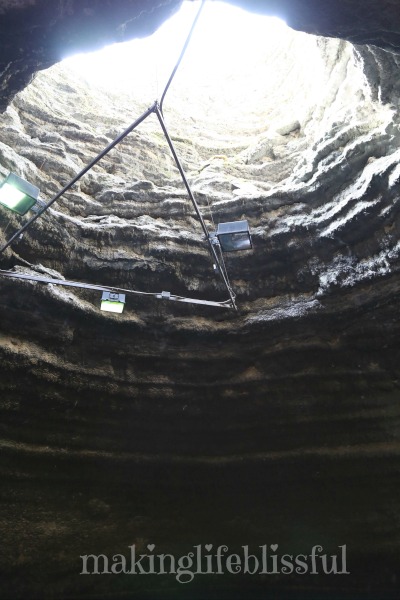 Here's What You Need to Know About The Crater:
* It's located at The Homestead resort in Midway, Utah.
* It's a warm, all natural geo-thermal pool inside of a natural crater.
* It's 62 feet deep.
* You can swim in it, but you must have a life jacket. They have life jackets that you can use.
* You can scuba dive in the crater. My Man has done this several times. You can also snorkel or take the yoga paddle board class.
* The water stays about 90-96 degrees. It's quite toasty and can even feel uncomfortable after awhile.
* The dome at the top lets in fresh air and sunlight, but the water is always warm, even in the winter.
* Kids can swim with life jackets and they must have an adult swimming with them. There is no lifeguard on duty. It feels a little creepy at first. Our kids were worried at first, but then realized it was okay and actually pretty fun.
* There are dressing rooms for changing in and out of wet suits and clothes.
* There is a cost just to soak. Right now it's about $16 to soak and a little less for kids. Scuba diving may be more.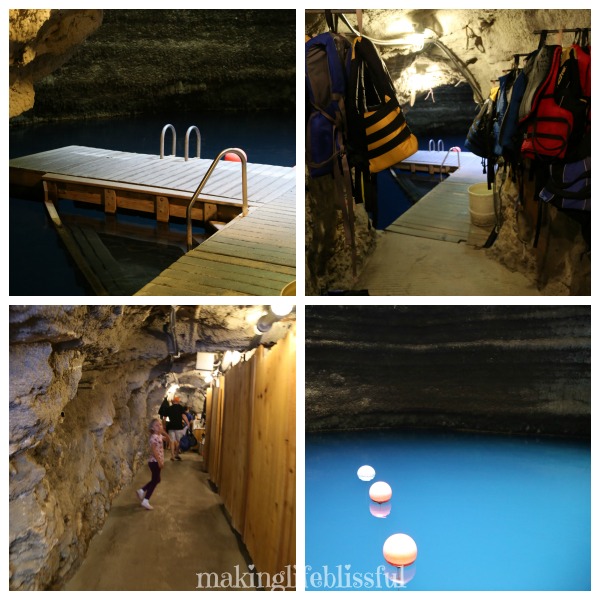 There are a few places to sit and soak if you don't want to swim around. Above you can also see the life jackets and dressing rooms.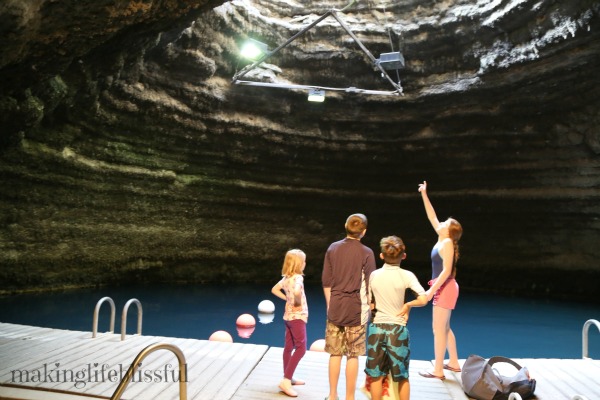 Have you been to Midway, Utah? What was your favorite thing to do there?

You may also like: