When Little Son was 2 years old, he went through a major train phase that lasted for 2 years! I still treasure his little Thomas trains that he held in his chubby hands and took with him everywhere. Today I've got a guest post all for about kids who love planes and trains! And I'm sharing with you our vintage train decor idea. We put my dad's vintage train set from his childhood on display. For all those train lovers out there . . . we got your back.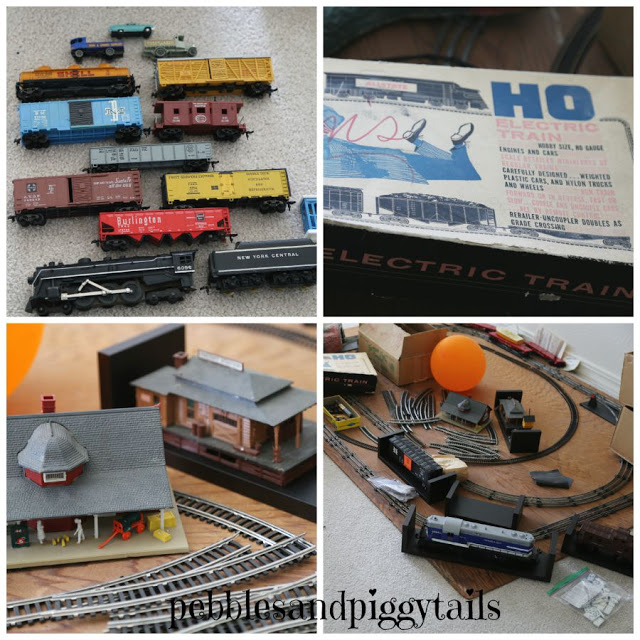 My dad gave Little Son some of his trains that he had when he was little. Many of them were Ho Trains still in the original box. Little Son was overjoyed to receive such a special gift. I was worried about them being out on the floor though. Little Son played with them, but we needed a safe place to store them, and yet still be able to display them and enjoy them. Here's how we displayed my dad's train set that probably dates back to the 1950's.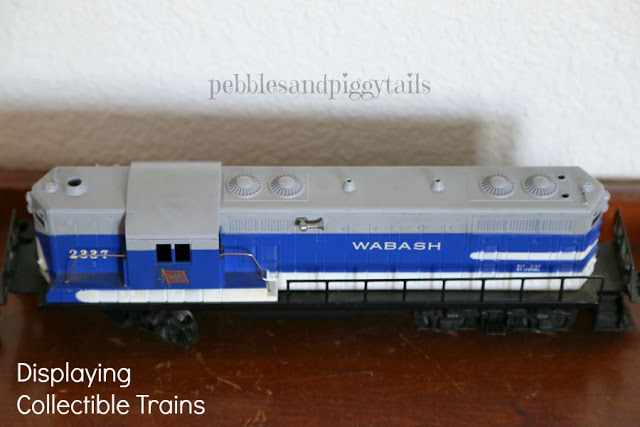 The Ho Trains are our favorite. We put them on sturdy shelves.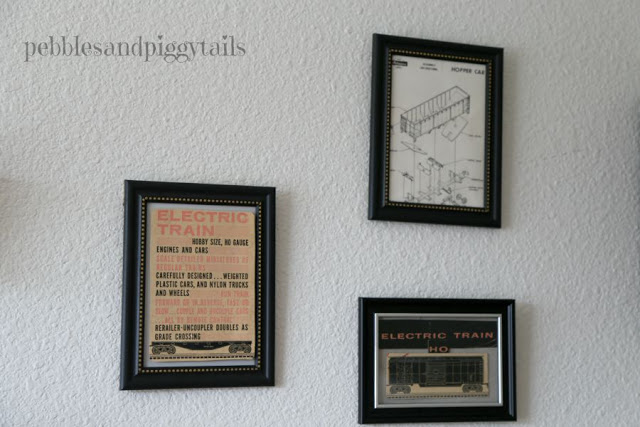 Pieces of the vintage box and instructions look great in these little frames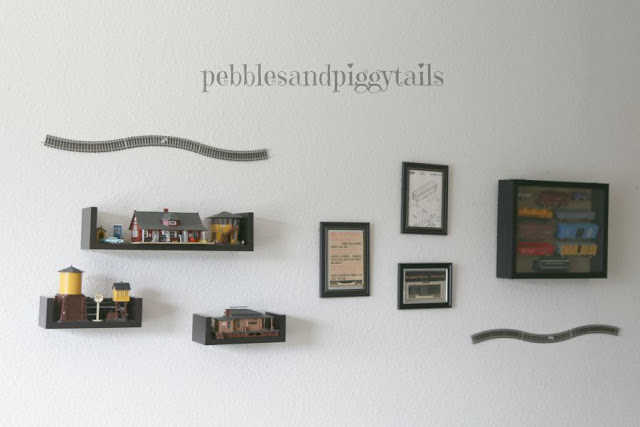 Makes our empty rec room wall look fun and full
Here's more info and ideas for your train-loving child!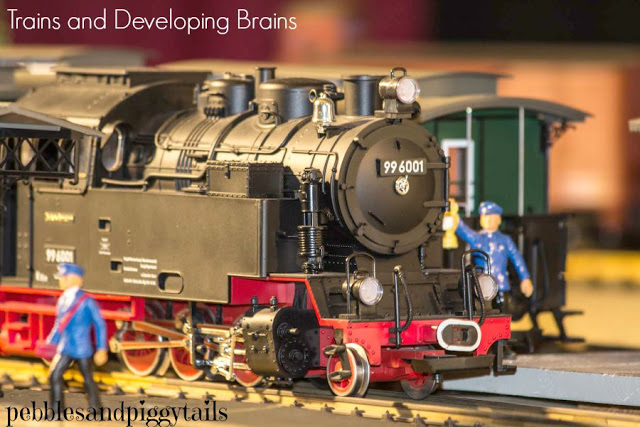 Planes, Trains, & Developing Brains
Author: Whitney Hollingshead
Has your child shown an interest in trains? You can use their fascination to encourage further brain development. Your child can learn more about history, science, problem solving, observation, and even geography as you explore the world by rail. Here are some great activities you can consider to expand your child's mind:
Your child loves trains.
Learn cool train facts together. Where is the longest train track in the world? Where can you go to ride the fastest train? Where is the oldest train station in the United States? You can learn answers to these questions and others by doing research about trains together.

Plan a family vacation and take the train. Instead of driving or flying to your destination, take the train instead. Or book a train vacation and enjoy an itinerary that makes the most of traveling by rail. These trips make taking the train the vacation, not just a method of transportation.

Visit a historical railroad site. Do some research on the history of the railroad in your home state. You may find some information about a historical site that you can visit in person.

Go for a train ride. Find the closest train near you and purchase tickets for a short ride. Whether you ride a historic train, an underground commuter train, or a modern passenger train, help your child observe how the train works.

Visit a train museum. Check out a rail museum near you. If traveling to a rail museum is too far, check to see if other museums have exhibits about trains. For example, a nearby museum may have a boxcar you can tour. Or if possible, visit a toy train museum.

Go over train safety. Any child who is especially curious about trains may want to explore them in person without realizing the dangers involved. Teach your child how to stay safe around trains, railway crossings, and train tracks.

Check out train books from the local library. Head to the library and have a librarian help you find the most age appropriate books on trains to check out. For example, older children may enjoy reading The Boxcar Children about children who live in an abandoned boxcar.

View a collection of model trains. Do you know someone who collects model trains? Ask them if they would be willing to show their collection to your child. Novelty toy stores may also have train displays that you can go see.
By using these fun suggestions above you can help your little train enthusiast explore their passion and expand their mind.