You Can Grow Flowers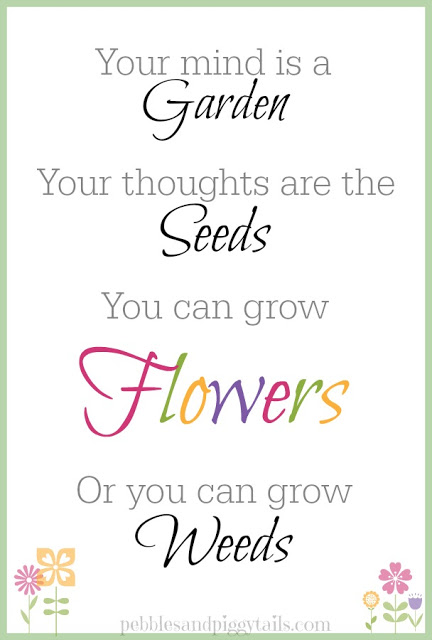 It's been one of those weeks you know, where showering feels like a luxury? End of the school year stuff all over my calendar–final tests, field day, award ceremonies, final shows, last-day parties . . . blah, blah, blah. In full disclosure, I am telling you that I have had
a lot of grumpy thoughts
this week, as I felt drained from being the constant supporter of all this stuff. As a mom I want a tropical vacation as my reward for getting an A+ in the subject of School Time Parenting, but instead I get summer "vacation" where in many ways the real work is just beginning.
Well, the more I have dwelt on the grumpies in my head, the more I seemed to sigh and drag my feet. Pretty soon I was saying the grumpies out loud and causing everyone else to be grumpy. Then I saw this quote somewhere: Your mind is GARDEN. Your thoughts are the SEEDS. You can grow FLOWERS, or you can grow WEEDS.
The truth is, I really do enjoy summer with my family, but my grumpy thoughts were holding me captive inside the little annoyances of everyday life. There's a reason Peter Pan uses Happy Thoughts to help him fly. It's the happy thoughts that lift us. Good, positive thoughts help us rise above the mud of life on the ground. The mud is always there. There will always be grumpy times, negative ideas, and hard experiences, but we can choose what we let take over in our mind.
Time to start planting some flowers, I guess. I've taken some steps in the right direction. There is still some weeding to do, as there will be everyday. But for today, I see the flowers starting to take over.
HAVE A POSITIVE DAY!
*This article originally appeared in my monthly newsletter– June 2015.