Well friends, I lost a parenting battle with my kids and scuba diving. My Man has taken up scuba diving in the past 5 years. He loves it. And now he wants to pass that onto our kidlets. And me. The problem is that I think everyone should stay safely on dry ground unless you are a marine biologist or James Bond (I have never claimed to be adventurous so this is no surprise). But I lost the battle when my kidlets
wanted
to scuba dive with their dad. So now both Sweet Teen and Little Son are certified scuba divers before the age of 14. However, despite all my worries about them diving, we found that the
Epcot DiveQuest at Disney World
to be a great place for new divers (as well as experienced divers) to enjoy scuba diving in a safe, controlled, yet AMAZING environment.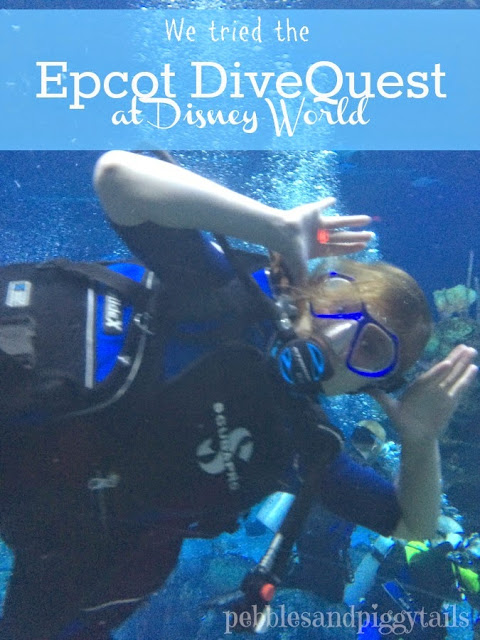 Here is Sweet Teen having a blast!
The Important Details
So here's the deal about Epcot DiveQuest at Disney World . . . it's one of the many special experiences they offer, so check with Disney World to confirm my information:
* It's located at The Seas with Nemo and Friends exhibit in Epcot. You dive in the tank that is actually part of their Finding Nemo ride and it's also their main aquarium for visitors to view there.
* The aquarium contains 5.7-million-gallons of saltwater. It's big.
* It's not included in the park ticket. It costs $175.00 for adults. If you don't have a park pass, you can still do this dive. They will let you into the park and let you stay for the rest of the day.
* They provide all of the equipment. You do not bring anything but your swimsuit.
* You make an appointment and pay in advance. They currently have 2 dives each day.
* You get to dive for about 40 minutes, but the total experience lasts about 3 hours (including instructions and explanations, equipment fitting, showering afterward, etc).
* All divers MUST BE certified. Bring your proof with you. Children cannot certify until they are at least 10 years old.
* A dive master comes on each dive, as does a cameraman. They record each experience (and you can purchase the video if you want).
* You swim with sharks . . . yes, sharks! But from what I understand, these sharks are well-fed and they are never fed with human hands. (And the eagle rays supposedly can't sting . . . oh heavens! )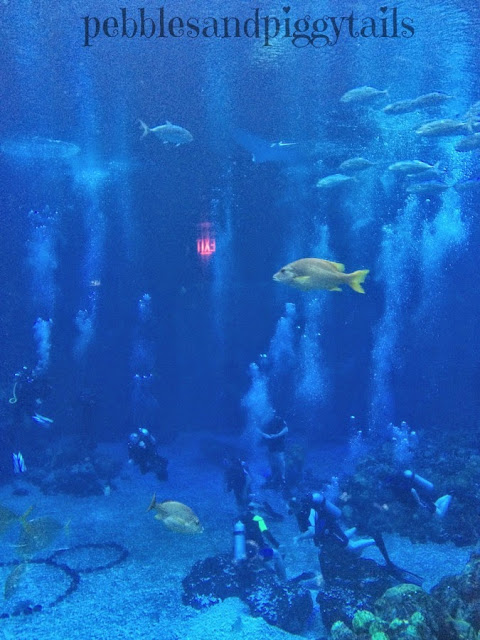 Look at all the divers . . .
The Fun Stuff
Our kids really loved this experience! This was their first "real" dive after being officially certified. I felt like it was very safe without problems of hungry sharks, crazy weather or strong currents in the water. They were able to see some truly amazing fish and sea animals. Here's the fun stuff about DiveQuest:
* It feels like a real coral reef. They have it set up to look pretty real. Nice, clear water too.
* Your family gets to watch you dive. This was great for me. Normally, I can't see how they are doing with their scuba diving from my view at the surface. This gave me a chance to see how well they really did during a dive.
* Lots of people watch you dive from the other side of the glass. The divers get to interact and wave at the onlookers and they have tons of fun with it. Little kids love watching the divers. (And there is a restaurant too that can see all the divers). Kids were laughing and it was so amazing for adults too. I took tons of pictures.
* Tons of sea life to view up close! My divers saw giant sea turtles, sharks, eagle rays, big schools of fish, and much more. Many of the sea life are similar to the characters in Finding Nemo.
* They give you a T-shirt as a souvenir of your dive.
* It truly is a memorable experience. Thanks again Disney for making our dreams come true.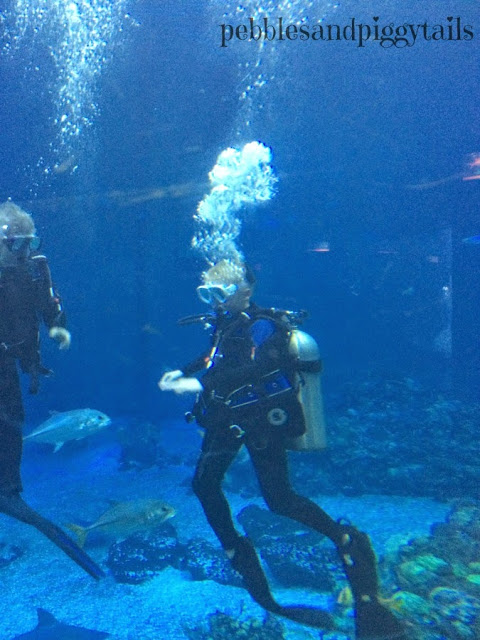 Look at Little Son. Isn't he just itty-bitty for being a scuba diver?
(Don't worry. I pray A LOT while they are down there–just in case)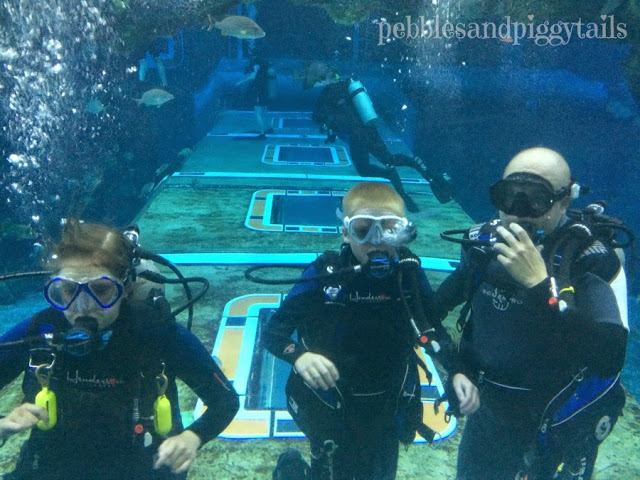 My crazy scuba divers. I took this picture from my side of the aquarium.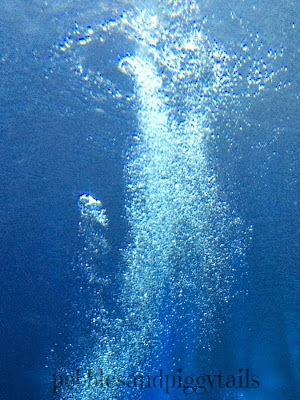 Any scuba divers out there? What do you think about this kind of dive?