Hi! Anyone out there teach music to kids? Or do you have children who would love some little musical instruments, but you don't want to spend a lot? Well, I was feeling crafty again and decided to make my own musical instrument set using dollar store toys and stuff I already had at home. So this is how I made a DIY Dollar Store Musical Instrument Set. Isn't it cute?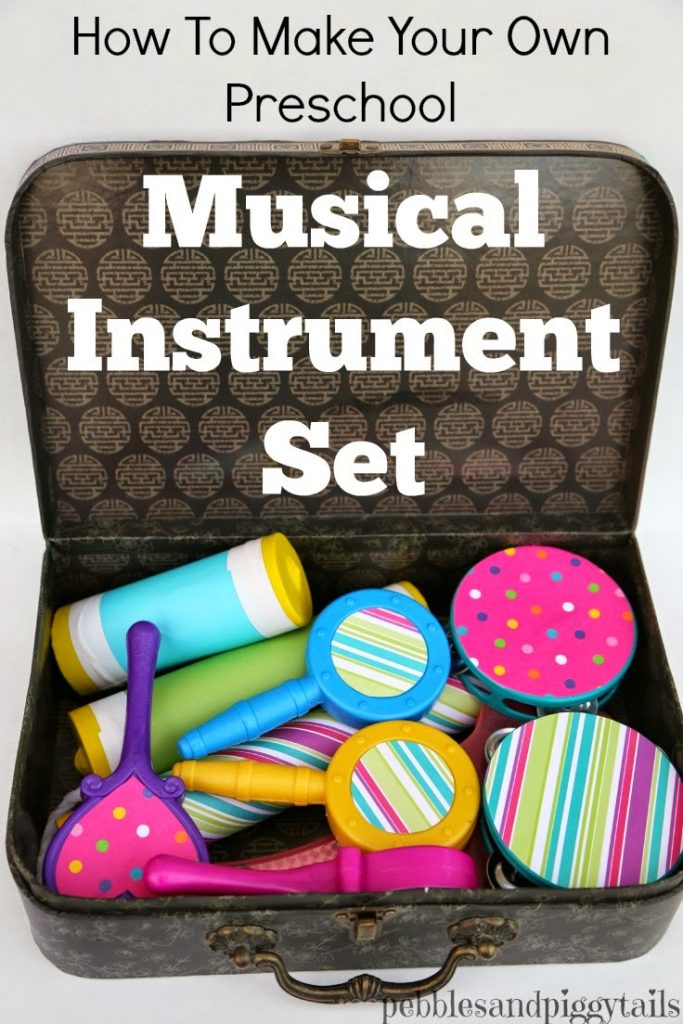 I teach music to about 120 kids at our LDS church as the Primary Chorister. It's a volunteer-type position, so I don't get paid. I'm always trying to find ways to engage the kids without spending a lot of cash. I also need larger quantities. This made 13 instruments.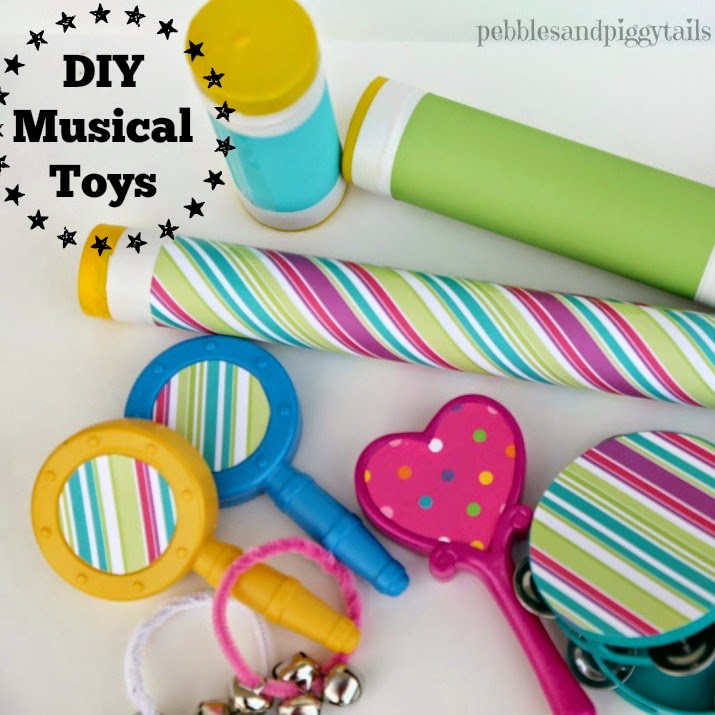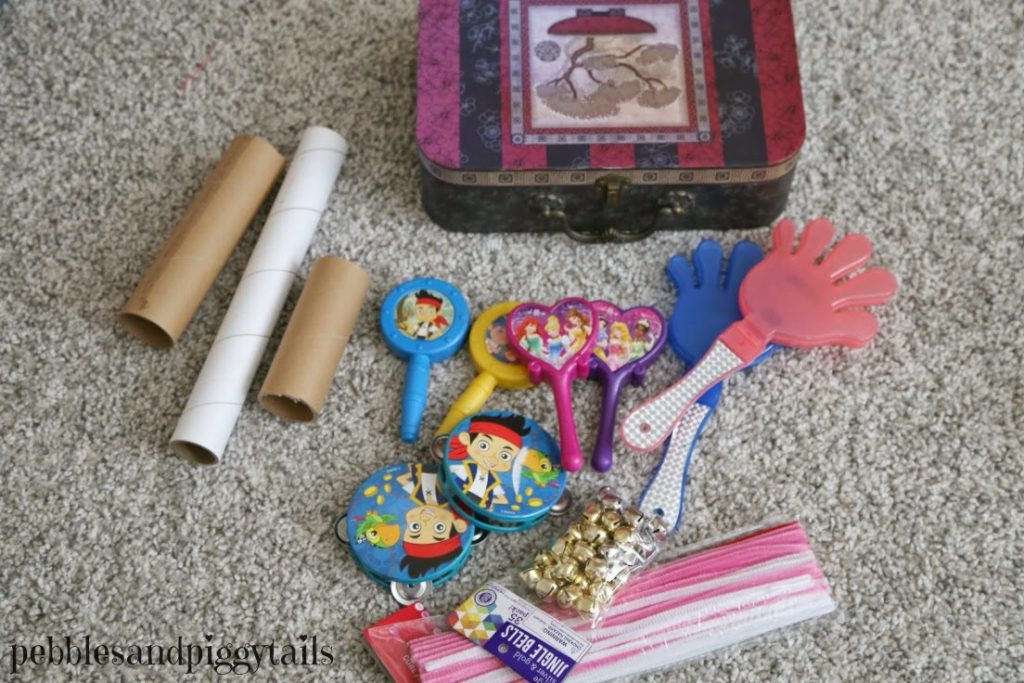 This is what I started with. I found a lot of this at Dollar Tree (where everything is only $1). Obviously, the empty plastic wrap rolls are from home. The little suitcase was an old little box I already had (It's made of strong cardboard–you can find these at many stores like Michael's or TJ Maxx). The bells and chenille pipe cleaners are from Wal-Mart.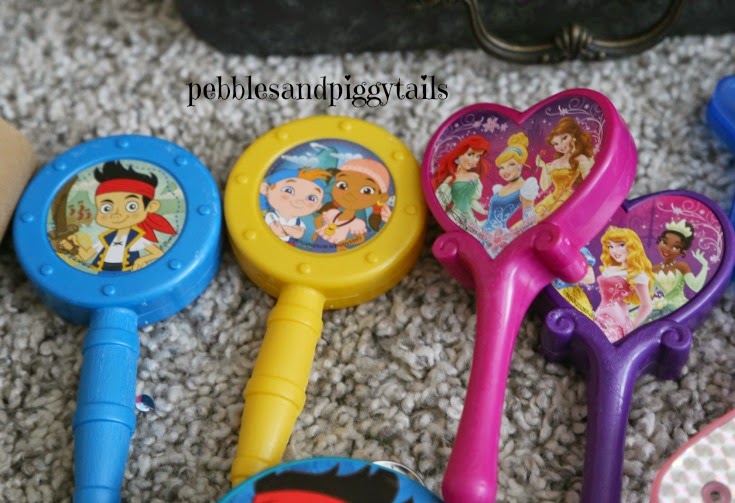 Dollar Tree has these little maracas. They come in a 2-pack (so just .50 each!). One reason I decided to cover them up is to avoid kids worrying about which character they got as we take turns with instruments. No fights over who gets the princesses.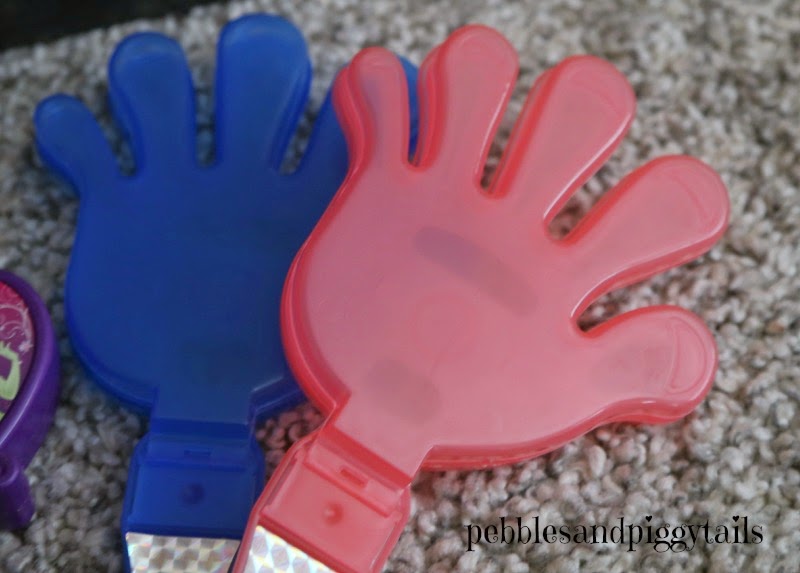 These are hand-clapper toys from Dollar Tree. They are fun to move to the rhythm of the songs.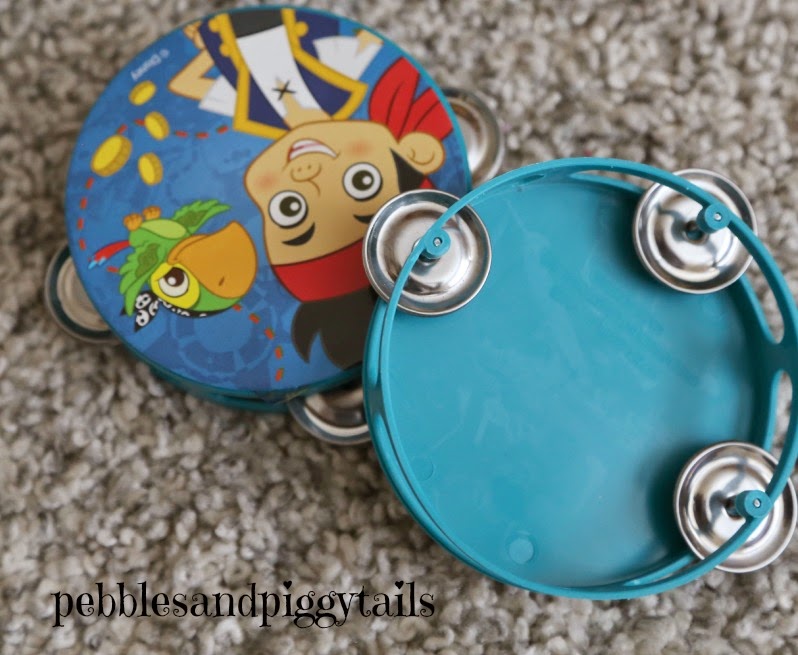 These mini tambourines are also from Dollar Tree. They were $1 each.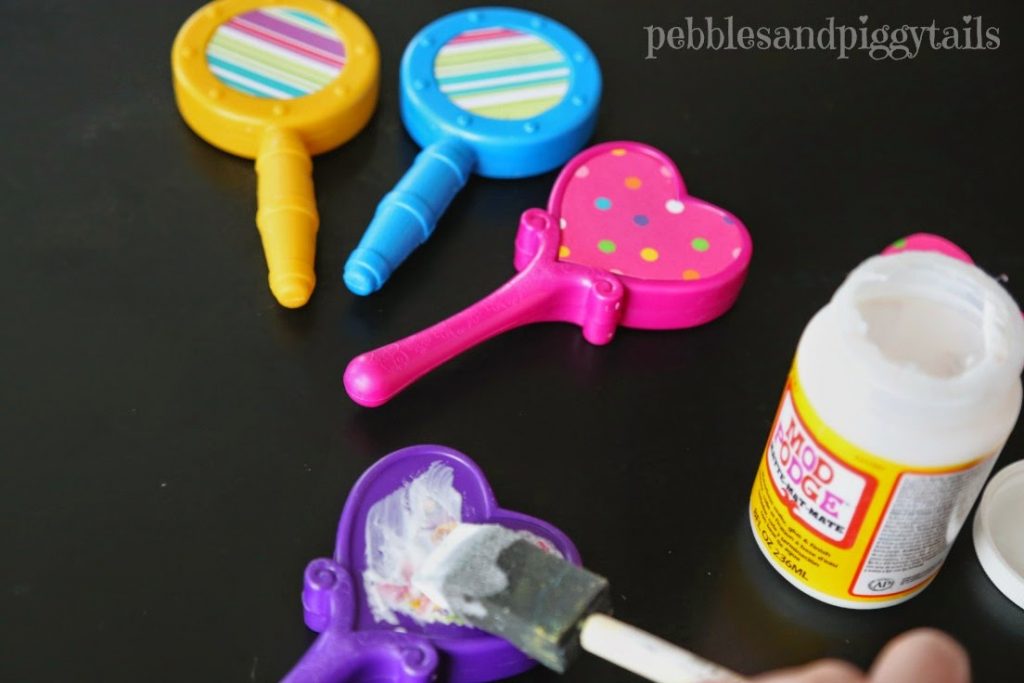 First, I peeled off as much of the label as I could, and I traced the shape onto scrapbook paper and cut it out. Then I used Mod Podge to glue it on. I put Mod Podge on both sides of the paper to strengthen it. I used this method for all the maracas and tambourines.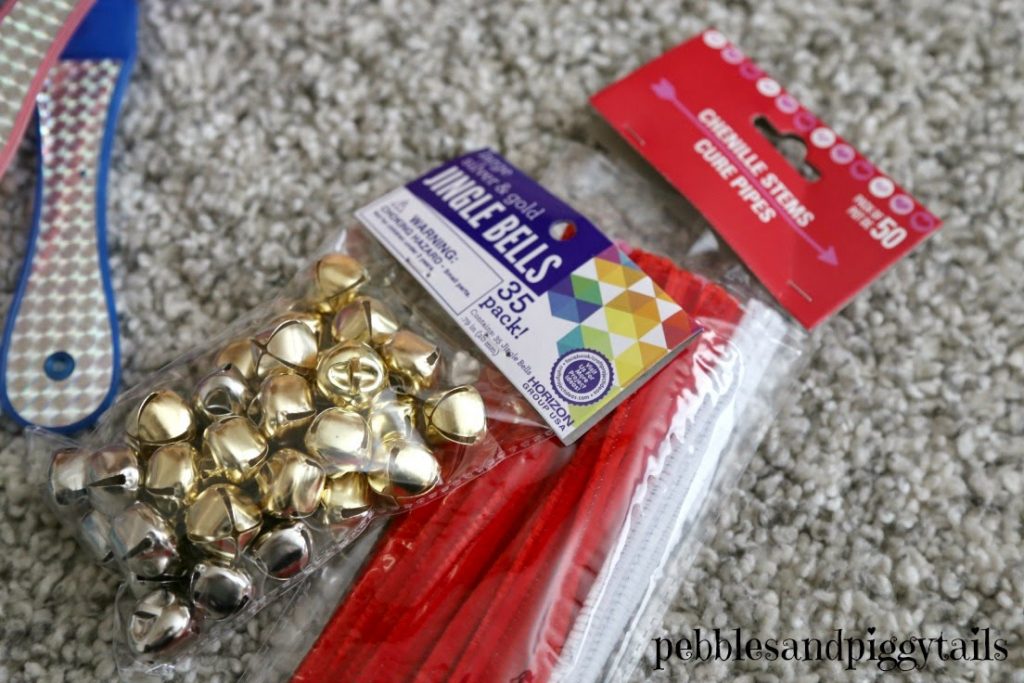 The hand bells were super simple (and cheap!). Slide 2-4 bells on 1 pipe cleaner. Round the pipe cleaner into a circle and twist the ends around the circle so it stays together. See below: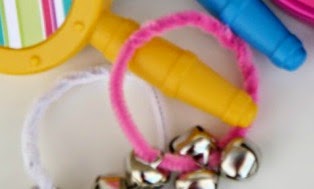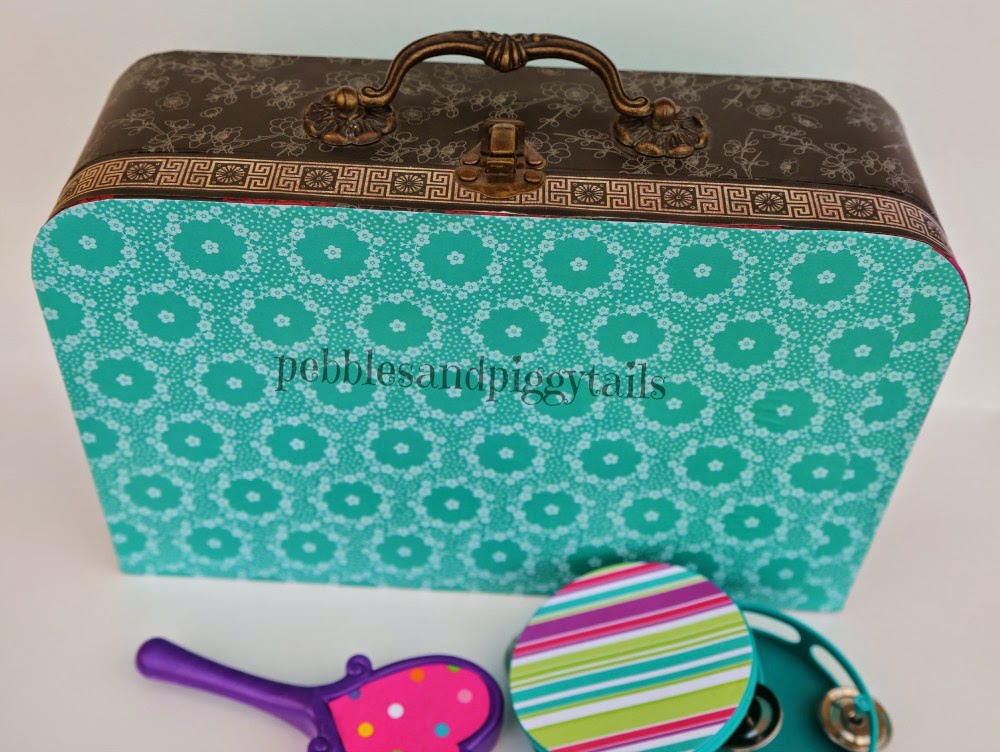 I wanted the case to match the instruments. So using scrapbook paper and Mod Podge I created a new cover. Of course, you can use any kind of box or container to hold your instruments.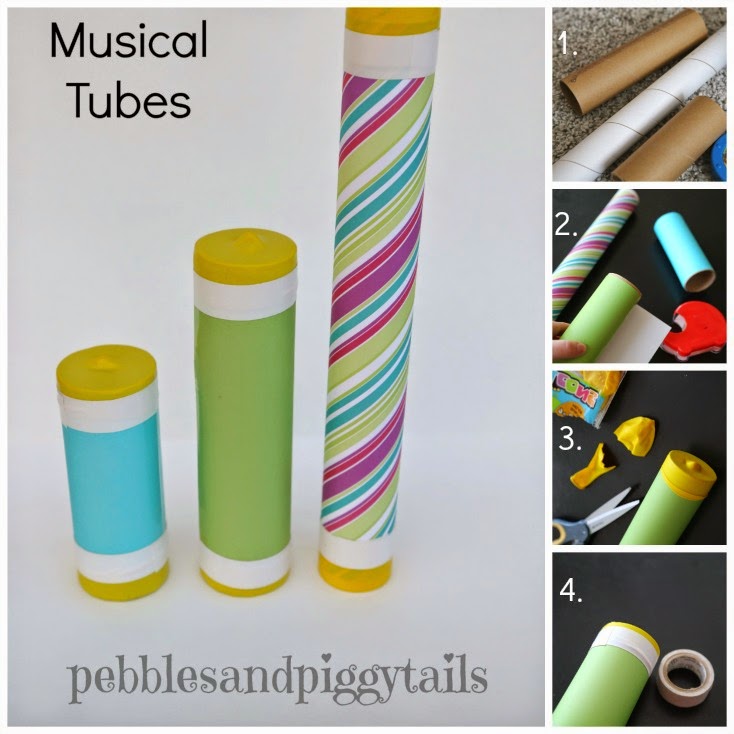 These DIY musical tubes are simple too. Find some sturdy tubes to upcycle. I used tubes from empty plastic wrap and aluminum foil. They are thicker than paper towel tubes.
1. Cut the tubes to desired size
2. Wrap using scrapbook paper and tape.
3. Fill tubes with different objects to make fun sounds (rice, popcorn seeds, tiny pebbles, etc). Cover the ends with a balloon–cut each balloon in half. Stretch the biggest half over the tube's end. It should fit securely.
4. Secure the balloon with good tape. I used electrical tape.
Then you are done! Give the tubes a shake or beat 2 tubes together to the rhythm.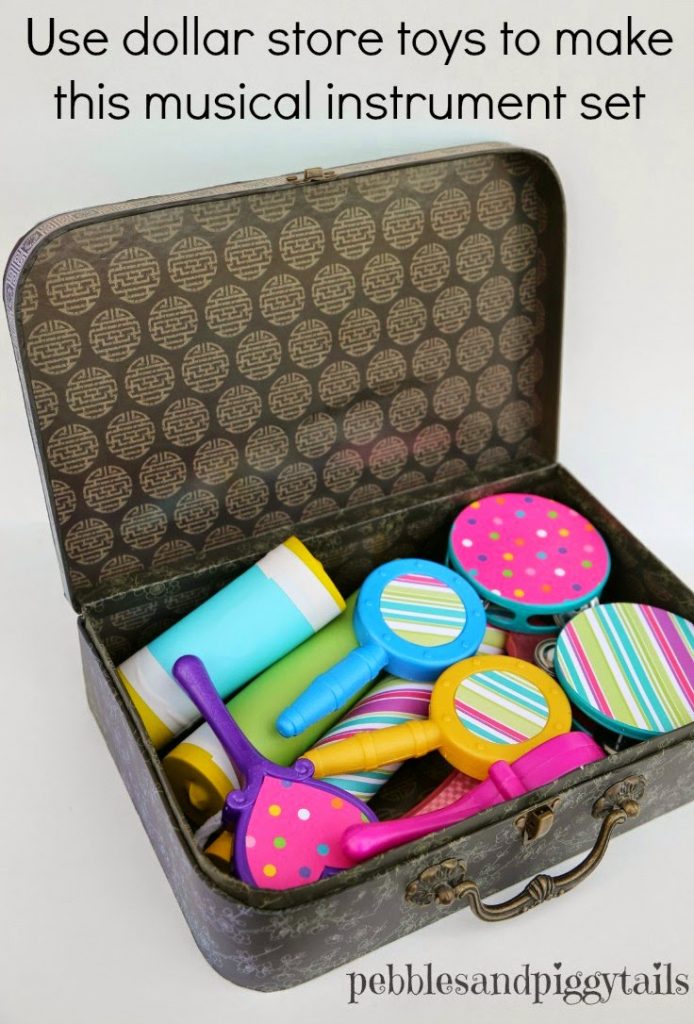 Now that you have some little instruments, what will you do with them? These DIY musical instruments are great for:
Preschool
Elementary school
Church classes
Daycare
Babysitting kits
Music classes
Scouts
Home school
Summer camps
LDS Primary choristers
Nursery classes
Toddlers
Just for fun!
#mc_embed_signup{background:#fff; clear:left; font:14px Helvetica,Arial,sans-serif; }
/* Add your own MailChimp form style overrides in your site stylesheet or in this style block.
We recommend moving this block and the preceding CSS link to the HEAD of your HTML file. */
Subscribe to our mailing list
Here's another fun DIY idea: