What is the difficult thing your are experiencing in life? What is your hard? What has caused you to feel broken on your journey? Have you overcome it? Have you found peace? I just finished reading a very poignant, yet positively moving book called The Hardest Peace by Kara Tippetts. In this book Kara talks about her journey with cancer in a beautiful way. She teaches how to find peace, even in the hardest of times.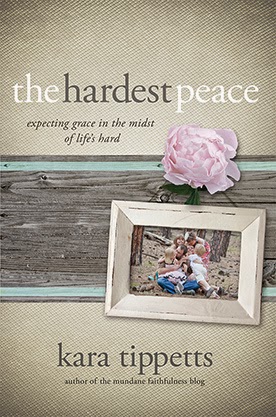 Kara Tippetts is the mother of 4 children and married to the love of her life. In recent years she found a lump in her breast. It was breast cancer. She went through grueling periods of chemo and a mastectomy, but the cancer did not stop there. It was found in other areas of her body and she is faced with the reality of stage IV cancer. The book is written in Kara's own words–and they are beautiful words. Each chapter is filled with sweet pearls of wisdom, that can only be learned and then taught by someone who has experienced such bittersweet moments.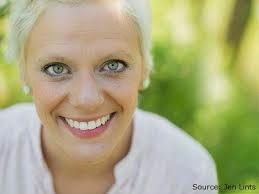 Kara Tippetts, author of The Hardest Peace
Kara talks a lot about time. As she faces the reality of not being about to see her children grow up, she talks about the jealousy she would feel seeing elderly couples and wrote:
"I remember wanting to ask: Do you realize the gift you have? Did you appreciate the weddings, the graduations, the moments–all of them? . . . In the midst of my cancer, I made an idol of time. It was my greatest prayer, my begging and pleading to Jesus: Let me remain . . . But God has rooted in me a gratitude for my now, my hard, my story, and even my cancer."
As Kara struggles through cancer, she learns to appreciate what she has gained from cancer. She learns to find joy in moments, in little things. She put away her desires to be the perfect mother that "Pinterest and Martha Stewart had tied [her] into," as well as the worrying about if her children were perfectly good. She lets her house be messy and she lets others see it! This is something that speaks to my heart. I think we all have visions of perfection in motherhood and sometimes as we strive for that perfection we lose what's most important–those precious little people that gave us the name of mother in the first place. Ever since my accident in 2007, I felt an urgency to enjoy the simple moments with our families. Time is precious to me and I believe our lives are meant to be meaningful, not perfect. Kara's words resonated with me as she spoke of seeing other mother's, who like her former self, were rushing to "every activity, seeking acceptance in her ability, and striving to capture goodness in her going." She said she wanted to tell them so much to "slow down, to rest, to stop."
The Hardest Peace is a book that will make you think. It will challenge your heart. It will open your mind to the idea of God's love in the hardest of times. It will make you smile and it will bring tears to your eyes. But most of all, it will help you find peace in your own journey of whatever your hard is.
I'm excited to giveaway one copy of this book to one of my readers! Easy entry for all:


a Rafflecopter giveaway




More about Kara Tippetts:
Kara Tippetts knows the ordinary days of mothering four kids, the joy of watching her children grow…and the devastating reality of stage-IV cancer.
In The Hardest Peace, Kara invites readers to see the grace of the everyday in all seasons of life and to live well even when the living is hard. This book is an invitation to join her in moving away from fear and control and toward peace and grace. Just as the thousands of people who read her blog know, Tippetts explores the hardest questions of life with rare beauty and honesty. Most of all, she draws them back to the God who is present, in the ordinary and the suffering, and shapes every life into the best story of all.
Kara Tippetts and her husband, Jason, have four children and are planting a church in Colorado Springs, CO. Cancer is only part of Kara's story. Her real fight is to truly live while facing a crushing reality. She blogs faithfully at mundanefaithfulness.com.
Kara's Blog: mundanefaithfulness.com
Follow her on Instagram: http://instagram.com/tippetts
Follow her on Twitter: https://twitter.com/mother_to_many
Disclosure (in accordance with the FTC's 16 CFR, Part 255: "Guides Concerning the Use of Endorsements and Testimonials in Advertising"): Many thanks to Propeller Consulting, LLC for providing this prize for the giveaway. Choice of winners and opinions are 100% my own and NOT influenced by monetary compensation. I did receive a sample of the product in exchange for this review and post. Only one entrant per mailing address, per giveaway. If you have won the same prize on another blog, you are not eligible to win it again. Winner is subject to eligibility verification.