Go ahead. I know you want to ask. What do I do all day while all my kids are at school? I have been asked this before and I'm sure I will be asked again. Sometimes I get asked by moms who will soon be in my situation and wonder what life as a stay-at-home-mom is like (without the KIDS!). Sometimes I get asked by people who are just curious (and possibly jealous or annoyed?–I'm not sure).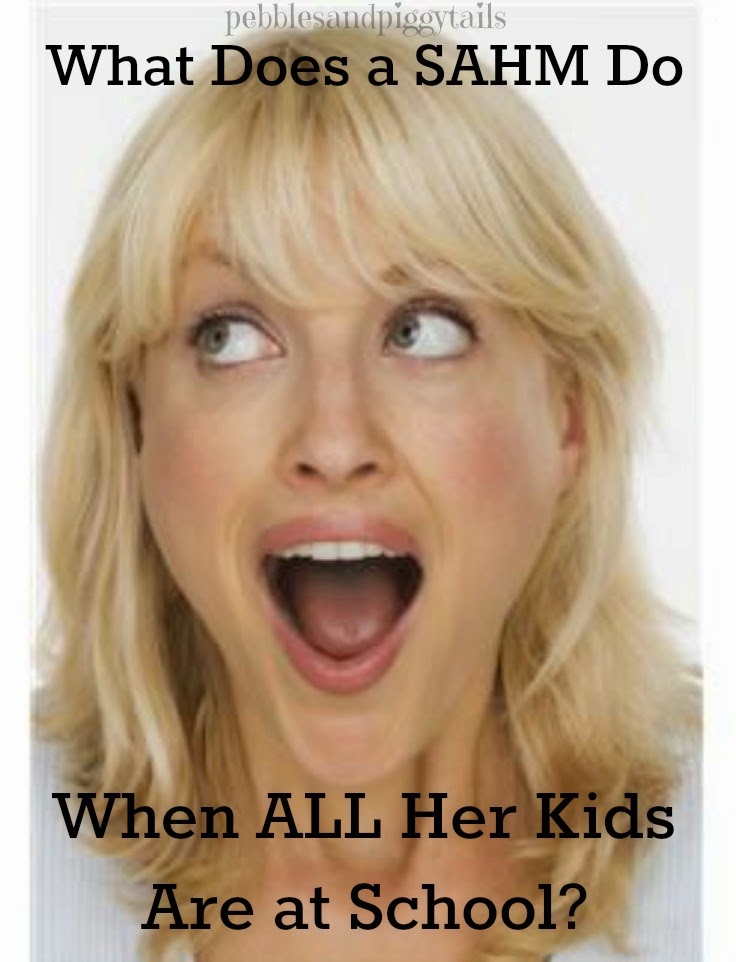 I've decided that getting asked this question is like any other when you enter a different stage of life. For high school graduates–"What college will you go to?" For newlyweds–"Where will you live?" and let's not forget the infamous "When will you have kids?" For new moms with their first child–"When will you have baby #2? For retirees–"Will you travel or take up a hobby now that you are retired?" And of course for Superbowl quarterbacks, "You just won the Superbowl! What are you going to do now?" (Go to Disneyland–duh.)
So now that my children are all in school, what do I do now? What do I do for 6 hours? Here's the answer: I do the same things I did when all my children were little and at home all day (plus a little more and sometimes a little less). The truth is that even though my kids are at school, the laundry still needs to get done, dinner still needs to be prepped, and I still have errands to run. I just do it without my children around all the time now. But because my kids are not with me, I am able to get things done faster and so I have a little extra time to do more stuff and do it thoroughly, or to take a break and do a little less on certain days. Here's the answers to some other questions you may have:
Is my house cleaner? Yes, my house is cleaner than it was when I had a toddler around dumping everything in sight. Plus, my kids are older now and help big time with chores. Is it always clean with them at school? No. This is because even if I have time to clean it up while the kids are at school, those same little people who made the mess before school, come home at 3:00 p.m everyday and mess it up after school.
Do I have more time to myself? Yes, absolutely. I can actually take a shower without being interrupted by a child screaming for me at the door. I exercise everyday too. I am able to read more (especially scriptures–very important to me) and have time to just think. When I am out running errands, I have time to stop in that home decor store that I never bring my kids to because I'd have to follow through with their "you break it, you buy it" policy. I have also been able to take local classes during the day. But, having said this, I do have to organize my time if I want to get things done (even things just for me). Six hours goes by very fast once you are used to it, and I don't want to spend the whole time lazing around in my pajamas (well . . . most days anyway).
Do I get bored or lonely? Yes and no. I am okay being at home by myself, I always have been. But I still like being social and interacting with others. I have found that with my extra time, I actually have more time for others too. I can volunteer at the school. I can help my neighbor when they don't feel well. I can meet friends for shopping or crafting or just talking. I can call my mom and chat. I can meet my husband for lunch. All these things enrich my life and are sometimes very needed. But it is what you make it. You gotta decide if you want to waste your time or fill up your time with good things. Balancing your week with a pajama day in the middle of a busy week, is okay too.
Why don't I get a job now? It's not the right thing for me. Getting a job when your children are all in school is a very personal decision. Some people can find jobs just during the school hours. Some people are in a profession that they really want to continue now that their children are in school. Each of us has to do what is best for our own family. For me, I love being a SAHM. I love setting my own hours and being my own boss. I also am a blogger, which is something I can do on the side while they are gone. I like being home when they get home from school. I am not the best multi-tasker, so I don't think I could handle working somewhere else and being a full-time mom too. Instead I like to focus on 1 or 2 things and really put my heart into those few things and do them well. And right now one of those things is being a SAHM even while the kids are not home.
So now you know what a stay-at-home-mom does while her children are not at home. What about your experience? Please share. Any other questions for me? Just comment below . . .
Make it a meaningful day!