So most of my moving boxes are out of the house and now just to figure out where everything goes! I promise I'll be back soon. Meanwhile, I got Kaitlin Gardner as a guest today with tips on how to host a great pool party or water party for children!
How to Host a Kids Pool Party
When planning any outdoor party, but especially a pool party for kids, the key to success is being prepared. And being prepared really means one thing: limiting your trips into the house (and away from the pool) to an absolute minimum. In fact, leaving your post at poolside should only take place during designated breaks, when all swimmers are out of the pool for a set amount of time. For older children, use your best judgment about dashing inside. Keep the windows open to the backyard so that if you must grab something, you are still within earshot.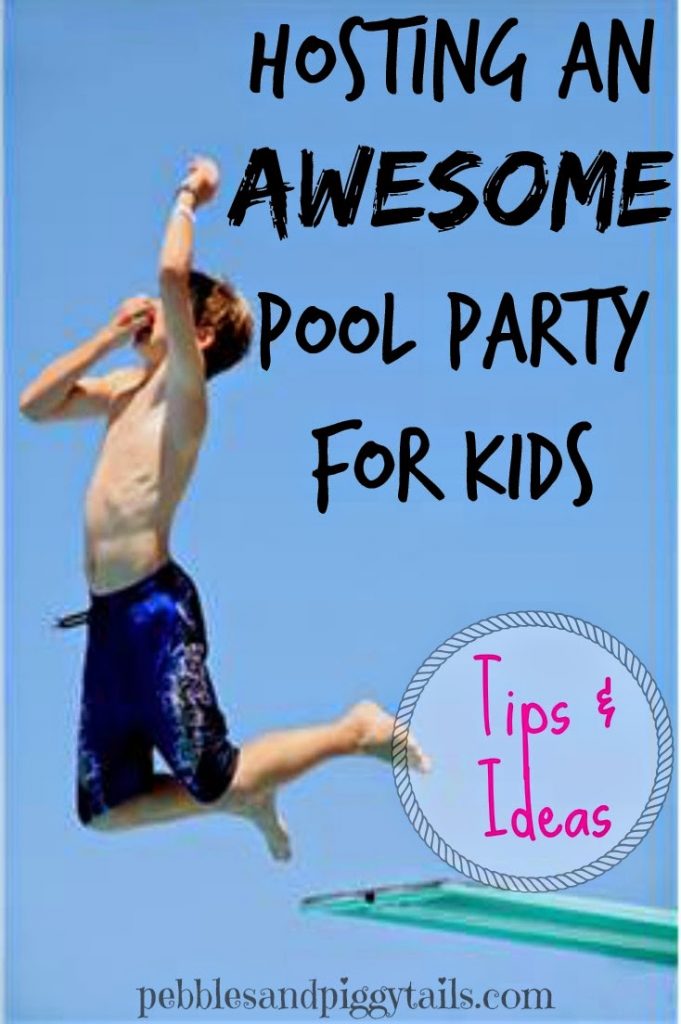 Regardless of the age range of the children, having everything you need not just at your own fingertips, but at the kids' fingertips, too, will help ensure a great time for all. After all, who wants dripping feet scampering around the house? Not me! Everything listed below should be outside, in sight of the pool.
Below are just a few ideas. Remember: The pool is the main attraction; throw in some yummy food, basic supplies and your guests will be good to go!
Basic supplies:
First aid kit for minor scrapes and cuts (Band-aids, anti-bacterial ointment, aspirin, etc.)
Extra towels (at least one per person)
Sunscreen (spray and lotion, including "sensitive skin" formula
Clean Zip-loc bag, to use as an ice pack if needed
Cordless phone or cell phone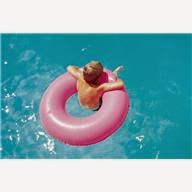 Beverages:
Stock an ice chest full of water, soda, juice boxes, or whatever you decide to offer. As an alternative, fill a "serve yourself" punch bowl with water, and toss in some slices of lemons and oranges.
Food:
Food that is easy to eat, nutritious and filling will keep your lil' swimmers happy all day. Here are a few ideas:
Pizza (place a note on the front door asking the delivery person to come to the backyard gate)
Deli sandwiches: make these up ahead of time, and put all condiments on the side so that kids can add whatever they would like.
Grilled hamburgers and hotdogs: grill these ahead of time or while kids are swimming, as long as you can see the pool! Have the buns and condiments already covered on an outdoor table and ready to go.
Nacho bar: A crock pot plugged into an outdoor patio outlet can provide an easy, self-serve option for kids when they get hungry. A big bowl of chips, individual bowls and an assortment of toppings is all you need.
Smoothie station: Inexpensive, colorful plastic cups with screw-top lids and straws are widely available at big box stores, and may double as party favors. Offer an assortment of fruit and toppings (crushed cookies, cocoa powder, peanut butter, etc.). Place the blender on an outside table in the shade (use an extension cord if necessary) and use the hose to rinse out the blender cup after each smoothie is made!
Fresh fruit: Offer plenty of juicy fruit, cleaned, sliced and ready to eat. This will also help keep the kids hydrated. Make a healthy "dip" for fruit, like vanilla or other flavored yogurt and a sprinkle of cinnamon.
Remember, if you keep the menu simple, you'll have a better chance of enjoying the party as much as the kids!
Kaitlin Gardner started AnApplePerDay.com to further her passion for a family friendly, green living lifestyle. She is married to her college sweetheart and lives in Pennsylvania. She and her husband enjoy going for long hikes, to get out and enjoy nature. She is working on her first book about ways to live an eco-friendly, healthy, natural life.
For more info and ideas visit: